Bake Along #88 – Chocolate Caramel Tart
March 3, 2020
2021-09-04 17:59
Bake Along #88 – Chocolate Caramel Tart
Bake Along #88 – Chocolate Caramel Tart
I like when caramel dominates as a single component and when it combines with chocolate. These decadent chocolate based caramel tarts are one such divine combination that melts in your mouth with rich flavour of chocolate and the subtle caramel that ideally compliments each other.
I liked the tart base which was quick and easy to make without having to refrigerate the dough. While the process of setting caramel and ganache requires refrigeration, the time is definitely worth it.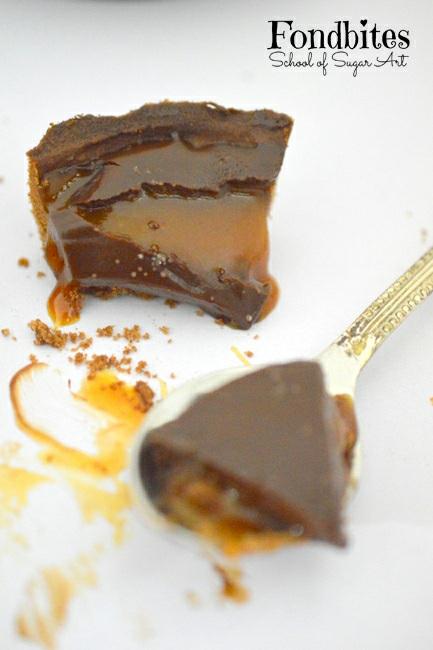 Ingredients:
Recipe adapted from : Mybakingaddiction
Crust –
Unsalted butter – 150 gms
Confectioners sugar / Icing sugar – 1/2 cup plus 2 tablespoons
Egg yolks – 2
Vanilla extract – 1 teaspoon
All-purpose flour – 1 1/2 cups
Cocoa powder – 1/4 cup plus 1 tablespoon
Salt – 1/4 teaspoon
Ganache –
Dark Chocolate – 100 gms
Fresh cream – 100 gms
Caramel –
Granulated white sugar – 1 1/2 cups
Water – 6 tablespoons
Light corn syrup – 3 tablespoons
Salt – 1/4 teaspoon
Unsalted butter – 100 gms
Fresh cream – 6 tablespoons
Vanilla extract – 1 teaspoon
Method:
1. An eight inch tart pan or individual mini tartlet pans can be used. Butter the pan(s). Pre-heat oven to 170 degree C.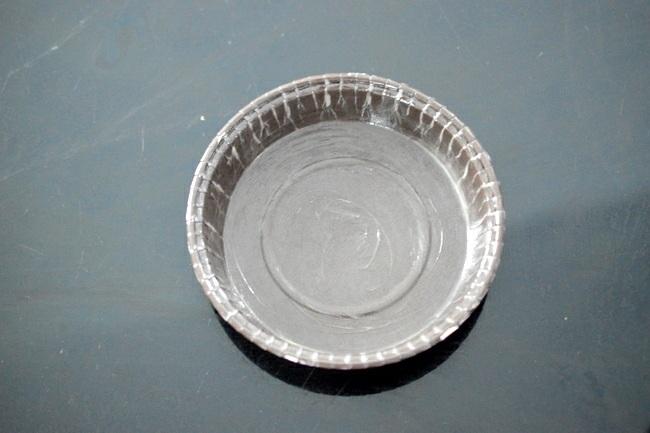 2. Sift together all-purpose flour, cocoa powder and salt. Set aside.
3. Add butter in the bowl of your electric mixer and beat on medium speed until butter becomes soft. Increase speed and beat until butter becomes pale and fluffy.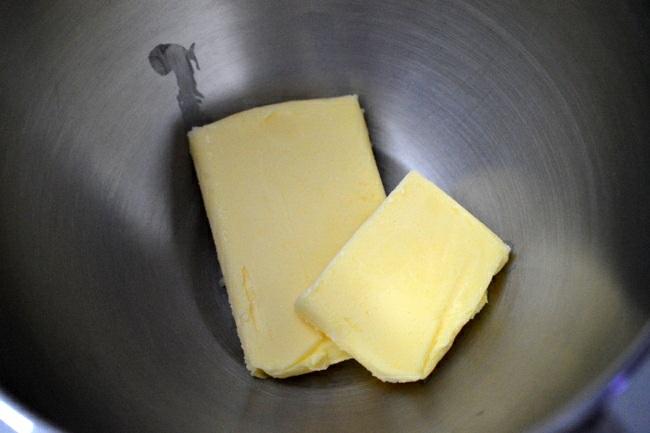 4. Add icing sugar and beat on medium speed until sugar combines with butter. Increase speed to high and beat for about 4 to 5 minutes until it becomes creamy, pale and fluffy.
5. Add the yolks and beat on medium speed for 1 minute until the yolk combines well.
6. Add vanilla extract and beat on medium speed for 1 minute until everything combines well together.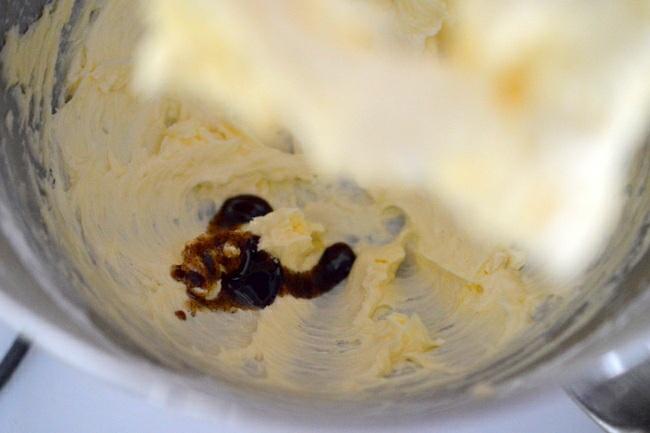 7. Add the flour mixture all at once and beat on slow speed until flour combines with the butter mixture. Use spatula to scrape down the sides. Beat again on slow speed until the dough comes together.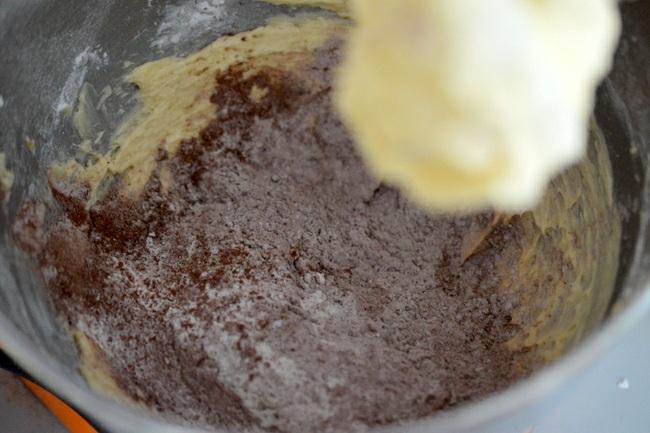 Here is how the final dough looks.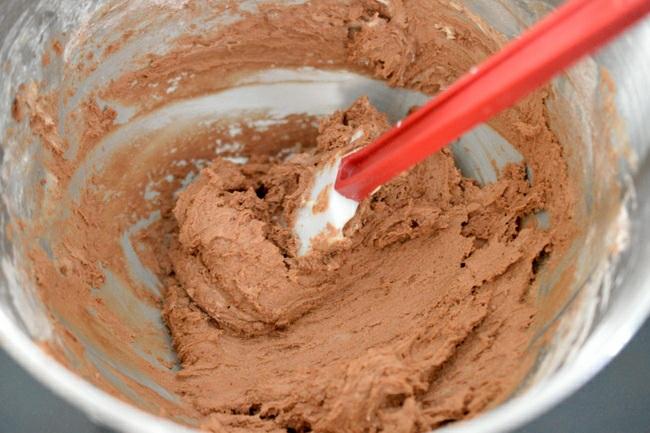 8. If using a single tart pan, add the entire dough content and spread the dough equally around till the rim of the pan. If using individual tartlet pans, divide them equally, spread and smooth out. Refrigerate for 30 minutes.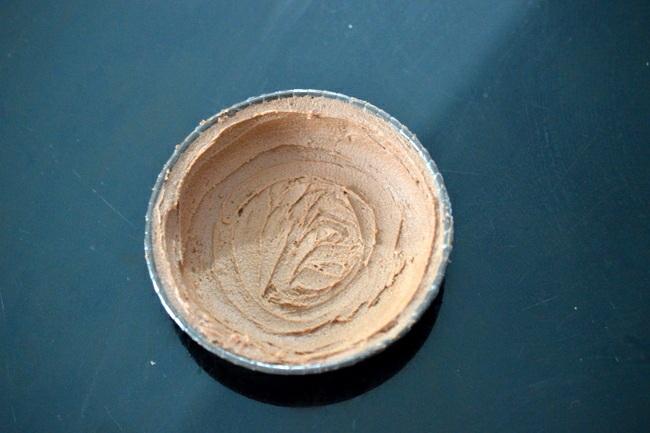 9. Once the dough is firm, use a fork to poke holes. This will help to release steam to escape during baking. Bake in preheated oven for 12 to 15 minutes at 170 degree C. If you find the base rise up a bit, you can press it down as soon as it is out of the oven.
There is another way to handle the rising of the tart base. Once the tart base is firmed up in the refrigerator, poke hols using the fork and then line up the tart base with butter paper. On top of the butter paper use tart weights or any pulses/dals that will act as weight and it will prevent the base from rising.
Cool on wire rack once done.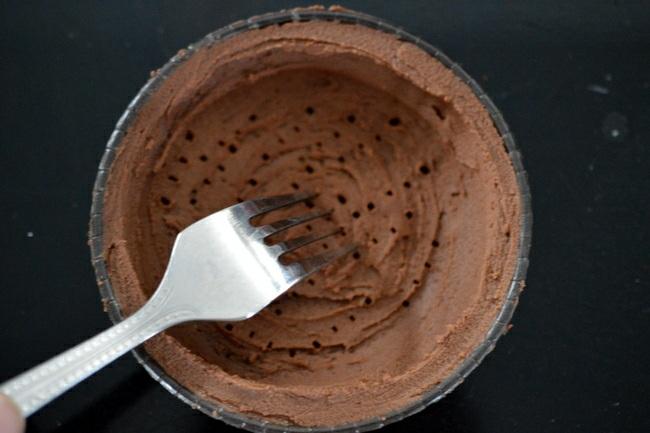 10. Caramel – Add sugar, light corn syrup, water and salt in a heavy bottomed sauce pan and bring it to boil on medium heat.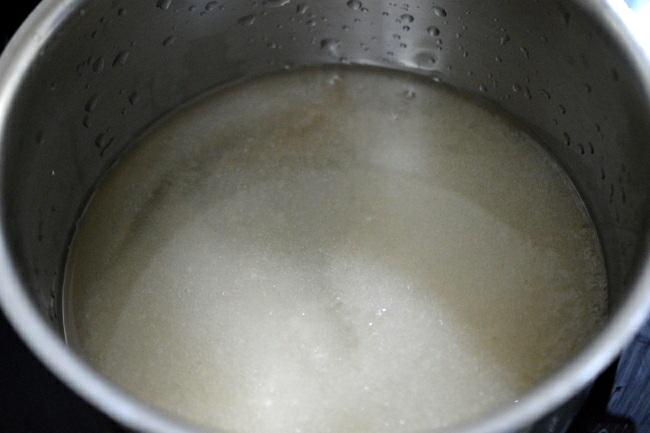 11. Do not stir, but keep swirling the pan once in a while and make sure the flame is medium. Once it starts bubbling look out carefully for it to caramelize.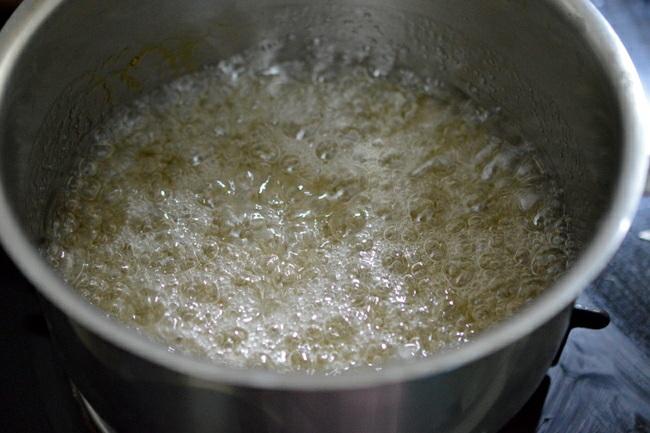 12. Once it starts to caramelize, bring down flame to low and keep swirling the pan until the desired color of caramel is reached. I like it amber and a bit darker version.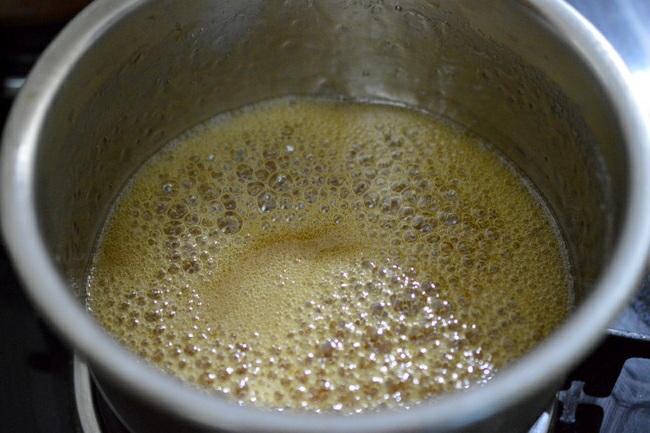 13. Once the caramel is ready, switch off the stove, add the butter and cream and stir using spatula and combine everything together.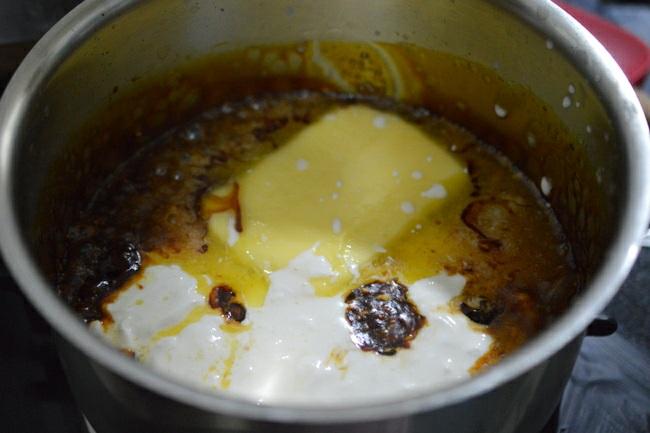 14. Let cool down for a few minutes.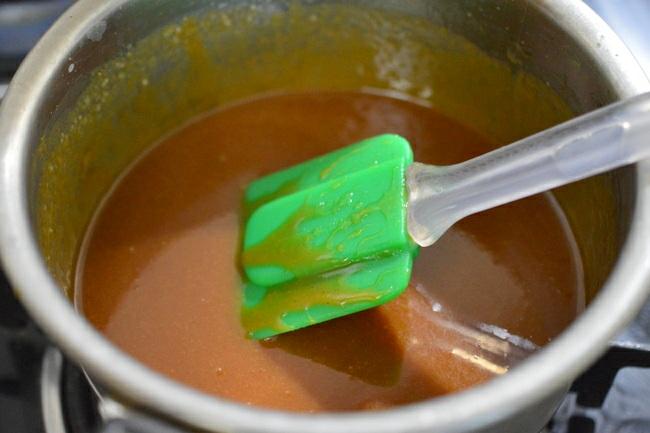 15. Fill up the cooled down tarts to 2/3 rds with the prepared caramel. Refrigerate for 2 to 4 hours until completely set.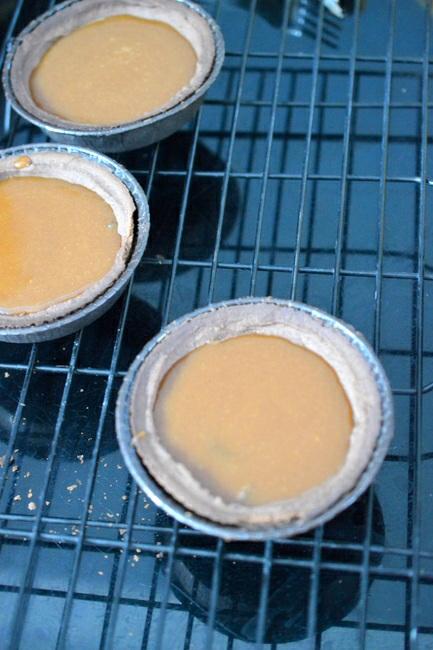 16. Ganache – Add chocolate and cream in a microwave safe bowl. Microwave on high power for 40 seconds and stir gently until chocolate and cream combines together.
You can also heat up the cream separately in a saucepan on medium flame, until it starts to bubble on the sides of the pan and pour the hot cream over the chocolate and mix gently until chocolate combines together with the cream.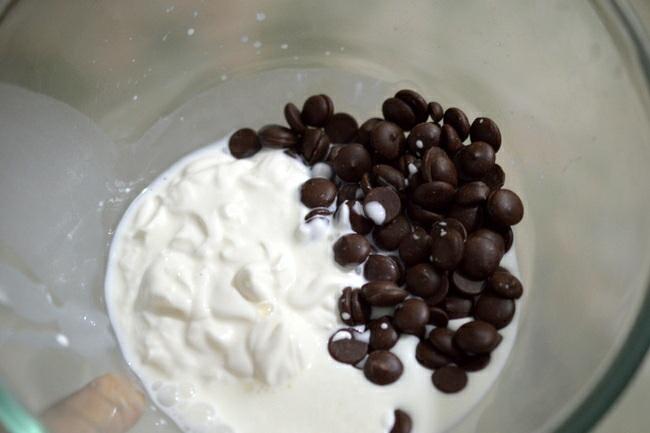 17. If chocolate is still not melted completely, microwave in bursts of 20 seconds until ganache becomes smooth and lump free.
18. Add ganache on top of the set caramel tarts and refrigerate again for 2 hours until ganache is set.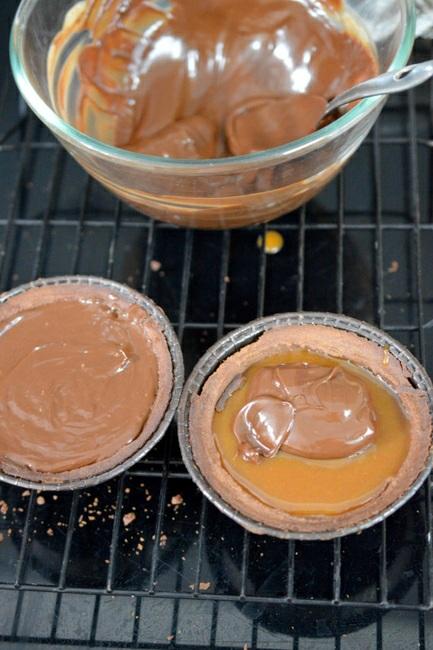 Keep it refrigerated and serve chilled. Sprinkle some sea salt on top of ganache before serving.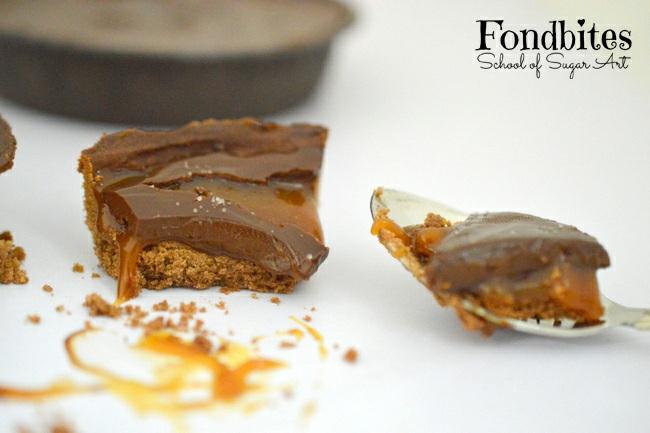 The consistency of the final caramel depends on how long you cook the caramel initially before adding butter and cream. To nail it exact, use a digital thermometer and stop cooking caramel when it touches 340 degree C exact. This will ensure a nice firm caramel. Serving it cold also ensures caramel, intact with the tart.
Ganache in these kinds of pastries are always 1:1 to ensure rich creaminess. In case you would like a milk chocolate combination, make it 50 % of dark and 50% of milk chocolate to cut down bitterness of dark chocolate.
This tart base is very light that combines beautifully with the caramel and chocolate.
To add some bit of crunchiness, on top of the caramel layer, you can sprinkle some home made pralines and then add the chocolate layer. You can also decorate the top of chocolate with slivered nuts of choice.
This one is for you to lick the spoon