Bake Along #26 – Churros
February 13, 2020
2021-09-04 18:19
Bake Along #26 – Churros
Bake Along #26 – Churros
Its summer here and mostly all families are on vacation and high chances that Bake Along went on vacation too. But I decided to do some home work and have some in pipeline not really wanting to break the chain. So nothing but simple to bake dishes seemed reasonable to me, still my hunt was on for something new, atleast the names to widen up our vocabulary on the go. Churros seemed to have caught my attention, though after analysing it seemed close to doughnuts, and we just finished doing some doughnuts few weeks back and I know could be unfair to fry some up again. But then deciding to swear up not going to fry any more am going to go on with Churros for this week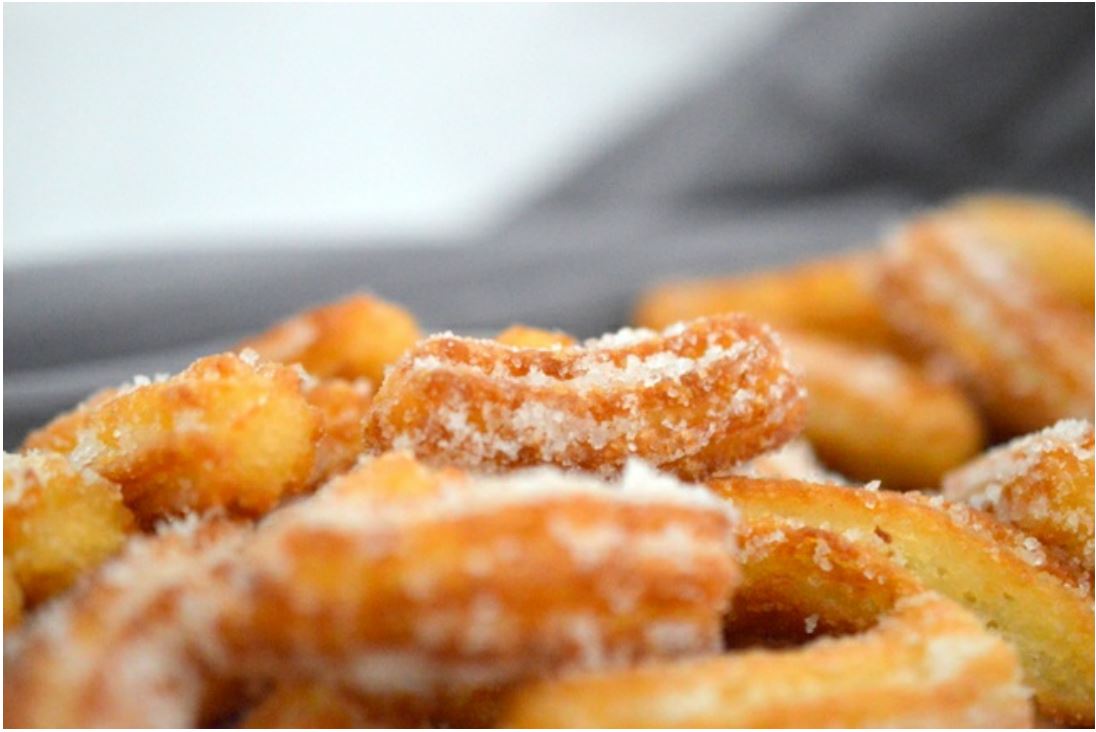 Churro is basically a choux pastry that is fried until crisp and is coated with sugar or sometimes dipped in chocolate. Nothing but flour, baking powder, salt and boiling water mixed to make the batter and then it is filled in piping bags fitted with a star nozzle ideally, and then piped on directly to hot oil on stove top and fried until golden brown. Such a simple thing to make and believe me, the whole batch didnt last more than 10 minutes after I finished the whole thing.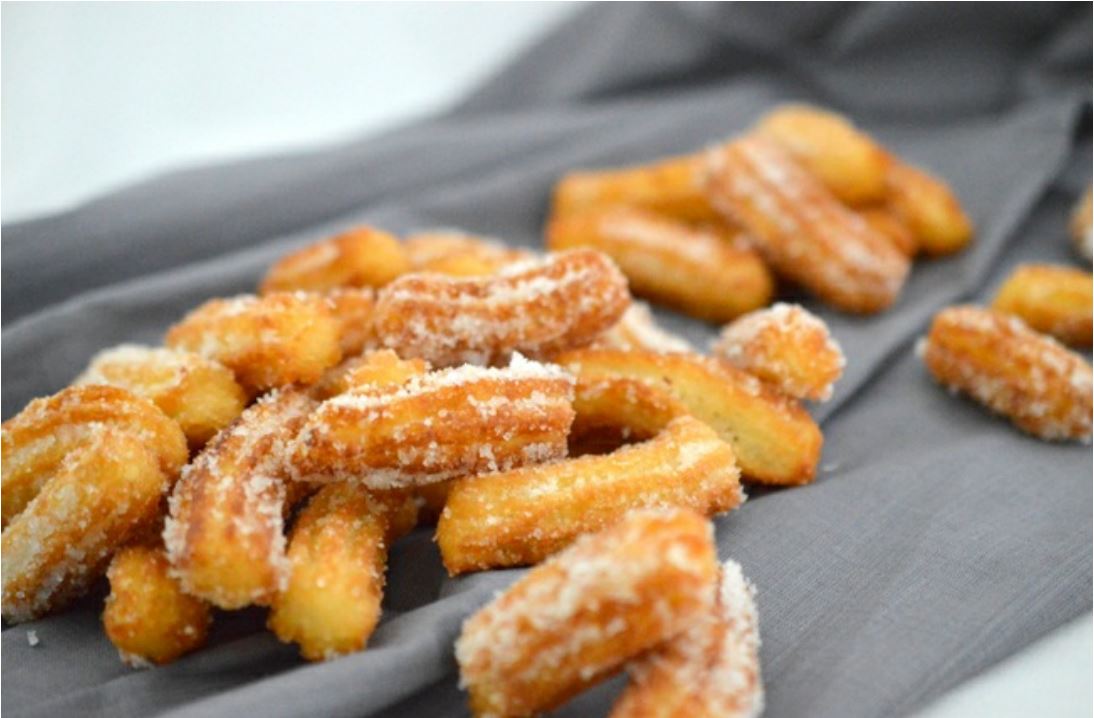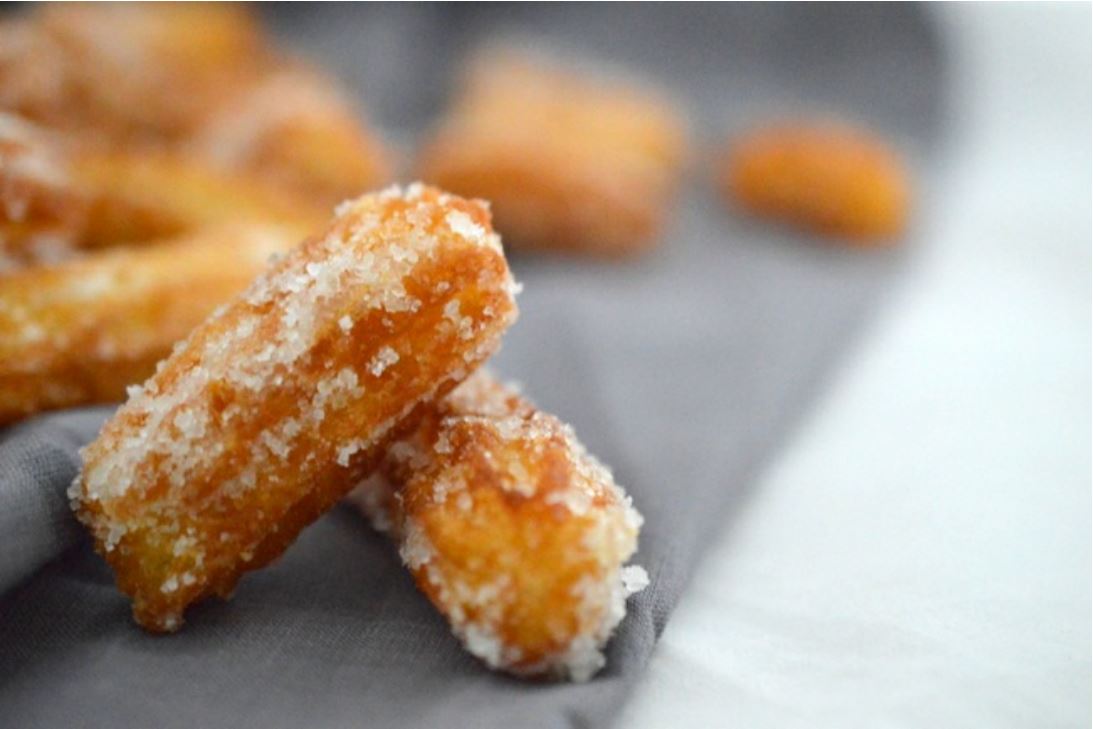 Inspired by: Alimentageuse
Flour – 2 cups
Boiling water – 2 cups
Baking powder – 1 teaspoon
Salt – 1/2 teaspoon
Olive oil – 2 tablespoons
Vegetable oil for frying
For the Caramel :
Caster sugar – 1/2 cup
Cinnamon powder – 1 teaspoon ( optional)
Method:
1. In a large bowl add flour, olive oil, salt and baking powder. Whisk it well. Add boiling water and use a wooden spatula to mix it quickly. Do not stop, keep stirring and get the whole flour mixed well with water.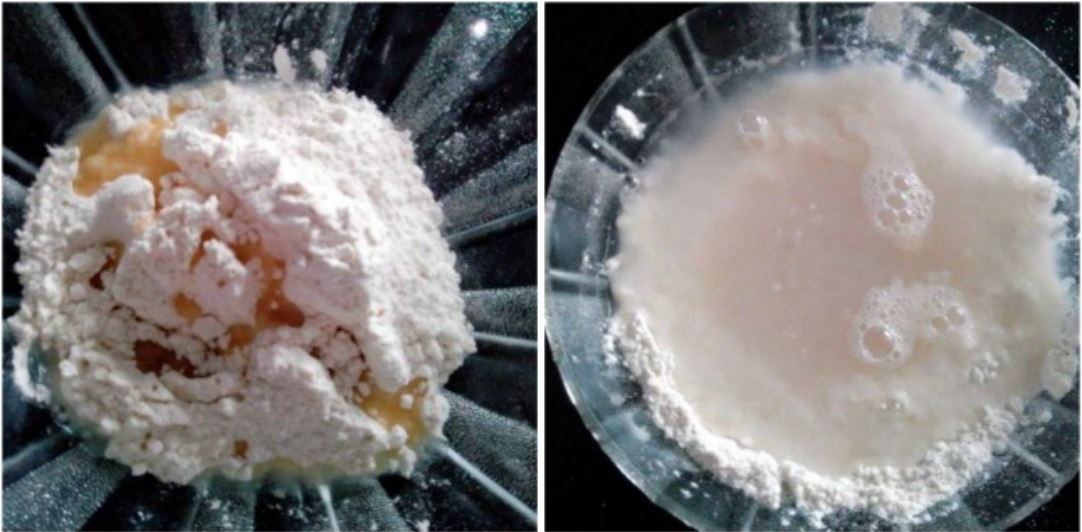 2. If using a wooden spoon gets tough, you can use your electric beater in slow speed until the batter has been mixed well. I just used my rubber spatula. You got to get them combined while the boiling water poured is still hot and do not wait until it gets cold or bearable to touch. Finish off the batter while its hot. It is a sticky mixture and that's how it has to be. Let it sit for a while and when it reaches a bearable temperature, fit your piping bag with an open star nozzle and fill the bag with the batter 2/3 rds full.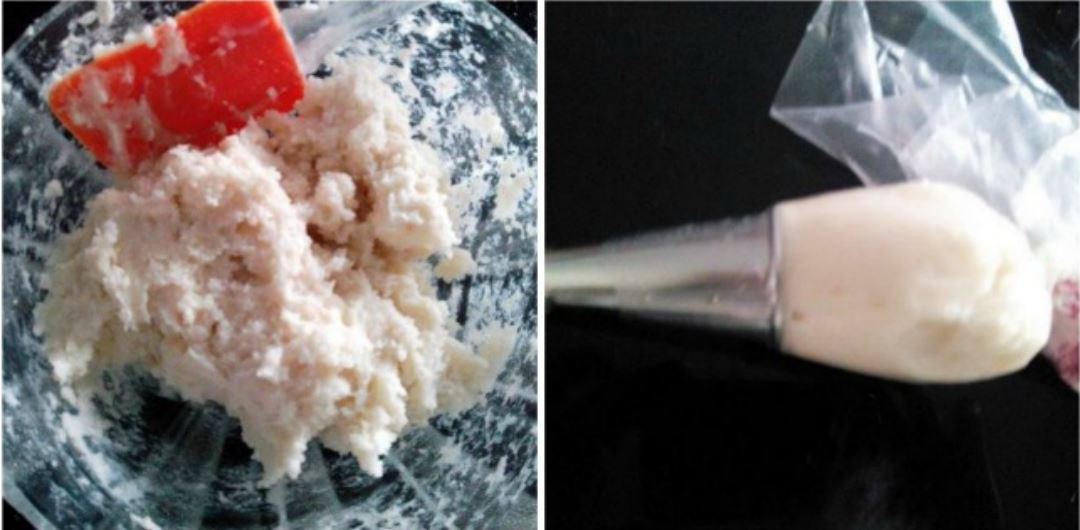 3. Heat up oil for deep frying in a large wok. Start piping directly into the oil thats heated up, but fry on medium flame. Use a scissors on your other hand to cut off the batter that's being piped from the bag. It is good to have each churro at 3 inches in length and about 5 to 6 in a batch. Fry for 30 seconds on medium flame and flip them over and fry again for 30 seconds. Remove them from oil and place them on tissue paper lined plate to drip excess oil. In another large plate, place caster sugar and cinnamon powder if using and mix them well. While the churros are hot, coat them with the sugar mixture and let cool down completely to room temperature before serving.

You can also melt some chocolate and dip half length of each churros and place them on butter paper to let dry and then store them in air tight containers. They are great the same day they are made. You can store in room temperature for couple of days.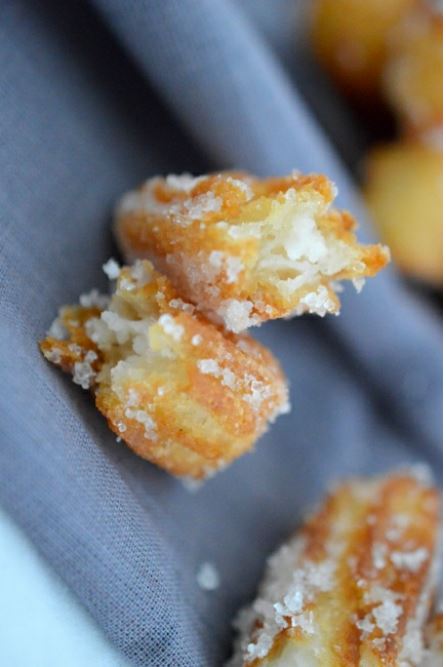 When you bite into churros, they are not really close to doughnuts. You can feel the choux pastry from the inside with such a crisp outer cover with some crunchy sugar. Addictive is the word!!
This has been baked for Fondbites, Bake Along, a group of enthusiastic bakers, bake one recipe every week along with me. To join the group, send a join request in the facebook group and I will send you a confirmation message, after you confirm that you will bake every recipe with me each week, I will add you to the group.
Members – Once after you finish baking, post the link of your finished picture below using the linky tool.