Bake Along #27 – No Bake Mango Cheesecake
February 13, 2020
2021-09-04 18:18
Bake Along #27 – No Bake Mango Cheesecake
Bake Along #27 – No Bake Mango Cheesecake
That's a no bake mango cheesecake as we are heading to the 27th week and it is already end of summer here in India which naturally means we are also coming to the end of the King of fruits season, the mangoes. It has been already a rage to venture and get mangoes into baking and cheesecake is the first thing that comes to our mind and I'm a person who always end up doing something that comes under 'unique' , but here I really didn't want to think out of box because I felt now its not only me but I'm also doing it for the enthusiastic group of bakers who bake along with me. So I found its ideal to really go through cheesecakes and catch up on other mango dishes probably in the next season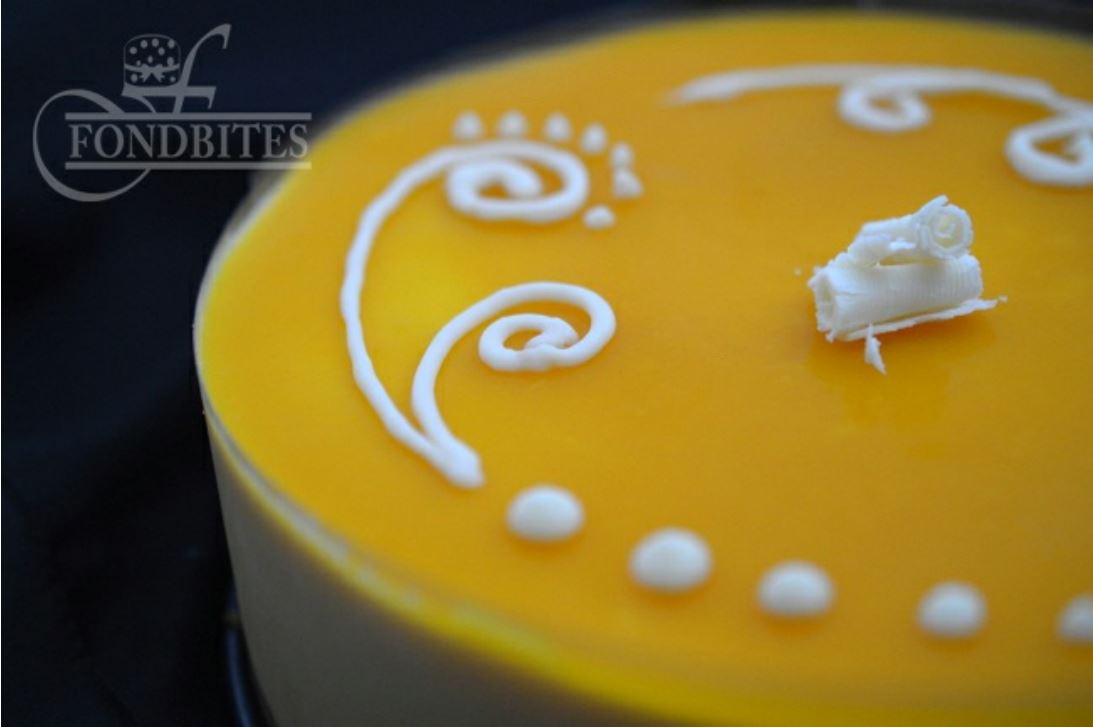 No bake cheesecakes are done in different ways, in widely available recipes on the web, ideally setting it with a setting agent like gelatin/agar agar. Usually cream cheese is expected to be used in cheesecakes, but it is equally acceptable when cottage cheese, commonly called paneer is used as well. In our recipe we will be using paneer as the main component and as a common fact hung curd usually goes with paneer in the making of cheesecake. But the never ending 'unique' hunt made me try some other thing and I landed up using condensed milk to pair with paneer.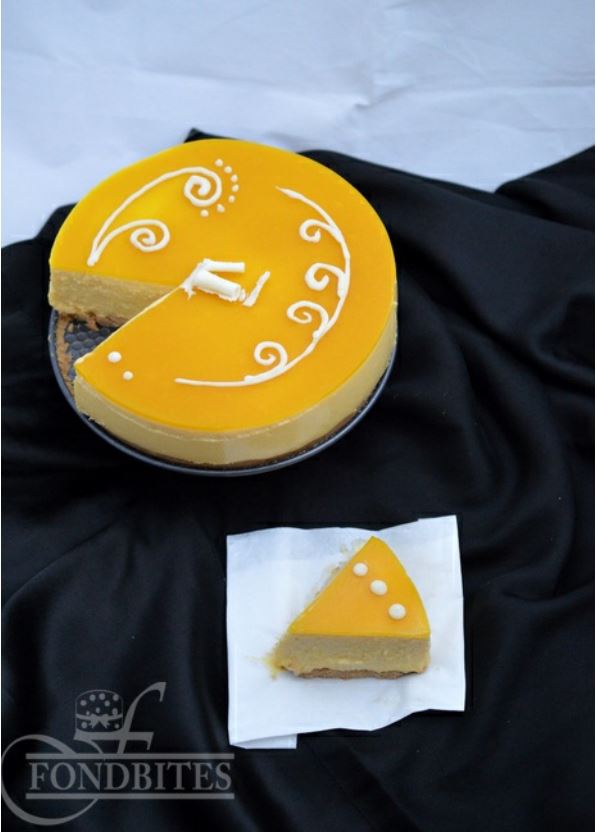 * I'm highly indebted to one of my friend who shared this recipe from one of her written collection of recipes.
Base:
Digestive biscuits – 200 gms, I used marie biscuits
Butter – 60 gms, melted
Topping:
Mango – Puree of 1 Mango
Gelatin – 1 tablespoon
Water – 2 tablespoons
Cheesecake:
Cottage cheese/paneer – 200 gms
Condensed milk – 400 ml, I used Amul mithai
3/9Fresh cream – 200 ml, used Amul
Mangoes – 400 gms, chopped
Gelatin – 2 tablespoons
Water – 1/4 cup
Method:
1. Butter the bottom and sides of an 8 inch spring form pan. If you do not have a spring form pan, you can also use a tart pan from which you can get the base of the pan away from the sides. If you do not have both of these, you can line the inside of your normal 8 inch cake pan with aluminium foil and have excess foil hanging from the sides so you can pull it out once the cheesecake has been set. To the sides here on the foil lined pan, cut strips of acetate /ohp sheet and butter the sides and position the sheet inside of the foil in your round pan. This is literally to pull out the cheesecake easily from your normal pan and yet have neat, smooth sides.
Process digestive biscuits in your food processor and add melted butter to it.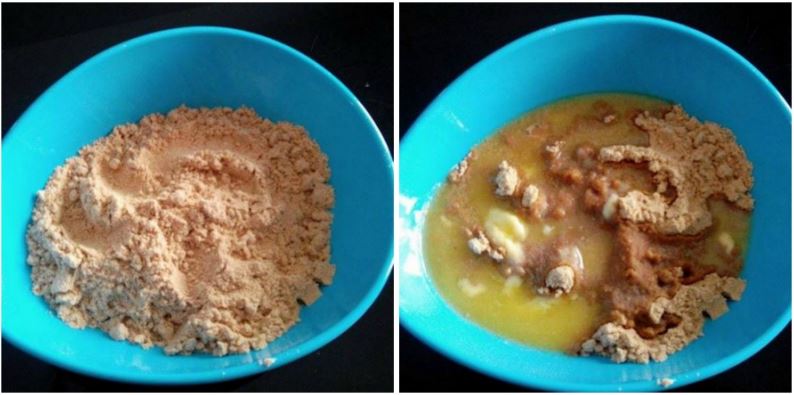 2. Mix butter and crushed biscuits well and cover the bottom of the prepared pan and press it tightly and evenly. Keep in freezer to set until you continue doing your rest of the recipe.

3. Grate paneer and add it to your food processor along with condensed milk and grind on high speed for couple of minutes until it has pureed really well and smooth. Add the mixture to a bowl and mix together with fresh cream.

4. Puree mangoes into a smooth fine paste and heat it up in a heavy bottomed sauce pan until it is just hot. Do not let it boil.
5. Add gelatin in a microwave safe bowl and mix it with water. Let it bloom for couple of minutes. Microwave on high power for 40 seconds and mix well until gelatin granules have melted. Add this mixture into the mango mixture and mix well until combined.

6. Now add the mango mixture into the paneer mixture and mix well. Take the pan which is lined with biscuits and is freezing. Pour the cheesecake mixture on top of the biscuit lining and tap few times to get rid of any air bubbles. Again put it back in freezer until you prepare the topping.

7. Topping: Puree mango and heat it up in a heavy bottomed saucepan until just hot. Add gelatin in a bowl along with water and let it bloom for couple of minutes. Microwave gelatin for 40 seconds on high power and add it to the mango puree and mix well. ( I added 2 drops of yellow food colouring to the gelatin mixture for that bright coloured topping )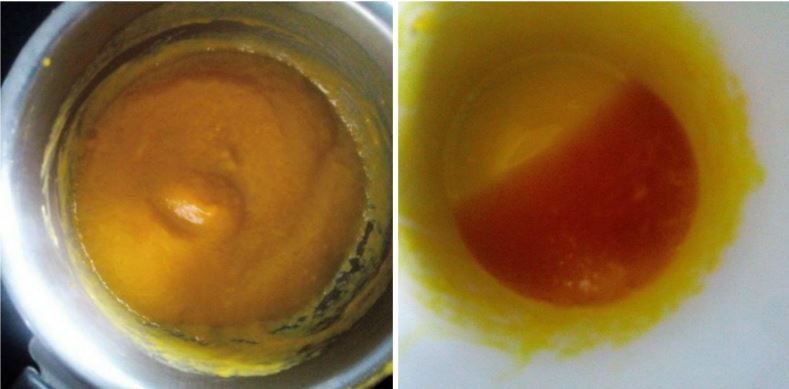 8. Check if the cheesecake has set and once set pour the mango jelly on top and tap it once to release air bubbles if any and again put it back in freezer to set firm.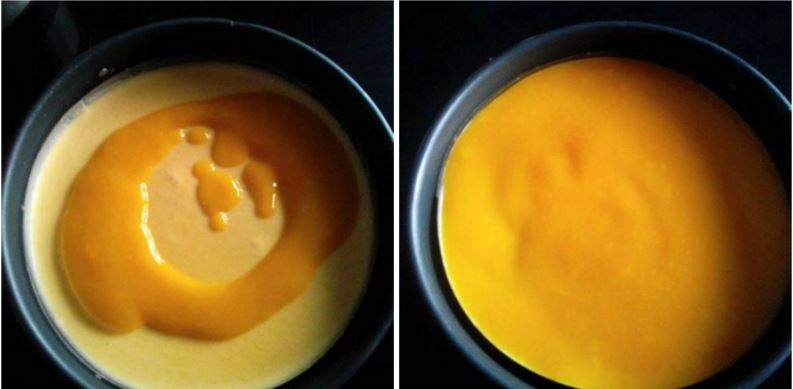 It might take an hour or more to set completely and once done, they are ready to be devoured. You can also let it set over night. Before serving make sure you release the sides of the pan. Also if using acetate strips to the sides, peel it off before slicing. Always keep it refrigerated and serve chilled.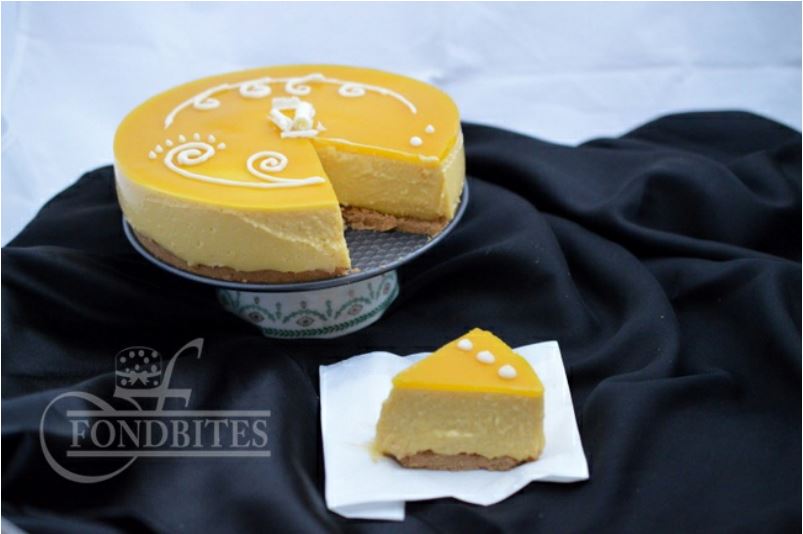 Finally I melted some white chocolate and did some piping on top and also added chocolate curls to finish up. You can whip up some fresh cream and pipe on top for the decorative facts.
This has been baked for Fondbites, Bake Along, a group of enthusiastic bakers, bake one recipe every week along with me. To join the group, send a join request in the facebook group and I will send you a confirmation message, after you confirm that you will bake every recipe with me each week, I will add you to the group.
Members – Once after you finish baking, post the link of your finished picture below using the linky tool.