Bake Along #25 – Classic Creme Caramel / Flan
February 13, 2020
2021-09-04 18:19
Bake Along #25 – Classic Creme Caramel / Flan
Bake Along #25 – Classic Creme Caramel / Flan
As we have landed up on the 25th week bake along, to celebrate the lovely journey I decided to do something that we haven't done yet with the group. Flan is something I was waiting to come out of my zone long back and every time I research about it, I get skeptical and let it go. Then I ll again start it from round 1. Few recipes for creme caramel call for evaporated milk and I even shortlisted how to make evaporated milk at home. Still I just stayed back.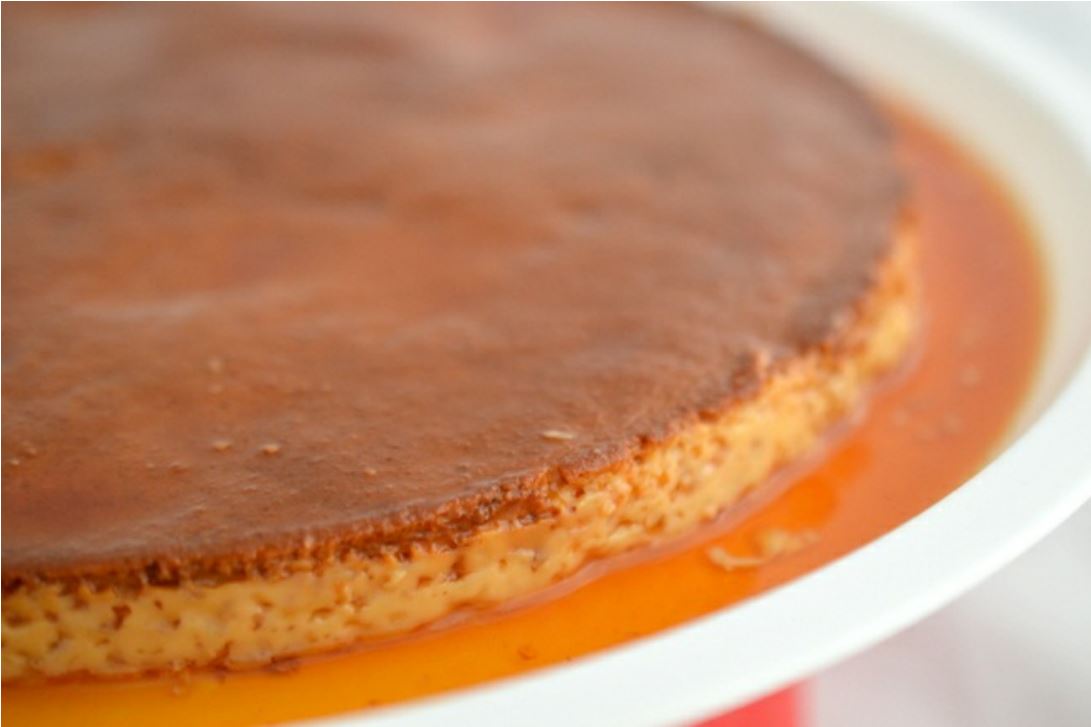 One fine day, I took the guts to finish up the project. My brother, lives in LA now, has been in United States for years together and he comes over to meet his family once a year and I try to impress him with something new going up my bar every year :D. Last year it was and I took the courage. Nothing but success. Review was, it was damn delicious, right sweetness, best of caramel flavour bursting out of every bite and it took a while for me to realize if it all happened in reality.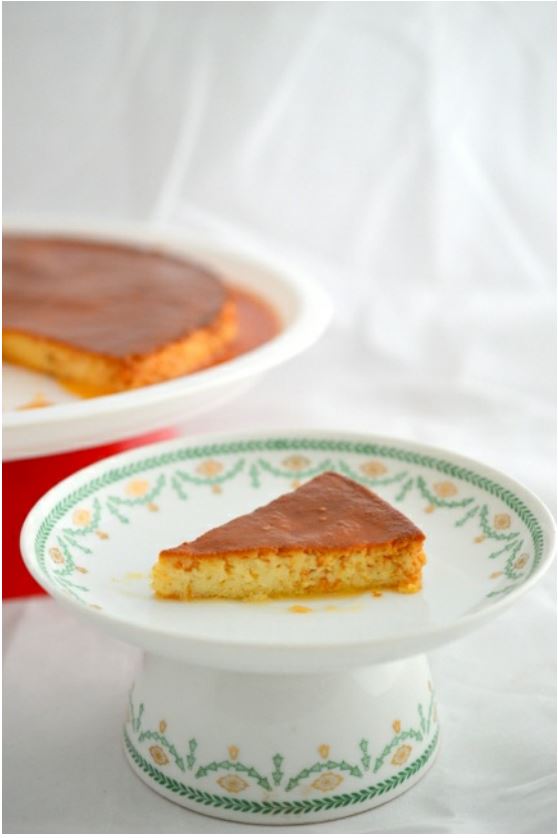 So how did I come out of that zone and what happened to all the evaporated milk stuff here ? I didnt use it at all. My brother came home with 'Baking from my home to yours by Dorie Greenspan' and it was like God-given, had an amazing recipe for creme caramel used ingredients I was really surprised about, but nothing like trusting such an amazing author and her brilliant cook book. I re-did the same thing again today after a year and it was another brilliant show. Most delicious after meal dessert.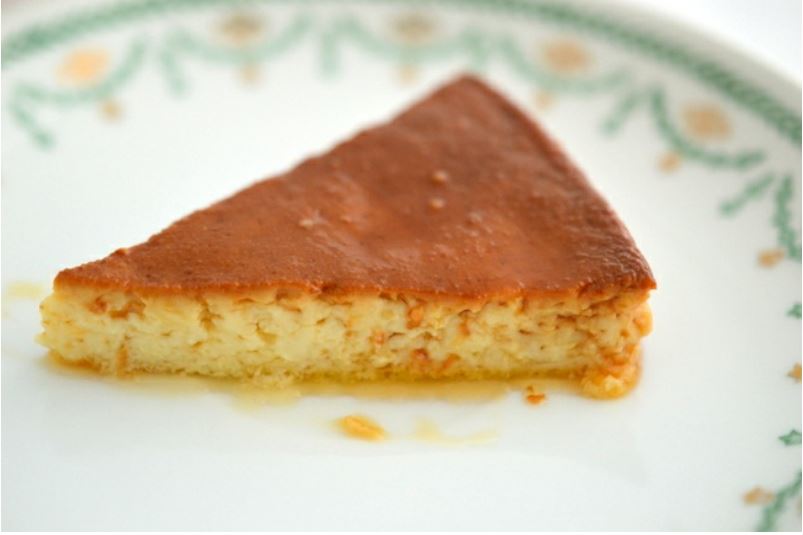 We are going to bake cream, milk, eggs and sugar with some caramel. Yeah even I gave that look when I went through the list and until everything fell in place and I had the first bite it was really difficult to believe it is all about only this :P. So now you got to trust me and just go ahead, its going to be very simple when every step has been followed as is. You could wonder every now and then, trying to skip one or two steps here and there, but they are not meant to be ignored. Every single mention of something new you get to do here for this recipe which you haven't done on your earlier bakes, is very very important to relish such a divine dessert you can think you could really bake in your home kitchen
And for those who feel creme caramel is something new to your vocabulary, here it goes. Creme caramel also known as caramel custard or flan is a french dessert which is basically a pudding, cooked on a caramel lined tin in water bath on stove top, preferably in ovens too. They are usually inverted after baking and served as is, with the caramel syrup that sits on top. They are very delicate in nature as it has the texture of pudding and they can be scooped out of a spoon to serve or can be cut easily with knife to make proper portions.
For the Flan :
Fresh Dairy Cream – 1 1/2 cups ( I used Amul)
Milk – 1 1/4 cups
Eggs – 3
Egg Yolks – 2
Granulated white sugar – 1/2 cup
Pure vanilla extract – 1 teaspoon
For the Caramel :
Granulated white sugar – 1/3 cup
Water – 3 tablespoons
Lemon juice – 1 tablespoon
Method:
1. Place an 8 by 2 inch round cake pan in your oven and heat up the empty pan until you prepare your caramel. For the caramel, stir up sugar, water and lemon juice in a sauce pan and bring it to boil. Do not stir, but use the handle of the saucepan to swirl it around now and then. Keep the flame at medium high and let the colour change to amber and then switch off stove when you see the first whiff of smoke.

2. Take out the pan which was heating up in the oven. Place on wire rack or a heatproof counter and pour the caramel quickly into the pan and use your oven mitt and quickly swirl up the caramel to coat the entire bottom surface of the pan. ( Heating the pan was literally to give you time to pour the caramel and swirl it to coat the pan. If you have skipped that step to heat up the pan, once you pour the caramel and before swirl, it would have hardened without coating the entire surface, so heating up the empty pan is the key). Set the caramel coated pan aside.
3. In a bowl take eggs and egg yolks and whisk it well. Add the sugar and give it a nice whisk again. Meanwhile boil 4 cups of water in another large bowl and switch off once it starts boiling. ( This boiling water is for the water bath for baking the custard).
4. In a heavy bottomed saucepan, add cream and milk. Heat it up on stove top and let it come just to a boil. Switch off stove.
5. Now add a tablespoon of the cream-milk mixture at a time into the egg mixture and whisk quickly after each time. Do this until you finish adding it a tablespoon at a time for 5 to 6 times. This is called tempering. If you go quick on adding the hot milk into the eggs, you will cook the eggs and they will become scramble. So here again you got to be careful. Once the eggs have been tempered, you can add the milk mixture a little more at a time now and once all the milk mixture has been incorporated into the eggs, try to get rid of the bubbles that were formed using back of a spoon. I used my hands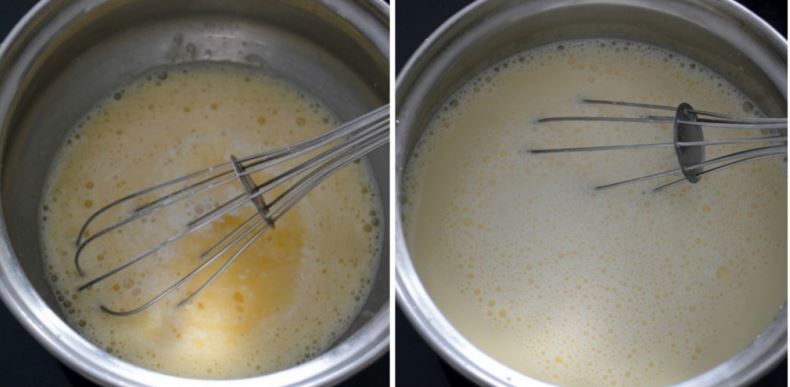 6. Filter off the mixture using a fine sieve. This is to get rid of any scrambles in case if any. Now pour the mixture into the caramel coated pan. Again make sure there are not much bubbles on top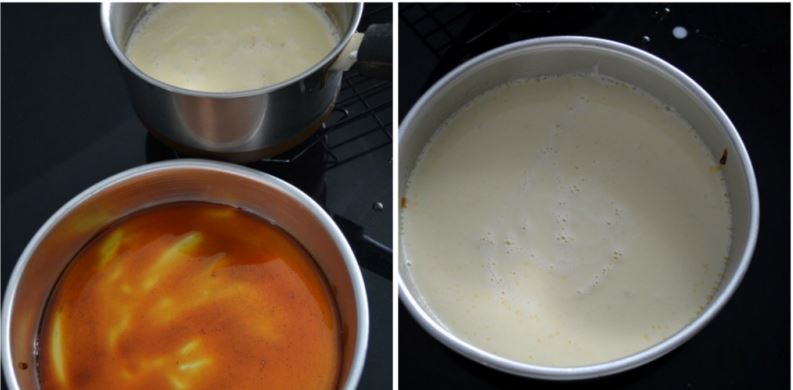 7. Place the pan in the center of your baking tray and pour the boiling water into the baking tray filling ths of the baking tray. Carefully lift the tray along with the flan pan and the water and slide it into your pre-heated oven at 170 degree C. Bake it for 40 to 50 minutes, until the top is golden brown, puffed up a bit and the sides will slightly release from the pan. A tooth pick inserted into the center comes out clean. Cool on wire rack and once completely cool try to carefully release the sides of the flan and keep it in fridge to chill. The flan should be still in the pan in which it was baked. You can refrigerate it for few hours or even keep it over night.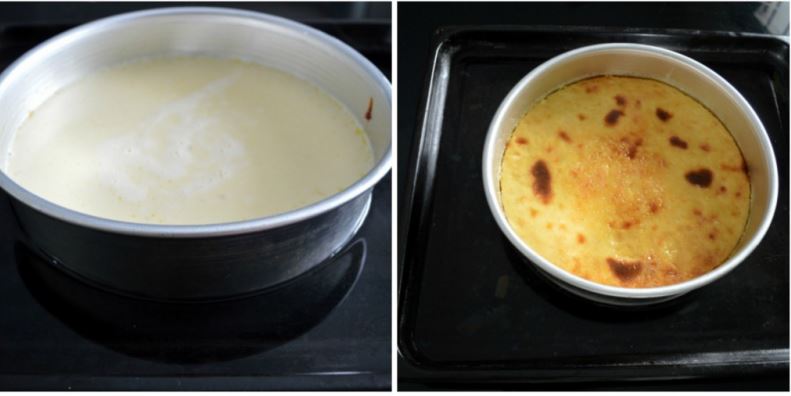 8. Once ready to serve, take a plate and place it inverted on top of the flan pan. Invert it over using both the hands and carefully remove the pan letting the flan stay back beautifully on your plate coating with the luscious caramel sauce.

Over and done!!. Ready to slice them off and devour.
You can store it refrigerated for couple of days. Also you can make individual servings, baking them in individual aluminium cupcake liners.
Here is a bite from my home to you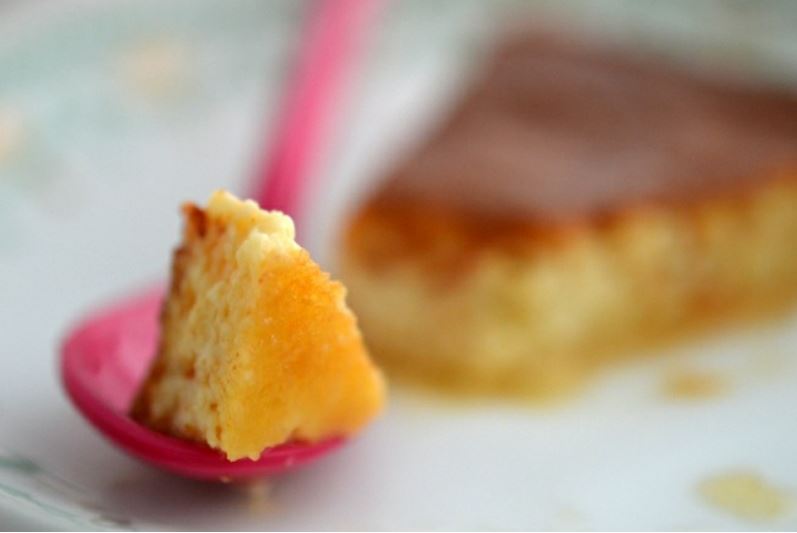 This has been baked for Fondbites, Bake Along, a group of enthusiastic bakers, bake one recipe every week along with me. To join the group, send a join request in the facebook group and I will send you a confirmation message, after you confirm that you will bake every recipe with me each week, I will add you to the group.
Members – Once after you finish baking, post the link of your finished picture below using the linky tool.