Bake Along #50 – Classic Tiramisu
February 28, 2020
2021-09-04 18:11
Bake Along #50 – Classic Tiramisu
Tiramisu is a coffee flavoured Italian Dessert. Savoiardi or the lady finger is one of the key components of the dessert. They are soaked in sweetened coffee syrup which also has Marsala for the added alcohol flavour. These soaked cookies are sandwiched and layered with a rich creamy mixture which in turn has three components. The traditional Zabaione which is the custard, mascarpone cheese and whipped cream.
Once we are clear with the components, the mystery behind making this classic dessert at home becomes very easy.
So here is all that we need for making Tiramisu at home
1. Lady fingers or Savoiardi Biscuits
2. Mascarpone Cheese
3. Zabaione or Custard
4. Whipping Cream
5. Coffee Syrup
As simple as it might sound, and yes it is that simple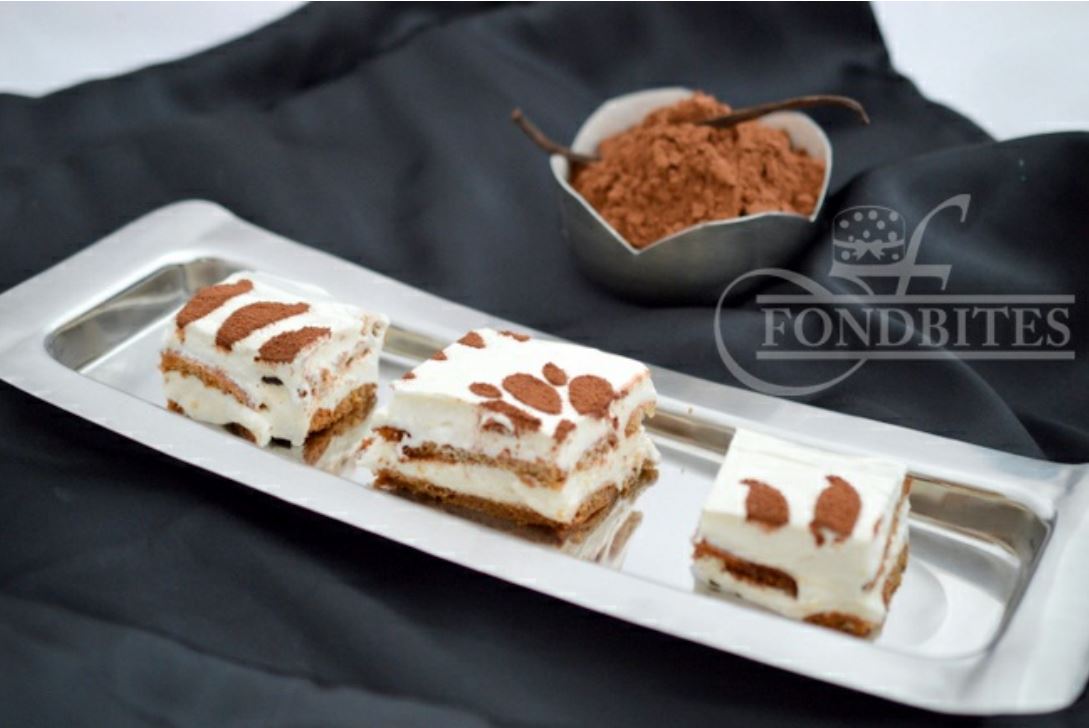 Before heading to the recipe, my heart felt thanks to all members of Bake Along, who have been baking enthusiastically, this word literally makes sense here. Without all your active participation it wouldn't have been possible to come all the way through and make it upto week #50.
But have you ever thought why I came up with bake along ? How did I begin with it ? and first and foremost why did
I do this ? – Now we shall keep this for the next week considering our first anniversary. We will head to the recipe now.
Ingredients:-
Adapted from: Joyofbaking
A. For lady fingers:
All-purpose flour – 1/2 cup minus 1 tablespoon
Cornflour – 1 tablespoon
Egg yolks – 3, at room temperature
Granulated white sugar – 2 tablespoons
Pure vanilla extract – 1/2 teaspoon
Egg Whites – 3, at room temperature
Granulated white sugar – 3 tablespoons
Icing sugar – to dust on top
C. Coffee Syrup:
Water – 1 1/2 cup
Instant coffee powder – 2 teaspoons
Granulated white sugar – 1/3 cup
Marsala or dark rum – 1/4 cup
B. For Custard:
Milk – 2 cups
Granulated white sugar – 3/4 cup
All purpose flour – 1/4 cup
Egg yolks – 6
Pure vanilla extract – 2 teaspoons
Butter – 1/4 cup, cut into small pieces
D. Mascarpone Cheese:
Check out this link to make mascarpone cheese at home
E. Creamy Mixture:
All the custard made in the recipe
Mascarpone cheese – 200 gms
Whipping cream – 1/2 cup
Instant coffee powder – 1/2 teaspoon ( Optional )
Method:
A. Lady Fingers:
1. Add the yolks and sugar in a bowl and beat on high speed for about 5 minutes until the mixture becomes pale yellow, thick and has a ribbon consistency. Be patient, this might take about 5 to 7 minutes. Add vanilla extract and beat again. Set aside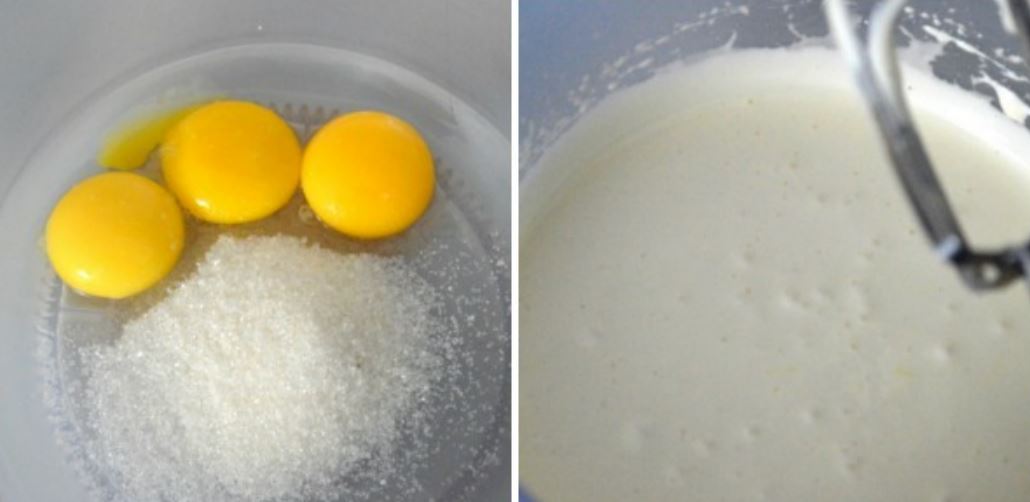 2. In another clean metal bowl, add the whites and beat to break up the egg whites. Now add the sugar and start beating for about 5 minutes until the meringue forms.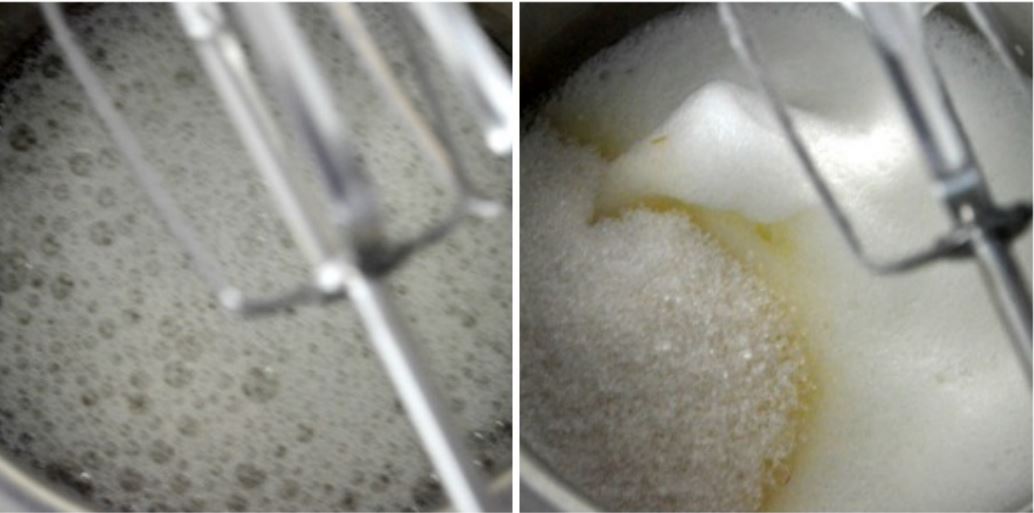 3. The meringue will have stiff peaks. Set aside. In another bowl, sift together all-purpose flour and cornflour. Set aside.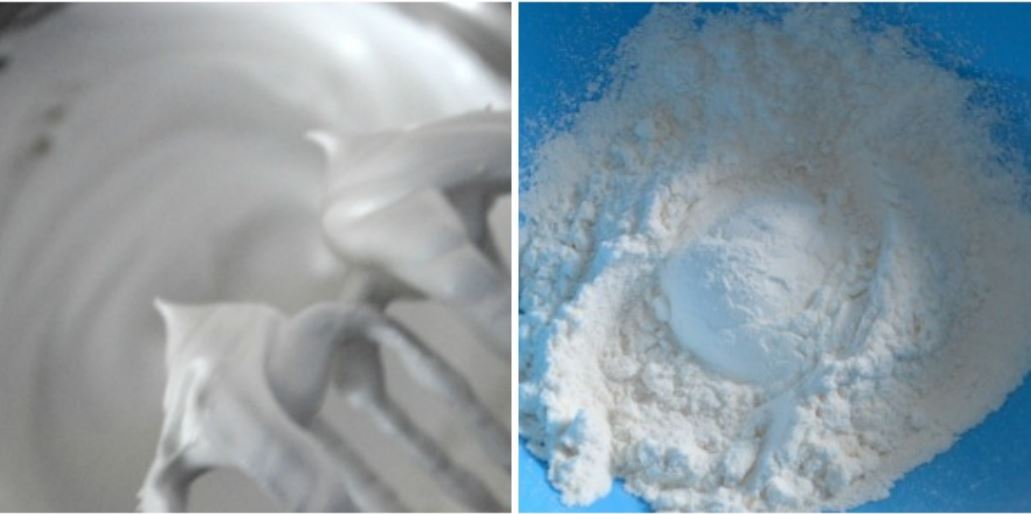 4. Now sprinkle all of the sifted flour over the yolks mixture and then add 1/3 of the stiff egg whites on top of the flour into the bowl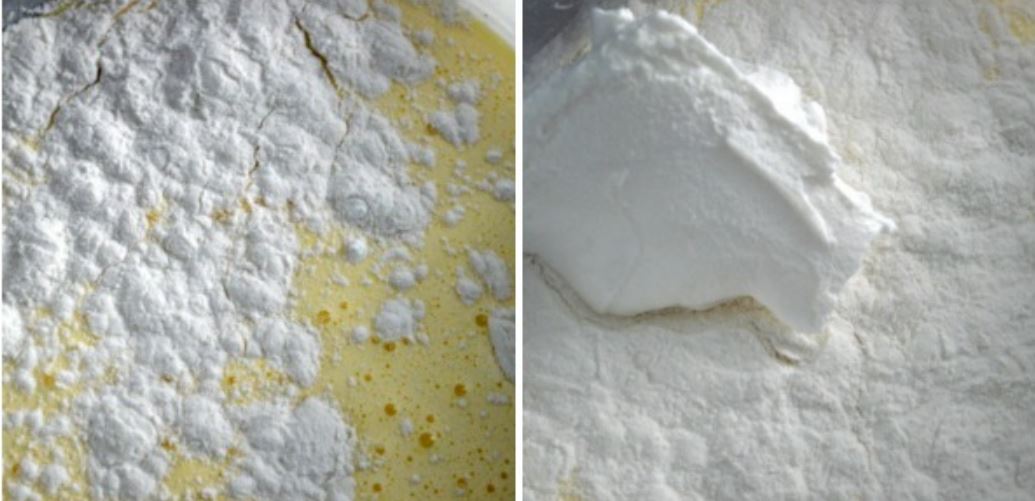 5. Now use folding movement with your spatula and fold in the flour and egg whites. Do not over mix or you will deflate the batter. Add the second portion of the egg whites and fold in again. Then add the last portion and fold in.
6. The batter has a thick ribbon consistency. Do not over beat. Fill your piping bags with the batter and chop the tip of the nozzle with a pair of scissors. In your baking tray lined with silicon mat or parchment paper, pipe the fingers out. The fingers should be 3 inches long and about 1 inch in width. If using parchment paper, you can draw out template and then pipe over by tracing the template to have even sized lady fingers. Dust icing sugar on top of the piped fingers.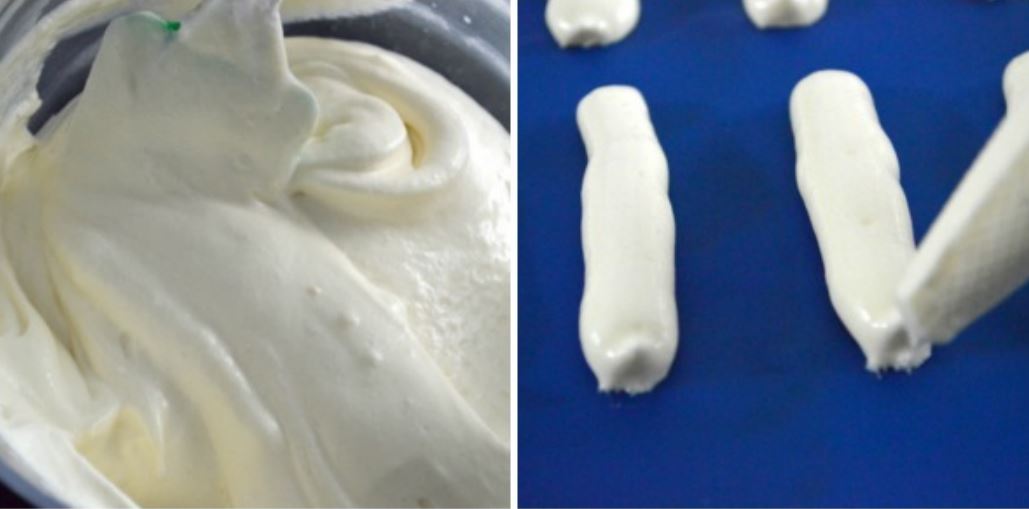 7. Bake in pre-heated oven for 12 to 14 minutes at 180 degree C. The fingers have to brown on top. The one in the image below was under baked, so I popped it back in oven again for 2 more minutes. Cool on wire rack. They are crisp after cooling down. Store them in air tight jars.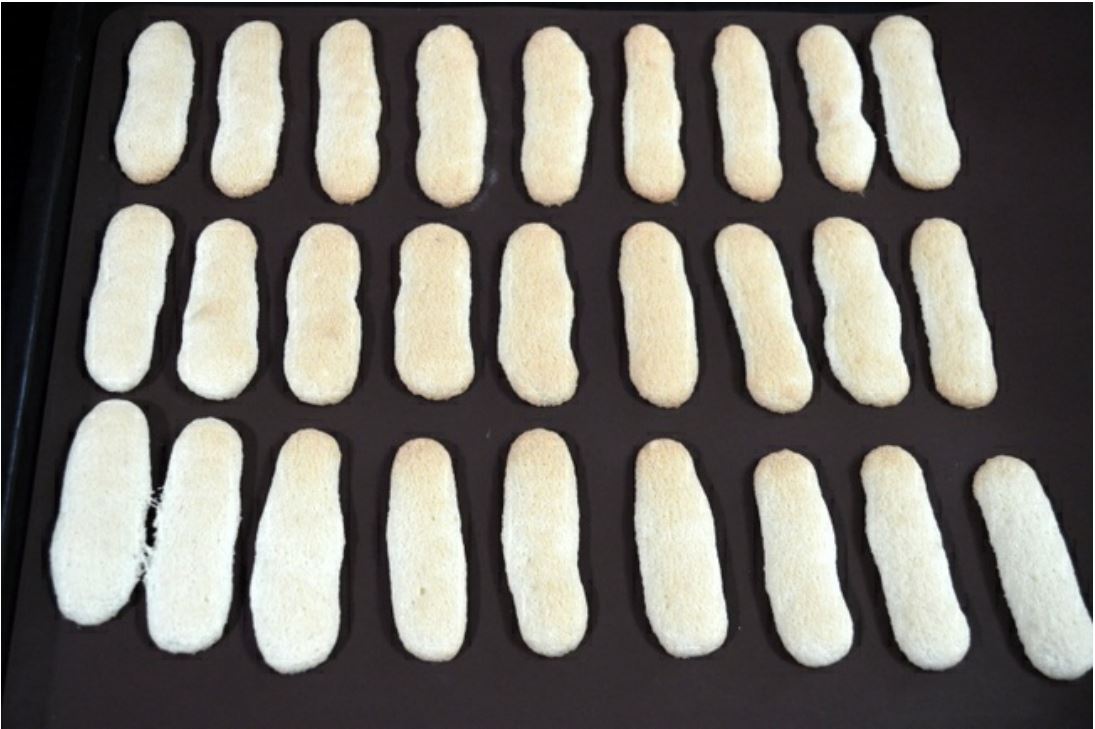 B. For Custard:
1. Add the yolks and flour in a bowl and beat with your spatula until the both combines well.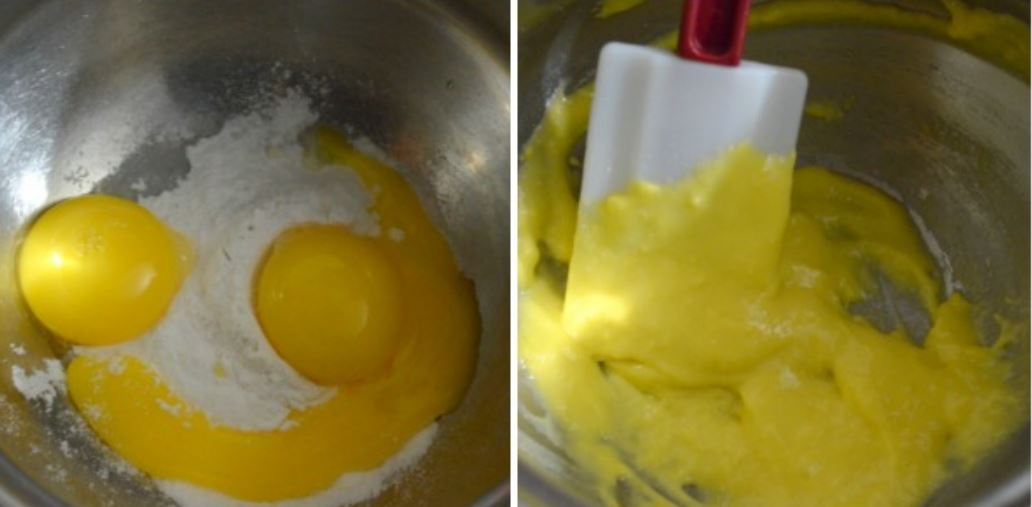 2. In a heavy bottomed sauce pan, add the milk and sugar. Let it come to a boil. Add the hot milk in a slow stream into the yolks mixture. Keep mixing continuously or you might cook some eggs. Add all the milk and mix well without any lumps. Even if there are any lumps you could filter them later.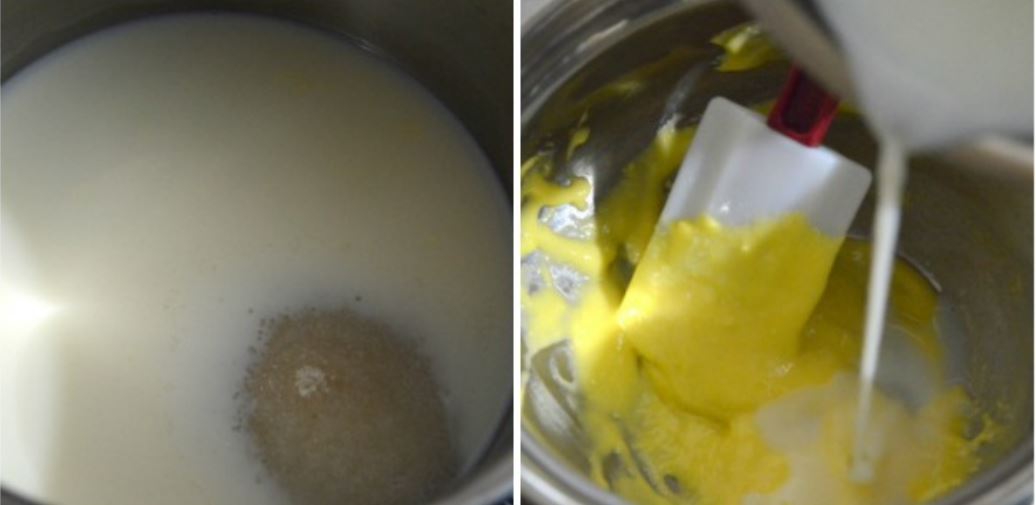 3. Now pour the entire liquid content back into the heavy bottomed sauce pan and bring back on fire on medium flame. Keep stirring until it thickens enough to coat the back of your spoon. Remove from fire.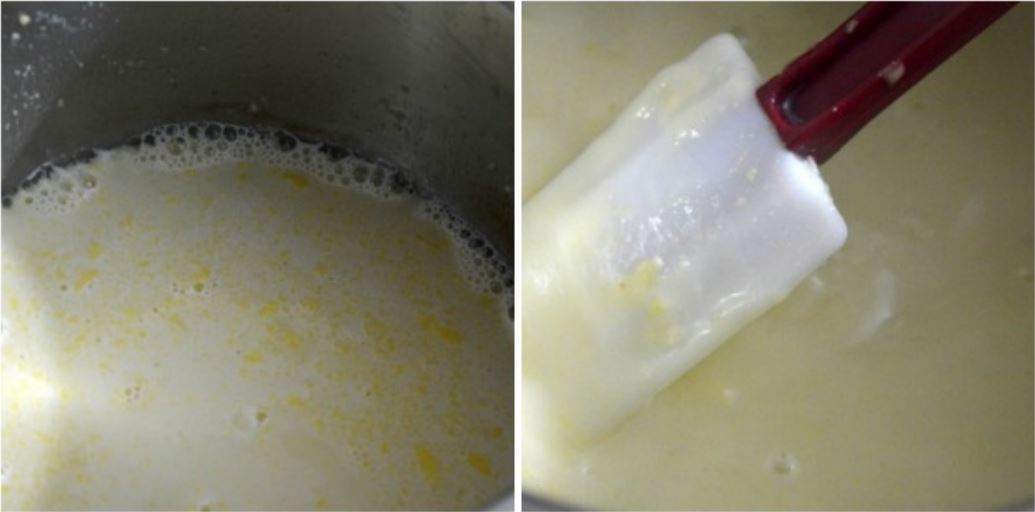 4. Add butter and vanilla extract and mix well till butter fully melts and everything is incorporated well. Strain the custard into a bowl. Cover the layer of the custard using a plastic wrap and keep it refrigerated until use.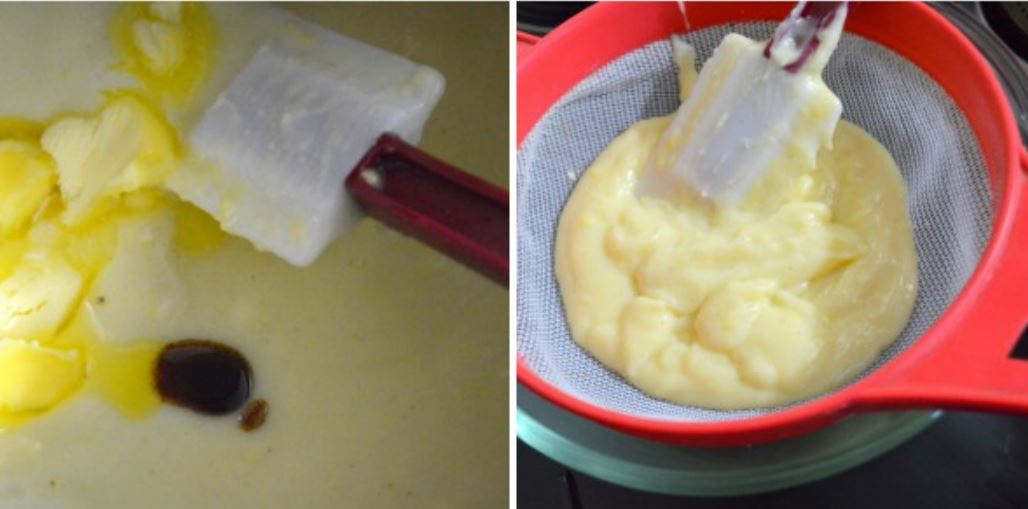 C. Coffee Syrup:
Bring the water to a boil and then add the instant coffee powder and sugar and mix well. Add Marsala or dark rum and mix well. Once cooled down to room temperature, refrigerate until use.
D. Mascarpone Cheese:
Making of mascarpone cheese is an over nigh,t but a very easy process. I have linked to Divya Kudua's Blog where she has step by step pictures of making mascarpone cheese at home.
E. Creamy Mixture:
1. Beat the whipping cream on medium high speed until soft peaks form. Use custard and mascarpone cheese cold from the fridge. Take them out and use a spoon to mix them well to soften it a bit. Then add both of them into the whipped cream and beat on medium speed until all the 3 have incorporated well with soft peaks. You can add the instant coffee powder now and whip it again, if using. I chose not to add instant coffee powder to the cream.
ASSEMBLY:
This is the most blissful part of the whole effort. Have all the 3 components ready along with the bowl you would set your Tiramisu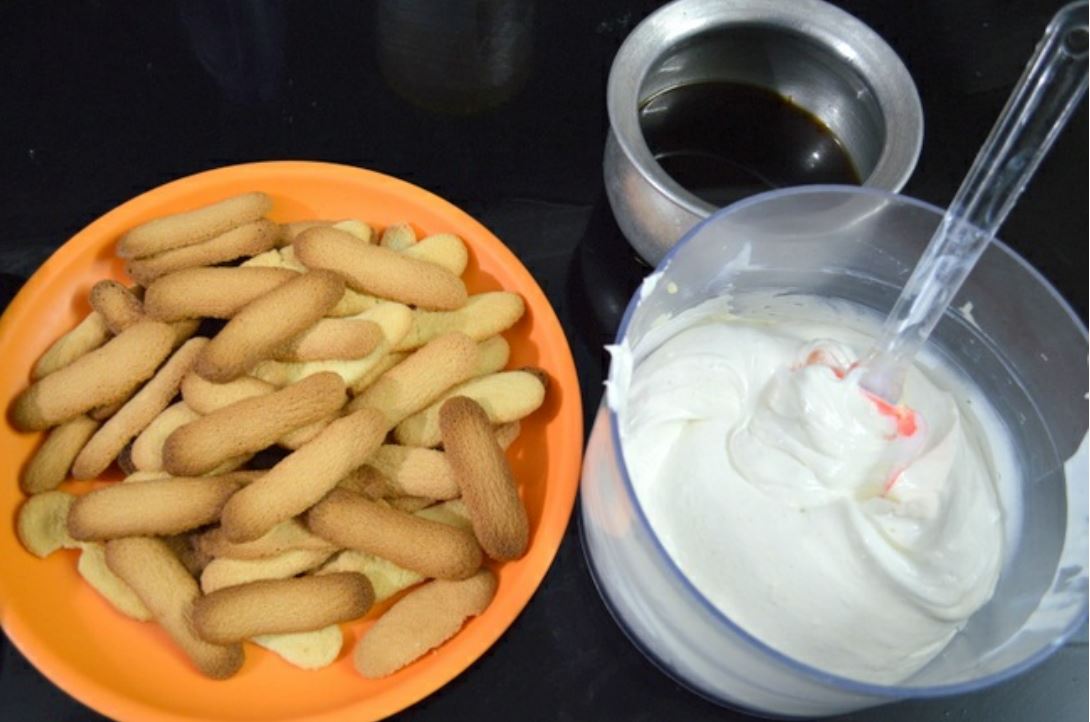 1. Take each lady finger and dip them individually into the coffee syrup and start placing them adjacent to each other on the bowl in which you are setting the dessert. Fill up the entire base of the bowl.

2. Add half of the creamy mixture and spread out to cover the cookie layer. Now again dip the lady fingers into coffee syrup and arrange them on top of the creamy layer filling the entire top.

3. Now add remaining portion of the creamy mixture and spread all over and smooth out the top.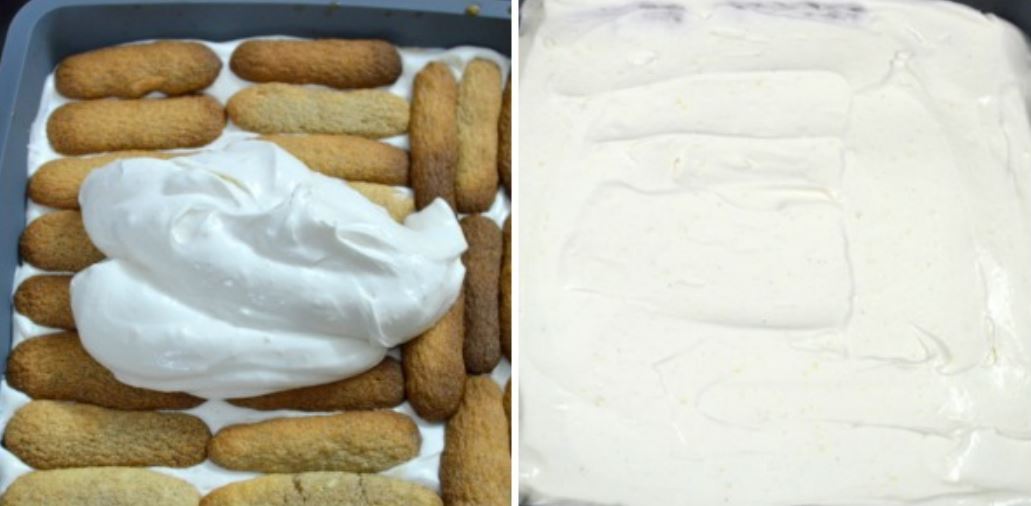 4. The dessert is usually served with dusted cocoa powder. I used a stencil to dust it on top. You can just dust using a sieve all over on top of the dessert. Few choose to add grated chocolate too on top. Set in refrigerator until ready to eat.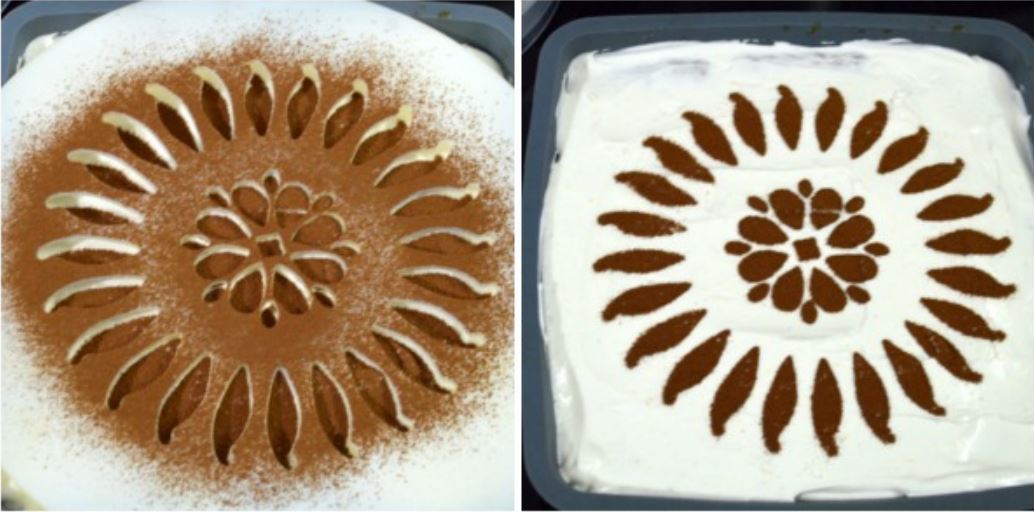 If you want more layers, choose a smaller bowl and split the cream into 3 or 4 portions accordingly. Now I had some left over cream and also some lady fingers. So here are some
awesome Tiramisu trifles I made which I just so loved them like my babies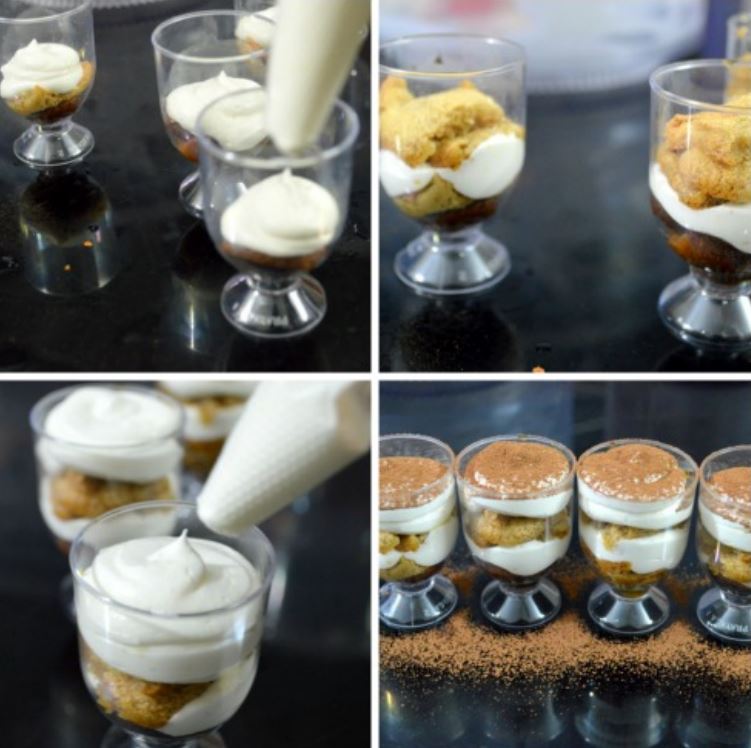 I just broke the lady fingers into pieces that could fit my trifle jar, dipped them into the coffee syrup and layered with the cream and dusted the with cocoa powder. Set in fridge until ready to eat.
Now heading to how this dessert can be made eggless –
Out of the 5 components, we have 2 of them using eggs. Of the both, custard can be easily made using ready custard powder following the instructions in the pack. Quantity of custard should be 3 full cups.
Now about the lady fingers – It can be possible by piping out fingers using your successful vanilla cake batter. Here is link to an eggless lady fingers from a promising blog
Once these 2 are ready, you can head over to the rest of the process of making mascarpone, the coffee syrup and then the assembly as per the instructions in this post. 14/16
Now on a final note, the classic traditional tiramisu contains alcohol. Personally am not fond of alcoholic desserts, its just about the flavour of it. I know it seems very ridiculous, but I just couldn't take it. So my version is non-alcoholic. If you choose not to add the alcohol, avoid it. We are going to eat it with the family. Now when it comes to making it on a commercial purpose, you might have to add it to make it authentic.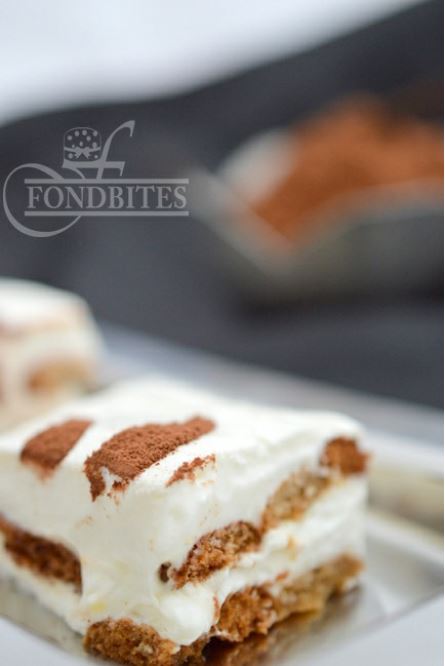 Hip Hip Hurry to our successful half century