Bake Along #2 – Dulce De Leche Brownies Caramel Brownies
January 22, 2020
2021-08-09 16:42
Bake Along #2 – Dulce De Leche Brownies Caramel Brownies
Bake Along #2 – Dulce De Leche Brownies Caramel Brownies
Brownies are fudge like cakes, with a gooey center and a crusty top. There are quite a few varieties of brownies that one could make, starting from rich chocolate brownies, mocha brownies, pecan brownies, white chocolate brownies, cream cheese brownies, caramel brownies and the list goes on. Brownies have naturally become very common, a sure to pick for any chocoholic. But here our idea is to bake a normal brownie with some details added to it making it more scrumptious, decadent and give it an extra factor wanting to ask for more. Caramel brownies we can call it, but an easier version so originally it is called, 'Dulce de Leche Brownies'.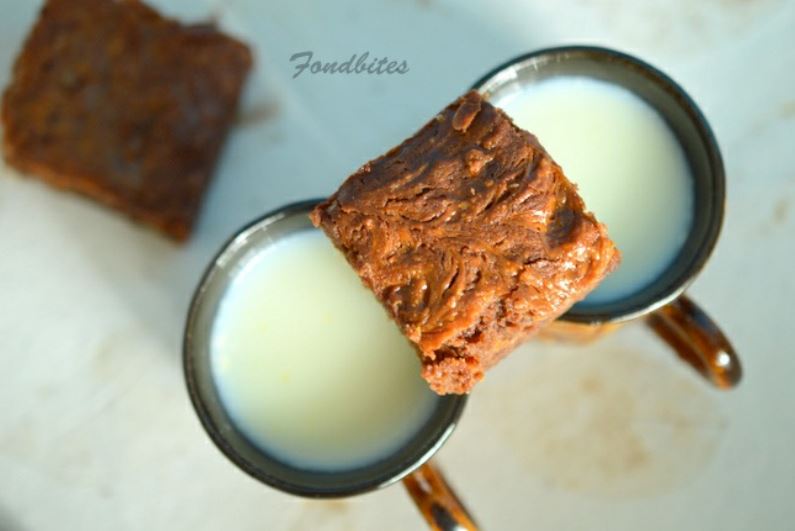 Ingredients:
1/2 cup butter
1 cup brown sugar
2 eggs*
1 teaspoon vanilla extract
1/3 cup unsweetened cocoa powder
1/2 cup all-purpose flflour
pinch of salt
1/4 tsp baking powder
Walnuts – 1/2 cup, or any nuts of your choice. Its also optional,
Dulce de leche – 1 cup ( Check this for the method of making DDL, Divya's Cookbook – How to prepare dulce de leche )
Egg-free bakers can use one of the 2 options given below
For each egg, puree 1/4 cup of silken tofu and use in place of eggs in the recipe.
For each egg, soak 1 tablespoon of flflaxseed powder in 3 tablespoons of water for 5 minutes and process in small mixie jar for one minute until the mixture gets wobbly. Use in place of eggs in the recipe.
Method:
1. Pre-heat oven to 175 degree C. Place oven rack in the middle of the oven. Line up an 8 inch square cake pan with aluminium foil. Lining pan for brownies should be handled difffferently than a cake. Here is how. Take a foil much larger than the size of the pan. Invert the pan upside down. Place the foil on top of the inverted pan and try to gently fold the sides of the foil upon the pan trying to give foil the shape of the pan. Now carefully lift the foil without changing its shape and put back the pan right side up. Now place the foil carefully inside the pan. Make sure you gently push it down and let the sides adhere to the pan and the 2 long sides have enough of tail outside, which would be useful to pull the brownies out of the pan once baked. Brush or apply some butter on the foil.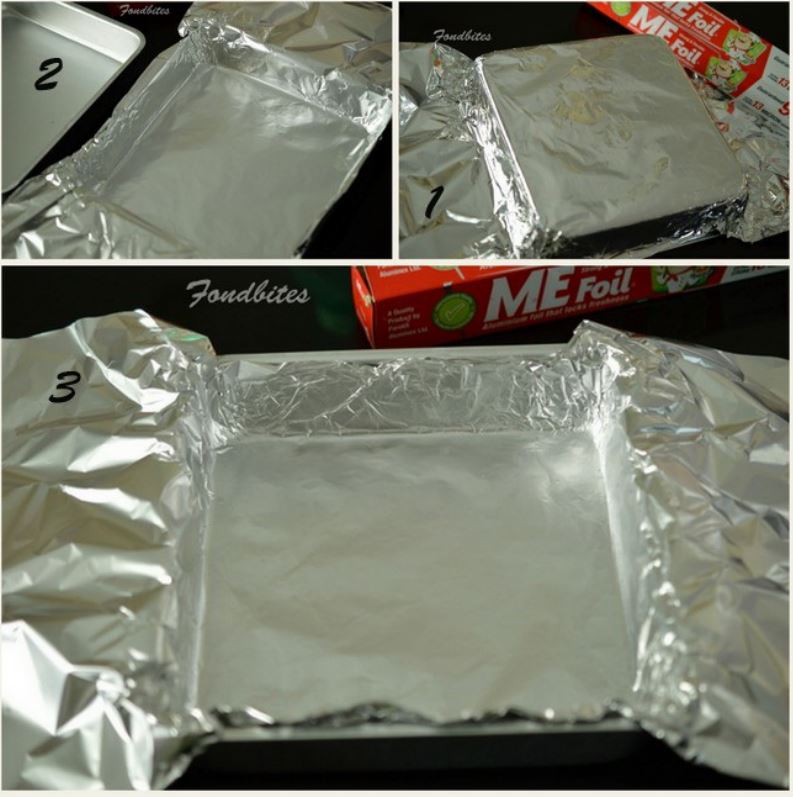 2. In a sauce pan, add butter and melt it. Now add brown sugar and whisk until mixed. It does not have to dissolve completely. Add the eggs one by one whisking well after each addition. In a separate bowl, sift or whisk together flflour, cocoa powder, baking powder and salt. Add the dry mixture into the butter and whisk until flflour has been completely incorporated. Do not over beat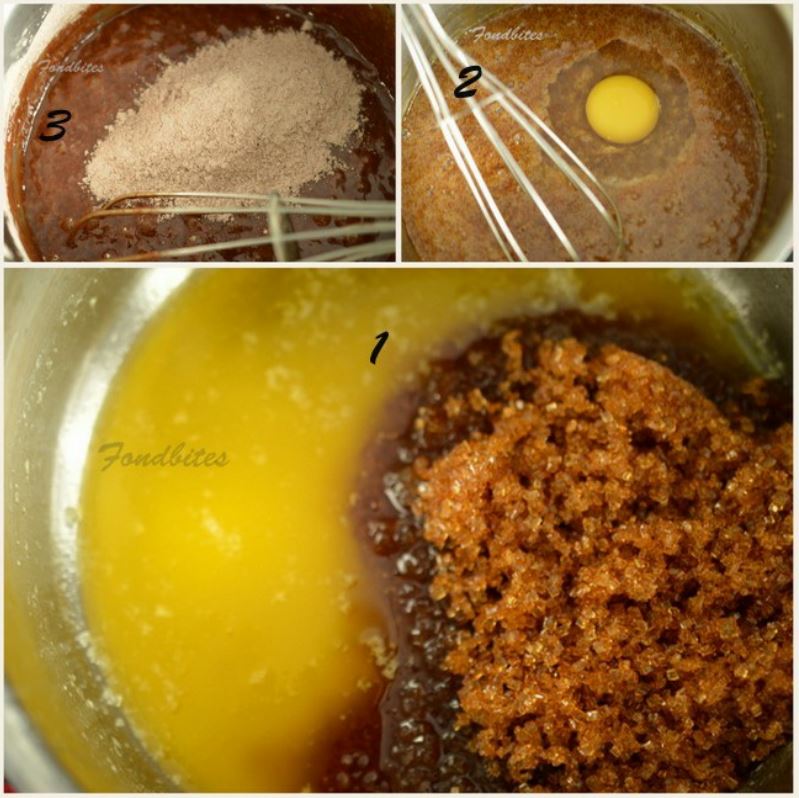 3. Pour half of the batter into the prepared pan and spread all over the pan using a rubber spatula. Now use teaspoon to scoop out dulce de leche and spread them randomly on top of the brownie batter. Use a toothpick to swirl around. Now add the remaining batter on top and spread evenly using the spatula. Add the remaining dulce de leche on top and use toothpick to swirl over again. I just did some playing around with the swirling part here. You don't have to do that. Swirling can be random.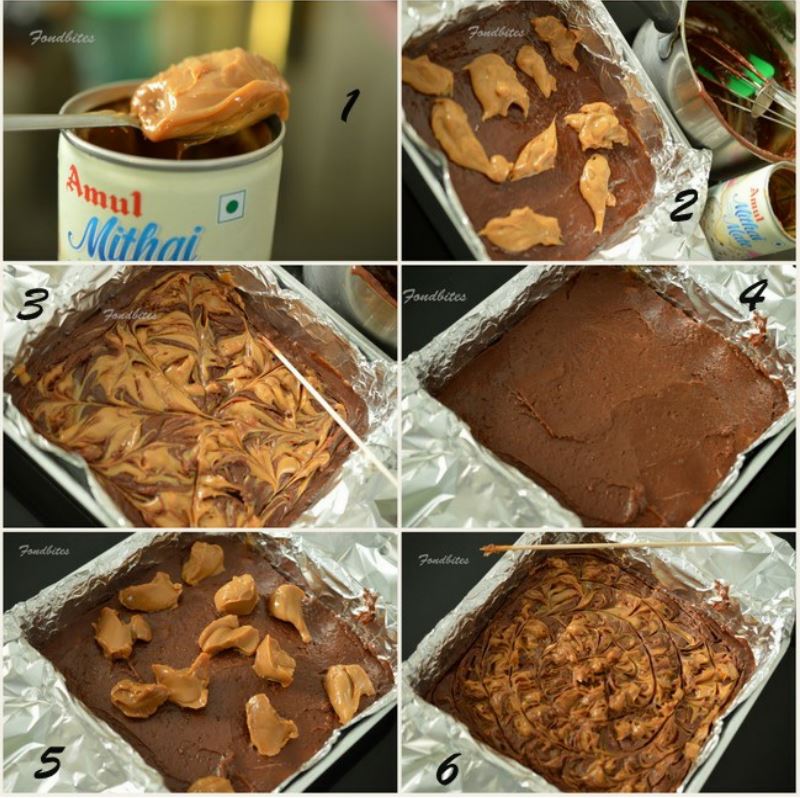 4. Bake in the oven for about 25 to 30 minutes until the top is crusted. Remove and cool on wire rack for 30 minutes. Use the tail of the foil to pull the brownies out carefully. Place them on the counter and try to remove the foil from the sides of the brownie. Use a shape knife, I use my dough cutter to cut them into squares of desired size. Carefully peel them offff the foil. And now they are ready to be packed except one square! Yeah the maker deserves one right away!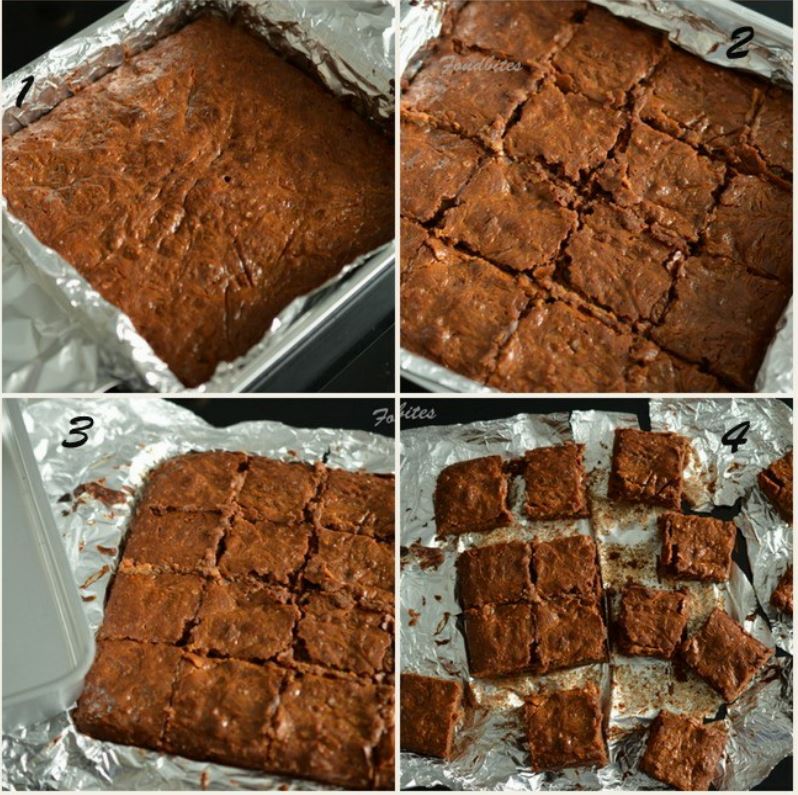 5. You can cling wrap the brownies and store in airtight container. They are good at room temperature for 3 to 4 days. Refrigerated for a week and can be frozen for about a month. Here are a couple of ideas for packaging. Several other ways are available though. They make a nice gift and ofcourse a best seller!
They make a great treat at any bake sale, kids parties, snacks for guests, kids school snack box and the list goes. I made these and they were some untiring after meal dessert for about 3 days