Bake Along #28 – Everything I Ever Wanted in a Brownie
February 14, 2020
2021-09-04 18:18
Bake Along #28 – Everything I Ever Wanted in a Brownie
Bake Along #28 – Everything I Ever Wanted in a Brownie
This week is pretty much special. There is quite a lot of suspense in the air this time. I was into flavour hunt in the recent past and I thought it will be fun if we had a game to hunt for more flavours. I raised a contest in the group asking for members favourite brownie layer combinations and there were surprisingly almost 30 different flavours. It looked more like a contest then and I had to really collate everything and arrive at one. That was literally a fascinating thing for me to do and it was totally fun. Here too I really didn't finish up completely with what I chose, but then there is a final winner. I did choose one from the whole lot of entries. The layers from the bottom are brownie topped with white chocolate shavings, oreo dunked in caramel syrup, brownie topped with milk chocolate shavings, milk chocolate ganache, peanut butter drizzle. And if not the flavour rows are familiar, the name could have hit the light? or not ?
That's Sanja Shivakumar, a B.com Student cum bakeress of Sweet Cravings. Sweet cravings is one year old and all that's part of its growth has been exceptionally high. Sanjna bakes and decorates her cakes with a professional touch and she also takes baking classes based at coimbatore, TN. She aspires to take her culinary journey, a dream cum passion as her future career and Fondbites is wishing her many more successes to come and to achieve lots more in her life. Good luck Sanj!!
Heartfelt thanks to all participants who have enthusiastically given your responses. And yes this looks totally fun and not to disappoint all fellow bakers, such contests will keep coming and more such fun events will be part of bake along going forward.
Said this, I had to alter a bit of what Sanjna had given. Her original specification was
1. Oreo soaked in caramel sauce
2. Chocolate mousse
3. Fudgy brownie with white choco chips
4. Milk chocolate ganache with peanut butter swirl
To make the baking process easy to follow I adapted it and changed it like this
1. Fudgy Brownie top with white chocolate
2. Oreo Soaked in Caramel sauce
3. Fudgy Brownie with milk chocolate
4. Chocolate Mousse top
5. Milk Chocolate Ganache
6. Peanut butter drizzle
True I decided and planned to include the mousse and my bad the pan I used never allowed me more than 5 layers so I had to skip the mousse. It would also have been a good idea to have piped mousse on top but I literally was running out of time and that is definitely not an excuse I know. But then most accomplished moments I would say, because the whole layer of different flavours just blended and that is something a baker at one point of time should really bake and take a bite into, to feel what it will do to us. Chocolate, Caramel and Peanut – predominantly these 3, as the milk, white and dark chocolate let them be grouped as chocolate. Here in addition, I used orange flavoured oreos, so 4 flavours just darn together and they are just the best.
To me this combination is always going to be a hit and I will look out for more opportunities to fit in this combo in my future cakes, fillings and frostings, Cupcakes again with fillings and frostings and for that matter any other bakes and yes with the ever growing trend of baking and bakers there will always be hunt of something special and bakers have to keep tweaking our ideas.
Into the recipe now!
Brownie recipe inspired from Cookie&Kate
Butter – 150 gms, cut into small pieces
Granulated white sugar – 1 1/4 cups
Cocoa powder – 3/4 cups
Salt – 1/2 teaspoon
Baking powder – 1/4 teaspoon
Instant coffee powder – 1/2 teaspoon
Eggs – 2
Vanilla Extract – 1 teaspoon
All-purpose flour – 2/3 cups
Dark chocolate chips – 1/2 cup
Milk chocolate ganache
Milk chocolate – 150 gms
Fresh cream – 50 gms
For additional layers
White chocolate – 50 gms, grated
Milk chocolate – 50 gms, grated
Oreo – 20 numbers, approx
Caramel syrup – 1 cup, Check for making caramel syrup here
Drizzle
Peanut butter – 1/2 cup, creamy or crunchy
Method:
1. Pre-heat oven to 180 degree C. Line up 10 inch square baking pan with aluminium foil. It is necessary to line pans with aluminium foil if the pans are aluminium. If they are teflon coated or silicon pans, coating is not necessary. To line your pans, invert your pan and place the aluminium foil over it and get the shape of the pan without tearing the aluminium sheet, and then re-invert and put the sheet inside gently lining the entire surface of the pan also having long tails on both sides of the pan, that will enable you lift the whole brownie once it is cooled. Leaving the tail of aluminium foil is also key to get brownies out of pan.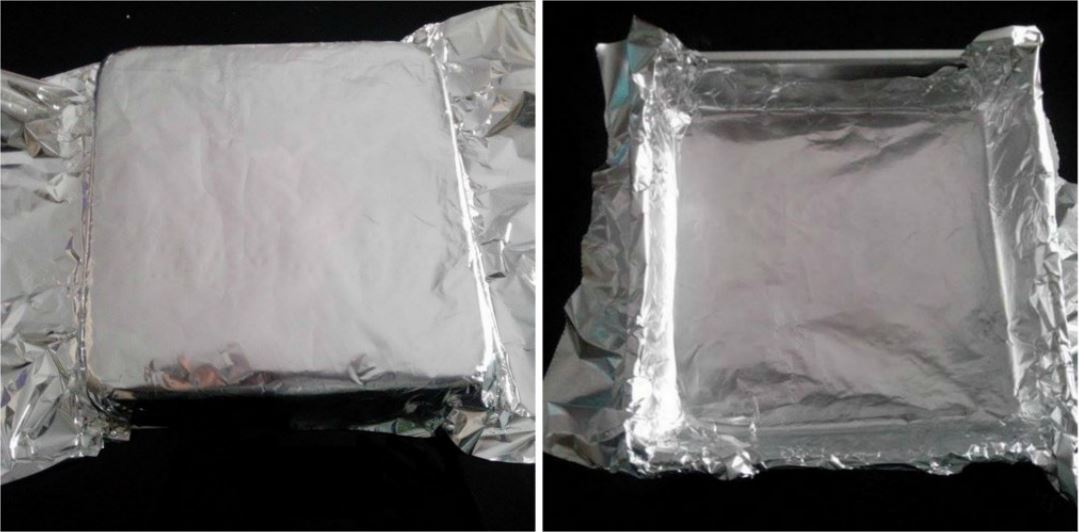 2. Add butter into a heavy bottomed saucepan and heat it up on stove top on medium flame. Let it come to a boil and keep stirring until the butter changes colour to golden brown and let it just begin to change from golden brown to brown. Switch off stove and add sugar and mix well.
3. Add the eggs one after the other and mix well after each addition. The mixture will thicken up a bit. Now add cocoa powder and mix well. Add coffee powder, baking powder and salt and mix well. Now add the flour and mix vigorously using hands and a wooden spoon for about 50 strokes until the mixture is glossy and smooth. Do not do the mixing with beater as it might change the texture to cake-ish.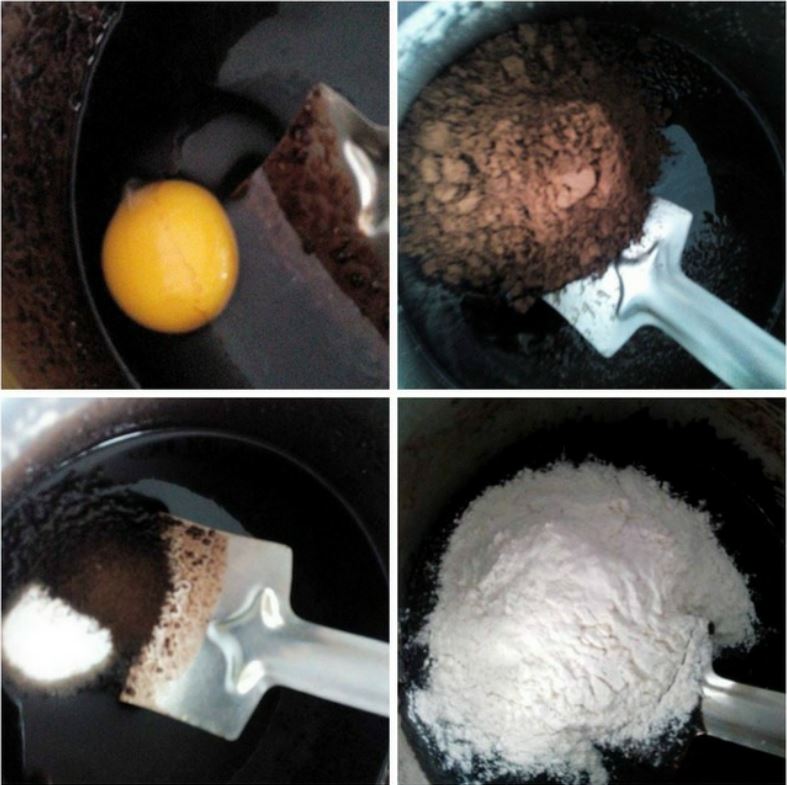 4. Now add chocolate chips and mix well. Add half of the batter into the prepared pan and smooth out using back of a spoon or an offset spatula. Sprinkle it with grated white chocolate.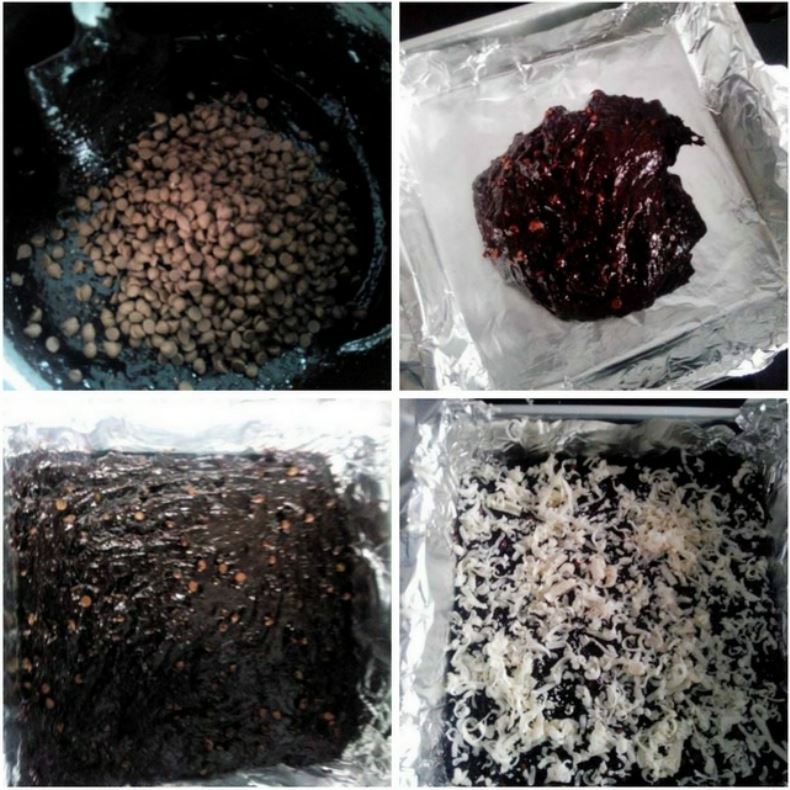 5. If caramel syrup seems to be thick enough not aiding any soaking, you can heat it up a bit on stove top until it loosens up a bit. Start soaking oreos in caramel syrup and layer them on top of the white chocolate shavings. Pour the remaining brownie batter on top of the oreos and then use back of your spoon or an offset spatula to smooth out the top.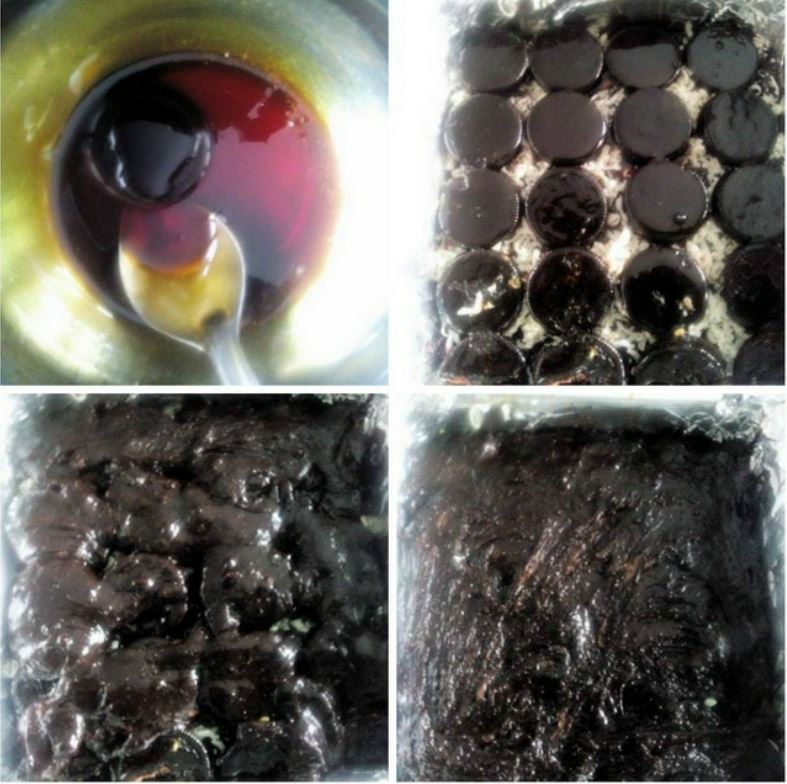 6. Top it with grated milk chocolate shavings and bake in pre-heated oven for 30 to 40 minutes until the top is firm to touch and a tooth pick inserted into the center comes out clean. Let cool on wire rack for 10 minutes.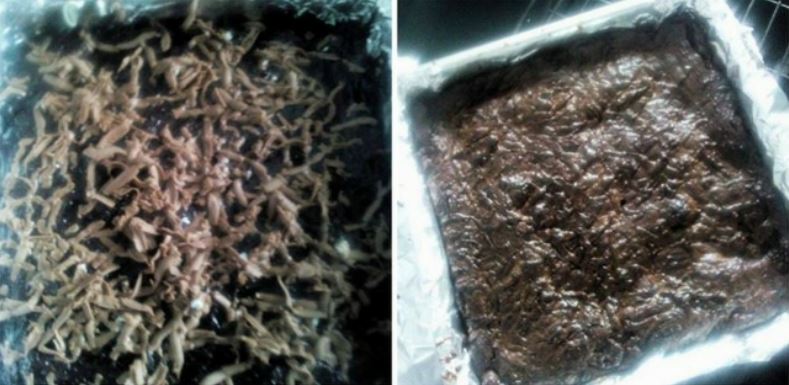 7. While brownies are cooling down, make the ganache. Roughly chop milk chocolate in a microwave safe bowl and microwave for 40 seconds on high power and mix well until the chocolate melts completely. Add cream and start mixing vigorously until the mixture thickens a bit and is smooth without any lumps. Ganache is now ready and pour it completely on top of the cooled brownie and spread it evenly across the brownie. Set in refrigerator for about 30 minutes.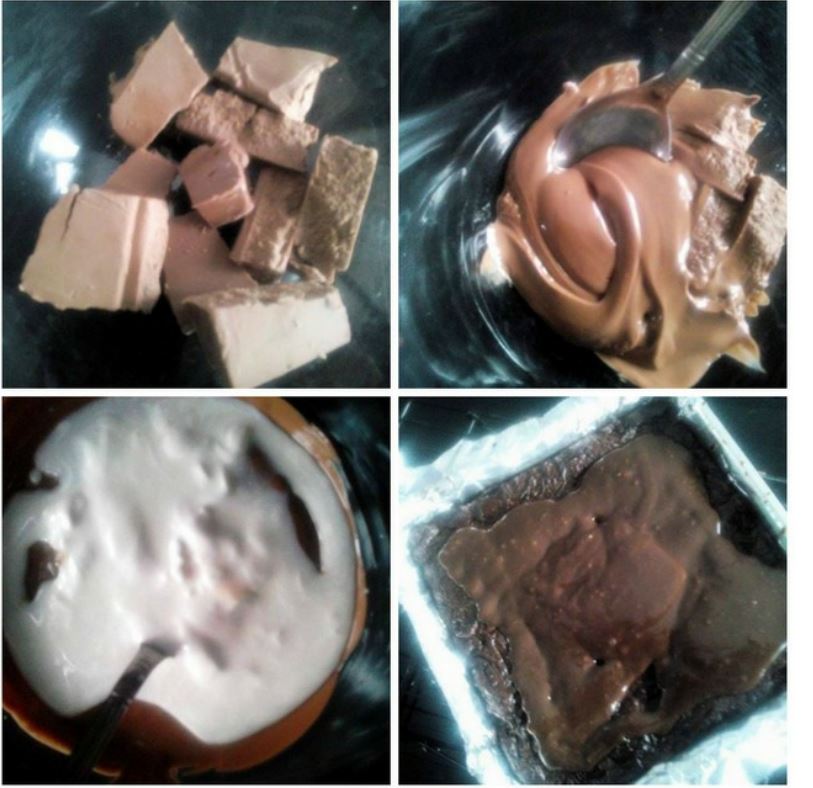 8. Fill a piping bag with peanut butter and start piping random patterns on top of the set ganache. I decided to use a tooth pick and swirl it up to make a rustic pattern which I always aspired to do :P. Again set it in refrigerator for 30 minutes to 1 hour. Now try to pull out the aluminium paper tails on either end to bring the whole brownie out of the pan. If the sides seem to be stuck, use a knife to go through the sides between the pan and the aluminium foil and get rid of any stickiness and take the brownie totally away from the pan. Now peel off the sides of the aluminium foil and cut the brownie into 16 squares using a sharp knife or I would prefer a dough cutter/bench scrapper.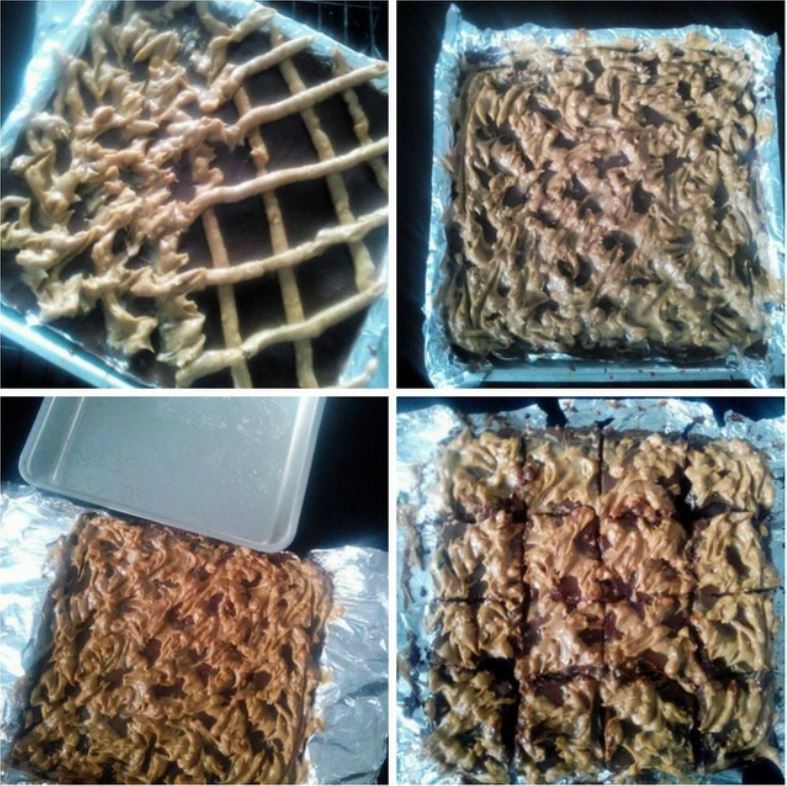 Start picking each square in hand to see which looks prettiest to show you the oreos in between :D, yeah I did that the first thing even before taking a bite. Then peacefully enjoy the biggest square, lol true I did that too. Now start clicking pictures of the best brownies you have made till date.
Another fascinating thing about these brownies were the recipe with which the brownies were made. Remember my idea was to have brown butter frosting ?!? and I tried to plug in brown butter to the brownie batter here. You will know why that is so different and why you should really try this after taking one bite. Sinful dessert so far. And yes I should stop talking now and start grabbing the remaining squares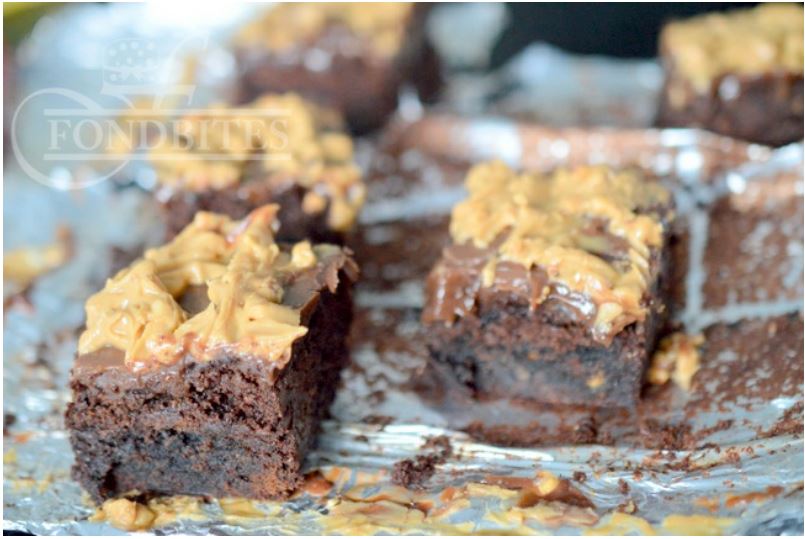 These are best the day they are made and couple days at room temperature. Refrigerated for 4 to 5 days and can be frozen for more than a week.
This has been baked for Fondbites, Bake Along, a group of enthusiastic bakers, bake one recipe every week along with me. To join the group, send a join request in the facebook group and I will send you a confirmation message, after you confirm that you will bake every recipe with me each week, I will add you to the group
Recipes of previous Bake Along can be viewed here
Members – Once after you finish baking, post the link of your finished picture below using the linky tool.