Bake Along #7 – Caramel Peanut Topped Brownie Cake
January 23, 2020
2021-08-09 16:39
Bake Along #7 – Caramel Peanut Topped Brownie Cake
The first bake of the year 2014, and I wanted to do something with all that I crave about, with just the thought of it. Chocolate, caramel and caramelized peanuts! I'm a fan of snickers and I always wanted to get a close bake and my hunt was on the whole last week. Online everywhere, when it gets close to snickers, it was snickers broken into pieces and used in the cake. If it was made from scratch there was something less like a shortcut to the caramel. I needed everything from scratch, a traditional caramel and salted peanuts! Voila. I do really get to me, all that I always needed. I am a proud owner of 'Baking from my home to yours by Dorie Greenspan' and she had the exact recipe what I was looking for. And here goes Bake Along #7, and the first bake along and my first bake for the year.
Hope everyone have a splendid year with every single day to have lot of reasons to thank about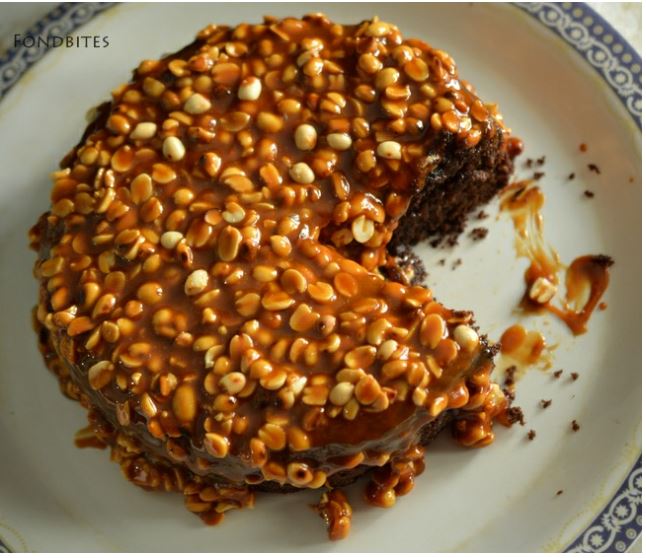 If you are not a peanut fan, you can use almonds, cashews, walnuts or even mix of all the nuts you would crave on a cake.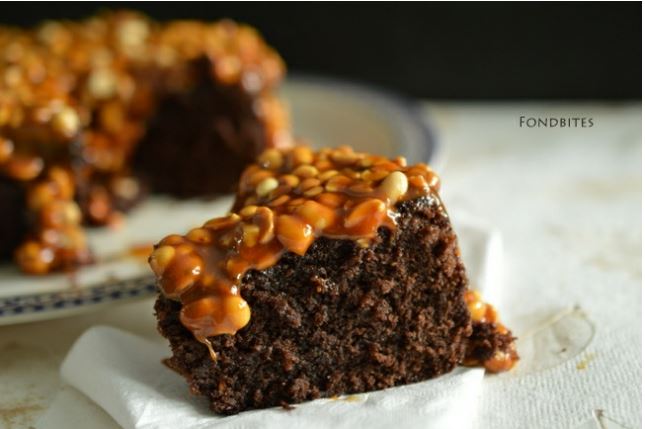 Such a decadent dessert, one bite ful takes you a trip to heaven and back. Say with me again brownie cake, caramel and salted caramelized peanuts. Yummm…
Ingredients:
All-purpose flflour – 1 cup
Baking soda – 1 teaspoon
Salt – 1/4 teaspoon
Butter – 100 gms, chopped
Dark chocolate – 150 gms, chopped
Eggs – 3
Light brown sugar – 1/2 cup, tightly packed
Granulated white sugar – 1/4 cup
Light corn syrup/ Honey – 3 tablespoons, I used honey
Vanilla extract – 1/2 teaspoon
For Topping:
Sugar – 1 cup
water – 1/4 cup
Light corn syrup/honey/liquid glucose – 1 tablespoon, I used liquid glucose
Fresh cream – 1/3 cup
Butter – 1 tablespoon
3/8Peanuts – 1 cup, toasted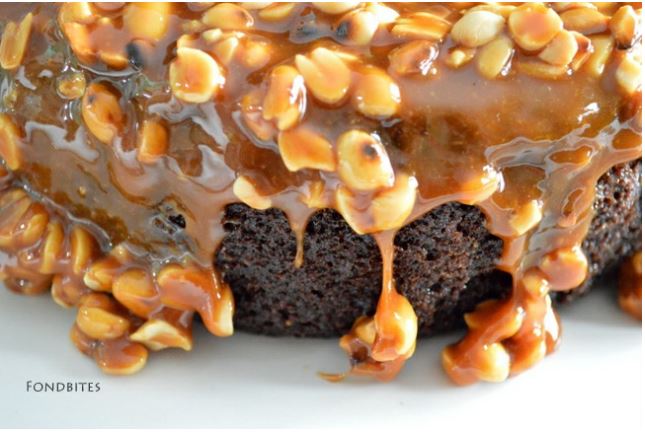 Method
Pre-heat oven to 160 degree C. Line up an 8 inch round cake pan with butter and butter paper.
Double boil chopped chocolate and butter until both have melted and combined well. Let cool. In another bowl, whisk eggs and both the sugars.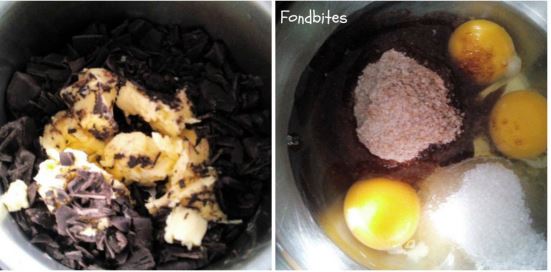 Add honey, vanilla extract and chocolate sauce into the egg mixture and whisk until mixed well.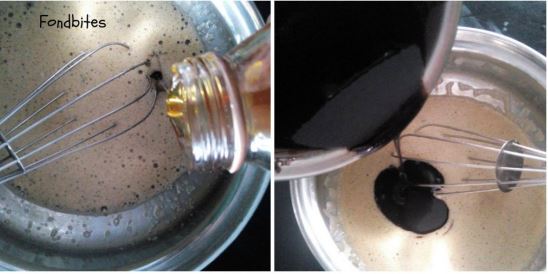 Sift flflour, baking soda and salt and add it into the batter and fold just until mixed well. Do not over beat. Pourbatter into the prepared pan. Bake in oven for 30 to 40 minutes until a skewer inserted into the center of the cake comes out clean. Cool on wire rack.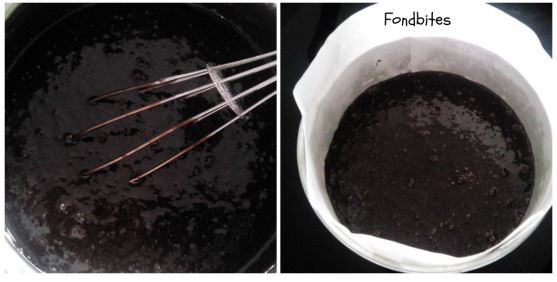 For Topping:
Add sugar and water in a saucepan and place on stove on high flame. Add liquid glucose/honey/ light corn syrup.Wait till it comes to a rolling boil. Stir it once and wait till the colour changes to amber. Lesser the colour, lighter the flavour. So wait till the colour changes nicely.

Switch off stove and stay away from the sauce pan, add the cream and it will start to bubble. Now add the butter and switch on the stove again. Let it thicken up a bit for a minute and then add the peanuts and mix well. Switch off stove immediately.
Assembly:
Place the cake on the serving plate. Spread the caramelized peanuts on top of the cake. Make sure to add the whole of the topping on top and let it drizzle to the sides by itself. I have used the entire portion and it just got enough to cover the top and slided to the sides making one whole decadent dessert.
Insisting again, those who love snickers and those fond of peanuts this is one dessert you have been waiting to try. Bang on!. You can use a different combination of nuts for the caramel topping as a variation.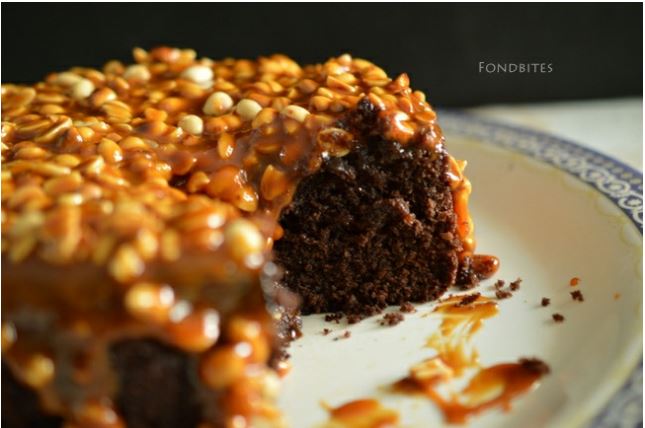 I have cut down the caramel syrup measure from the original recipe. I halved the syrup but retained the amount of peanuts mentioned in the recipe. Because dorie mentions, there will be excess caramel syrup for which she has given few other ideas of how to use them in a different recipe. I didnt want to keep it for later and the idea of halving the caramel syrup to the full measure of peanuts worked beautifully.