Bake Along #1 – Vanilla Fantasise
January 22, 2020
2021-09-04 16:07
Bake Along #1 – Vanilla Fantasise
Bake Along #1 – Vanilla Fantasise
Fondbites Bake Along is a series of baking marathon, where a group of enthusiastic bakers join together to bake a similar recipe every week and share their results and discuss the outcome and scope of improvement. Bake Along #1, is an attempt to make a simple vanilla cake richer by adding a custard fifilling and frost it with whipped white ganache and decorate with chantily cream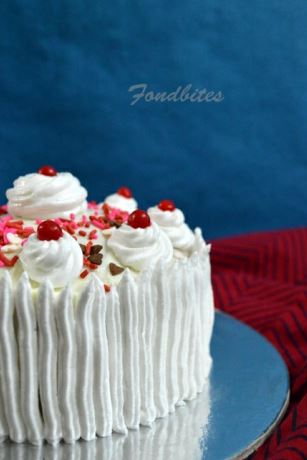 For cake:
Butter – 150 gms
Sugar – 150 gms
Eggs – 3
Vanilla extract – 1 teaspoon
All-purpose flflour – 150 gms
Baking powder – 1 1/2 teaspoons
Salt – 1/4 teaspoon
For Chantily cream:
Non-diary whipping cream – 1 cup, chilled
Granulated white sugar – 1 teaspoon
Vanilla extract – 1/2 teaspoon
For custard:
Milk – 150 ml
Vanilla extract – 1/2 teaspoon
Eggs Yolks – 2
Sugar – 25 gms
All-purpose flflour – 10 gms
Cornflflour – 10 gms
For Whipped White Ganache:
White Chocolate – 150 gms
Diary fresh cream – 150 gms
Vanilla extract – 1/2 teaspoon
Method:
cake -
Preheat oven to 160 degree C. Place oven rack in the middle of the oven. Sift together flflour, baking powder and salt. Set aside. Butter and flflour an 8 inch cake pan. Cream together butter and sugar on medium high speed for about 5 minutes until the mixture is creamy, flfluffffy, pale and light. Add the eggs one by one, beating well for atleast a minute after each addition. Add pure vanilla extract and beat well. Now fold in the flflour mixture using a wooden spoon or a rubber spatula until flflour has been incorporated and smooth. Do not over mix. Pour batter into the prepared pan and bake in pre-heated oven for 30 to 40 minutes until the top is golden brown and a tooth pick inserted into the center of the cake comes out clean. Cool on wire rack. Cling wrap and store in freezer until need. If you are baking the same day of decorating, you can cling wrap and pop in refrigerator. I wanted to show, its easily made with a spoon and no beater too.
For Custard –
 Add egg yolks, sugar, cornflflour and all-purpose flflour into a sauce pan and mix well until smooth. In another sauce pan, heat up milk and vanilla until the sides start to bubble. Switch offff stove and pour the milk into the eggs mixture in a slow stream while you constantly mix the mixture using a wire whisk. This way, the egg yolks are not cooked right away and no lumps are formed. Once milk has been added , mix well completely without any lumps. If you fifind any cooked scrambled eggs, use a strainer and get rid of the lumps. Place the mixture back on stove on medium low heat and keep stirring constantly. The mixture might thicken within few minutes and once you see custard forming, switch offff stove and give it a nice mix until the custard is smooth. Transfer into a bowl immediately and cover with cling wrap, such that the wrap touches the top of the custard, this way we are preventing a fifilm that would form on the top of the custard. Refrigerate until use.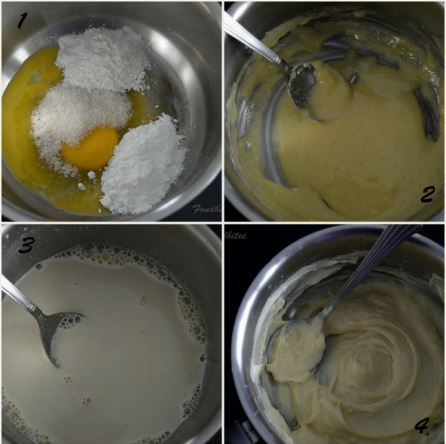 For White Whipped Ganache –
Chop white chocolate into fifine pieces and add it into a microwave safe bowl, pour cream and vanilla extract into it and microwave for 1 minute. Take it out stir well and make sure the chocolate has been fully melted. If you fifind lumps, pop it back in microwave for 30 seconds interval and stir it out until it is smooth. Refrigerate for 1 to 2 hours until very cold. Use electric beater and beat on medium high speed until the ganache whips and forms soft peeks.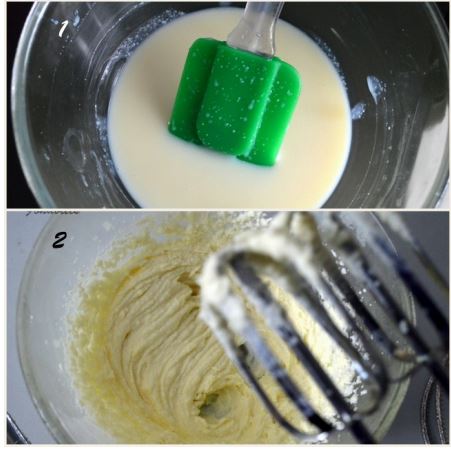 Chantily Cream –
Chantily cream is a fancy word I consider for a whipped cream :). Add chilled whipping cream into your bowl and beat on medium speed until you see beater marks. Now add the sugar and vanilla extract and beat on medium high speed for about 5 minutes until you see stiffff peaks. Save a 1/4 cup of the cream and transfer the remaining whipped cream gently into a piping bag fifitted with any favorite star nozzle. Keep in refrigerator until need.
Assembly –
Place the cake on the serving plate/cake board. Torte/cut them horizontally into half. Place a toothpick mark on either side of the layers, just in case the cutting is not straight. Beat the custard that has been placed in the fridge until it becomes light and spreadable consistency. Spread it over the bottom layer of the cake. Place the top layer making sure the tooth pick marks fall in same line. Spread on top the whipped white ganache and smooth out roughly. Now use a spatula and start crumb coating the sides of the cake with the chantily cream. A very mild coating should do, since we will pipe over it. Its fifine if the cake is seen. Now go over the top and cover the top also roughly. Smooth out as much possible that gives it some neat fifinish. Now use the frosting that has been fifilled in the piping bag. I decided to stick to the star piping straight lines from the bottom of the cake to the top with a rugged fifinish. Complete the entire sides of the cake. Make some swirls on top and add some colourful sprinkles or cherries/strawberries of your choice and fifinish up the cake.