Bake Along #12 – Strawberry White Chocolate Mousse
January 23, 2020
2021-08-09 16:37
Bake Along #12 – Strawberry White Chocolate Mousse
Thats valentine's week and something red or pink makes sense. Its all the more special if we used a fresh ingredient and thats strawberry. I happen to glance through my friend Ruchira who blogs at Tadka Pasta posted this awesome recipe in one of facebook groups and I decided we have to make it too.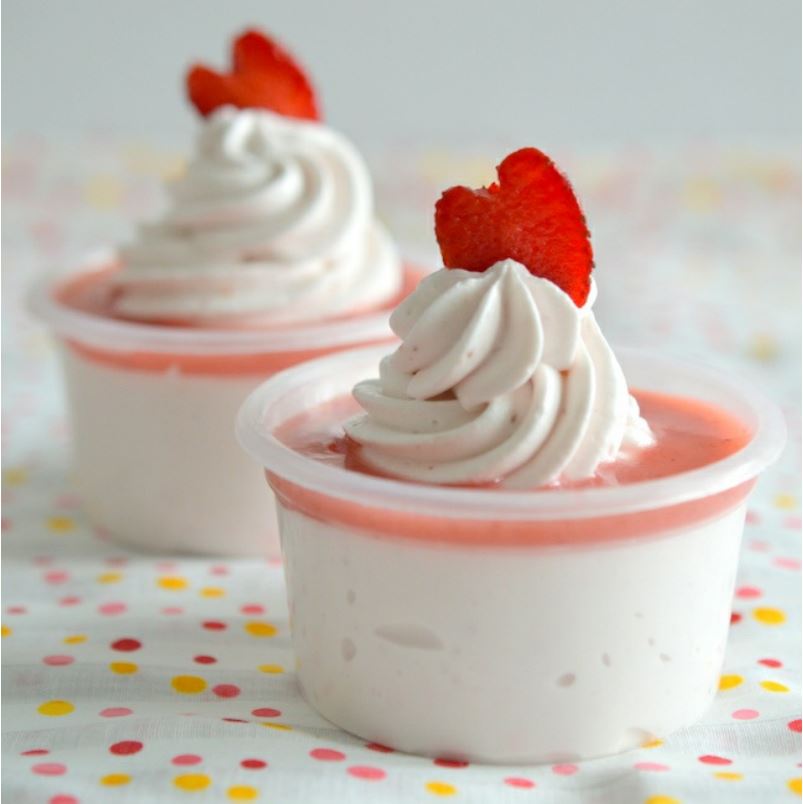 I had to revise the process several times in my mind before getting ready. So I have started the recipe with hulling the strawberries to make the whole process clear and easy.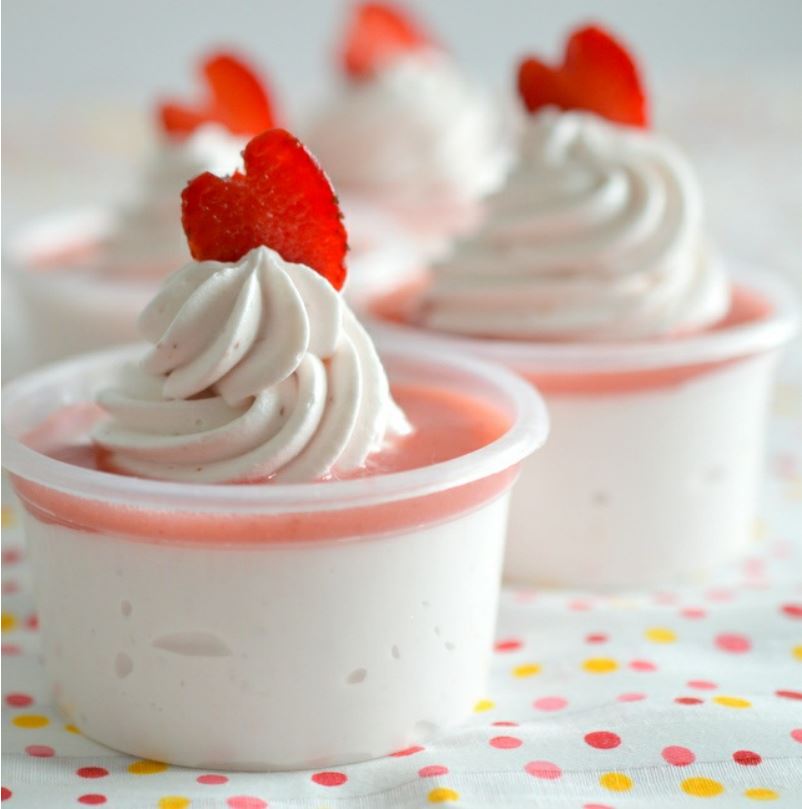 Mousse is nothing but flavoured whipped cream set with an agent like gelatin/agar agar. The flavouring can depend on our choice. Here our mousse is one kind so rich and delicious because we have white chocolate and fresh strawberry pulp.
Ingredients:
Fresh Strawberries – 200 gms ( 12 to 15 medium sized ) plus 4 to 5 for garnishing
White Chocolate – 100 gms
Gelatin / Agar agar – 3/4 teaspoons ( plus 1/4 teaspoon for topping)
Water – 1/4 cup ( plus 1 tablespoon for topping)
Fresh whipping cream – 200 gms ( dairy or non-dairy with 30 % or more fat content)
3/8Icing sugar – 1/4 cup ( plus 1 tablespoon for topping)
Granulated white sugar – 1 teaspoon
Pure vanilla extract – 1 teaspoon
Method
1. Hull the strawberries ( remove the green calyx). Cut them into pieces and process it until smooth in your small jar food processor. Strain it and collect the fine strawberry pulp. Measure 1/2 cup of the pulp and reserve the remaining for the topping.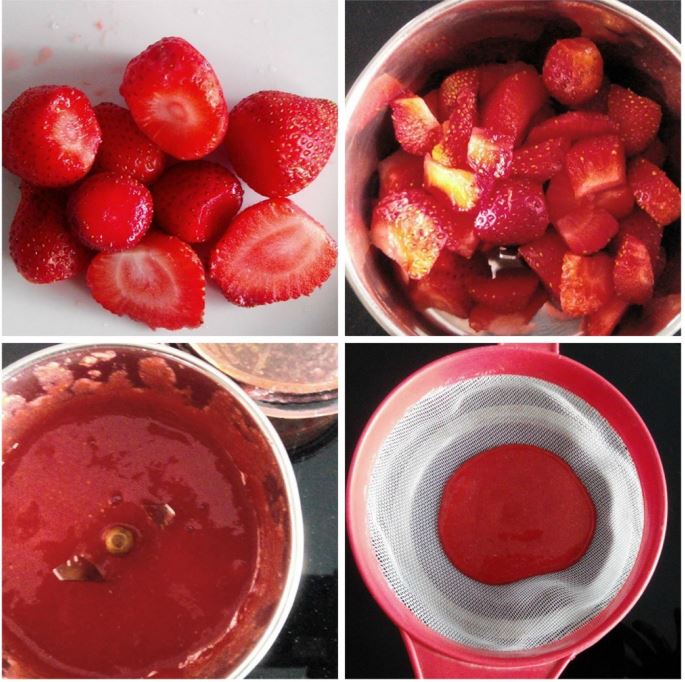 2. Chop the white chocolate and melt it in microwave in busts of 30 seconds until fully melted. Set aside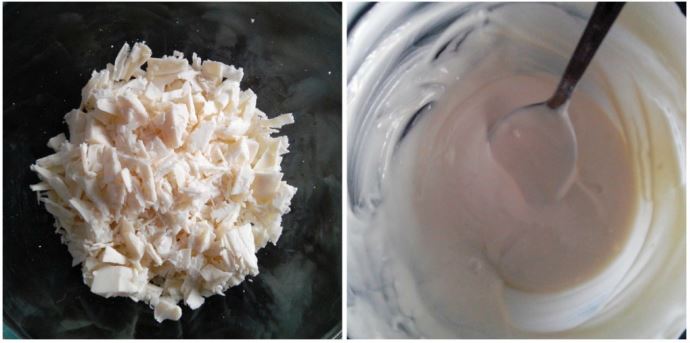 3. Add gelatin/agar agar in a bowl and pour 1/4 cup water to it and let it bloom.

4. Take 1/4 cup of the cream in a heavy bottomed saucepan and add 1/4 cup icing sugar to it and heat up the saucepan. Once the sugar dissolves fully, remove from heat. Add the gelatin mixture into it and mix well until the gelatin dissolves completely in the heat. If you find the gelatin crystals that has not melted fully. Take back the mixture into heat and keep in medium and stir until the gelatin dissolves fully.

5. Add this mixture into the melted white chocolate and mix well. Now add 1/2 cup of the strawberry pulp and mix them all well.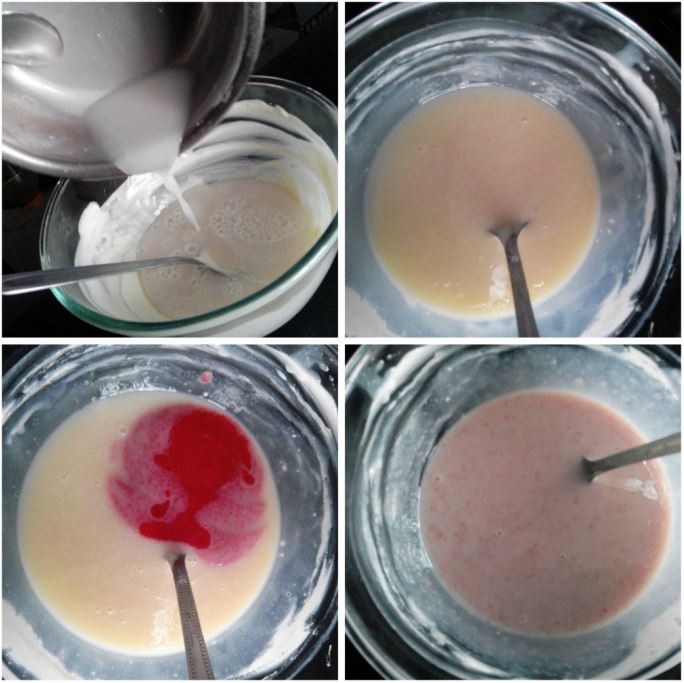 6. Add fresh whipping cream into a bowl and beat using electric mixer on medium until soft. Add 1 teaspoon of granulated white sugar and beat on medium high speed until stiff peaks form.

7. Now add the strawberry mixture and pure vanilla extract into the whipped cream and beat on medium speed until everything blends well.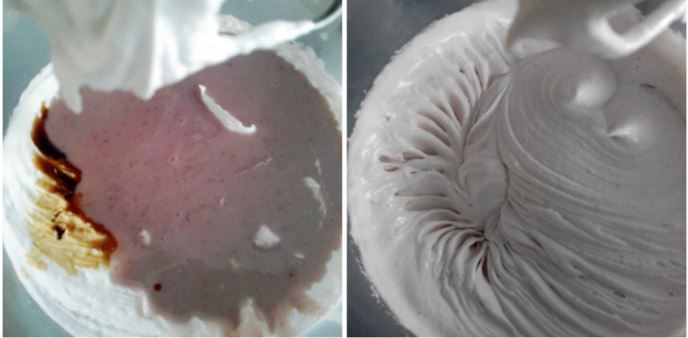 8. Now scoop the mousse into the dessert cups leaving space for the topping. For the topping, add 1 tablespoon of icing sugar to the reserved remaining strawberry pulp. Bloom the 1/4 teaspoon gelatin in 1 tablespoon of water. Melt the gelatin in microwave and add it to the strawberry pulp. Mix them all well. Now spoon this topping over the mousse on dessert cups.
With the strawberries reserved for garnishing I sliced each vertically into 4 pieces using a knife. Then I used a small cookie cutter to remove a 'V' shape on the top middle portion to make it close to a heart :P.
I filled up the dessert cups reserving 1 cup of mousse to pipe on the top for garnishing. I scooped that reserved mousse in a piping bag fitted with a big star nozzle and piped on top and then placed the heart shaped strawberries to garnish
Refrigerate the mousse for one to two hours and serve chilled.
This has been baked for Fondbites, Bake Along,a group of enthusiastic bakers, bake one recipe every week along with me. To join the group, send a join request in the facebook group and I will send you a confirmation message, after you confirm that you will bake every recipe with me each week, I will add you to the group..
Members – Once after you finish baking, post the link of your finished picture below using the linky tool.