Bake Along #13 – Classic Chicken Lasagna
January 23, 2020
2021-08-09 16:36
Bake Along #13 – Classic Chicken Lasagna
Bake Along #13 – Classic Chicken Lasagna
Lasagna is one dish which I was so fascinated about for quite some time but was intimidating enough to try it out myself. Though many of my friends have repeatedly told me they are not very complicated but just assembling stuffs and baking in oven and that we have to procure the lasagna sheets from supermarkets and we are ready to go. Still I was not convinced with the fact that it was easy. To add to it, I was and I still haven't found the lasagna sheets in the nearest supermarkets and you know I don't let the fight fade away without answers. Can you guess what ?!!?.. yeah the sheets are made from scratch! and so everyone on any day can make your own lasagna and play around with flavours and this is just the beginning.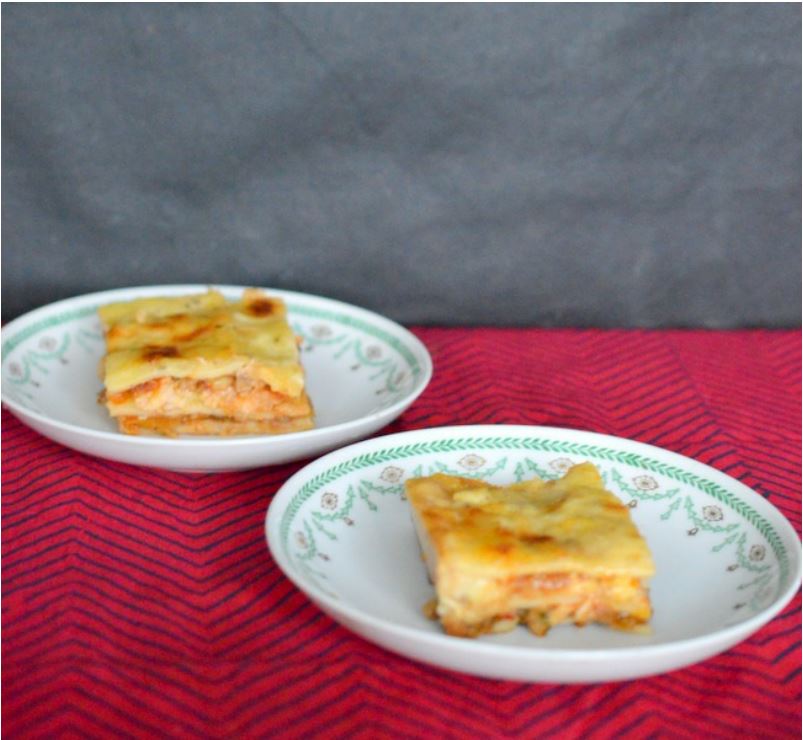 I have used chicken and its just one independent part of the recipe, and vegetarians please excuse me and replace that part with mushrooms, broccoli, any stir fried vegetable combo and the choice is all yours!
And to tell you all about why it was lasagna, because I again did a poll and maximum votes hit Stromboli but lasagna was just an equal lead and I couldn't wait but share you all the lasagna sheets made from scratch and stromboli could be made anytime sooner :).. Its almost noon of the day am supposed to release the post and so am again cutting down any more stories and get into the recipe NOW!
Before the ingredients I d like to simplify the process and the steps and layers of lasagna so it gets easy for understanding.
Components – Lasagna sheets, red sauce, main ingredients ( chicken/mushroom etc), cheese ( combination of cheddar, mozzarella), white sauce for top covering
Layers ( from top to bottom)
White sauce
2. Lasagna sheets
Red Sauce
Grated Cheese
Chicken/Mushroom
Lasagna Sheets
Repeat 3 to 6, depending on the number of layers you want the depth of your casserole.
Red Sauce (its the fifirst thing that ll be spread on your casserole.
So its the red sauce that ll be at the bottom and the white sauce on top of the final lasagna sheets to end the layers. The middle can be as many layers in the order and the order can yes change as per your convenience but make sure you keep up the order in each layer.
For the lasagna sheets –
Flour – 60 gms
Egg – 1
Cooking oil – 2 teaspoons
Salt – 1/4 teaspoon
For veg version, substitute egg with 45 ml of water.
Red Sauce –
Garlic – 5 to 6 pods
Onion – 1 Large
Tomatoes – 2 Large
Dry chilly flflakes – 1 teaspoon
Tomato sauce – 1/2 cup
Italian spices ( Oregano, Parsley, Rosemary, Basil) – each 1/4 teaspoons
Salt – 1/2 teaspoon, adjust
Pepper – 1 teaspoon, adjust
Chicken Stock – 3/4 cup, vegetarians use wine instead or just plain water.
Oil – 2 teaspoons
White Sauce –
1/3 cup cornflflour
200 ml milk
Salt – 1/2 teaspoon, adjust
Pepper – 1/2 teaspoon, adjust
Cheese – 4 tablespoons ( 2 tablespoons of cheddar and mozzarella each) 3/9Cheese – 4 tablespoons ( 2 tablespoons of cheddar and mozzarella each)
Others –
Finely chopped Chicken/Mushroom – 200 gms, boil in water for 5 minutes with pinch of salt and turmeric,
drain and save the stock.
Cheddar cheese – 100 gms, grated
Mozzarella Cheese – 100 gms grated
Method:
To prepare the lasagna sheets –
1. In a bowl add the flour, egg and oil and knead, it will form a sticky paste. Add some more flour and bring them together until its a smooth dough which is not sticky. Cover and keep for 10 minutes until it is shiny.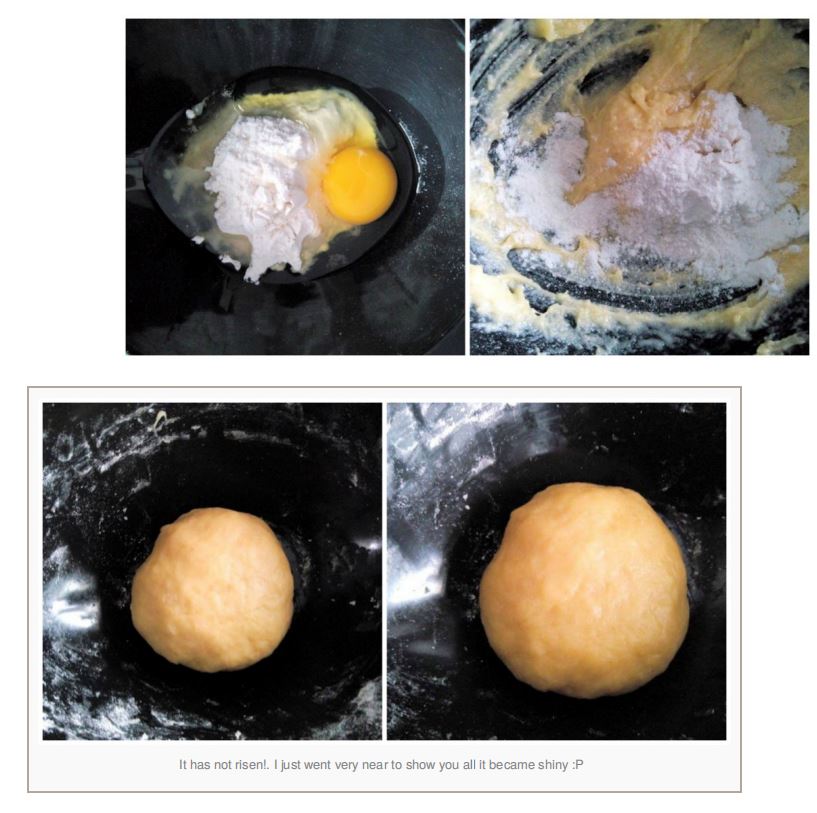 2. Now take the dough, give it some kneading and roll on your counter with floured surface or on your silicon mat ( like I have done). Roll it as thin as possible, almost transparent. Measure your casserole and cut the strips to the length of your requirement. I did almost an 8inch by 3inch. But it didn't suit my pan really well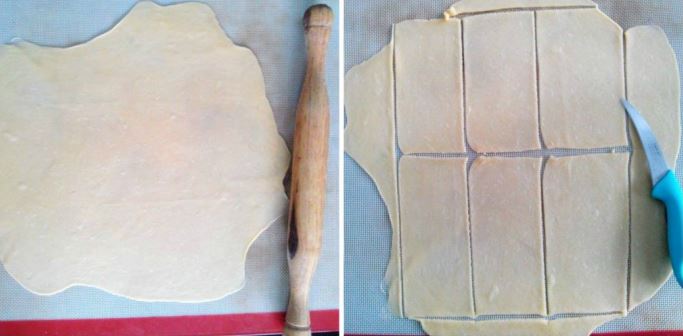 3. Now take a heavy bottomed vessel and boil about 4 cups of water. Once it has started to boil, add the sheets one by one and boil on each side for about 30 seconds flipping over using a tong. It is almost like deep frying anything in oil. But you are doing it in boiling water. Have another bowl of room temperature water. Once its done on both sides, pick the sheets up using the tong and put that in the cold water. Finish off with all the sheets. Now remove all the sheets from cold water and place it on a plate/sheet to be used for layering.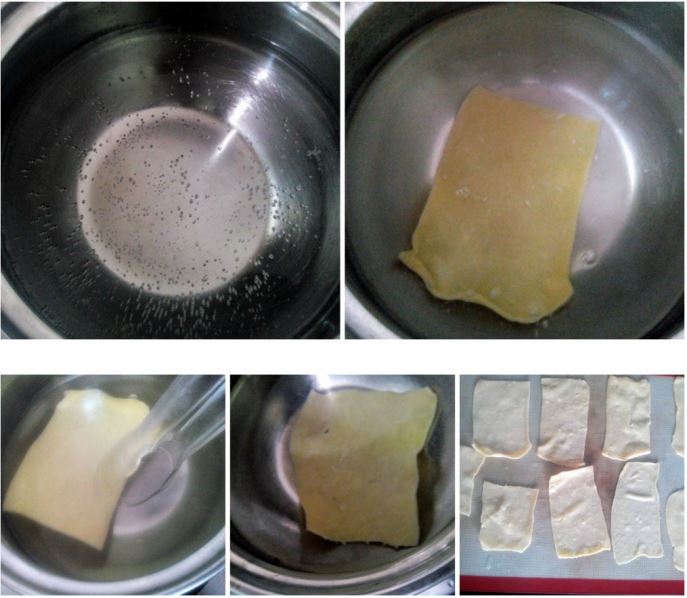 For the sauce –
1. You can make your own chilly flakes, just get rid the seeds of 2 dry red chillies and chop them into small pieces using scissors.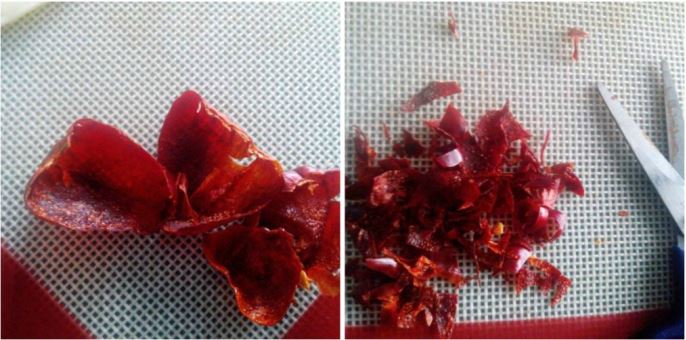 2. In a heavy bottomed vessel, add oil and once hot, add the chilly flakes, then add garlic and toss for few seconds. Add onions and fry till golden. Now add the chopped tomatoes and then the spices, salt and pepper, fry for a minute. Then add the tomato sauce and combine them all well.

3.Once the sauce is fried nicely and leaves oil, add the chicken stock/wine/water and bring it to boil. Then let it simmer until the sauce becomes thick. Switch off fire and add coriander leaves and your red sauce is ready. You can grate the cheese and keep ready.

We now have everything ready except the final white sauce, which has to be done after the layering, so the sauce is made and poured on top and baked. Now lets begin with layering
Assembly –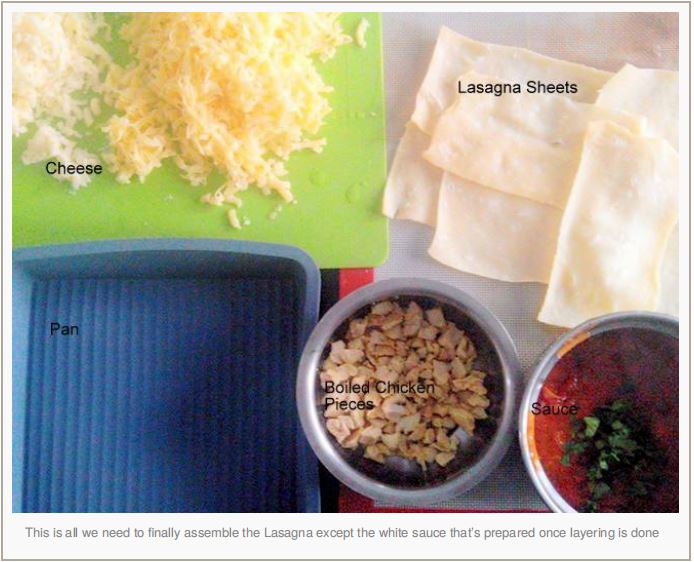 1. In your casserole ( I don't have a casserole yet, so its a silicon baking pan) , add 2 tablespoons of the sauce and spread it out evenly. Now place the lasagna sheets on top of it. I was not able to cover the entire surface. You got to cover it up. Now add the chicken pieces on top of the sheets. Then the grated cheese and then some sauce again to finish one layer. Now place the lasagna sheets on top and continue to layer and finish with lasagna sheet on the top.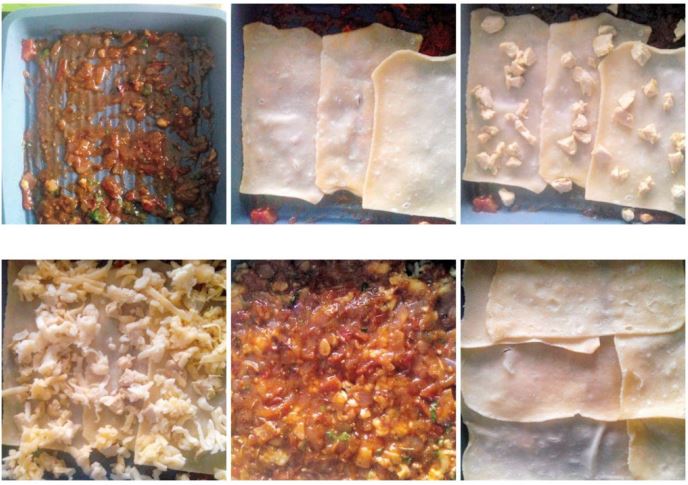 White Sauce –
In a heavy bottomed sauce pan add the cornflour and mix it with 2 tablespoons of the measured milk and make a smooth paste without any lumps. Add 1/4 more cup from the measured milk again and mix it well. Take it to heat and let it come to a boil and switch off the stove. Add the remaining milk and mix well. Bring back flame again. Add salt and pepper and the saved cheese. Keep stirring until the sauce thickens just a bit. Add this sauce on top of the final lasagna layer, making sure the sides are nicely covered up and also the top. Bake in pre-heated oven at 175 degree C for about 25 to 35 minutes until the top is golden brown ( mine is little lesser the colour in the final image. I put it back again for 10 more minutes, which is I baked for 20 minutes first finished taking that picture, not happy and popped it back again for 10 more minutes and then I got the right colour)

Cool on wire rack. Do not be excited to cut them or dig them while its hot out of oven. Yeah right I did that :D, Let it cool and then the gorgeous lasagna is ready to be sliced and served. You can warm it again in the microwave or pop it back in oven for 5 more minutes after cutting them into pieces and then serve in your plates. You can also top the white sauce with some more spices if you like.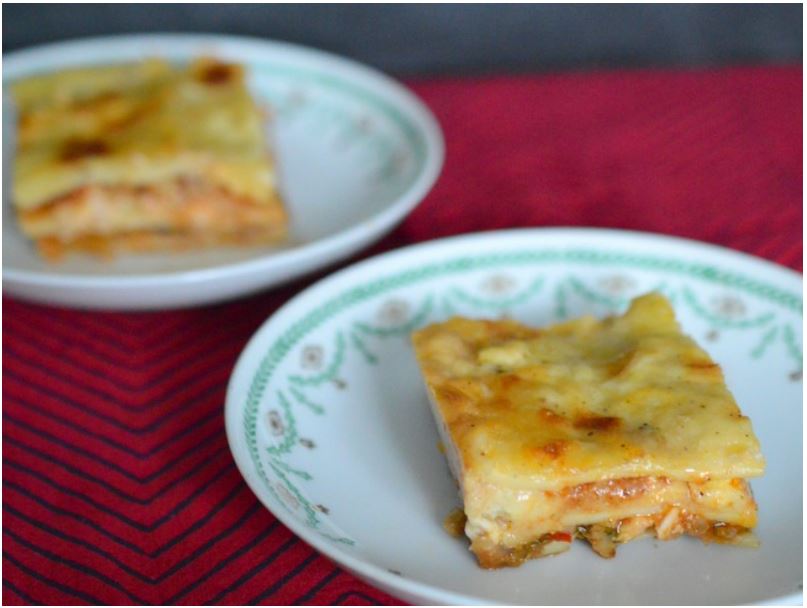 This has been baked for Fondbites, Bake Along,a group of enthusiastic bakers, bake one recipe every week along with me. To join the group, send a join request in the facebook group and I will send you a confirmation message, after you confirm that you will bake every recipe with me each week, I will add you to the group..
Members – Once after you finish baking, post the link of your finished picture below using the linky tool.