Bake Along #14 – Stromboli / Calzone / Pizza
January 24, 2020
2021-08-09 16:36
Bake Along #14 – Stromboli / Calzone / Pizza
Bake Along #14 – Stromboli / Calzone / Pizza
I'm combining 3 in 1. Pizza, Calzone and Stromboli. While last week I said I ll do stromboli later sometime, I thought I should finish it as so many were desperate about it. And the idea of combining all the three into one fascinated me.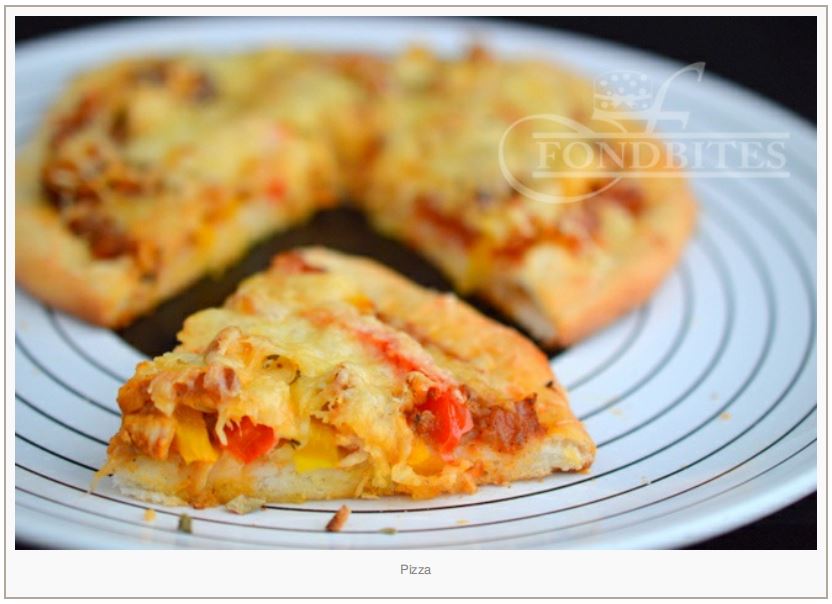 Pizza is an oven-baked flat bread topped with sauce, cheese and any topping of your liking. It could be vegetables or meat. I have used a deep fried chicken as one main component and red and yellow bell peppers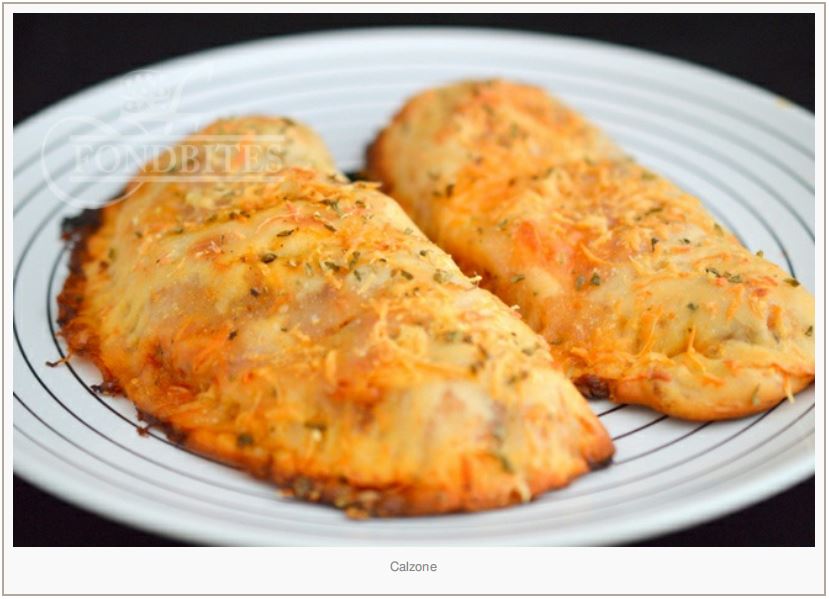 Calzone is folded pizza in shape of half moon. The filling again is sauce, cheese and any topping you d like in your pizza.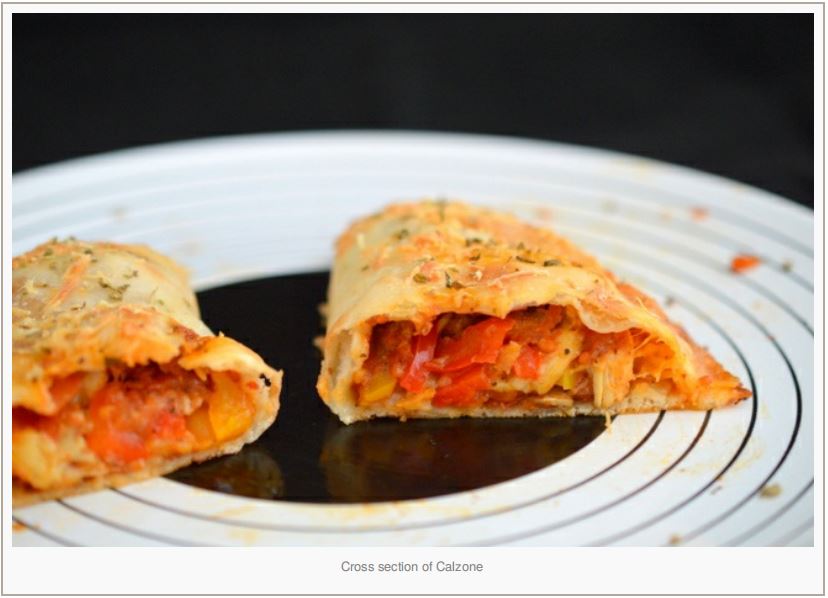 Stromboli is rolled over or turned over pizza. Dough spread out large enough as for any rolls, filled in with pizza sauce, cheese and toppings and rolled over to bake.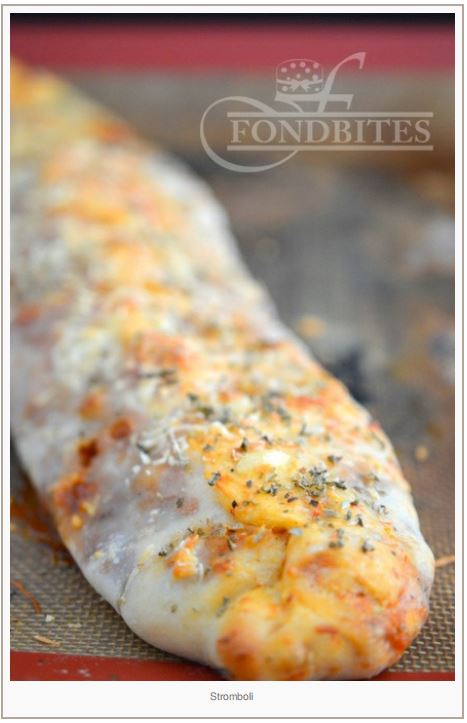 I filled in all three with same combination. No change at all. You can vary the flavours by changing the toppings. You can also stick to making the whole batch a single dish.
For the sauce:
Olive Oil – 1 tablespoon
Garlic pods – 2 large, peeled and chopped finely
Onion – 1 large, peeled and chopped finely
Tomatoes – 4 medium, chopped finely
Tomato puree – 2 cups (Puree 5 medium tomatoes in your food processor )
Tomato sauce – 1 tablespoon
Salt – 1 teaspoon, adjust
Pepper – 1 tablespoon, adjust
Oregano – 1 teaspoon, adjust
For the dough:
Luke warm water – 1 1/2 cups
Active dry or instant yeast – 1 teaspoon
All-purpose flour – 4 cups
Salt – 1 teaspoon
Sugar – 1 tablespoon
Olive oil – 1/4 cup
Topping:
Boneless Cooked Chicken – 300 gms, ( I marinated chicken pieces in chicken 65 masala :P, and deep fried
and chopped them into fifine pieces and used them as topping :D, just yummm it was )
Yellow bell peppers – 1, de-seeded and chopped
Red bell pepper – 1, de-seeded and chopped
Mozzarella cheese – 100 gms, grated
Cheddar cheese – 100 gms, grated
Milk – 2 tablespoons, to brush
Oregano – 1 tablespoon
Method:
For the sauce:
1.For the tomato puree, I put whole tomatoes into my food processor and processed on high for 1 minute. Heat up a heavy bottomed skillet and add oil. Once hot add chopped garlic fry for few seconds. Then add onions and fry till golden brown.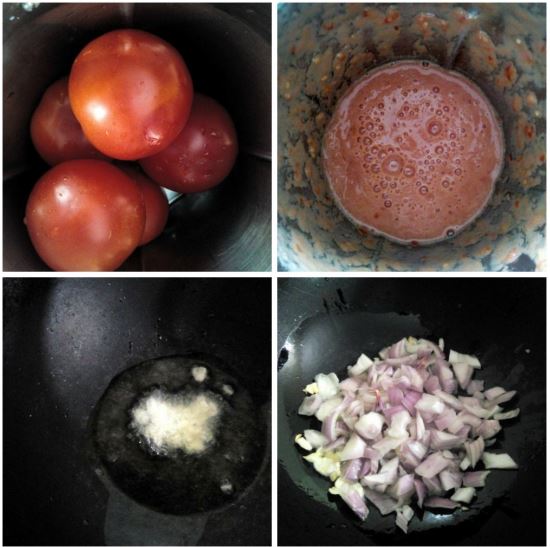 2.Now add chopped tomatoes and fry for a minute. Then add salt, pepper and oregano and fry until combined. Now add tomato puree and fry until it comes to a boil.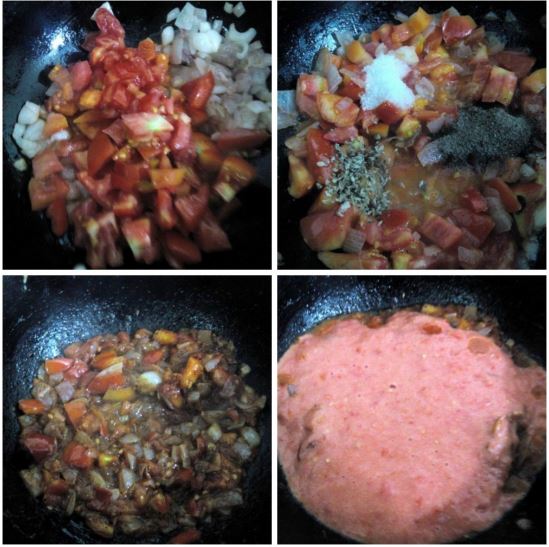 3. Once it boils, add tomato sauce and let it boil on high for about 2 minutes. Then bring flame to medium low and let it cook for 15 minutes. Keep stirring occasionally. Once the sauce is thick yet not very dry, switch off the flame. You need to check for salt and pepper and add more to adjust to your taste needs.
* You can store this sauce in refrigerator for 1 week
For the dough:
1. Add yeast, salt and sugar in a bowl and pour luke warm water and let it sit for 5 minutes until the yeast starts bubbling.

2. In another large bowl, add the flour and make a well and pour the yeast mixture and start mixing with a spoon.
3.Use your hands now and knead the dough for about 10 minutes on your counter until it becomes shiny. Put it back into a bowl that's coated with oil and cover the bowl with a damp cloth and let it prove for 1 hour and double in volume.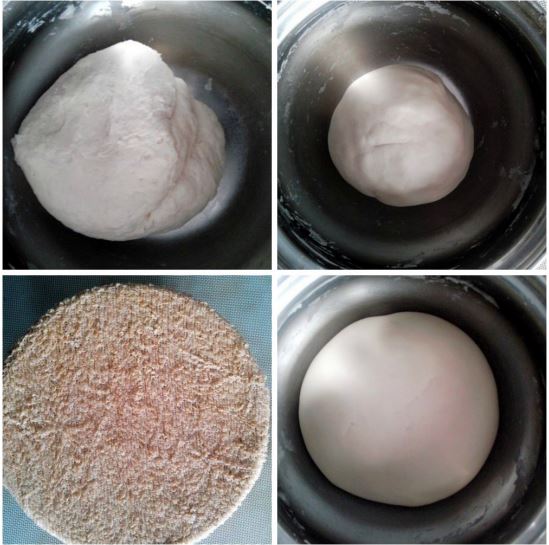 4.Once it has proven, punch down the dough and knead for about 2 minutes. Here am dividing the dough into 3 to make the variations.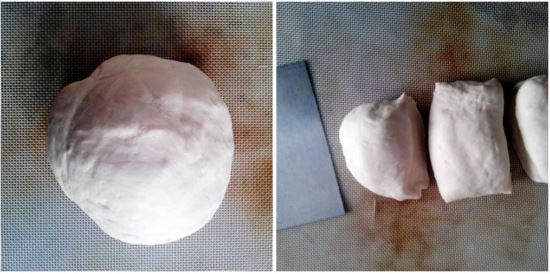 For Pizza:
1. Oil your baking tray generously. I use silicon mat and I oiled the mat and the mat is placed on my baking tray. Roll the pizza dough into 1/2 inch thickness round and press around the edges to form a wall and that should prevent the sauce and cheese from flowing out of pizza during baking. Add 2 tablespoons of the sauce and spread it all over evenly. Now sprinkle some grated cheese, combining both mozzarella and cheddar cheese.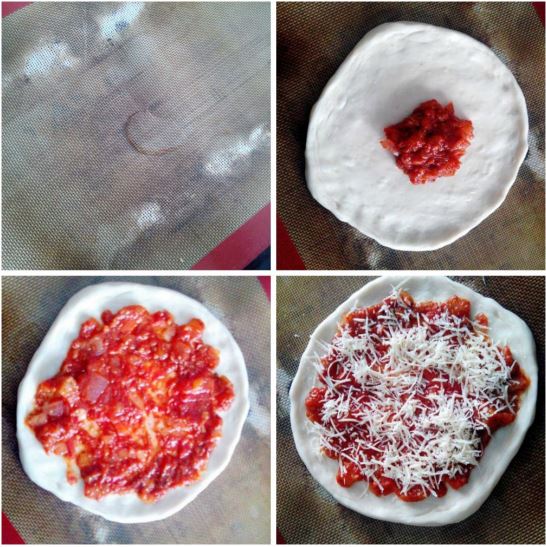 2. That's chicken 65 deep fried and kept ready to be topped. Now top the pizza with chopped bell peppers and chicken pieces. Now liberally sprinkle over both the cheeses. They are ready to be baked in pre-heated oven at 200 degree C for about 20 minutes or until the sides have started becoming golden brown and the cheese has melted and coated completely.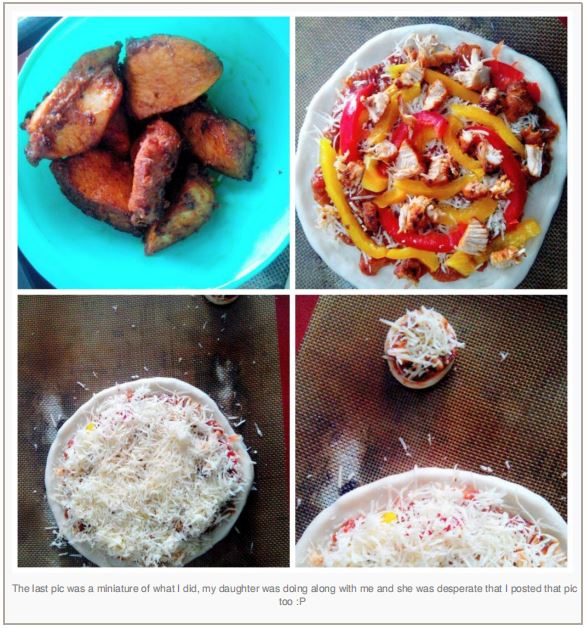 For Calzone:
1. That's my portion of dough I saved for calzone and I'm dividing it into 2, to make 2 calzones. Roll it out to half cm thickness and spread 2 tablespoons of sauce, then cheese and then place the toppings towards one half of the dough. Now sprinkle cheese again on top and bring one side of the dough to meet the opposite ends and seal the edges using a fork. It should be a semi-circle roughly or half moon shaped.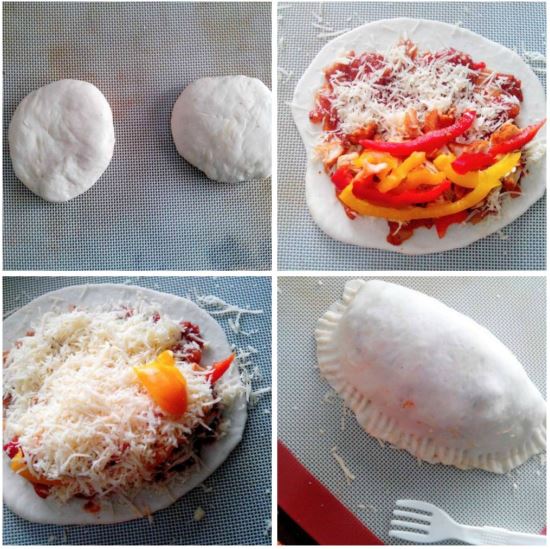 2. Use a knife and make slits on top. This will let steam pass through these slits and your calzone wont split open on the closed edges. Now brush the top with milk ( you can also use beaten egg), sprinkle some cheese and oregano. Bake in pre-heated oven at 200 degree C for about 20 minutes until the top is golden brown. Cool on wire rack until warm and calzones are ready to be served.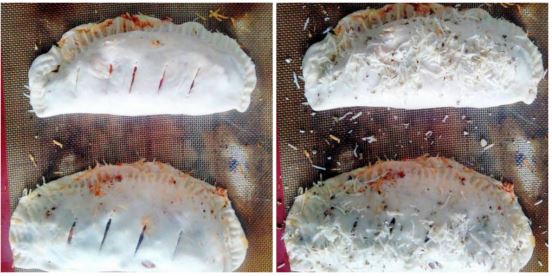 For Stomboli:
1. Take the final portion of the saved dough and roll it out into a rectangle approx. 8 inch by 15 inch. Spread over the pizza sauce and sprinkle some cheese. Now add the toppings of bell peppers and chicken pieces and again sprinkle cheese on top. Leave one inch gap on one of the long ends. Brush some milk on that one inch space.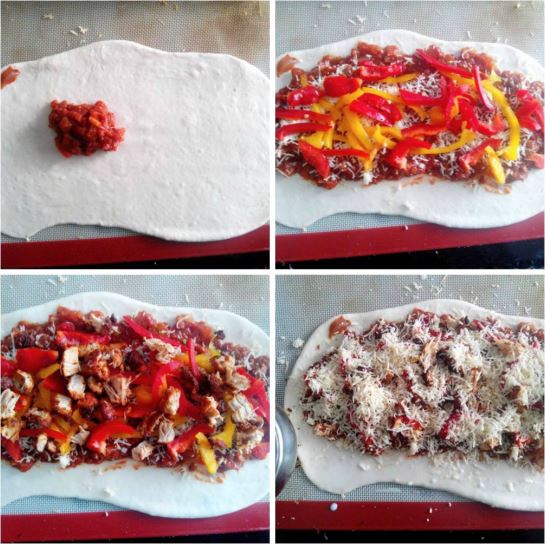 2. Now start rolling from the one inch end and keep rolling the dough carefully until the other end has reached. Seal all the ends by pinching. Make slits on top and brush with milk. Sprinkle cheese and oregano. Bake in pre-heated oven at 200 degree C for about 20 to 30 minutes until the top is golden brown. Cool on wire rack for a minute and serve warm. You could cut the stromboli into single serving slices to make individual servings.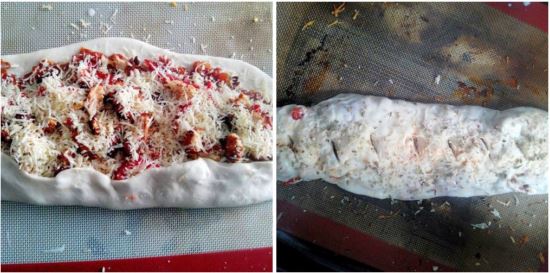 Notes:
While rolling out for all the 3, it is good to roll them out on the baking tray directly by liberally oiling the tray before working on it. You will save the hassle of transferring from your work counter to the baking tray once shaping has been done.
If you choose to work on the counter first, work with liberally floured surface and transfer using a cake lifter or any substitute.
Topping can vary and you get so many varieties of pizzas.
Pizza sauce could be made in advance and stored in refrigerator and used within 1 week.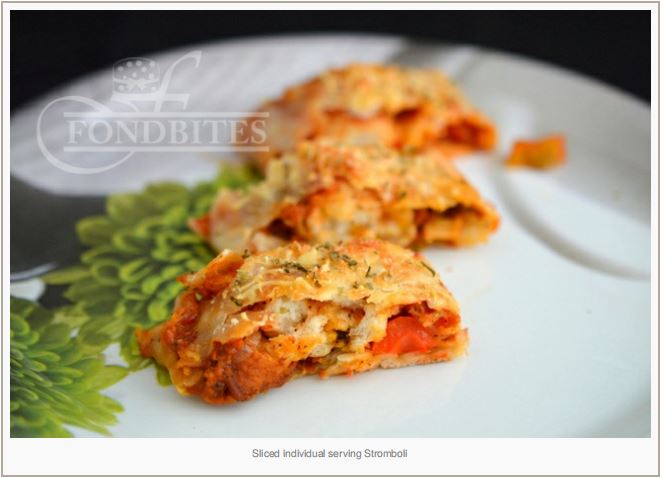 This has been baked for Fondbites, Bake Along,a group of enthusiastic bakers, bake one recipe every week along with me. To join the group, send a join request in the facebook group and I will send you a confirmation message, after you confirm that you will bake every recipe with me each week, I will add you to the group.
Members – Once after you finish baking, post the link of your finished picture below using the linky tool.