Bake Along #85 – Crispy Baked Chicken
March 3, 2020
2021-09-04 18:00
Bake Along #85 – Crispy Baked Chicken
Bake Along #85 – Crispy Baked Chicken
I am an addict of fried chicken. While my family would prefer kebabs/tikka, I rather would prefer those crispy fried chicken , What that does to me, I might know the facts but to eat is to live. So who cares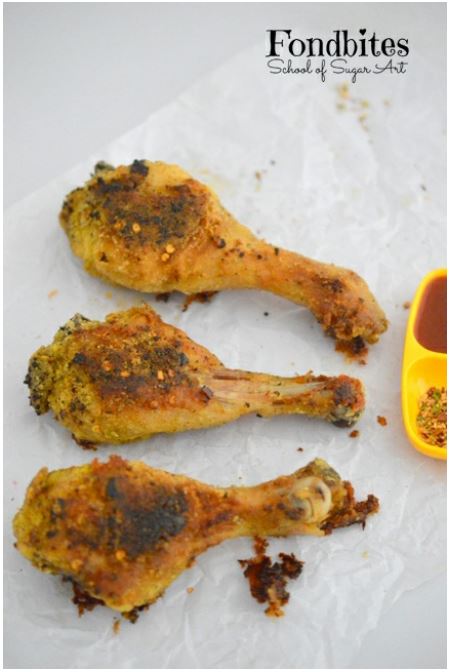 So when I dunk those juicy, soft, tender, flavourful chicken into some sauce/dip and gulp that, heaven, well every time I land up into these fried chicken stores, I tend to over eat. I used to be always wondering would we ever be able to get those spices up and that chicken be so tender to the bite and oh so melt in the mouth.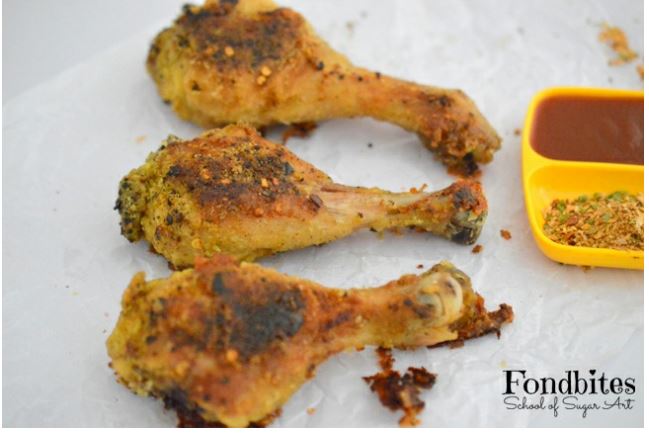 Well quite a few attempts before, have given me certain level of results but today I was definitely there on it. I was pretty skeptical, yes, but undoubtedly – key secret tips revealed after some extensive study over achieving crispy, juicy, tender chicken with just baking it in the oven. Now I don't think I will ever care about stepping into fried chicken stores, as about I stopped eating caramel pop corns in movies after I really started making them
There are a couple of key factors about baking chicken crispy while still keeping the inside of the chicken juicy and tender. Adding baking powder with the spices is one of it, fact says the baking powder coat draws up the moisture to the outer skin, making it crispier and the other one is to bake at low temperature on the lower rack of the oven for the first 30 minutes that tenderizes the flesh and then increase temperature for the next 20 minutes that makes the skin crispier. What logic and science, and that is absolutely needed behind ever successful recipe, to be just the same with repeated results, we know what we do so we also know what we get!
I have mixed and matched the ingredients as I liked from several other recipes that I came across, I am also adding some flour to have a better coat and adding spices of choice, I decided to use the mixed spices that we get with pizzas , But the key tip on getting the chicken at its best was from Recipetineats
Chicken legs – 5 to 6 pieces ( With skin)
All-purpose flour – 1/3 cup
Mixed spices – 1 teaspoon
Chilly Flakes – 2 teaspoons
Pepper powder – 1 teaspoon
Salt – 3/4 teaspoon
Baking powder – 1 tablespoon
Olive oil – 4 tablespoons
Method:
1. Line up baking tray with aluminum foil and coat it with olive oil. Pre-heat oven to 150 degree C.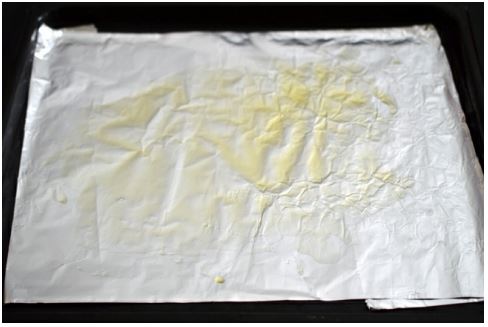 2. Add all-purpose flour, spices, chilly flakes, salt, pepper powder, baking powder into a bowl.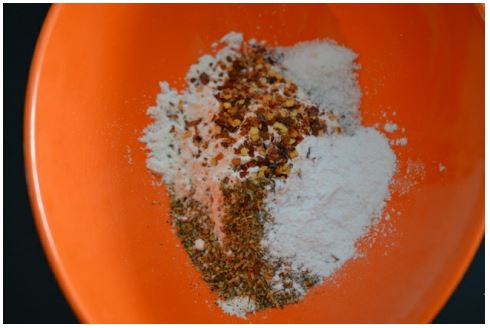 3. Mix them all together using a fork.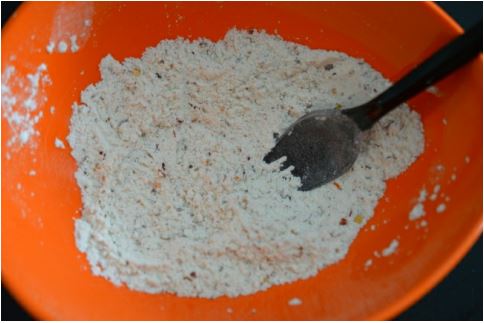 4. Add the whole thing into a zip lock bag.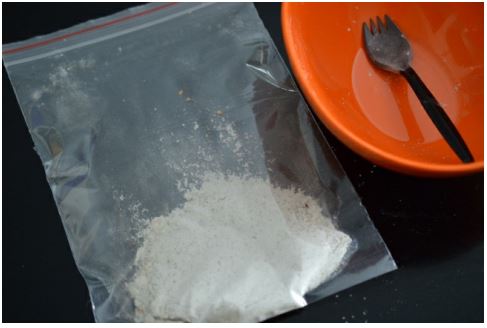 5. Wash chicken legs thoroughly and rub turmeric powder. Remove moisture by wiping it off with a clean cloth.
6. Add the chicken pieces into the zip lock bag, in which you have the spice mix.
7. Shake up the bag until the spice mix coats on the chicken pieces thoroughly.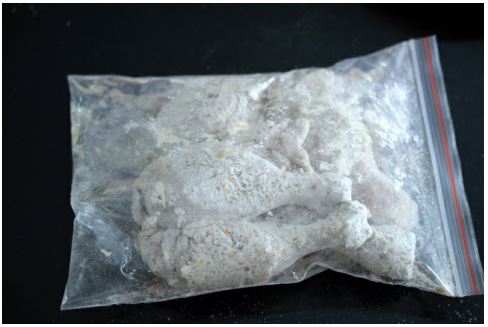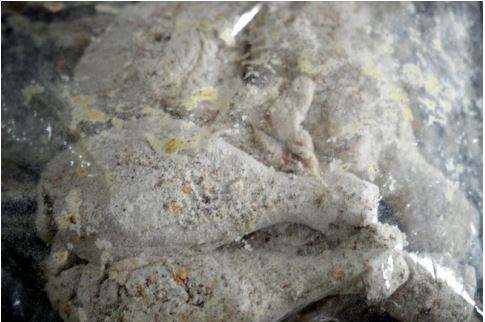 8. Arrange the chicken pieces on the prepared baking tray. Spread some olive oil over the chicken and sprinkle the left over spice mix from the zip lock.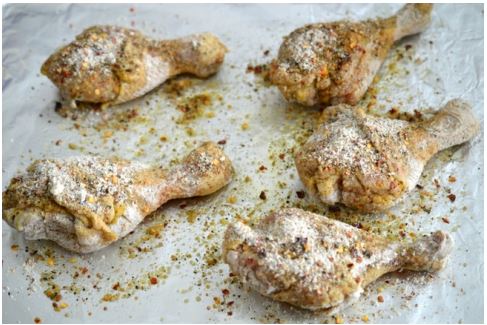 9. Flip over the chicken legs and again drizzle some olive oil and sprinkle rest of the left over spice mix. Bake in the LOWER rack of the pre-heated oven at 150 degree C for 30 minutes.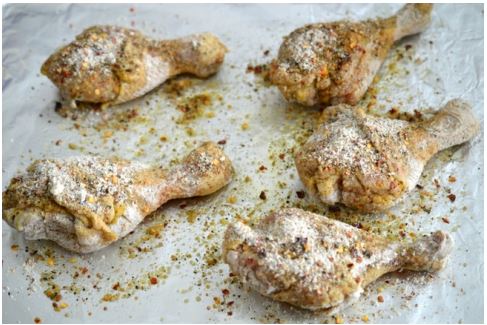 10. Flip over the chicken pieces again, drizzle some olive oil and put it back in the oven on the MIDDLE rack at 18 degree C for 20 minutes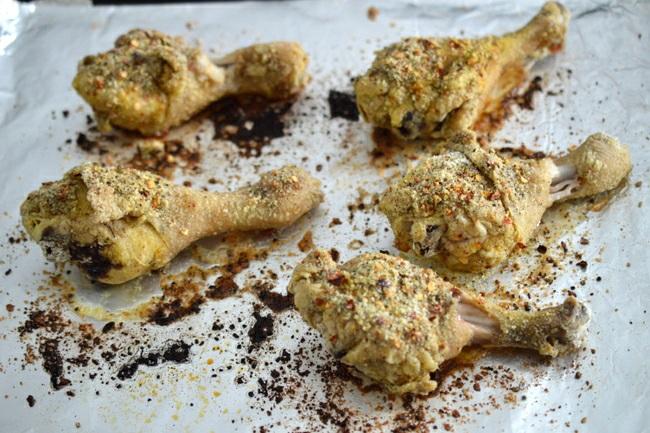 11. Get ready to serve it just when its out from the oven. Cool them on wire rack for couple of minutes until it is hot enough to handle.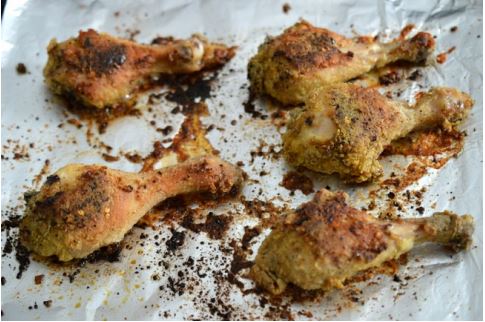 I honestly, didn't attempt something like the store bought fried chicken. I only tried to attempt a baked version of chicken at its best, but these just beat them out in flavour, texture and the entire experience was as close as it can get to those fried chicken craves like me