Bake Along #79 – Herbed Focaccia
March 3, 2020
2021-09-04 18:02
Bake Along #79 – Herbed Focaccia
Sometimes during the wee hours of the night, it is apt to just go ahead and start the recipe as my morning has tooo many things in store for me , Herbed Focaccia it is and I love the way of making it basically with those many dimples and how simple it is to make, but finally how delicious something can get you oodles of happiness.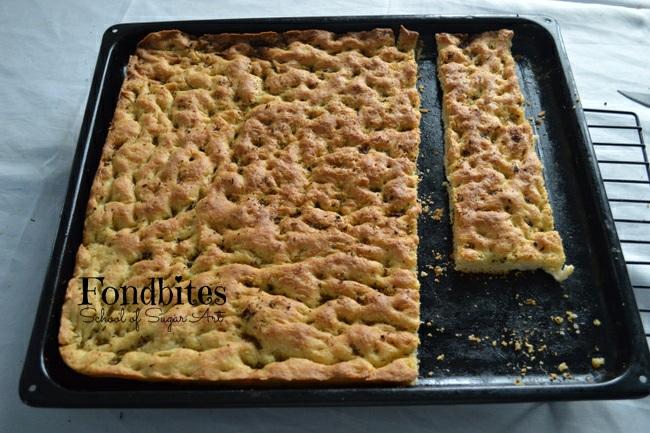 Focaccia is an Italian dish which is basically a flat bread like pizza but the toppings are usually simple, cheese is a choice and not a must. You can make them with herbs of your choice and sometimes with tomatoes, caramelized onions and also with cheese. I decided to bake them with mixed herbs to understand and enjoy the flavours that blend in the amazingly interesting flat bread. The texture is technically like a pizza which is chewy and soft. But depending on your baking time, you might tend to get it crispy. So do not be tempted to bake it for long or you might end up getting soup sticks and not a chewy bread. And do not be worried with the amount of oil being used. We just need to get the focaccia right on our plate and yeah we are baking and no doubts, we are not frying it
Ingredients:-
Recipe source: Onceuponachef
Instant dry yeast – 2 1/2 teaspoon
Sugar – 1 tablespoon
Salt – 1 1/2 teaspoon
All-purpose flour – 5 cups
Water – 1 3/4 cups
Olive oil – 1 cup ( Divided into 3 as 1/2 cup plus 1/4 cup plus 1/4 cup )
Mixed herbs ( Italian seasoning/ pizza seasoning) – 1 tablespoon
Method:
1. Add flour, sugar, salt and yeast in the bowl of your electric mixer and beat until combined.
2. Heat up water to luke warm. To test the temperature, once the water is heated up, insert your index finger and count till 5. If the 5th count is the maximum heat that you could bear then your water is at the right temperature. If its too hot that you could not bear way before the count 5, or if it was very comfortably warm at the count of 5, your water temperature is not right to activate the yeast. So the temperature of water is the key to have the proper texture. Add the water and beat using dough hook until the dry ingredients are moistened.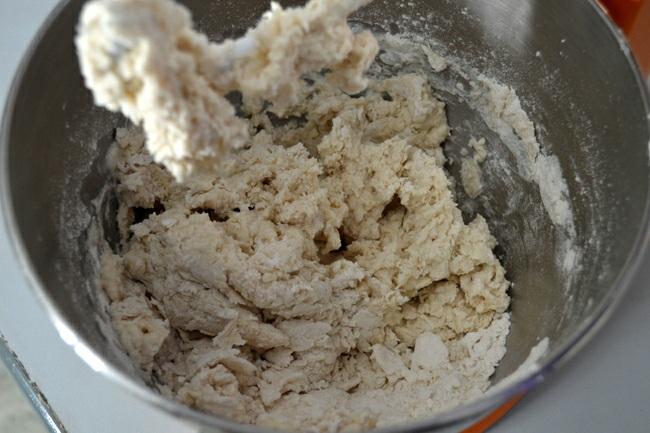 3. Start beating on medium speed for about 2 minutes until the dough becomes sticky.
4. Add 1/2 cup of olive oil and keep beating on medium speed.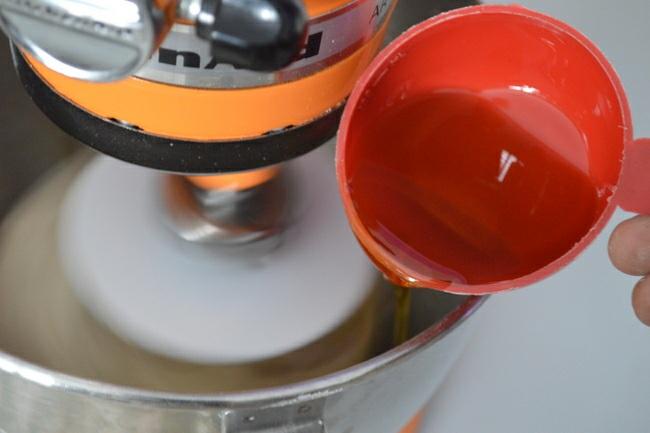 5. In the beginning it might look like the dough wont take so much of oil. But trust me, it is going to settle down. The dough will drink up all that oil. Keep beating. If you are kneading it by hand, add oil a little at a time and keep kneading well until 1/2 cup of oil has been completely used up.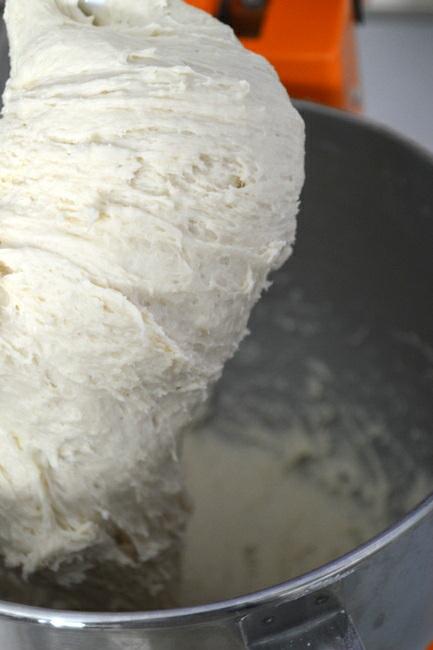 6. Increase speed to medium high and beat for about 5 to 7 minutes until the dough is smooth, shiny and it should get a stretch. That is when gluten will be formed which is the key to good breads. If you are kneading it by hand, just work it out, knead for about 10 minutes, watch the clock.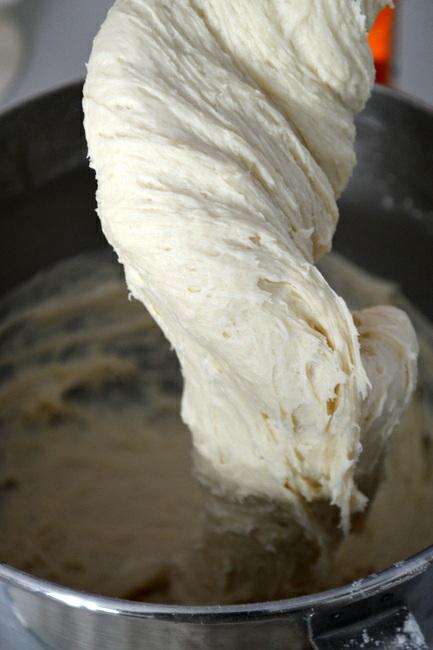 7. Oil a bigger bowl and transfer the dough into the bowl. Make sure oil is coated all over the dough and cover the bowl with a damp cloth and keep in a naturally warm place for about 1 hour or until double in volume. This is first proving.
8. After an hour or a little more, check for the size. It will be double in volume.
9. Punch or knock down the dough to release the air that has been collected in the dough.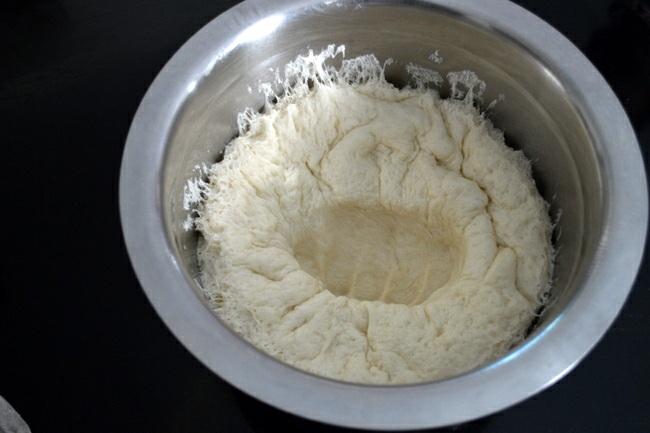 10. Knead the dough roughly.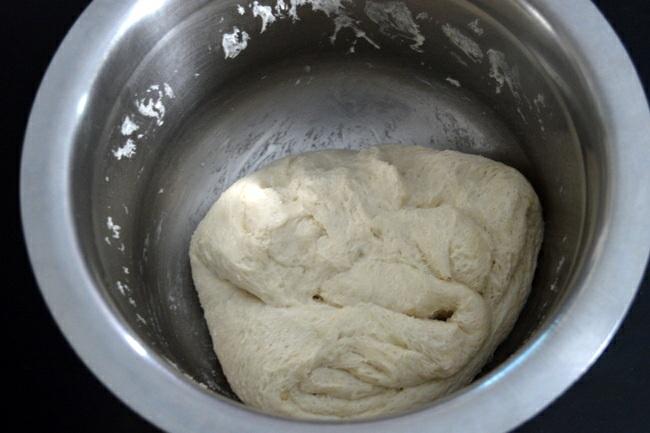 11. Add 1/4 cup of olive oil in your baking tray and spread it well.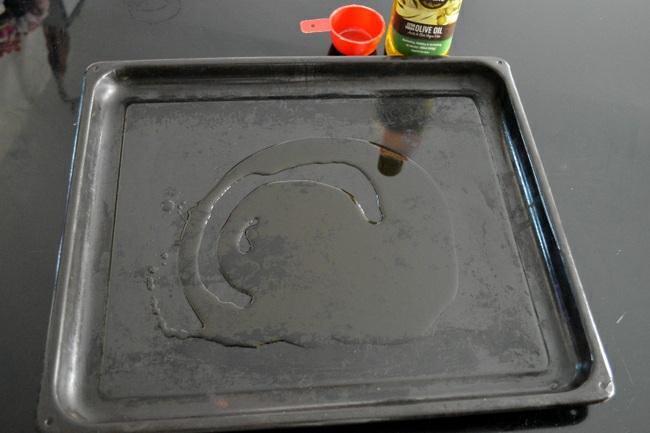 12. Transfer the dough onto the prepared baking tray.
13. Spread the dough across the entire pan using both your hand's finger tips.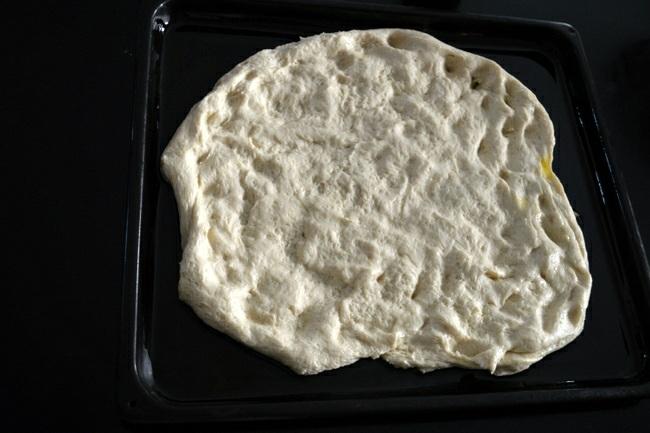 14. Flip the dough over upside down so the oil coats on both sides of the dough.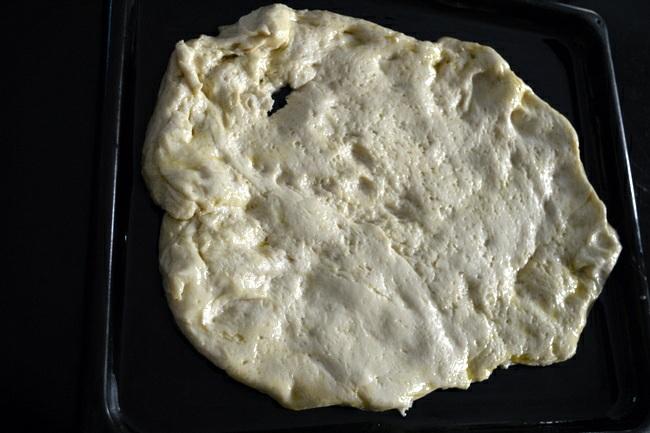 15. Spread your dough to the entire baking tray.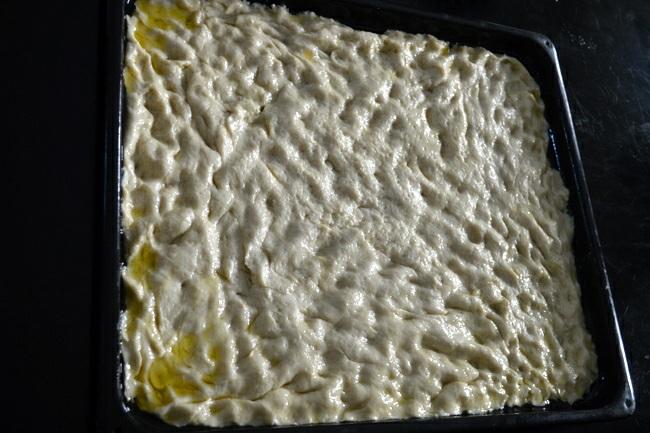 16. Use your finger tips and create dimples all over. ( I love this part ).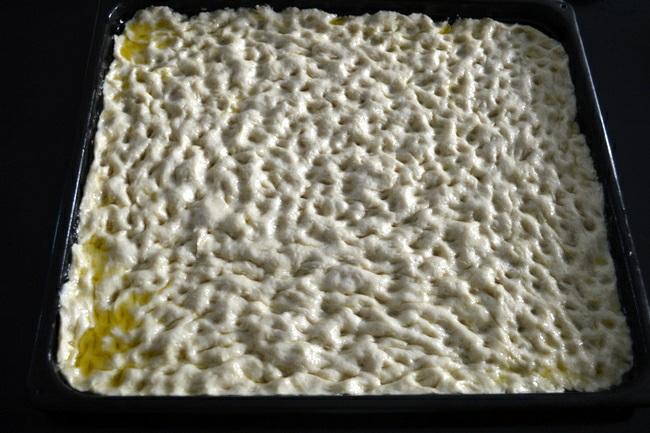 17. Cover with a damp towel again and let it rise to double in volume again for about 20 minutes to half an hour.
Pre-heat oven to 220 degree C at this stage.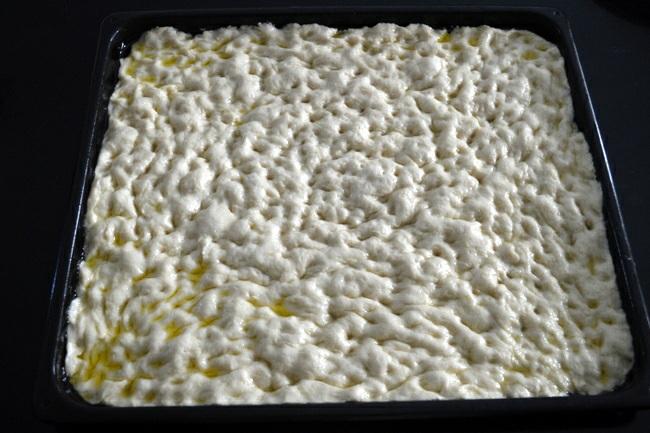 18. Mix together the spices and 1/4 cup of olive oil.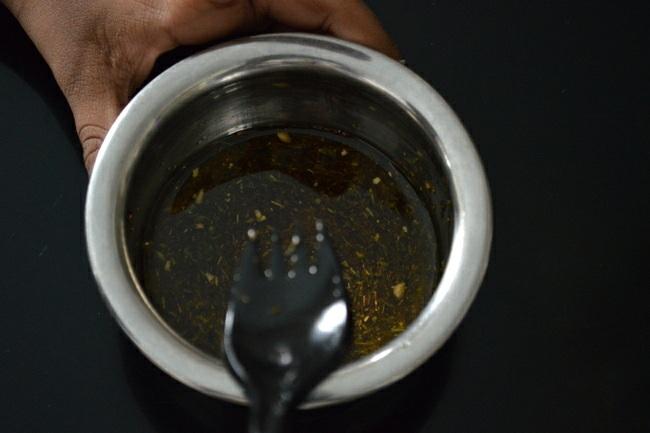 19. Pour the herbed oil, all over the entire focaccia dough spread on the baking tray. Bake in the pre-head oven at 220 degree C for 20 to 22 minutes.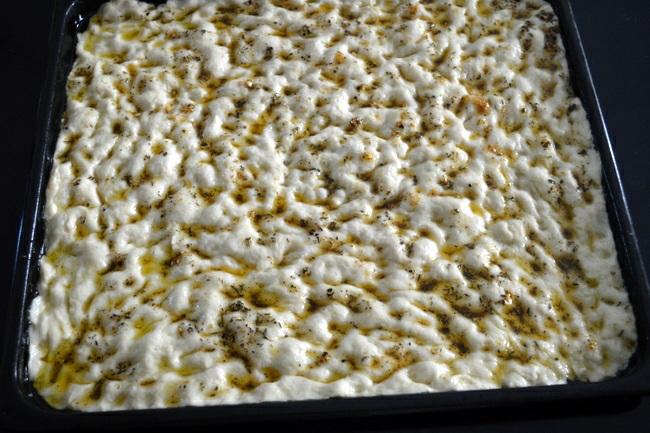 20. Mine is a little over baked, I wanted a nice golden brown. But do not wait this longer. Stop at when it is just golden yellow. Do not bake more than 22 minutes. Stop at 20, check and go upto 22 minutes for a soft textured bread.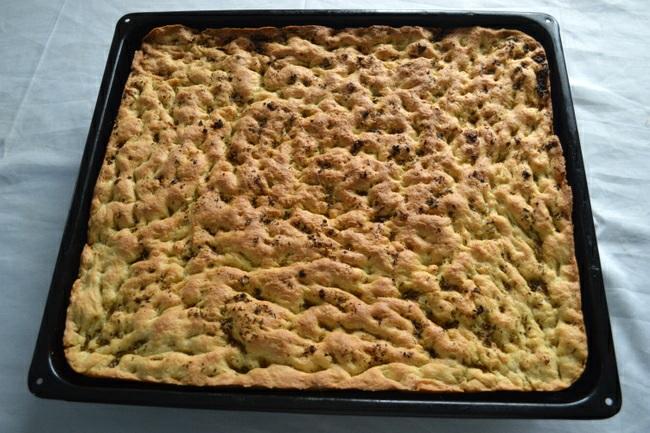 Keep your dips ready and your entire family is ready to dig into it right away. Trust me, this is the only dish in the entire bake along journey, that I finished up with the above picture and sat down with my kids to finish up 2 long strips of focaccia and then ended up taking other pictures to finish my process. Otherwise things are always served after my entire picture taking process
You and your entire family will love it as much as me and my family did <3