Bake Along #80 – KitKat Cupcakes Caramel Milk Chocolate Whipped Ganache
March 3, 2020
2021-09-04 18:01
Bake Along #80 – KitKat Cupcakes Caramel Milk Chocolate Whipped Ganache
Bake Along #80 – KitKat Cupcakes Caramel Milk Chocolate Whipped Ganache
The idea behind making these droolicious kitkat cupcakes have been in my mind more than almost couple of years ago. I first came across when one of my bestie, baker cum blogger, made these for her stall and obviously it was a sell out. I was rather itching to make it public and put it on Bake Along, long back. Considering ethics that it keeps going out of her home baking business and that it is a sell out, I just refrained from posting about it and then finally it just faded away and I totally lost memory of it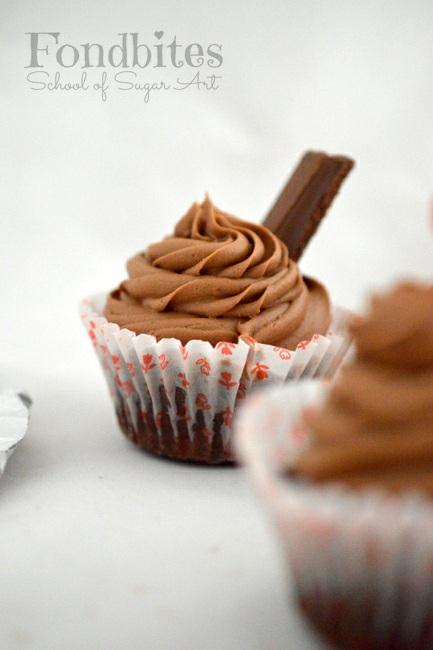 While I was going through what I can Bake Along for this week and finally ended up seeing this recipe in pinterest some how hopped on to it and I was in chill for a moment. So Nostalgic and my heart just fixed it. This is the one. But yes definitely it is not the exact same recipe, my friend had been using. But obviously for so many other technical and logical reasons, this recipe sounded much perfect to the idea of filling the cupcakes with crunchy kitkat and that they remain crunchy and intact even after baking.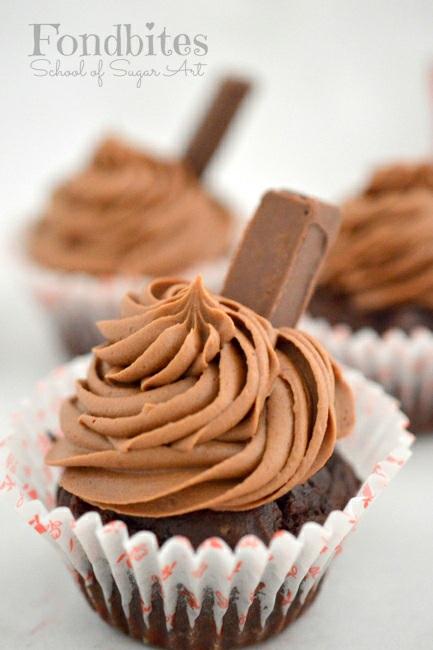 This recipe yields exactly 12 cupcakes. Batter seems thicker than usual and that is holding the kitkat pieces in the middle of the cupcake, without sinking down to the bottom. In few cases I see few kit kats float up on top and even peep out , that is a lovely sight anyway. Though the batter is thick, the cupcake is soft and fluffy. The top of cupcake seems to resemble rocky roads but definitely you know what I decided to cover it up with ?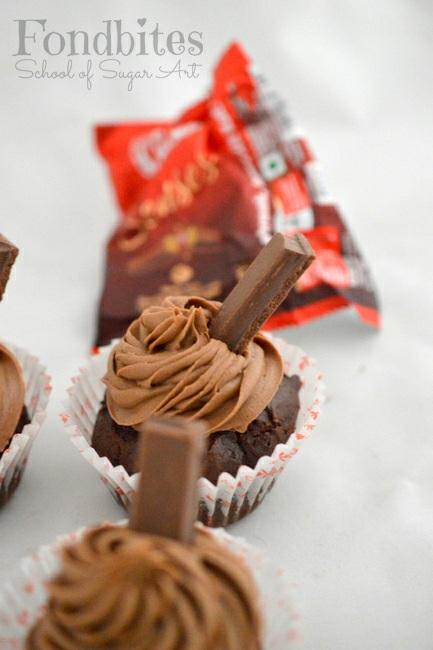 Die hard fan of caramel and I can't think of anything else to go with this. Obviously some chocolate, for again being a chocoholic. So why not infuse caramel into chocolate ganache. That just took the whole thing to a mousse in heaven. Simple, rich, decadent and totally irresistible. It is a hit among kids, kid like adults and definitely a sell out anywhere you take them
Ingredients:-
Recipe inspired – Chocolatemoosey
Vegetable cooking oil – 1/3 cup
Sugar – 3/4 cup plus 2 tablespoons
Egg – 1
Vanilla Extract – 1 teaspoon
All-purpose flour – 1 cup plus 2 tablespoons
Cocoa powder – 1/2 cup
Baking soda – 1/2 teaspoon
Salt – 1/8 teaspoon
Buttermilk – 2/3 cup
Kitkat single bars – 12 pieces
Caramel Milk Chocolate Whipped Ganache
Milk Chocolate – 300 gms
Dairy fresh cream – 100 gms
Caramel sauce – 1/2 cup ( Make from this recipe )
Whipping cream – 1/4 cup, cold
Method:
1. Sift together flour, cocoa powder, baking soda and salt. Keep aside. Pre-heat oven to 180 degree C. Line cupcake pan with paper liners.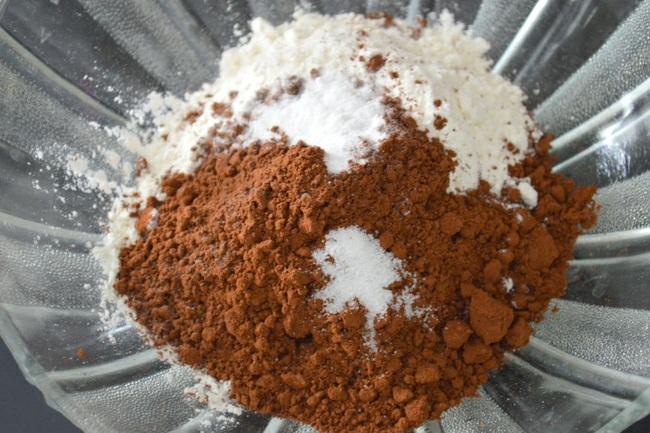 2. Add sugar and oil into the bowl of your electric beater. Beat the both on medium speed for about 2 minutes.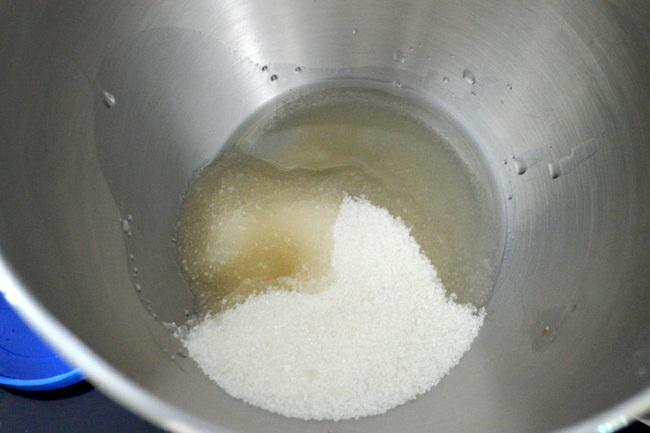 3. Add egg and vanilla extract and beat again for 2 minutes on medium speed until they combine well and becomes fluffy.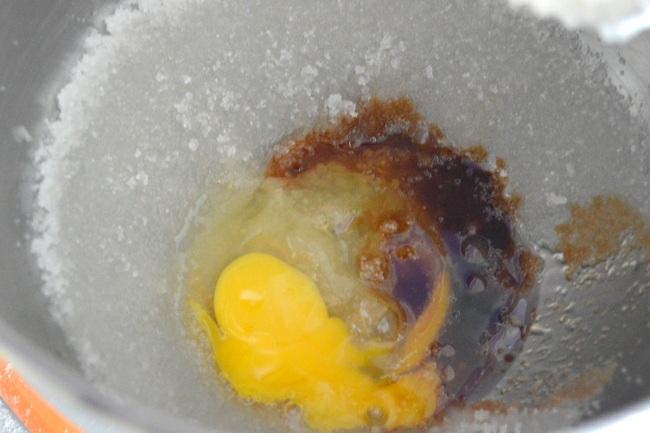 4. Scrap down sides of the bowl with a rubber spatula and beat again on medium speed for 2 more minutes.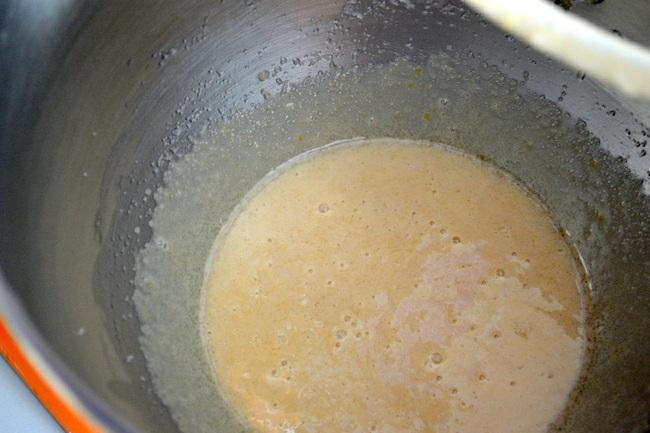 5. Add 1/3rd of the flour cocoa mixture and beat on slow speed until the flour is just incorporated. Do not over beat.
6. Add half of the buttermilk and beat on slow speed just until incorporated. Scrap down the sides.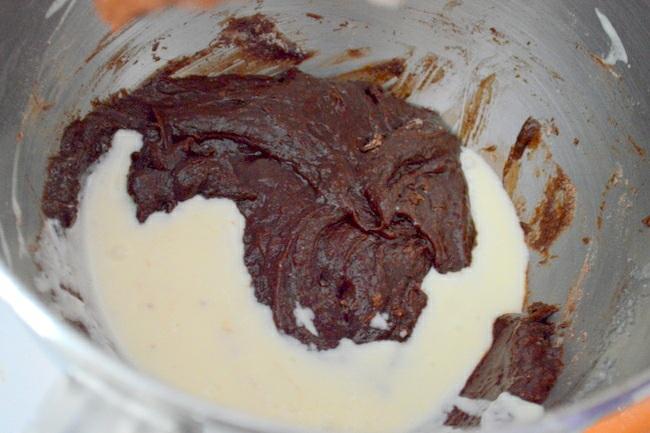 7. Add the second 1/3rd portion of the flour and beat again on slow speed just until incorporated. Add the remaining butter milk and beat on slow speed, followed by the final portion of the flour mixture and beat just until incorporated. Do not over mix.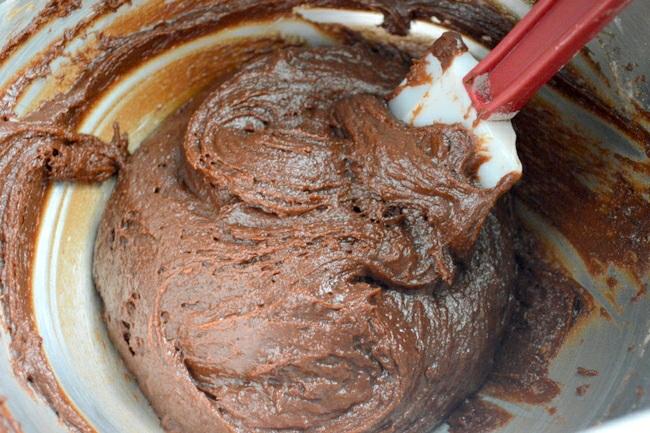 8. Add 1 tablespoon of the batter into each prepared cupcake pan. Press into it gently, pieces of kit kat
9. Top them with one more tablespoon of the batter covering up the kit kat pieces. Adjust and fill up cups with the remaining batter, dividing them equally between the pans. Bake in the pre-heated oven for 15 to 18 minutes until the top is raised well, spongy to the touch and a tooth pick inserted will come out clean or few crumbs.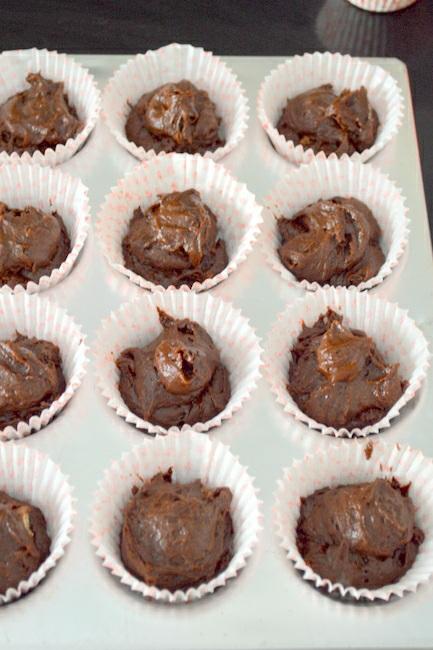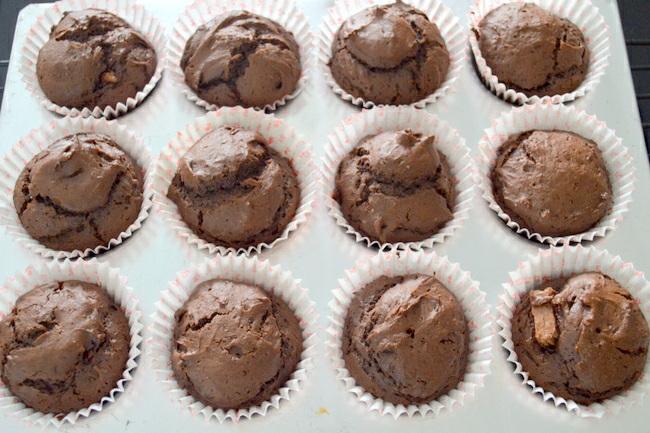 Caramel Milk Chocolate Whipped Ganache
11. Roughly chop the chocolate and add it into a microwave safe bowl. Pour the cream into the bowl. ( Roughly is not as rough as in the picture below. There are few things that you might have to unlearn from me ).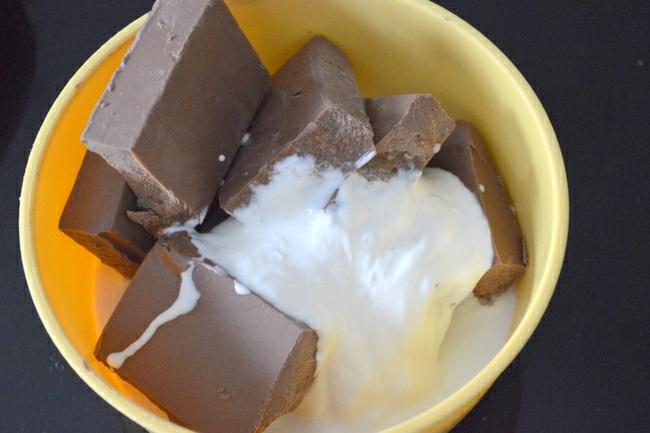 12. Microwave on high power for 1.30 minutes. Mix well with a spoon to check if chocolate is melted completely. If not microwave again in 30 second interval until chocolate melts completely. Cool completely to room temperature. Chill the ganache in refrigerator for few hours.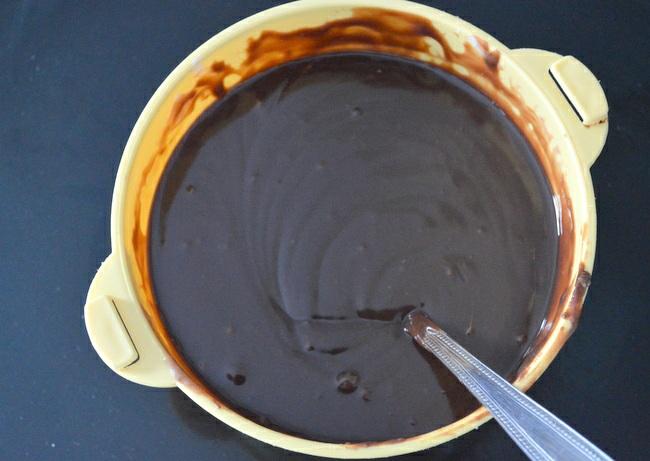 13. Add the cold ganache into the bowl of your electric beater. Add caramel into it. Beat on medium speed for 2 minutes. Increase speed to medium high and beat for about 3 to 5 minutes.
14. Add the whipping cream and beat on medium speed for 3 minutes until the frosting becomes fluffy and stiff.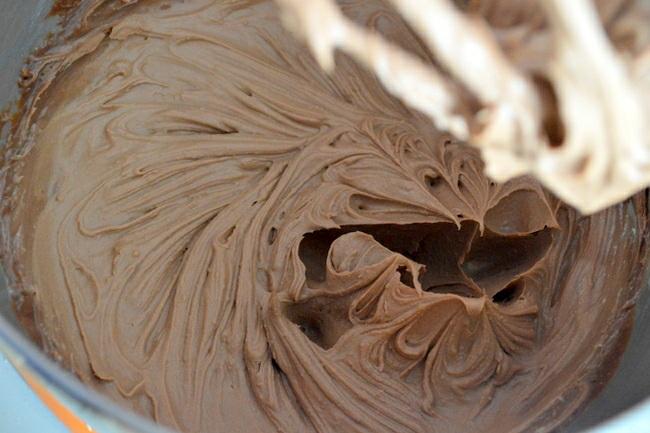 15. Fit a piping bag with a big star nozzle. I used a wilton 2C here. Fill the piping bag with the frosting. Start piping the cupcakes.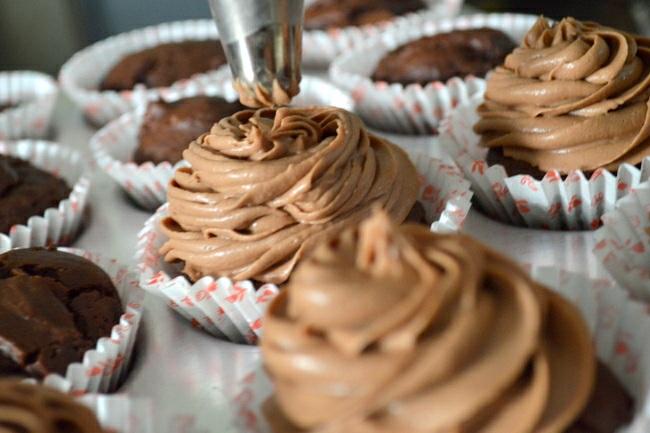 16. Finish frosting the whole batch and you are ready to go.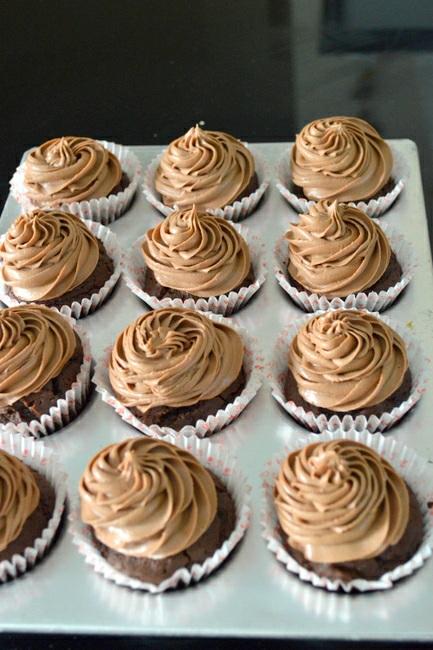 Life sounds complete only when some infusion happens and that infusion has to be right. This is a no fail combination and the 2 flavours that remain so close to my heart. You can choose to change the flavour combination, but definitely test your skills in combining flavours. Orange, mango, strawberry, chilly, lychee, kiwi, raspberries, cherries, blueberry and that becomes endless.