Bake Along #72 – Sour Cream Cheddar Basil Drop Biscuits
March 3, 2020
2021-09-04 18:04
Bake Along #72 – Sour Cream Cheddar Basil Drop Biscuits
This week we have a guest post, from the most awesome person one can ever come across. Gayathri Kumar of Gayathri's Cook Spot who blogs at www.Gayathriscookspot.com.
Such an awesome soul one could ever come across in every aspect of her, be it blogging she shows sincere efforts in trying to share all of the knowledge that she has gained through self learning. Be it a person with whom one interacts personally, will be awed at how simple a person on this earth who is totally unadulterated with a real pure soul. This is no exaggeration but a simple gist of what I have understood Gayathri.
This week it would be savory and some nice cheesy drop biscuits after loads of sweets for almost about a month which I have taken the liberty to cross few hurdles for me and for you
Sour Cream Cheddar Basil Drop Biscuits
American biscuits are soft and flaky and are made by rolling and cutting thick dough. But the technique used for this biscuit is different from the normal preparation. As the name suggests, the slightly loose dough is dropped on a baking sheet and baked to produce soft cheesy biscuits. This is the most easiest of all biscuit recipes and is equally tasty. The ingredients are listed in the name itself. Sour cream, Cheddar cheese and basil makes this savoury biscuits so tasy. The original recipe used fresh chives but as I didn't get chives even in its dry form, I opted for dried basil. You can use any herb of your choice. Here are some of the herbs you can use either in fresh form or dried form – Coriander, mint, fenugreek, chives, basil, oregano, sage etc.
The dough is so delicate. You should never over knead the biscuit dough. So to make sure of that use a fork to just bind all the ingredients. Once all the ingredients are incorporated, just stop mixing. Else you will end up with a dry biscuit. I used an ice cream scoop to drop the biscuits. You can use even a table spoon to do it. The size may vary accordingly.
Next comes the baking part. The original recipe says 10-12 minutes, but I baked mine for 20 minutes. There is a difference- 10-12 minutes baked biscuits are so soft where as the ones baked a little longer has a crisy crust and a soft crumb. And also I liked the colour of the 20 minutes baked biscuits. But every thing is according to your personal preference. And serve it fresh out of oven. As this has lots of cheese, it is best served when hot or warm. If you are making it in the morning and serving it in the evening do not forget to warm the biscuits before serving.
Makes 14 Biscuits
Recipe Source: Shewearsmanyhats
Ingredients:-
Flour/ Maida-2 cups
Sugar-1 tbs
Baking Powder-2 tsp
Baking Soda-1/4 tsp
Salt- 3/4 tsp
Black Pepper-1 tsp
Dried Basil/ any other herb – 1tbs (if using fresh use 1/4 cup)
Cold Butter-1/4 cup
Shredded Cheddar Cheese-1/2 cup
Milk-1 cup
Apple Cider Vinegar-1/2 tsp
Sour Cream-1/2 cup
Method:
1. In a bowl combine flour, sugar, baking powder, baking soda, salt and basil.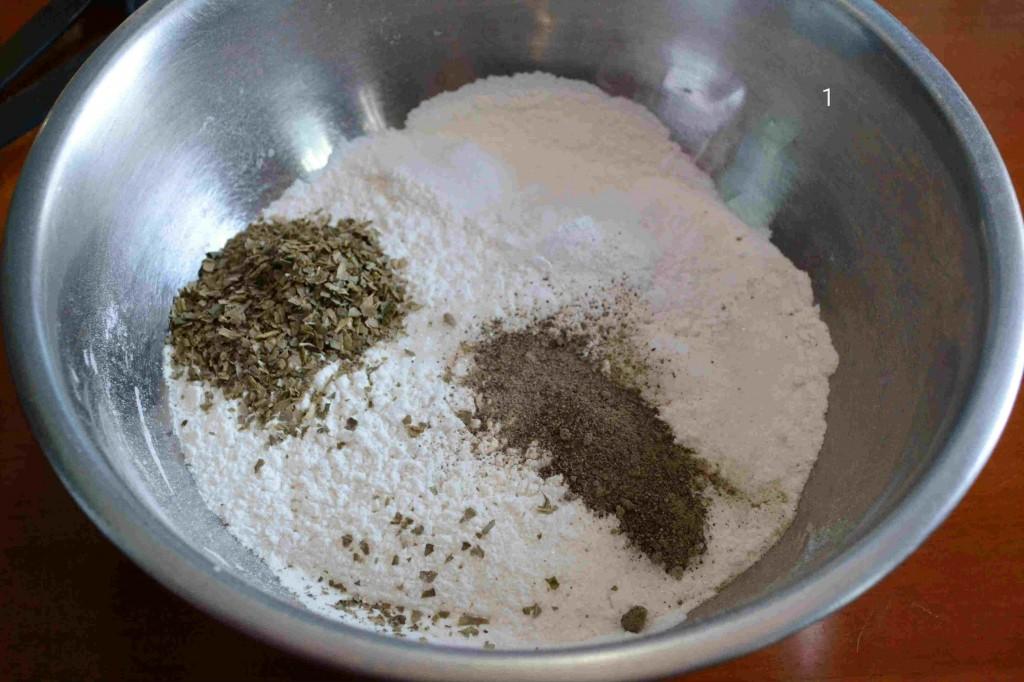 2. Mix milk and vinegar in a bowl and set aside for 10 minutes.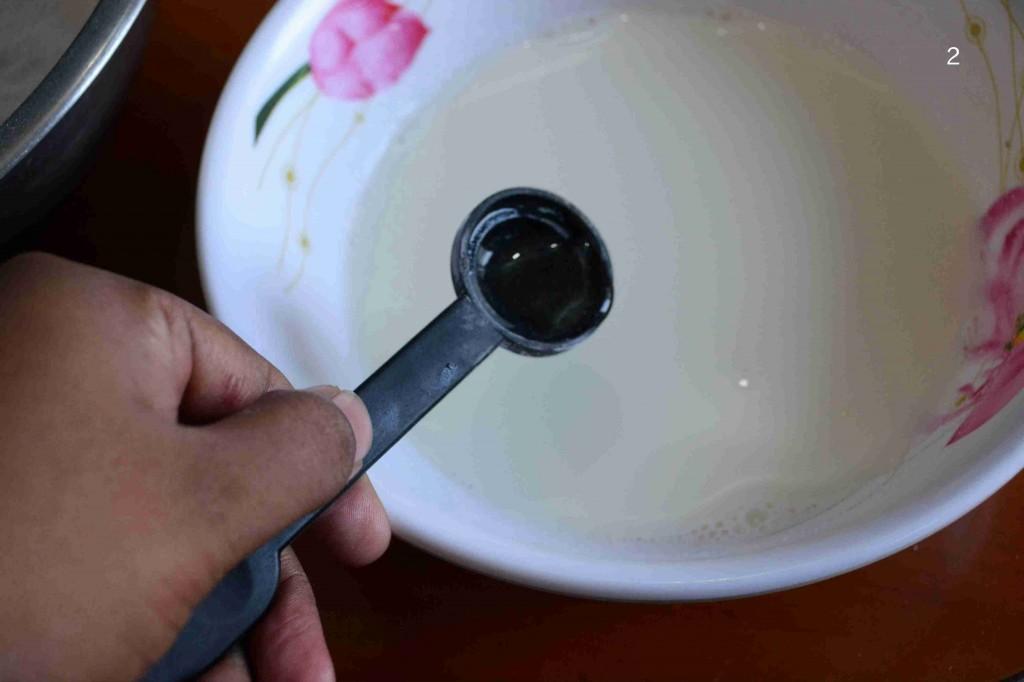 3. The milk will be curdled and this is the buttermilk we will be using in the recipe.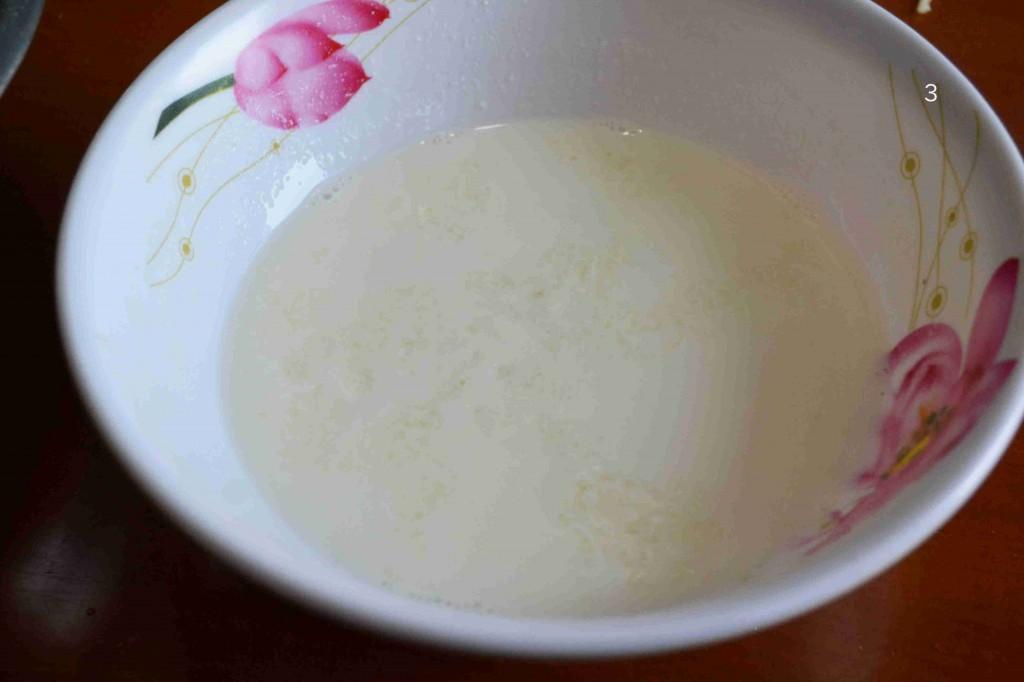 4. Add cubed butter to the dry ingredients.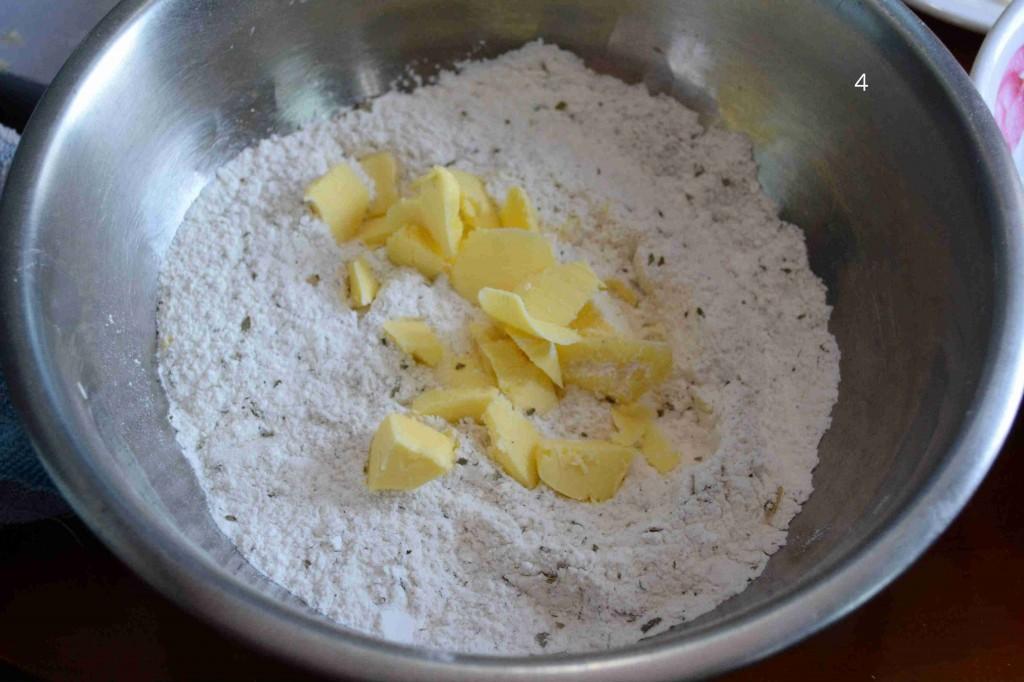 5. Rub the butter with flour with finger tips. When the butter is broken to pea sized pieces stop rubbing.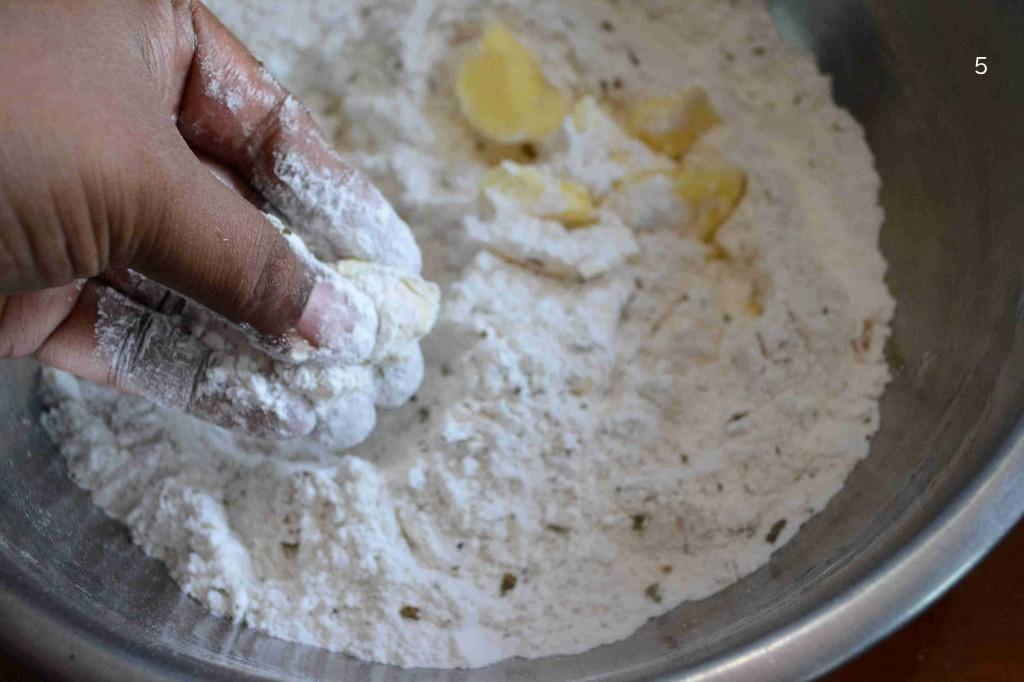 6. Add shredded cheese. Mix with a fork.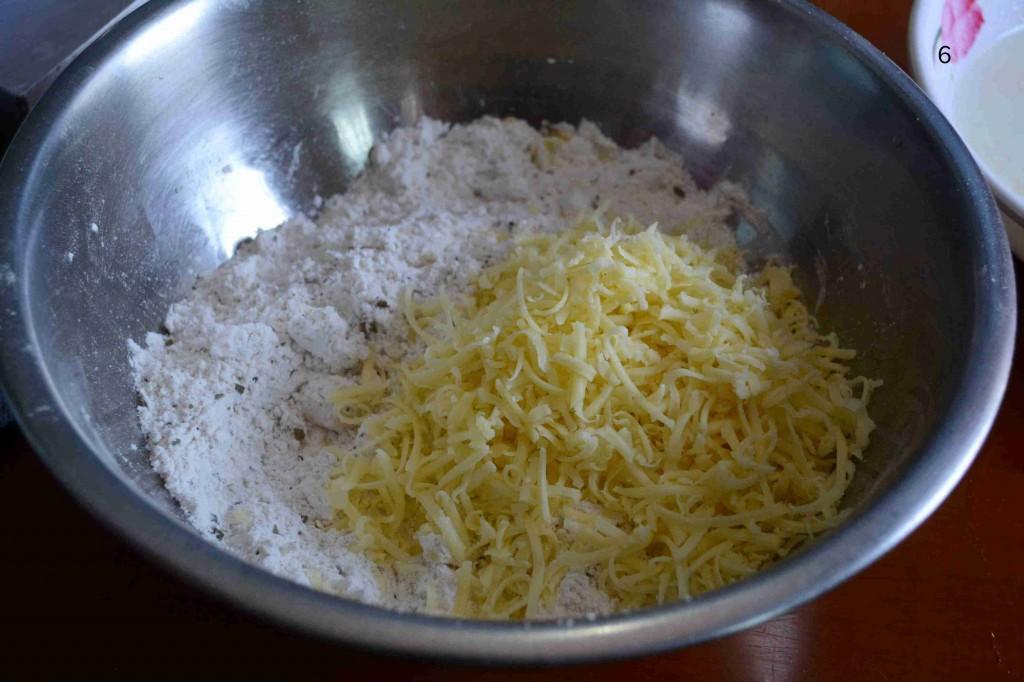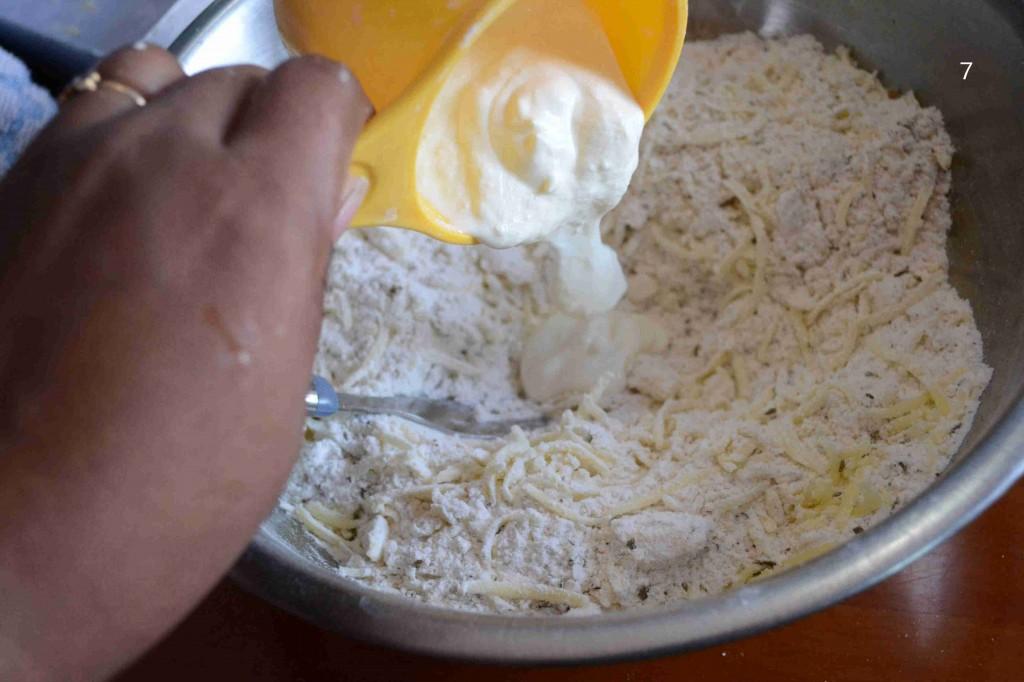 9. Gently mix with a fork.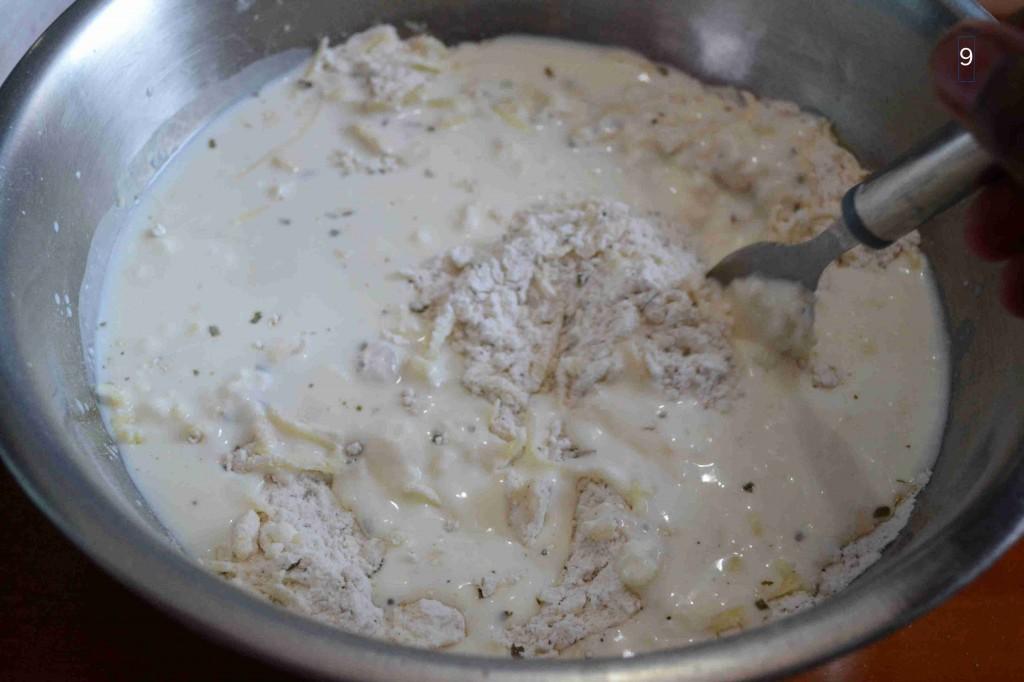 10. Stop mixing when the ingredients are just combined.
11. Using an ice cream scoop, scoop out the dough.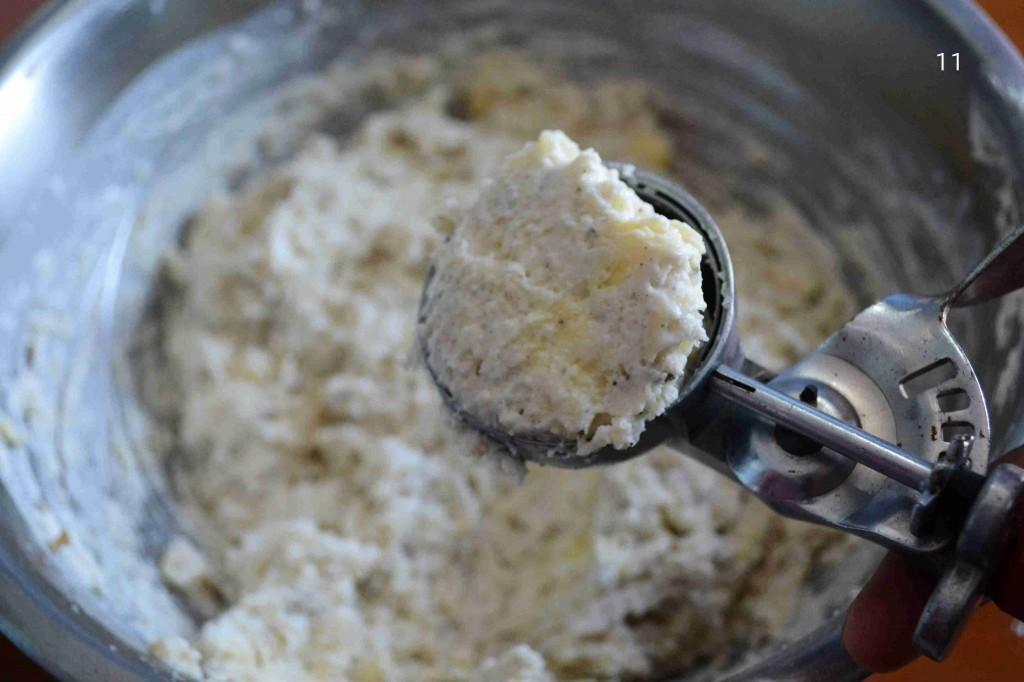 12. Drop it in a lined and greased baking tray.
13. Make sure to place them 2" apart as they will spread.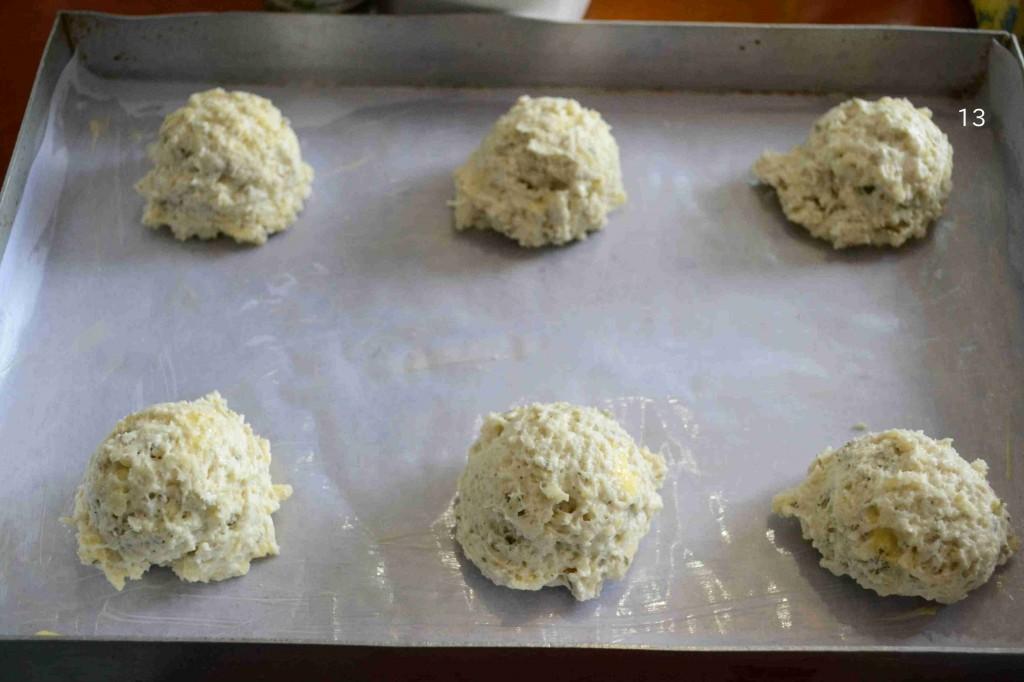 14. Bake in a 230C preheated oven for 12-20 minutes according to the texture preferred.
15. Gently remove from the tray and serve hot.