Bake Along #65 – Traditional Greek Moussaka
February 29, 2020
2021-09-04 18:06
Bake Along #65 – Traditional Greek Moussaka
Bake Along #65 – Traditional Greek Moussaka
I'm a typical South Indian and had no clue about the continental nomenclatures until baking happened to me. Once after this baking storm hit my life and when I decided there is no looking back, I realized only thing that will keep me going is learning. I had never known, cake needed baking powder until I read a first recipe. What a sponge cake is, why we need oil cakes, what is a pastry, what is a french pastry. I had no clue about all these, 3 years back. But I never gave up. I was learning and I am still learning.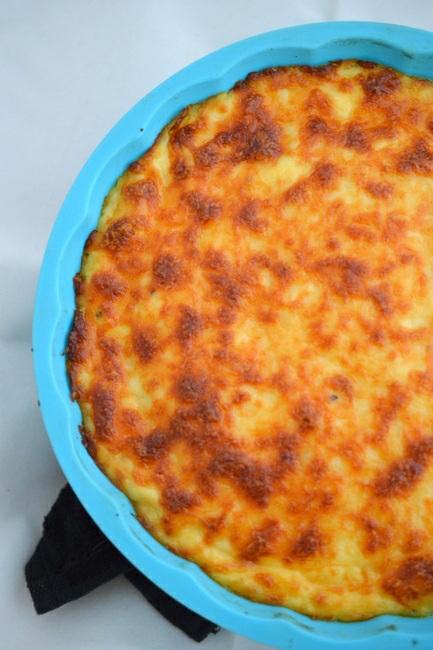 During this journey I was one day amidst quite a bunch of the finest bakers in the city and all that I had known are cupcakes, cookies, cakes, muffins and that's it. While I saw quite a lot of terms involved, even a mousse sounded like greek to me and panacotta sounded like magic, how can something set like a jelly and can we make it at home? Tiramisu, oh my !! really ?!?What in the heaven is that ?!
I was shattered for couple of weeks. It was sometime in my life, I really was standing in a 4 road crossing, trying to decide if baking is my forte. Should I really continue. Will I be able to cope up. First of all, is there
Now it sounds like a movie's turning point. But the fire wont let me go. Nothing made me happy than the thought of baking. I decided to slowly pitch in. First thing I did was to ask my brother who was in the Los Angeles to click pictures of all the restaurants he would go every day and send me the names of the menu cards he is seeing. He did that, and damn you wont believe, I didn't understand that, a bit. I let go of that idea. I did some google. I used the restaurant names of all that my bro sent me and studied the restaurants and their menu. What a chef does, how he innovates each dish.
I was getting confident. It was all some flour, butter, sugar, eggs, sometimes chocolates, cream in different forms and when they come together in different forms, they get new names. I researched on some basic desserts across regions and I kept my flow going. No turning back. Learning is key. Where ever we are. We have to keep learning. Update ourselves. I should never stop. I wont slow down. Never !!
Continuing the above scenario, I decided to learn other terms that were not desserts. I know non-desserts are not my forte. Definitely not. But not knowing them is not fair on my job. I decided to go out and learn it for myself. I had been to one of the finest baking schools in Chennai, Artisans Institute of Baking to take up a session on 'Continental Baking' where as expected even the terms were absolutely new to me, except for pizza
Lasagna, Moussaka, Stromboli, empanadas, baked spanish chicken, tacos. Trust me!! I had never heard any of them. I came back with some real treats and a glee of satisfaction of having learnt new terms and also that I could make them back at home. But when it comes to sharing a recipe to the online world, I would be cautious and here I cannot share what I have learnt in my class, but I can assure you the whole thing I made today tasted damn good and in my feeble memory it sounds definitely close to the original
Traditional Greek Moussaka it is!!
To make it simple, it is a layered baked casserole dish. Layers start with cooked round sliced eggplant, followed with minced meat sauce, topped with boiled round sliced potatoes, again topped with minced meat and the potatoes again and some luscious bechamel sauce poured on top with grated cheese and baked to perfection. Yum!!
Ingredients:-
Recipe inspiration: mygreekdish
Base
Eggplant – 6 medium sized
Olive oil – 2 tablespoons
Bechamel Sauce
Milk – 2 cups
Butter – 1/4 cup
Flour – 1/4 cup
All spices – 1 teaspoon
Egg yolk – 1
Parmesan/Cheddar Cheese – 100 gms
Meat sauce
Minced meat – 500 gms
Onions – 2 medium, finely chopped
Bell peppers – 1, finely chopped
Garlic – 4 cloves, grated
Tomato puree – 1 cup ( fresh tomatoes processed )
Tomato sauce – 2 tablespoons
Sugar – 1 tablespoons
Red wine / water – 1/2 cup, I used water
Pepper powder- 2 tablespoons
All spice – 2 tablespoons
1/4 of a cup olive oil
Potato layer
Potatoes – 6, medium sized, cut into 1/4 inch round
Method:
Eggplant
1. Take a sauce pan of water and add 1/4 cup of salt into it.
2. Cut the front and back side of the eggplant. Cut them into 1/4 inch thick round slices.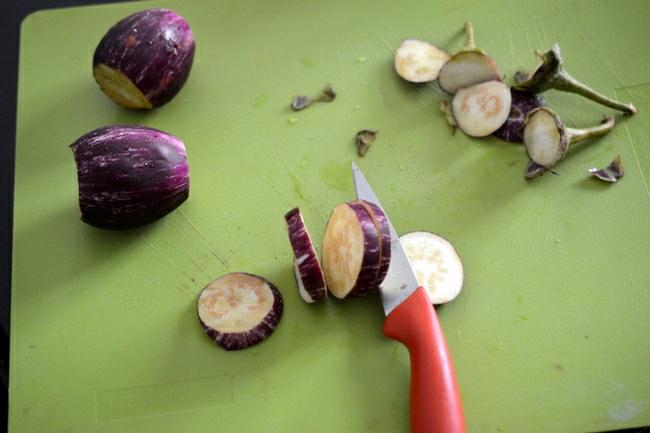 3. Drop the sliced eggplants into the brine and set aside for 30 minutes. Meanwhile work on the meat sauce.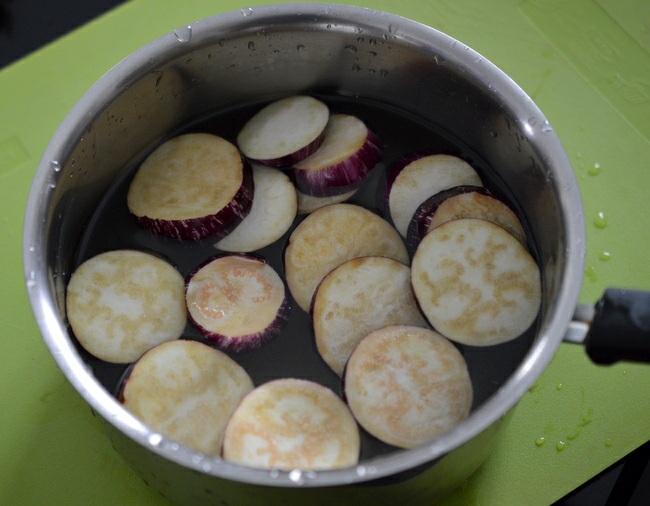 4. After 30 minutes, take the eggplant slices from the water and drain and wipe the water completely from the slices using a kitchen towel.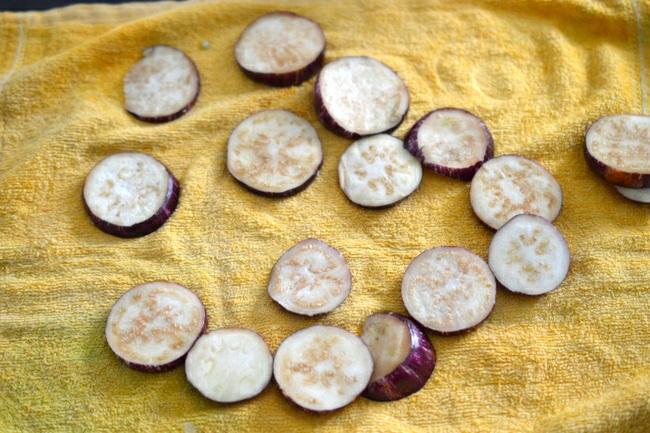 5. Heat up a tawa and add 2 tablespoons olive oil. Cook the eggplant slices on both sides until it becomes golden brown on each side. Set aside until the rest of the components are ready.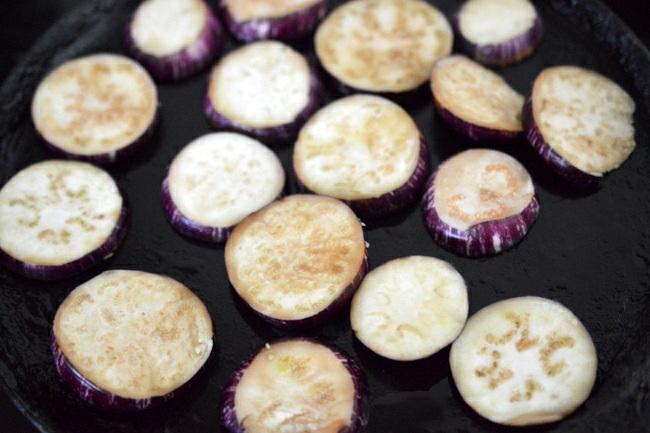 Meat Sauce
1. Heat up a heavy bottomed vessel. Add olive oil and fry the onions until translucent.
2. Add bell peppers and saute for couple of minutes.
3. Add grated garlic. Add tomato puree, tomato sauce, pepper, salt and all spice. Fry for 3 to 4 minutes.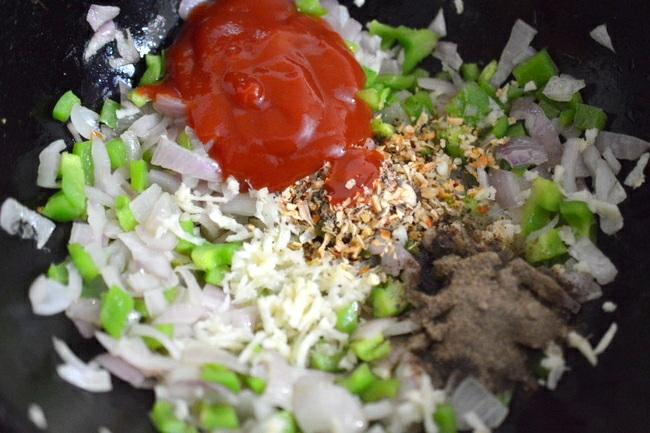 4. Add the washed minced meat and combine well. Fry for 5 minutes on medium flame.
5. Add red wine/water and cook on high until it boils. Turn to medium low heat and keep it covered while stirring occasionally until the sauce thickens and oil separates.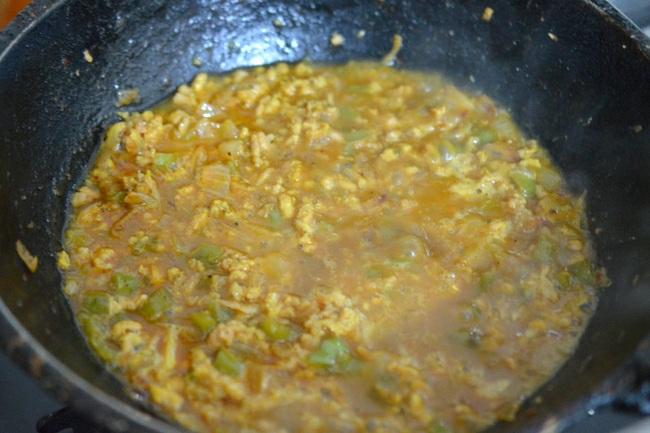 Potatoes
1. Add the sliced potatoes in water with 1/2 teaspoon of salt and boil for 5 minutes on medium heat until the potatoes are just cooked. Do not over cook the potatoes.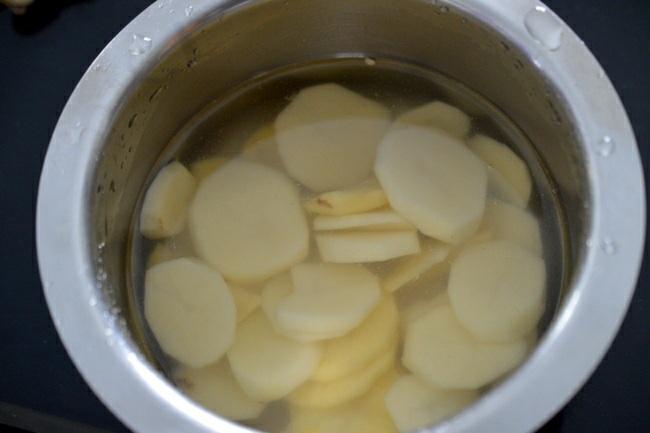 2. Drain the water and set aside until all components are ready.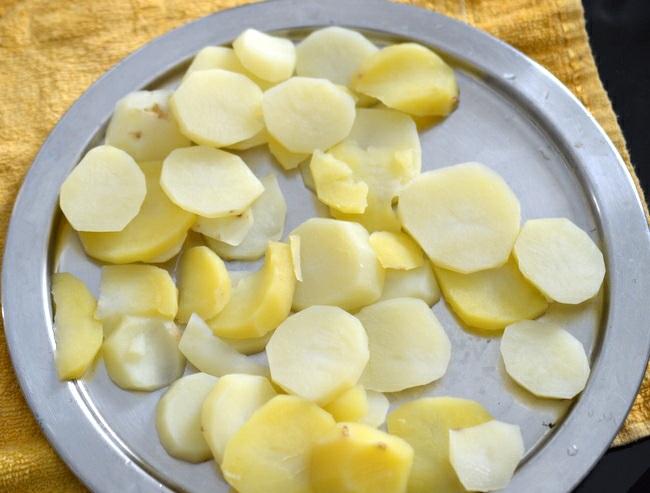 Bechamel sauce
1. Heat up milk in a saucepan. Bring down flame to low once it has boiled. Let the milk be on flame till butter and flour cooks.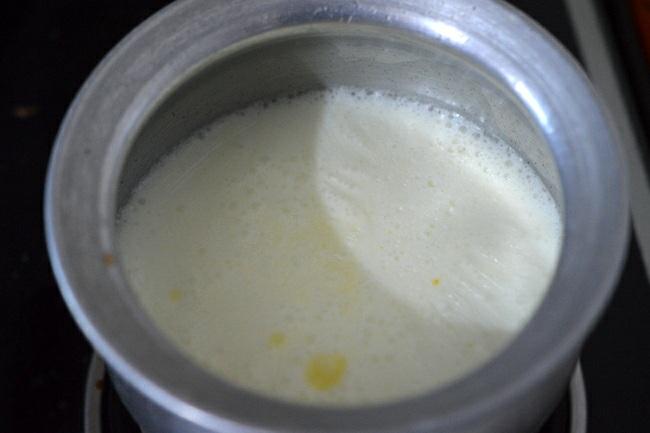 2. Heat up butter in a heavy bottomed saucepan on low heat, until butter completely melts and starts to show up bubbles.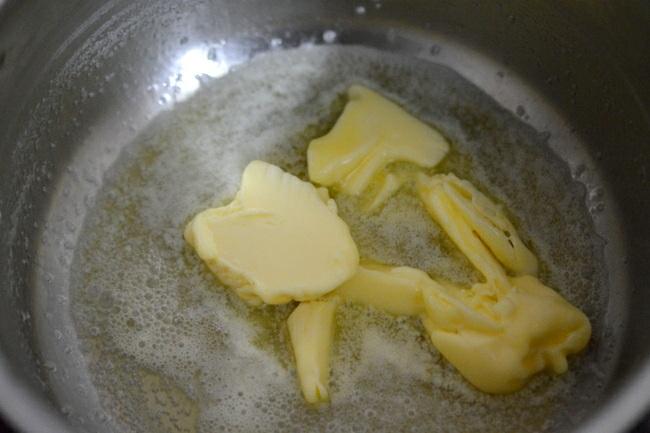 3. Add the flour slowly and keep stirring constantly to avoid any lumps. Once after all flour has been added up, keep stirring until you find no lumps. Keep the flame in low.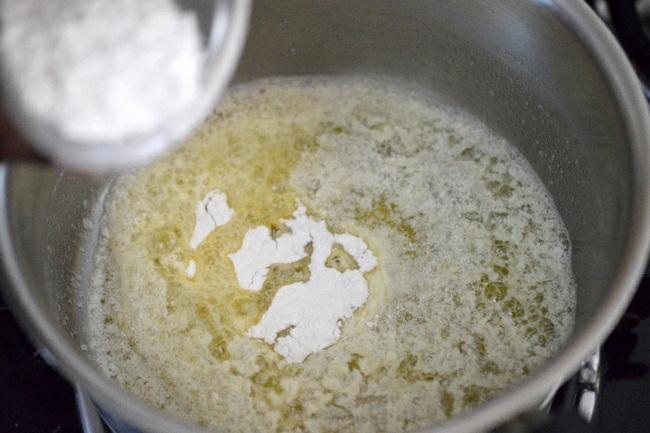 4. Keep stirring and let it cook for couple of minutes.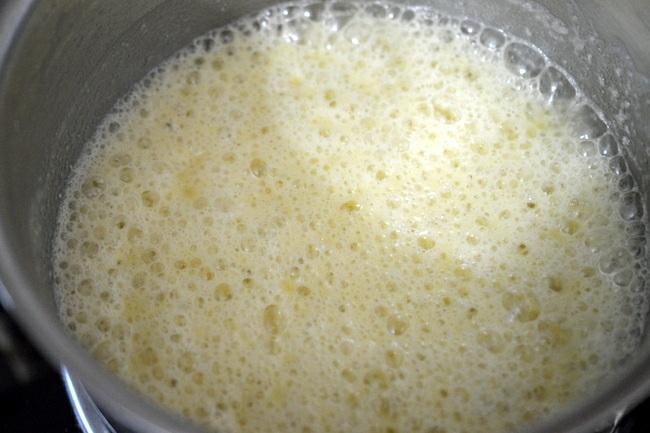 5. Add the milk slowly and steadily into the butter flour mixture while constantly stirring. Add salt and spices. Mix well.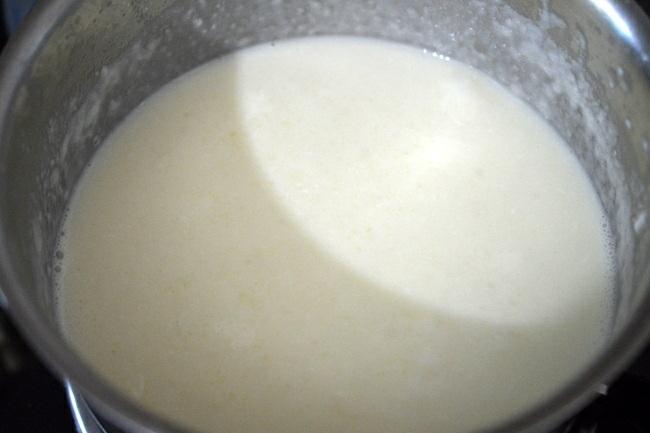 6. Keep stirring on medium heat until it thickens up a bit. Switch off the flame.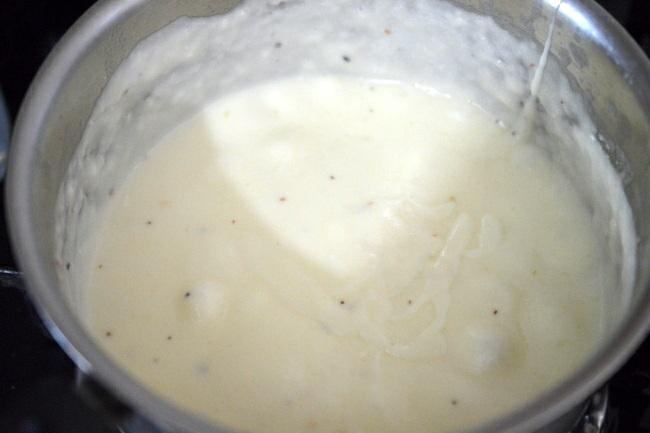 7. Whisk the egg in a different bowl.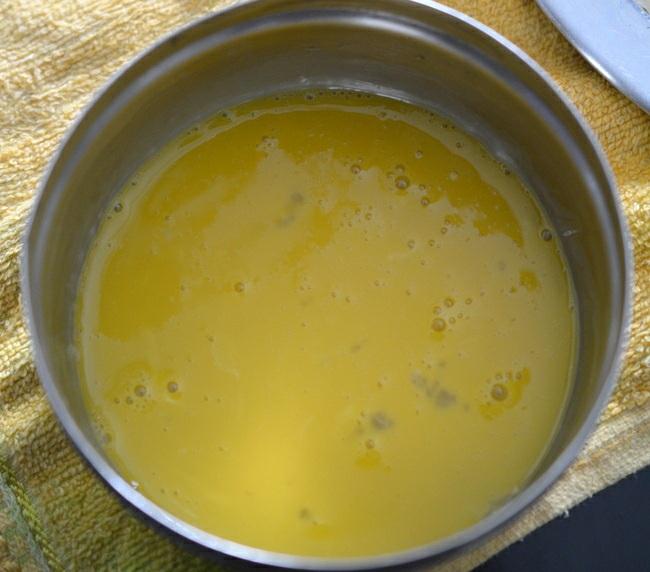 8. Add about half a cup of the hot sauce mixture into the egg yolks and mix well. Here you are tempering the yolk to not cook up and scramble.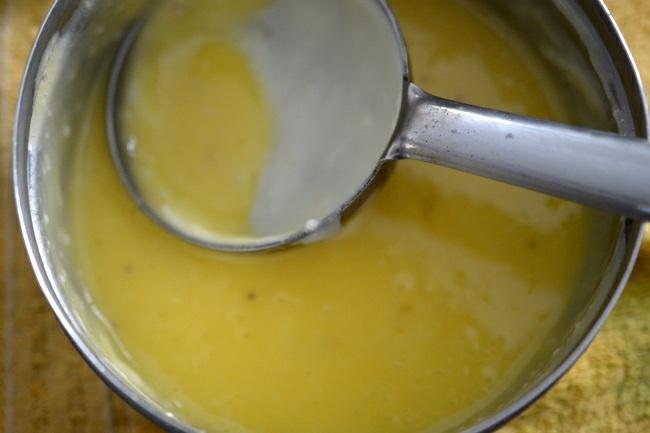 9. Now add this egg mixture into the hot sauce while stirring well. Bring this back on flame and cook until it thickens up a bit.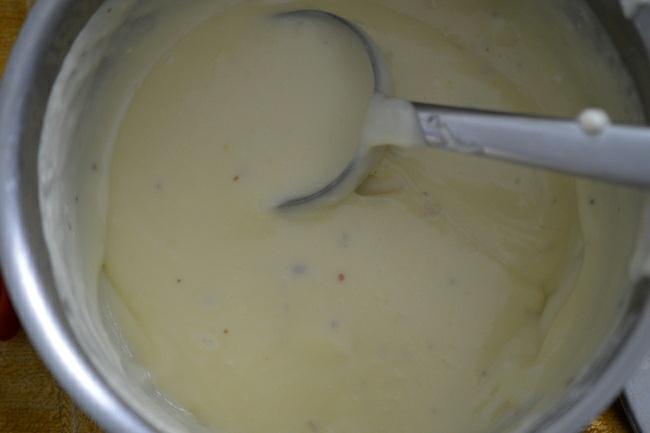 Assembly and baking
All that you need. Your baking dish. Eggplants, potatoes, meat sauce, bechamel sauce!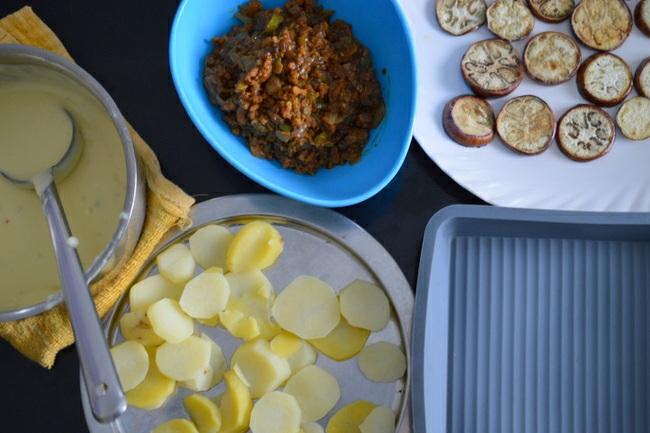 1. Butter the pan and arrange the eggplant slices overlapping and covering up the base.
2. Add half of the meat sauce and spread out on top of the eggplant layer.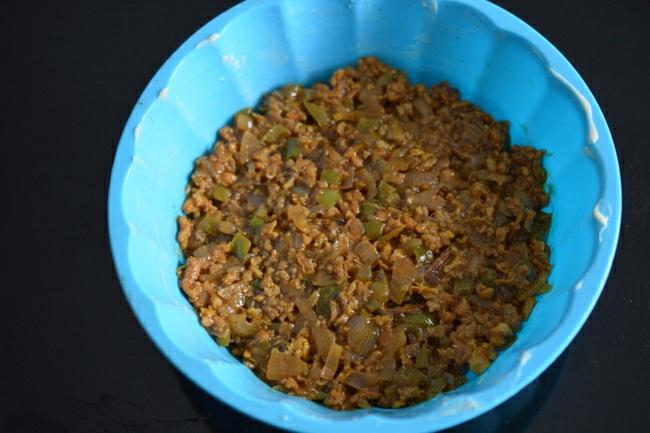 3. Arrange half of the potato slices on top of the meat sauce.
4. Add the remaining meat sauce over the previous potato layer.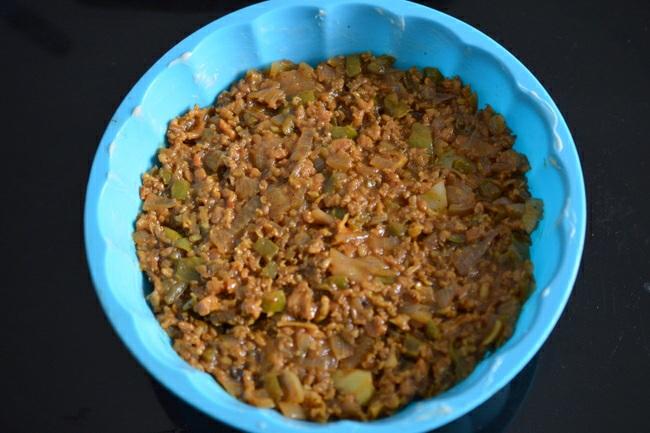 5. Layer all of the remaining potato slices on top of the meat sauce layer.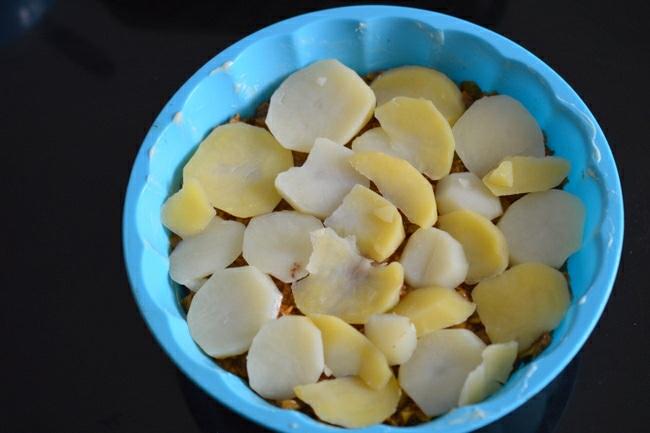 6. Now pour the bechamel sauce over the final layer and smooth out.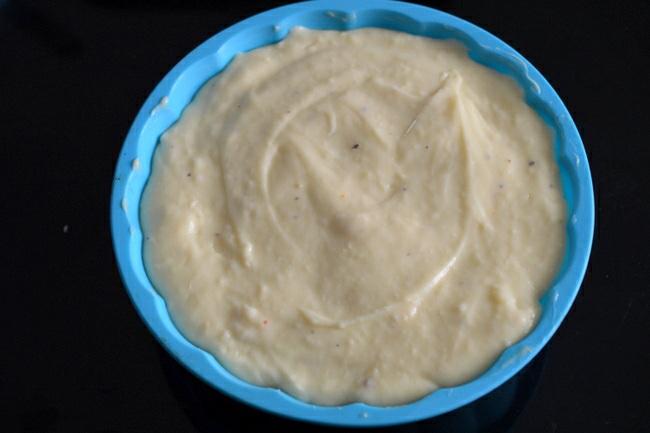 7. Grate the cheese and sprinkle on top of the final layer. Bake in the pre-heated oven at 180 degree C for 20 to 25 minutes until the top is golden brown.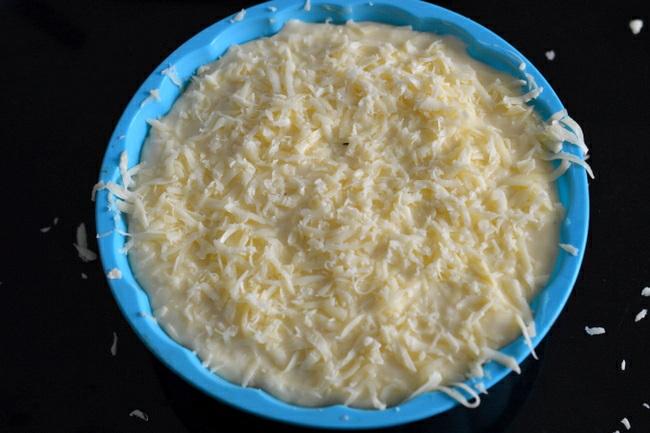 8. The top sauce layer is bubbly while in the oven and it is soft while its hot. It will set when it cools down. Cool on wire rack and serve while it is just luke warm to get
clean slices.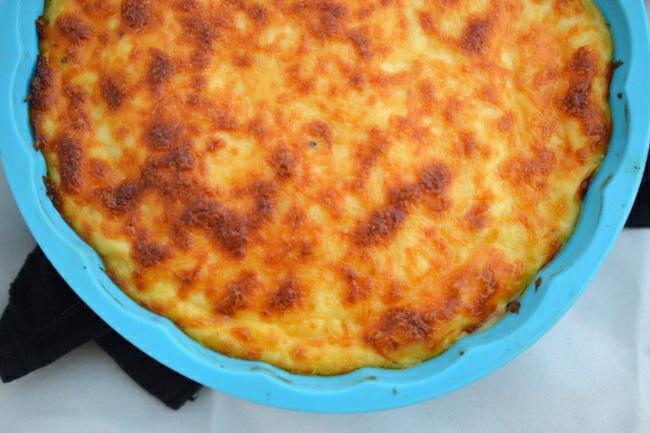 That was a long one indeed but definitely worth the effort !!