Bake Along #6 – Gingerbread House
January 23, 2020
2021-08-09 16:40
Bake Along #6 – Gingerbread House
Bake Along #6 – Gingerbread House
Gingerbread house was on my wish list for more than a year and this year I feel so happy to have accomplished it. I tried to make the decoration all simple with royal icing and few piping. I also could not print out the template so I did some maths and cut out my templates. But I'm going to link other templates to make it easier for you to print and cut them out.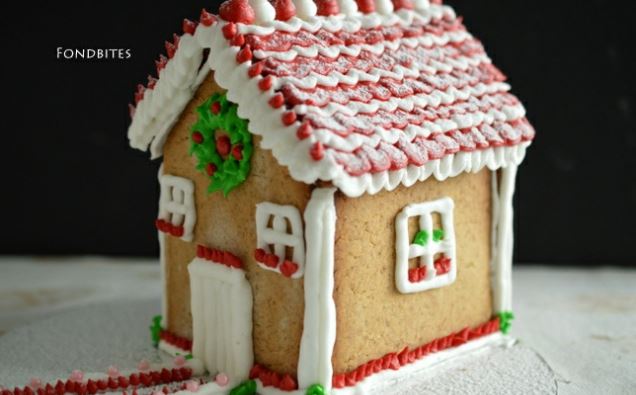 You can get creative while decorating the house. For those who want to avoid raw egg whites and skeptical about making royal icing for decoration, can melt some white chocolate and use it for glueing the parts together and also for the decorations.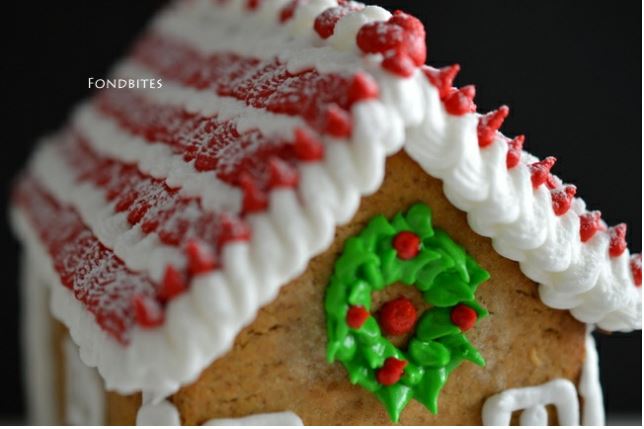 Let me brief up process before we get started
Printing/preparing and cutting out templates.
Prepare cookie dough.
Roll out dough and cut them out according to template cutouts.
Bake the cutout cookie dough and let cool.
Stick the parts of house together using royal icing or white chocolate.
Decorate the house and fifinish with dusting icing sugar for snowy effffect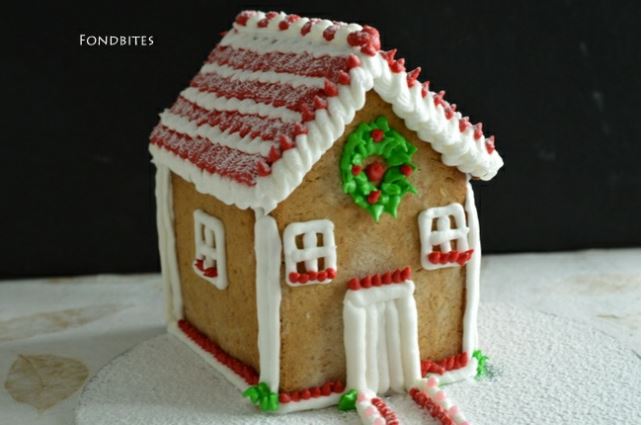 Ingredients:
For cookie dough:
100g butter, chopped
1/2 cup brown sugar
1/2 tbsp ground ginger
1 tsp ground cinnamon
2 1/4 cup plain flflour
2 tsp baking powder
1 egg
1/4 cup golden syrup, I used honey
2 quantities Royal Icing
Icing sugar fordusting snow/decorating
** Double the cookie dough recipe, if you are looking at making a bigger house or in case 2 houses.
Royal Icing:
1 Egg white
1 1/2 cup icing sugar
1 teaspoon lemon juice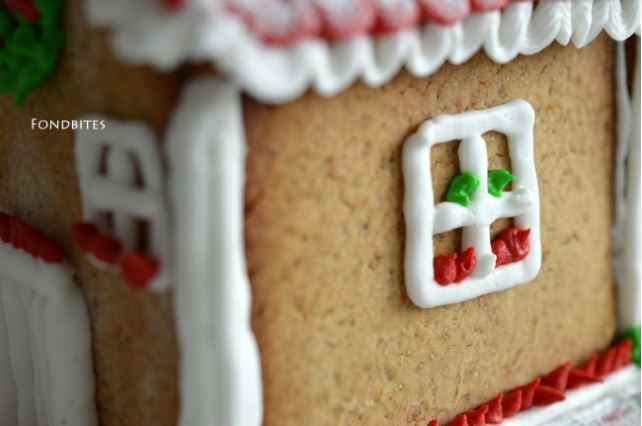 Links to few templates
Method
Print out any one of template, and paste them onto a thick card board or atleast a chart paper. Cut it out neatly. If you could not print, draw your own template in a card board and cut it out.
Measurements I used were for a small ginger bread house, you can scale it out as per need.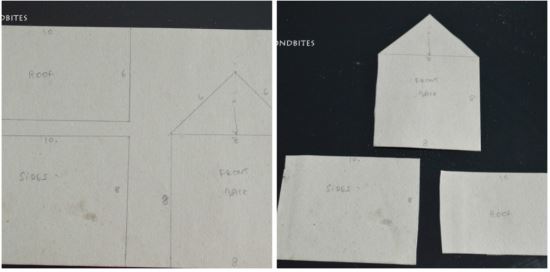 Pre-heat oven to 175 degree C. Line up baking tray with aluminium foil or butter paper. Beat together butter and brown sugar until creamy. Add egg and beat for about a minute. Add vanilla extract and beat. Add honey/Golden syrup and beat until combined.
Sift together flflour, baking powder, ginger powder and cinnamon powder. Add the flflour into the butter mixture and mix well. Use your hands fifinally to knead and form a pliable dough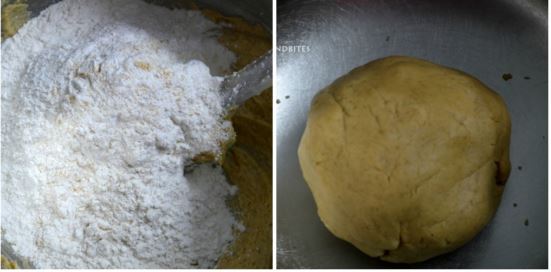 Flour your counter and roll out dough upto 5 mm thickness. Place the template cutouts on top of the rolled dough, use your knife or pizza cutter to cut them them exactly as each template. Make sure to cut 2 roofs, 2 sides, a front and a back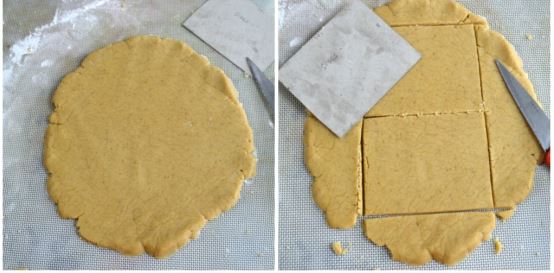 Place each of the cutout dough on the baking tray which has been lined. Bake them for 15 minutes at 175 degree C and let cool completely. Store them in airtight container until ready to assemble and decorate.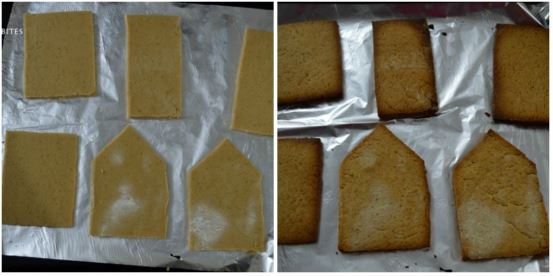 Royal Icing: Beat the egg whites until frothy. Add lemon juice and beat for about a minute. Now add the icing sugar a little at a time and beat on high speed until soft peaks are formed.

So did u notice one more loaf that went inside oven is missing here ?!??!
In a piping bag fill up 3 tablespoons of royal icing and use a small round tip or cut open the piping bag. Pipe some royal icing to the bottom of the front part and stick it on the board. Hold for sometime giving it time to dry. Now pipe some royal icing to the back of the front part on one side and stick one of the side portion. Hold for sometime until it holds in place.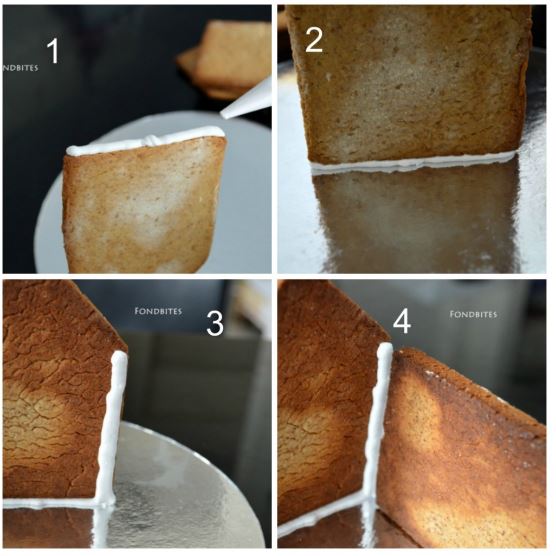 Similarly pipe royal icing to every edge and place each portion until the structure is formed. Make sure to hold the roofs using your hands for sometime until they dry out and does not slide down.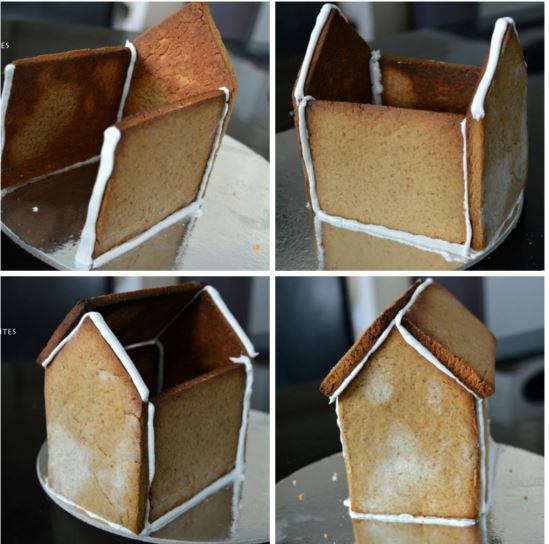 I made 2 portions of royal icing as I decided to decorate the house by colouring royal icing. I made some red and white and finished the roof with basket weave tip. I did some dot piping on the top. Made the path for the house. I also made a wreath with some green and used leaf tip. Dusted icing sugar finally for a snowy effect. You can get very creative and use candys, pipe white chocolate, make trees, door, chimney etc and make your gingerbread house very special.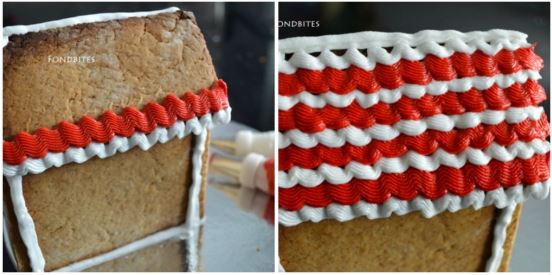 Gingerbread house is something I really panicked though I know its all about baking and decorating. I wondered if the house will stand with the structure or fall offff or how diffiffifficult the whole process is. But I really enjoyed the whole process and every single step fell in place making it very easy like yet another peaceful baking process.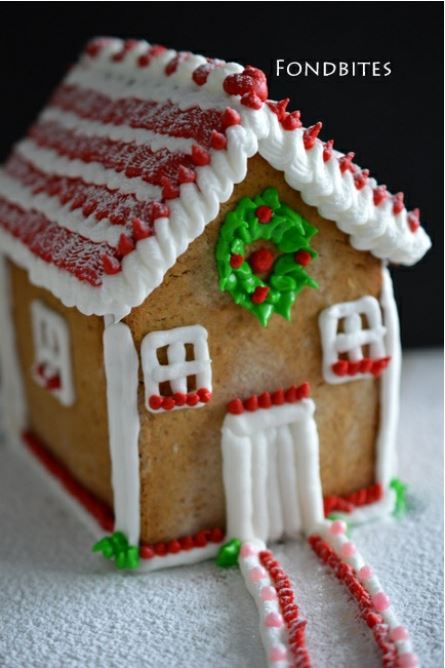 Get along and create your gingerbread house!