Bake Along #53 – Meringue Mushrooms
February 29, 2020
2021-09-04 18:10
Bake Along #53 – Meringue Mushrooms
Bake Along #53 – Meringue Mushrooms
Meringue mushrooms have been in my mind since a year. Last year during the month of December I wanted to bake these beauties but I have had few failures with the simple meringue during my start of baking experiments and I just had to figure out reasons to postpone. But not this year !!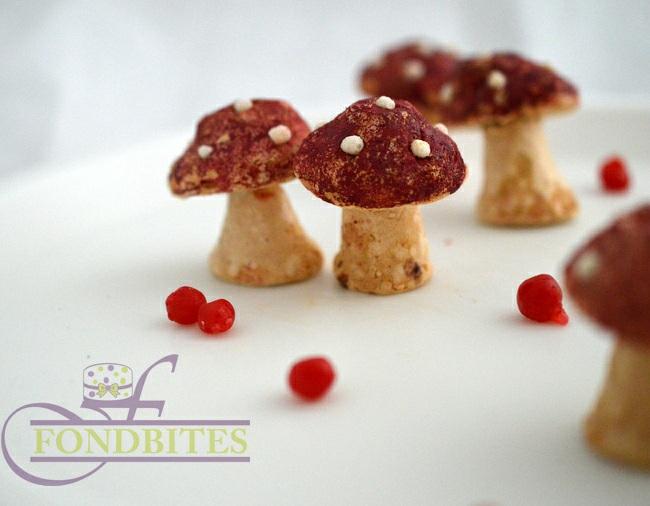 The process of making meringue is very simple though only very few precautions have to be considered important. And the only thing that would become doubtful during the whole process is the baking time. You have to give the meringues its own time. Do not fear the long baking process. It has to go through that time. Mid way during the baking process, it might seem to be done, but if you let it cool that way, the cookies will soften up and melt away.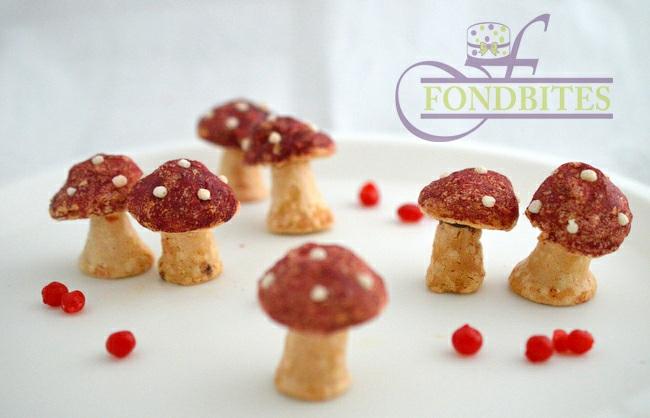 I liked how simple they were to make and what stunning results they did produce. And yes I have to agree I was also getting restless on the baking time and with that I was wondering why my cookies were turning their colour but now I really love how they look, very natural.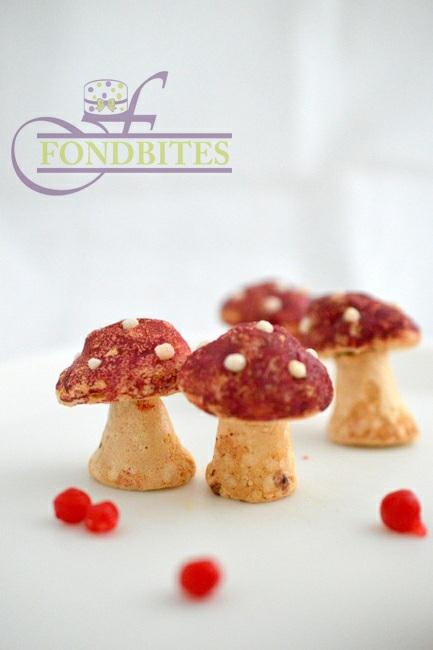 Ingredients:-
Eggwhites – 2
Granulated white sugar – 1/2 cup
Cream of tartar 1/4 teaspoon
Dark chocolate – 50 gms
Red food colour – few drops
Method:
Filling:
1. Add egg whites into the bowl of your electric beater.1. Add egg whites into the bowl of your electric beater.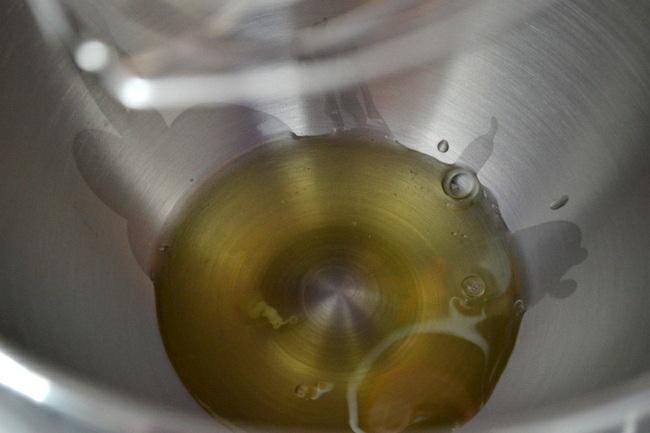 2. Beat on medium high speed to break up the egg whites and then add cream of tartar and keep beating on high speed for 3 minutes until the whites become frothy and stiff.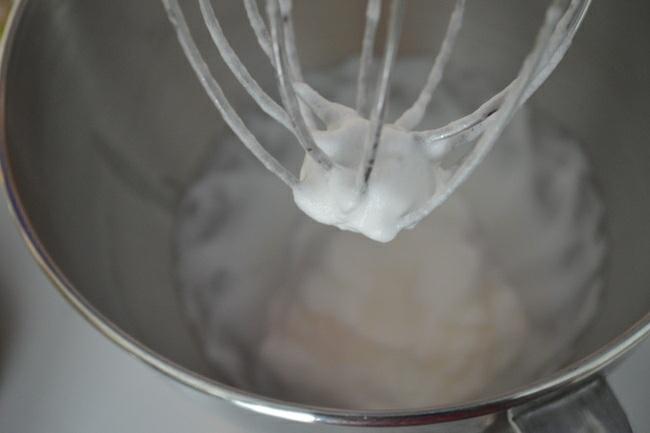 3. Gradually add the sugar a teaspoon at a time, while the beater is still running.
4. Once all sugar is added, increase speed to high until the meringue is formed with stiff peaks, glossy and shiny.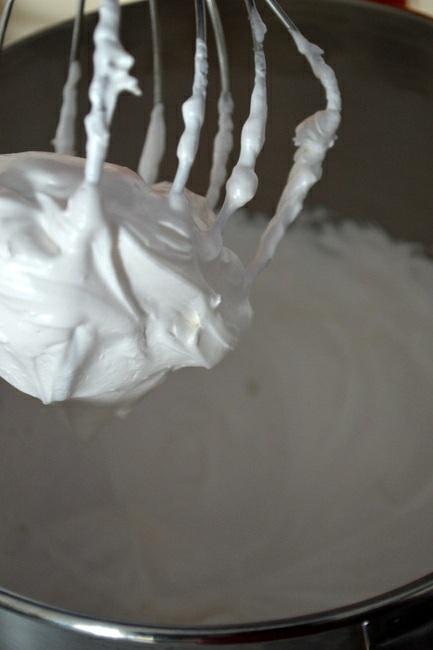 5. Without handling too much of your meringue, carefully fill up half of your piping bag with the meringue. Use a pair of scissors and cut the tip of the piping bag.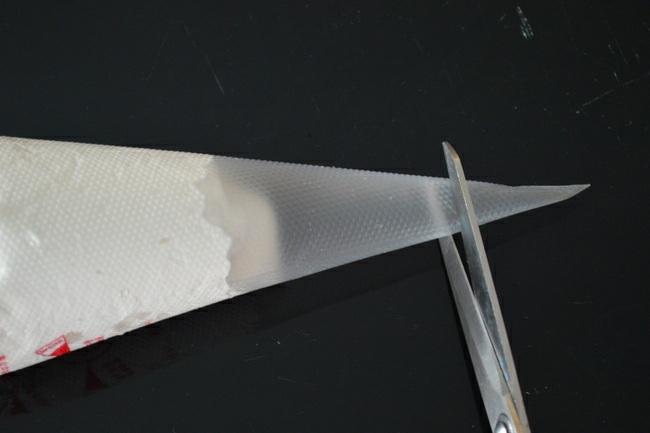 6. Line your baking tray with silicon mat or butter paper. Lets pipe the bottom of the mushrooms. With 90 degree angle start piping your meringue on the prepared baking tray. Squeeze out the meringue while you slowly lift your hand up. Once it reaches an inch of height, stop squeezing and pull your hands up slowly.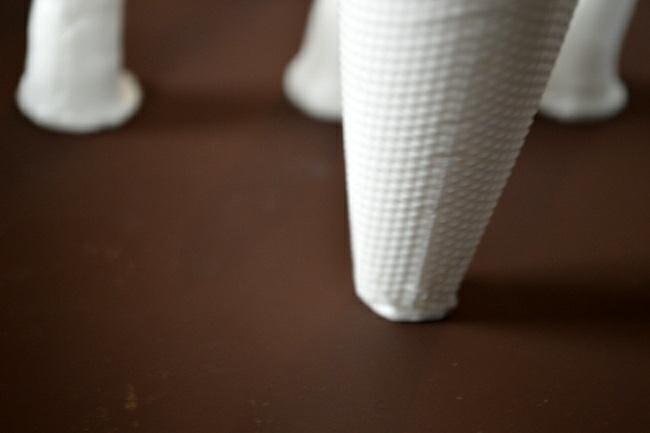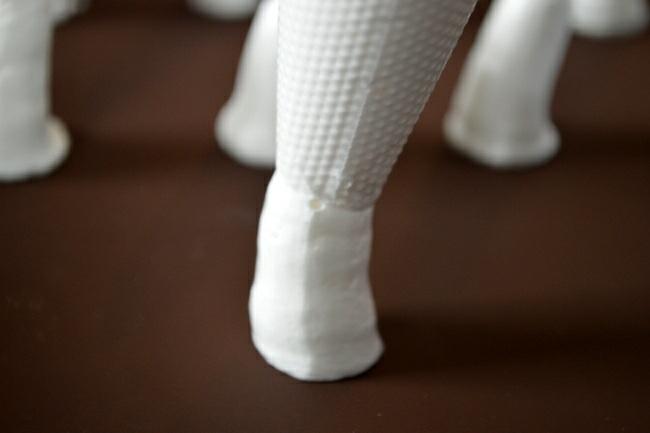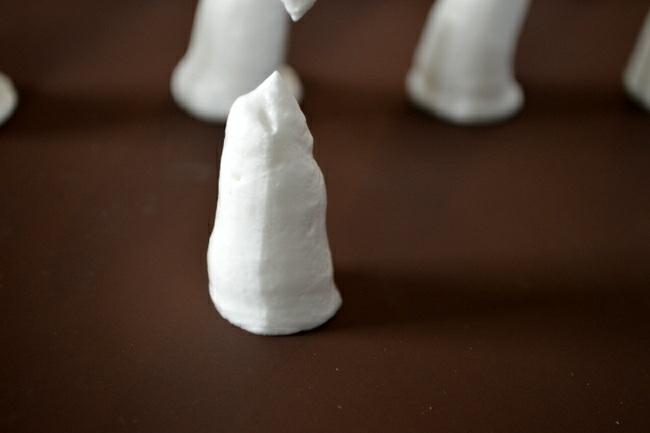 7. Now for the top of mushrooms, hold piping bag at 90 degrees and squeeze out the meringue. Do not lift your hands up unlike the above procedure. Instead wait on the same height while squeezing to form a mound or doom. Once the desired size is there, stop squeezing and slide the tip of the piping bag away from the meringue mound.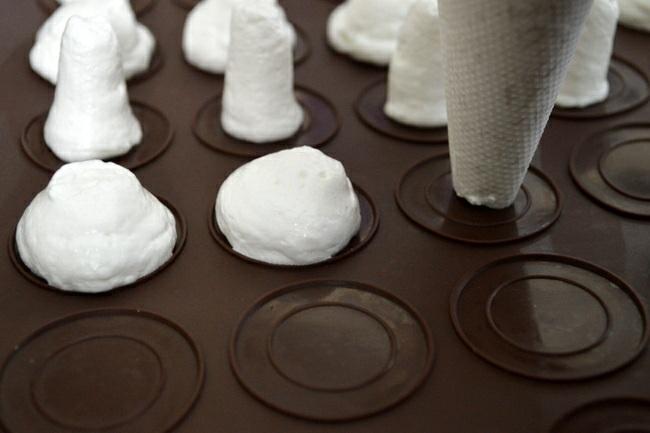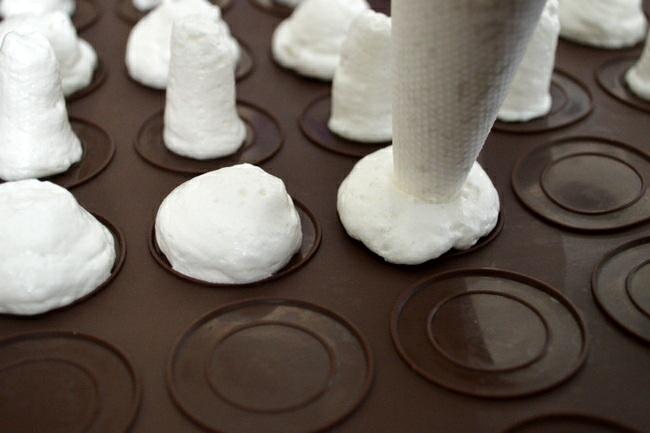 8. You could pipe all bottoms in a tray and then all tops in another batch. While doing this, keep the remaining meringue in the piping bag refrigerated until the first batch gets baked. You can also choose to pipe pairs together in one batch. Bake in pre-heated oven for 80 to 90 minutes at 110 degree C.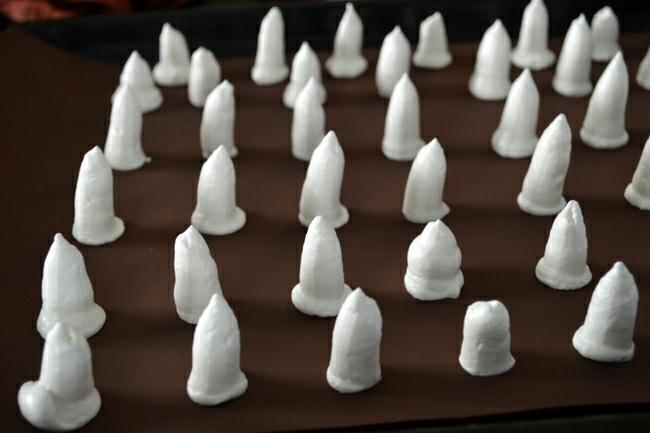 9. Once baked, let cool on wire rack. Use a brush and edible red food colour to paint the top of the mushrooms red. You can choose not to do this step.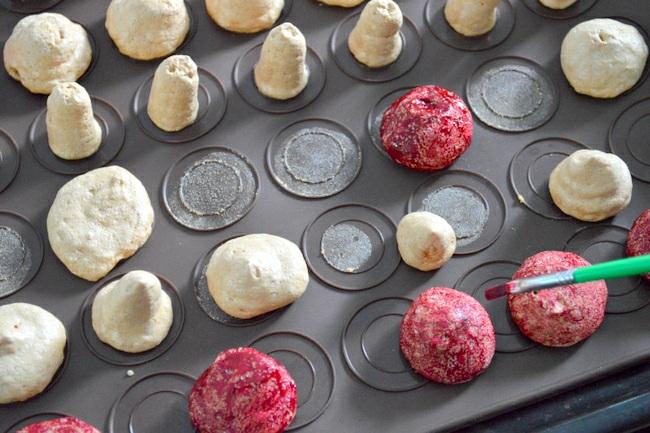 10. Chop the dark chocolate and melt it in microwave at 30 second bursts on high power.10. Chop the dark chocolate and melt it in microwave at 30 second bursts on high power.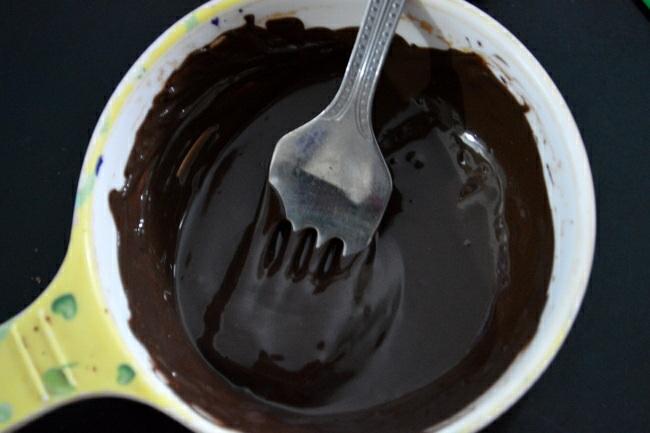 11. Use a tooth pick to gently scratch and make a hole in the center of the bottom side of the mushroom heads.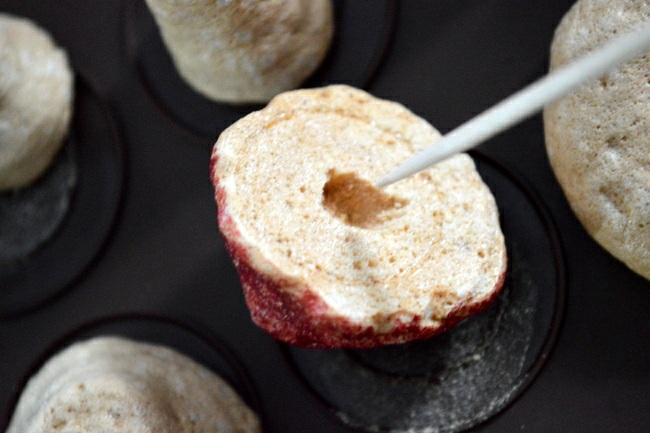 12. Use toothpick to apply some chocolate into the hole just made. Take one of the pair, which is the bottom part of the mushroom and stick it inside the hole and chocolate will hold it in place once dried.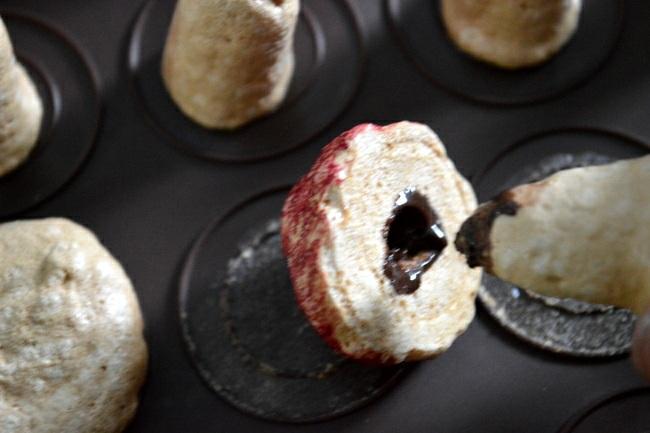 13. For ad-ons I have also attached some rice krispies. I just punched them in gently and it stuck. But its a good idea to use a bit of melted white chocolate, I thought it is too much of a work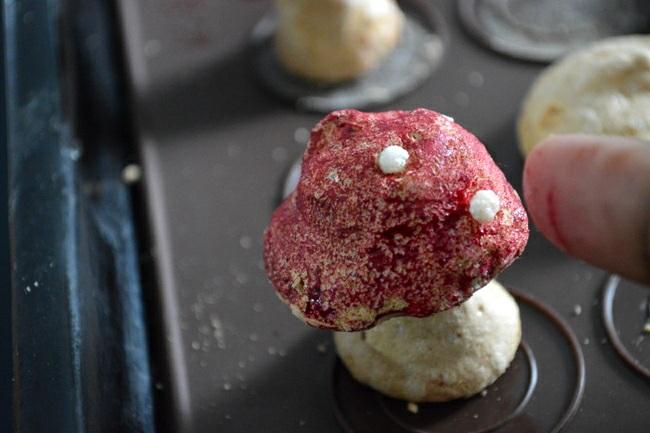 And yes, we have finished. Feels so dramatic with this whole thing and that self contentment of having done something for which I have waited for a year. If you did have a desire of making these beauties and have been sceptical about trying them, this is the time and here it is now!!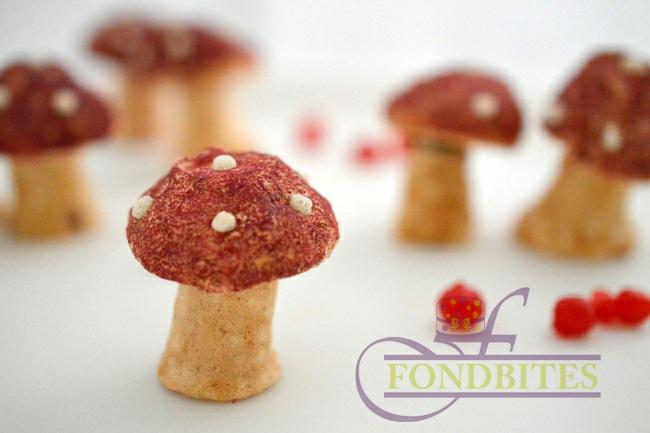 This has been baked for Fondbites, Bake Along, a group of enthusiastic bakers, bake one recipe every week along with me. To join the group, send a join request in the facebook group and I will add you to the group.
Recipes of previous Bake Along can be viewed here
Members – Once after you finish baking, post the link of your
finished picture below using the linky tool.