Bake Along #34 – Orange Cream Biscuits
February 26, 2020
2021-09-04 18:16
Bake Along #34 – Orange Cream Biscuits
Bake Along #34 – Orange Cream Biscuits
I am always inclined towards something that has orange flavour. As a kid I remember I used to gobble a whole pack of orange cream biscuits as an after school snack. The flavour, aroma and yes licking off the cream by separating the pair of biscuits. Every one of you as kid would have done that, I am sure. This is such a simple baking dish even a kid can pull it off but the bliss of completing the whole thing and seeing the finished babies is bliss. You should also experience that.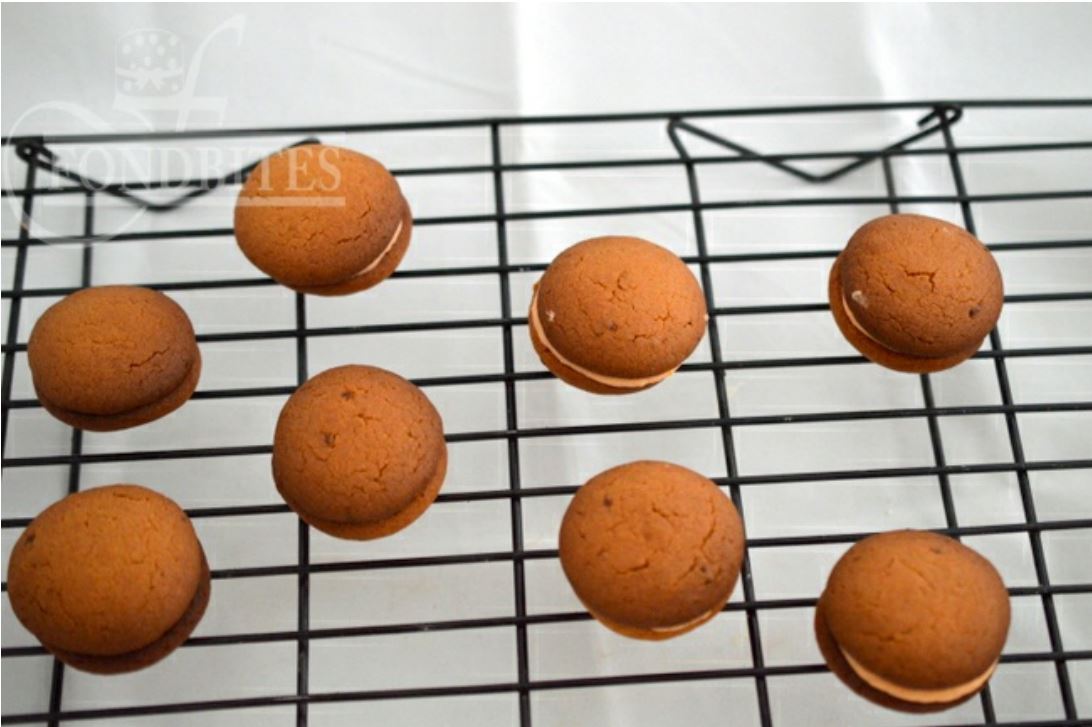 I was totally elated when I was piping the biscuits with the orange cream. Break up of the highly excited elements were, when I added the golden syrup ( I used caramel syrup instead), the colour of the syrup, custard powder that was added to the ingredients, again the colour of it, the final dough and how soft it was to touch, when I rolled it out to balls and pressed, Dang!!! This is such a blissful baker's feeling.
Cookies were totally crisp from outside to inside, such a pleasant orange flavour and then the cream. I didn't leave these alone. I opened them apart and yes licked
It is nothing but buttercream but the ratio is a bit different. Beauty was it set really well and held both the cookies very firm. And why I was totally surprised and excited was that the flavour out of the natural orange is far far better than the ones we used to buy off the supermarket counters. I don't deny those packs also have made our days when we were cranky for hunger. But then you will realize after taking a bite of what different this fresh orange zest and juice is making to this home made relishing divine heaven piece of yummm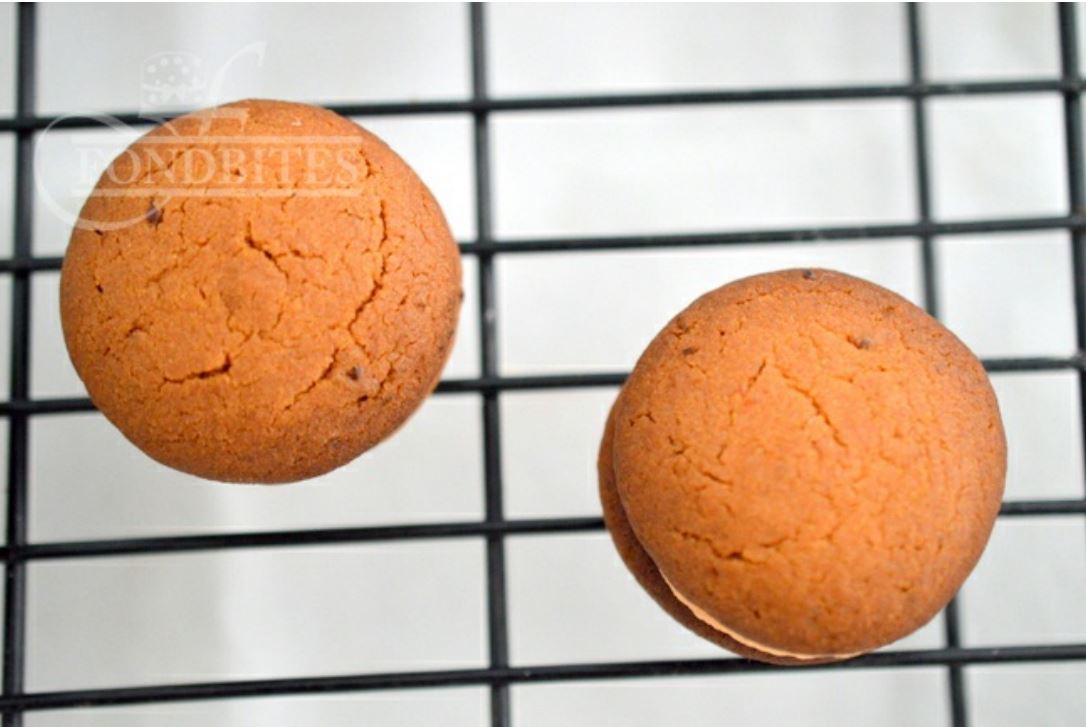 Ingredients:
Unsalted butter – 115 gms
Caster sugar – 115 gms/li>
Egg yolk – 1
Golden Syrup/Honey/Caramel syrup – 2 teaspoons
Orange zest – 2 teaspoons
All-purpose flour – 150 gms
Custard powder – 25 gms, vanilla flavoured
Bakingsoda–1/2teaspoon
Salt–1/4teaspoon
For cream
Unsalted butter–40gms
Icing sugar–75gms
Orange zest–1teaspoon
Orange juice–1teaspoon
Orange food colouring–4drops,optional
Method:
1. Pre-heat oven to 180 degree C. Line up baking tray with baking paper or silicon mat. Sift together flour, custard powder, cream of tartar, baking soda and salt. And here goes my credit to original recipe. It is a book that has stopped publishing and is dated 1979. A lovely friend/student of mine gifted me a copy of the book, and that's why it is black and white at the BG. The name of the book is, 'Cakes & Cake Decorating by Rosemary Waday'. And every single step would be mentioned what is now called secrets and tricks is so easily available in the book and I was amazed to see how baking has happened in olden days. Am so blessed to have a copy of this book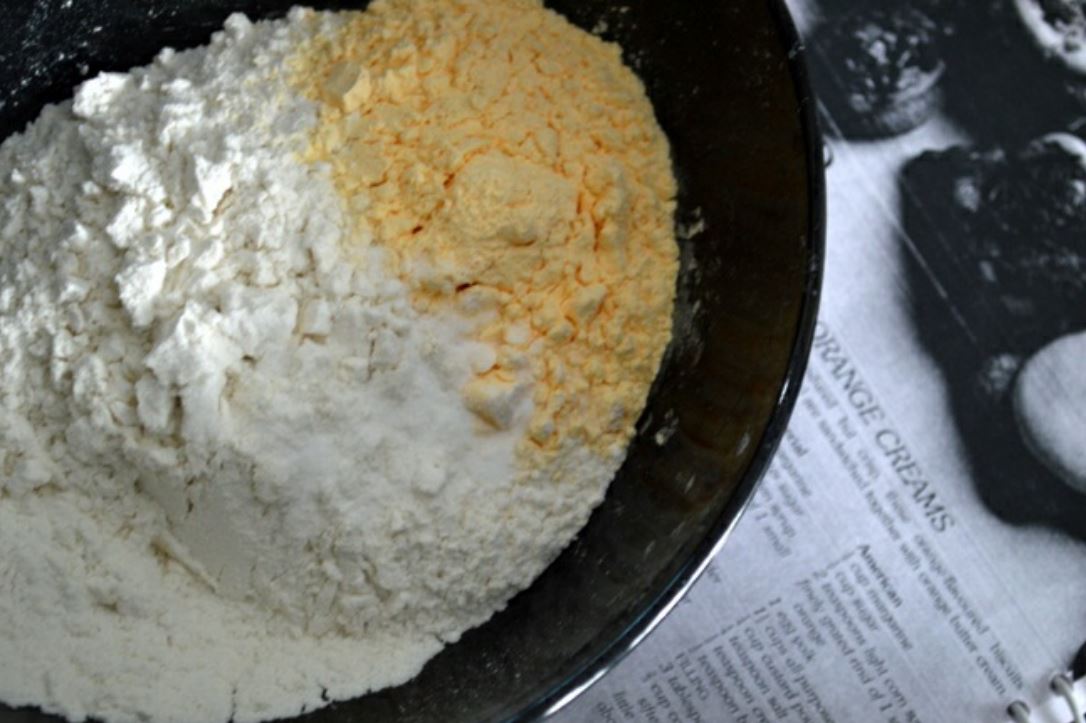 2. Add butter and caster sugar in your bowl and beat at medium high speed for about 3 to 5 minutes until the mixture is creamy, paler and fluffy. If doubtful about the consistency, keep a timer and beat for 5 minutes.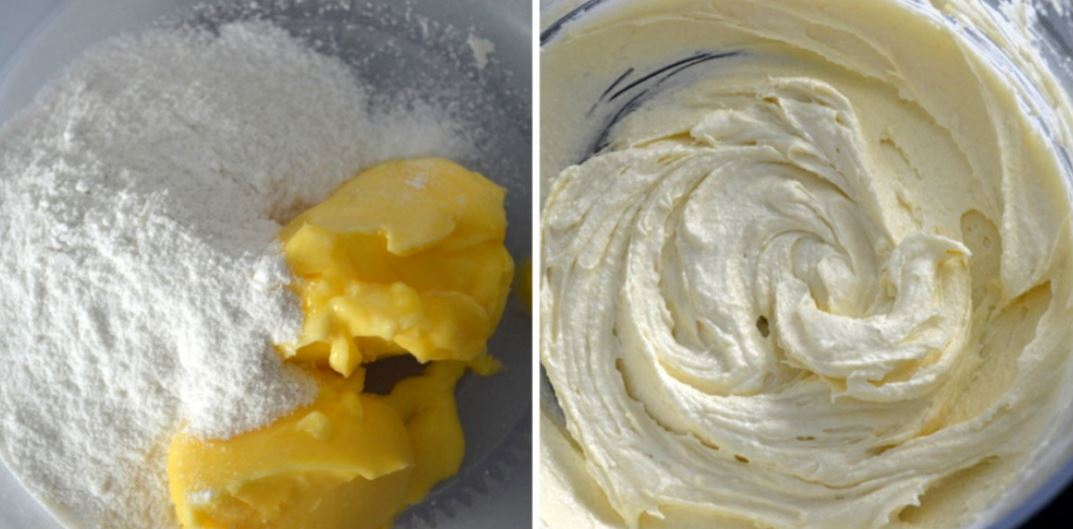 3. To grate the zest of orange, use only the outside layer, dont get to the second layer of the skin, you might make the cookies bitter. Add the zest, golden syrup and yolk to the butter mixture and beat on medium speed for about couple of minutes until they are incorporated well.
4. The mixture after beating in yolk and syrup is fluffy pale yellow. Add the sifted flour mixture and beat just until the flour gets incorporated.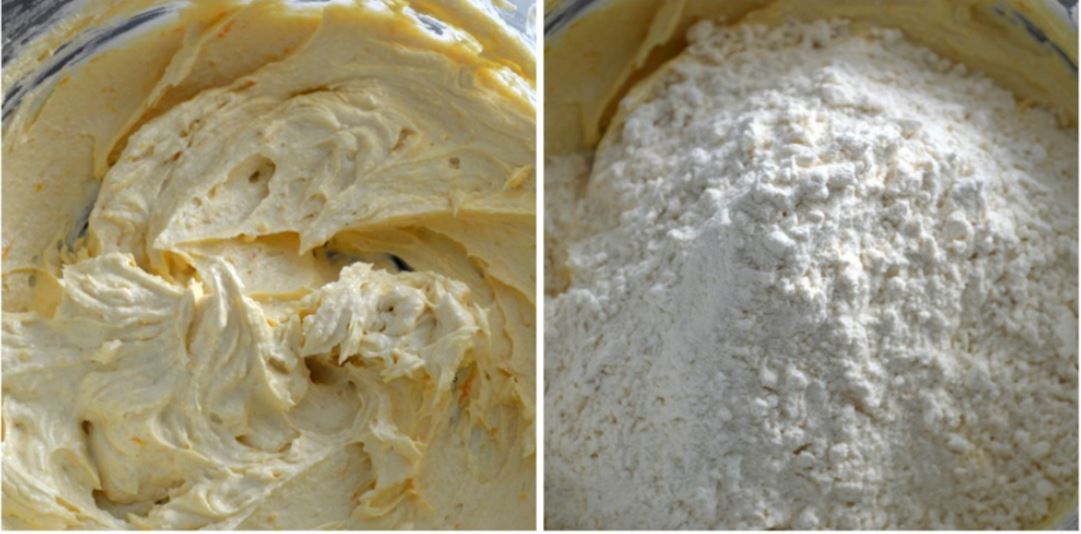 5. It will be a crumbly mass, and that's how it should be now. Use your hands to give it a rough knead and make a soft dough. Don't worry about making it very neat or pliable.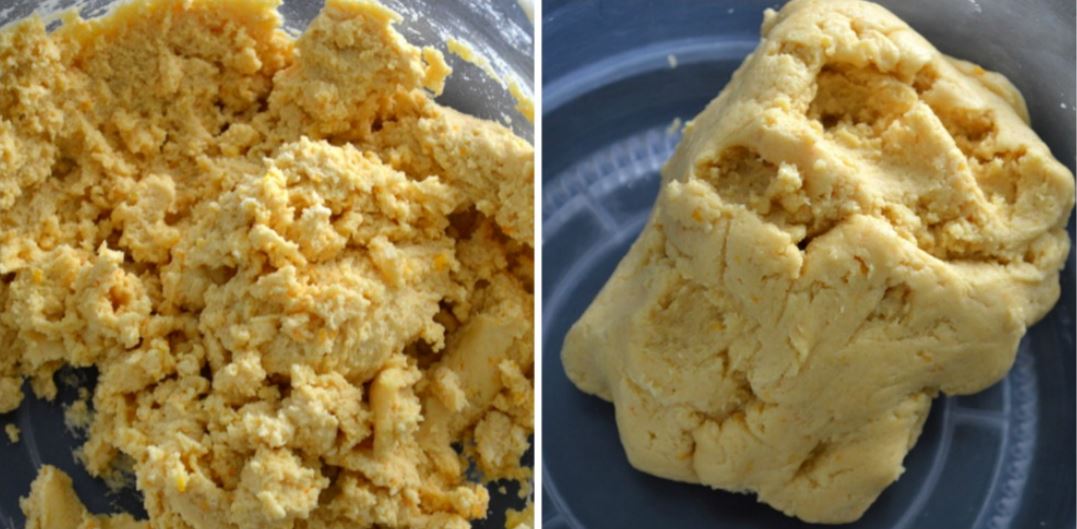 6. Take a lemon sized portion of dough and roll it in your hands to make a smooth ball and then press to flatten it. Place them on the prepared baking tray leaving room between the cookies to spread while baking. Bake in pre- heated oven for 18 to 20 minutes until the top is golden brown. Let cool on wire rack. Remove each cookie using a spatula and transfer the cookies while warm onto the cooling rack. That will allow air to circulate from the bottom of the cookies enabling faster cooling. Let it cool completely to room temperature.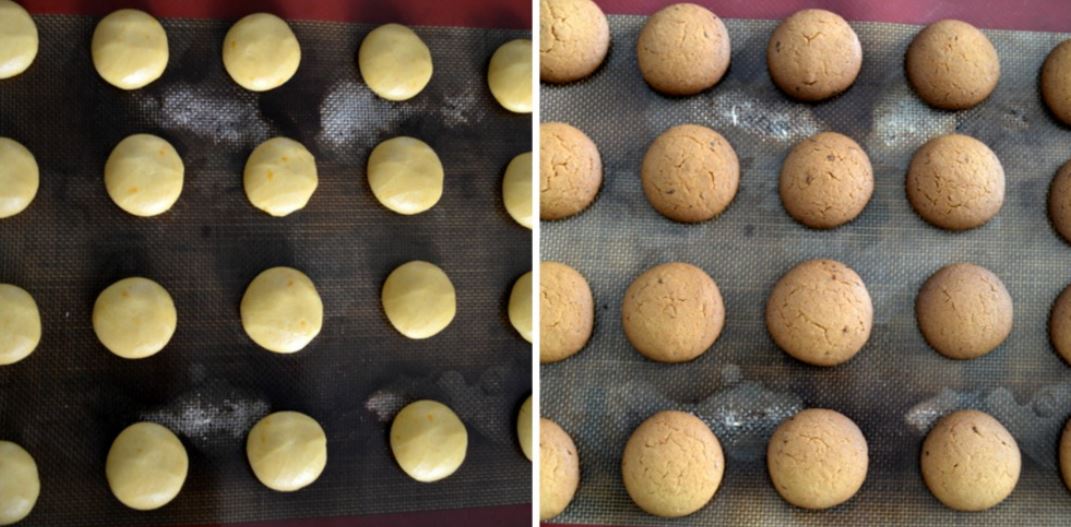 7. For cream – Add butter and icing sugar in a bowl and use beater and mix it up well. Add zest of orange and orange juice and beat on medium speed for 3 minutes until the mixture is creamy and fluffy. Add orange food colouring and mix well until well combined. Transfer cream into a piping bag and snip off the tip of the piping bag with opening that is half an inch diameter. To half the number of cookies that have been baked, pipe the cream in the center. Be very liberal with the cream, oh come on don't worry about calories, lets jog a bit and indulge here for now . Try to use up the entire quantity to half the number of cookies, so you will know how much you need for each pair. Now using the other half number of cookies, close the cream topped cookies on top and press it lightly so the cream is just about the diameter of the cookies. Do not press beyond that point, or use that as an excuse to lick it up , Let the cookies rest for a while. Oh yes, you need to wait, to really see the magic happen of how that creamy thing sets up. 15 minutes will look like forever. But be patient.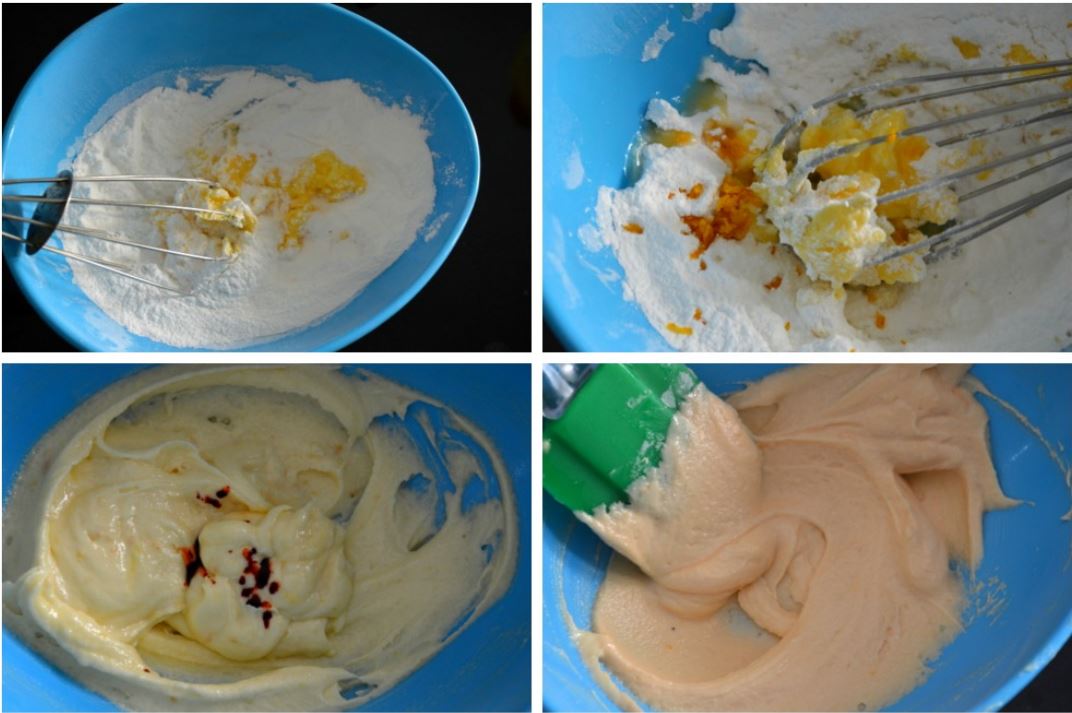 Now try to bite into directly with both pieces intact, then try to twist and separate the pair, lick it. No don't feel shy, lick it I insist I'm sure you don't want to read any more of my yapping but run into your kitchen to figure out if you have all the ingredients. Here is one last picture you would really want to see, so the rushing into kitchen is done in fast forward mode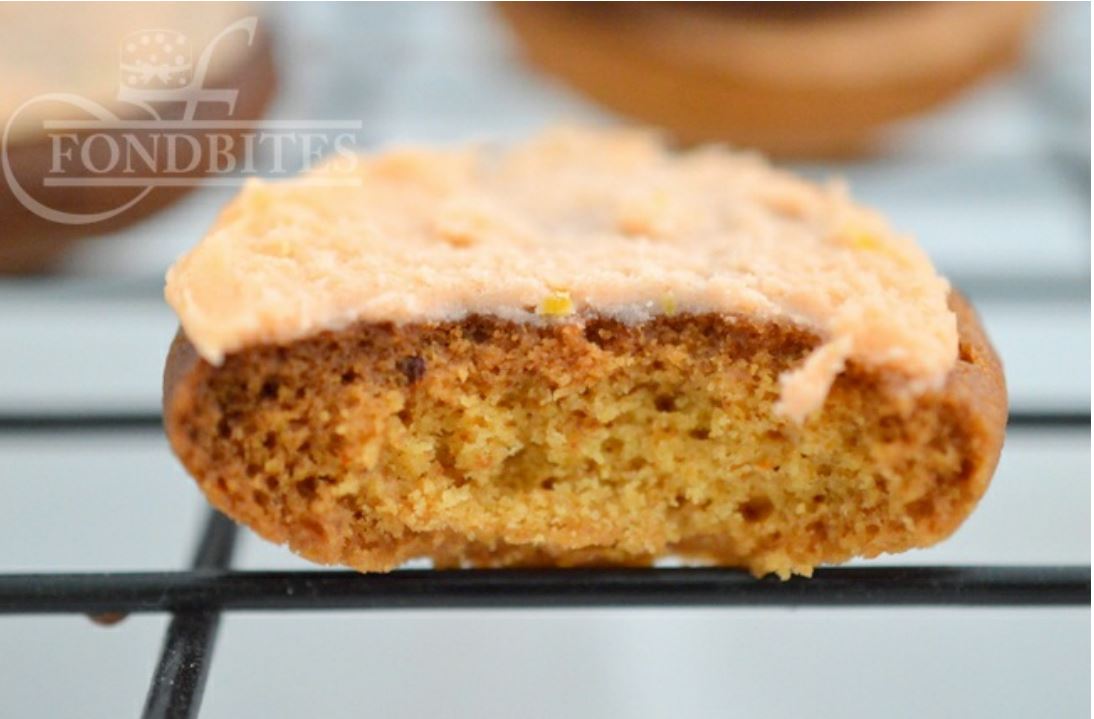 One more final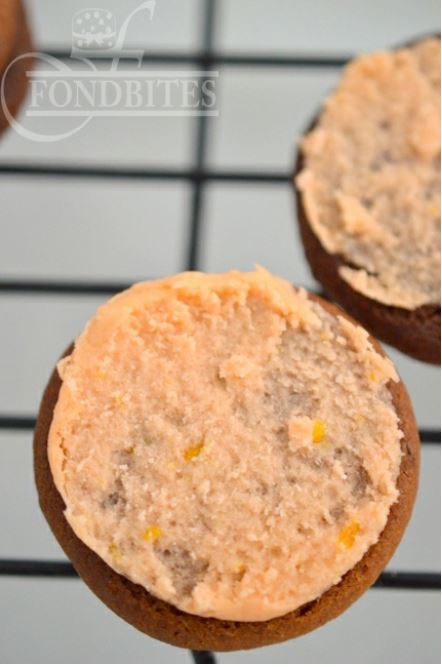 Go !! Run!!!
This has been baked for Fondbites, Bake Along, a group of enthusiastic bakers, bake one recipe every week along
with me. To join the group, send a join request in the facebook group and I will add you to the group.
Recipes of previous Bake Along can be viewed here
Members – Once after you finish baking, post the link of your
finished picture below using the linky tool.