Bake Along #35 – Date Squares
February 27, 2020
2021-09-04 18:16
Bake Along #35 – Date Squares
Bake Along #35 – Date Squares
I was running a baker's block. That might seem a bit scary, but I guess it happens to everyone. I have heard of blogger's block. Because few of my friends are bloggers and they tell me, they dont blog over a period and they call it block. Then they continue back with a bang again and then it goes on and this block happens once a year or few times a year . That sounded a little weird to me until it literally happened to me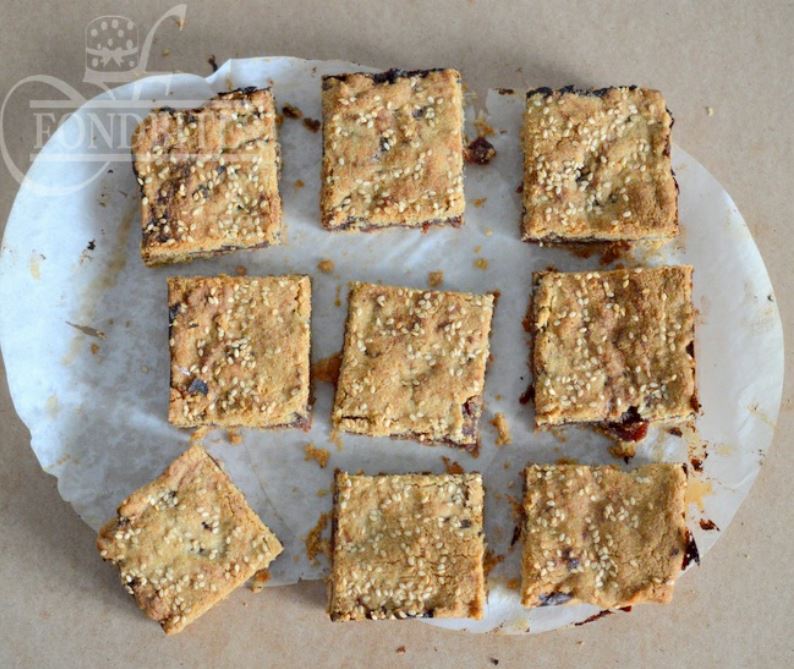 I went through every possible site, all the recipe books I have, narrowed down to so many of them, then I just let go . Something like a very scrumptious dessert keeps coming to my mind, how would a chocolate ganache be if its made with caramel syrup and a lot of butter added to it with some icing sugar too. What do you call it ? Should we sandwich this with a rich and moist chocolate cake and add some dulce de leche infused buttercream and call it a two way ticket to heaven ? Or probably this is the no clue bake along of the following week ?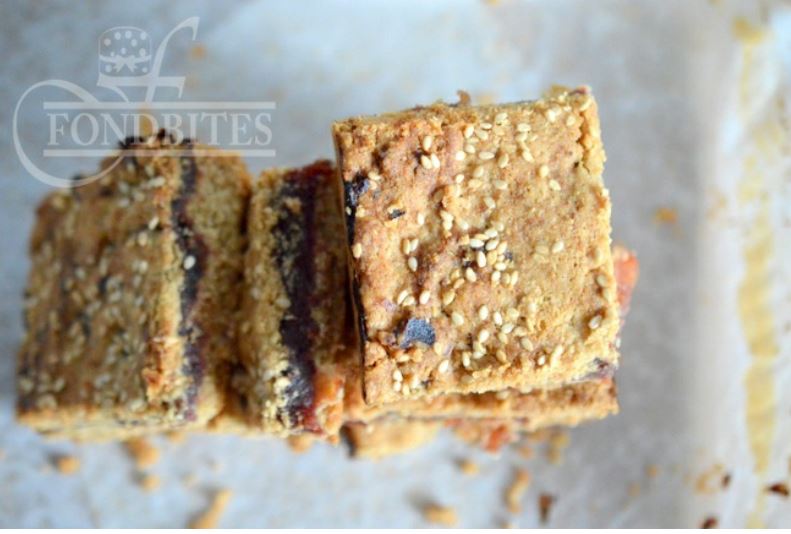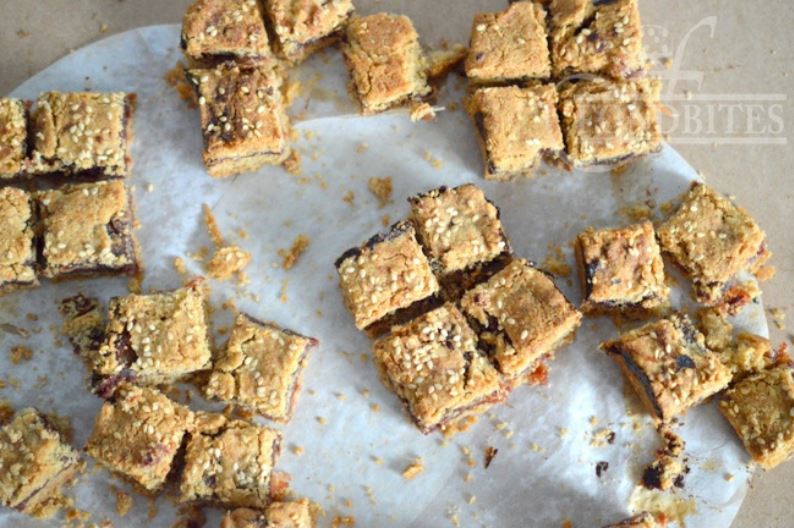 So what do you do when you keep letting go of all the ideas that crop your mind. I went back to my first school. The Joy Of Baking. Browsing the site used to be my only job about couple of years back. Nothing else would I love to do during those days. I used to keep watching any number of videos any number of times. I consider that is a pool of tried and tested recipes that you can blindly rely on at any point of time. Something caught my eye, which seemed more than healthy, totally new and not very overwhelming. Dates Squares. I thought that is a brilliant way to add dates to kids, if you have kids like mine who wouldn't eat whole dates. Surprise, the dough had oats in it. Double Damaka! And sugar was light brown sugar. Need more ? I had a pack of muscovado cane sugar gifted to me by my friend. Will I ask for more. Geared up and charged I just said this is it
I love the flavour of dates when its cooked and made a paste, so this one is going to be my favourite. Not only my kids but even to me, dates have to be hidden. And for the crust, they are buttery, has a bit of crisp on the outside which you can feel in every bite, but its soft in nature. This is by far a brilliant dessert because my husband who is not a dessert person, shook my hands after asking for 3 more squares as a dessert after lunch. I wanted to make just one addition to the recipe. To add sesame seeds to the dates filling and if few might be knowing, I am a follower of rules person. I mean just in baking. I went ahead and finished the layer, later realized I haven't used the seeds. So I just sprinkled them on the top, to badly include that crunchiness. It had that extra thing what I expected out of it, but you can try to add it to the dates paste.
Ingredients:
Recipe source : Joyofbaking ( I halved the recipe)
Oatmeal Crust:
Rolled oats – 1 cup
All purpose flour/whole wheat flour – 1/2 cup
Muscovado cane sugar / light brown sugar – 1/3 cup
Baking soda – 1/4 teaspoon
Salt – 1/4 teaspoon
Cold unsalted butter – 1/2 cup, cut into small pieces
White sesame seeds – 2 tablespoons
Date Filling:
De-seeded dates – 1 1/2 cups
Water – 1/2 cup
Vanilla extract – 1/2 teaspoon
Method:
1. Place dates in a heavy bottomed sauce pan and add water to it. Keep on medium high flame and let it boil. Make sure the bottom doesn't stick. Once all water evaporates, switch off stove and let it cool. Add vanilla extract and grind in your small jar food processor to a fine paste. Keep aside.

2. Butter, flour and line with butter paper to an 8 inch square pan. Pre-heat oven to 180 degree C. Add oats, flour, sugar, baking soda and salt into another jar of your food processor and grind to a fine powder. It might take 2 to 3 minutes.

3. Now add the cut butter pieces into the food processor and grind for few seconds at a time just for 3 to 4 times until the mixture comes together. Do not process until it forms a ball in the food processor. Take it out on to a plate and knead a little.
4. Make a ball after kneading. Divide into 3 portions. Into the buttered-floured-butter paper lined baking tray, add 2 portions of the dough.

5. Use your fingers to spread the dough over the bottom of the pan completely. Smooth out the top. Add the dates paste on top and smooth out using your fingers covering the base dough completely.

6. Now start adding the final portion of the dough covering from one side and then the entire pan. This might seem a little impossible and the remaining one portion of the dough might seem not enough. But use little at a time from every corner and finish covering the entire dates layer. Sprinkle sesame seeds on top. Bake in pre-heated oven for 25 to 30 minutes or until the top is golden brown.

7. Let cool on wire rack and then place in refrigerator until completely cold and firm. Take it out and cut using a metal scrapper into squares in the pan.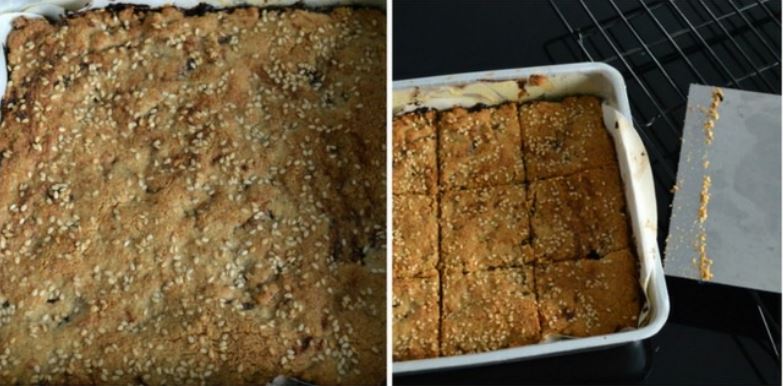 8. Now lift it out of the pan or invert the pan and separate the squares gently. Store them in air tight containers and keep refrigerated. They are good if served chill, so they are firm for each bite.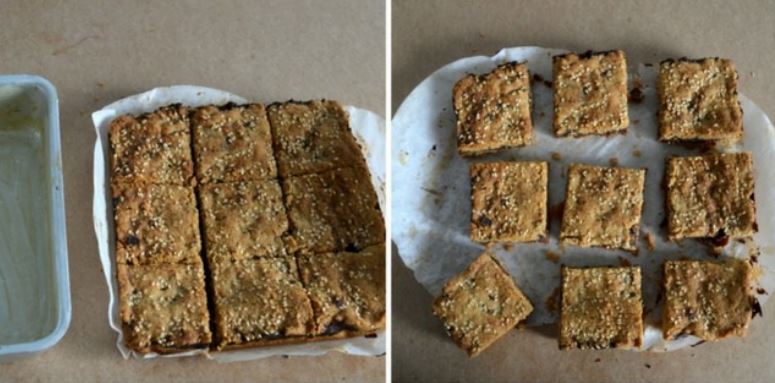 Looking at the colour of the filling, am getting lot of variation ideas. But my lot is going to be very less, considering the amount of talent each of you possess in your daily cooking. What about some beetroot halwa as a filling there ?? So why not some carrot halwa ? Ok veges are healthy, aren't they? Then why not any sweet that you like ? can you crumble your gram flour laddu into it ? I mean the sweet boondi ? Or slices of kaju katli ? Can we crumble gulab jamuns there ? Atleast plain chocolates ? Or chocolates mixed with nuts? Come on some one stop me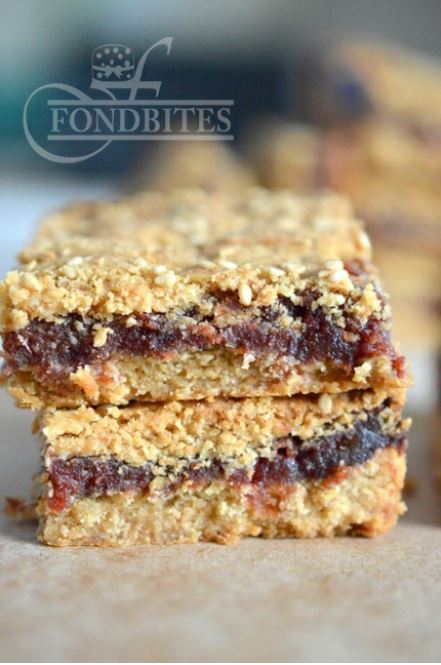 This has been baked for Fondbites, Bake Along, a group of enthusiastic bakers, bake one recipe every week along with me. To join the group, send a join request in the facebook group and I will add you to the group.
Recipes of previous Bake Along can be viewed here Members – Once after you finish baking, post the link of your finished picture below using the linky tool.