Bake Along #90 – Puff Pastry – Veg / Egg Puffs
March 3, 2020
2021-09-04 17:58
Bake Along #90 – Puff Pastry – Veg / Egg Puffs
Bake Along #90 – Puff Pastry – Veg / Egg Puffs
Every time I read through recipes that has the store bought puff pastry, I just skip that recipe and move on. And later when I realized that is one bigger part of the baking world, I wanted to make puff pastry sheets from scratch. I also decided getting hands on training, on puff pastries would be great and I did attend a session. There I realized, the time taken to get one batch of the sheet was really high and might not be worth it. I never made it back at home after that class.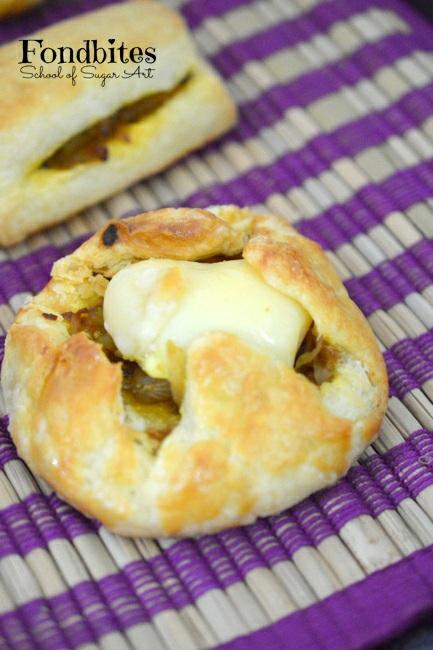 But when every time again, I read puff pastry desserts in different forms, it itched me to get my hands back on it again. The time consuming sheeting method, in which the butter is rolled to a sheet and is wrapped inside the cold dough and both rolled out and folded for atleast 6 times and it needs 2 hours of refrigeration period between each time it is being folded. My head spins every time I think over this and it sounded too laborious, though this is the right and traditional way of making puff pastry sheets.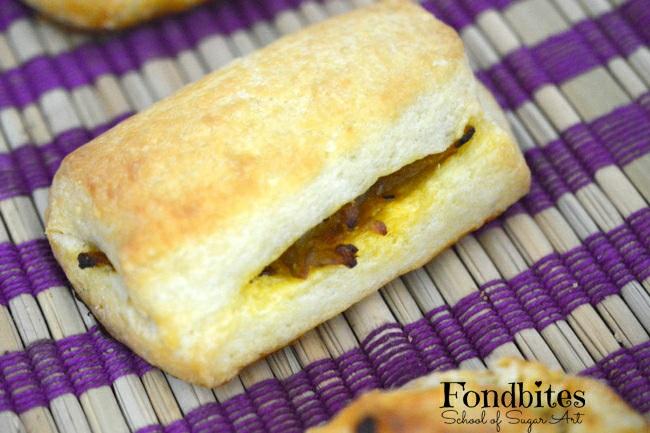 I was hunting for an easier version and voila, the second method was also widely available and that is for me, I decided. Well, going back to the sheeting method might be worth the effort, if you need the flakes in different layers. But I would definitely compromise the sheets, with these amazingly flaky, melt in mouth puff pastries that I made it in less than 2 hours in total.
In this method flour, butter and ice cold water are mixed together to a crumbly mass and rolled out using the same sheeting technique and also 6 times. If the dough and butter gets soft, they require one time refrigeration in between and then rolled again.
Well the typical veg puffs, which in Indian standards, a common puff pastry product. I decided to give it a shot first before I begin to move on to other desserts in various forms. I had some left over sheet at the end and tried to make some palmiers sort of and they were mind blowing too. Well I have opened to the whole new world and with how easily I put these together, am so looking forward to many more of these!
Puff Pastry –
All-purpose flour – 4 cups
Ice cold water – 1 cup
Salt – 1 1/2 teaspoons
Unsalted butter – 3 1/4 cups, cold and firm
Filling –
Oil – 2 tablespoons
Fennel seeds – 1/2 teaspoon
3/22Onion – 2 large, finely chopped
Ginger – 1 inch, finely chopped
Garlic – 5 pods, finely chopped
Green Chillies – 2 finely chopped
Potatoes – 1 large, finely chopped
Carrot – 2 medium, grated
Salt – 1 teaspoon, adjust
Turmeric powder – 1/2 teaspoon
Chilly powder – 1 tablespoon
Dania powder – 2 tablespoons
Chat masala – 1 teaspoon
Corriander leaves – 2 tablespoons, finely chopped
Hard boiled eggs – 8, cut into half
Method:
1. Add flour and salt into the bowl of your electric beater, fitted with dough hook.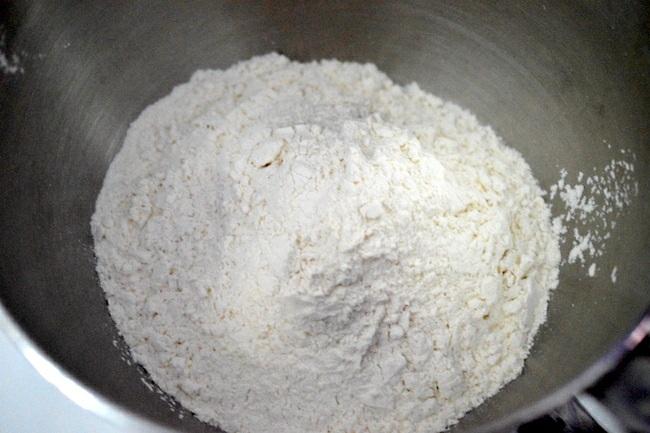 2. Cut the cold and firm butter into 1 inch cubes.
3. Add the cubed butter into the flour.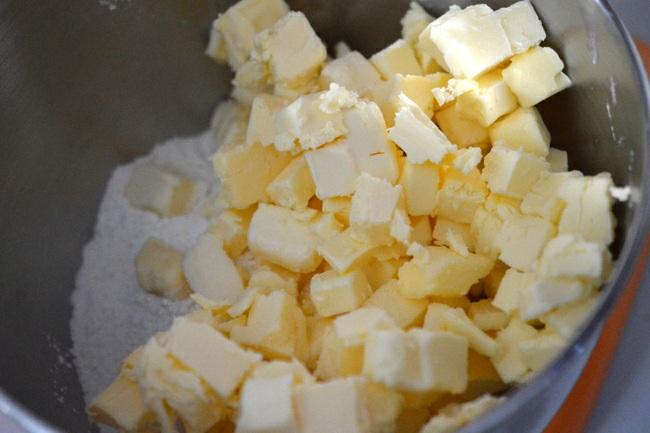 4. Beat on slow speed until the flour is just incorporated. Do not over beat. The butter pieces should not get mixed completely. Chunks of butter should remain.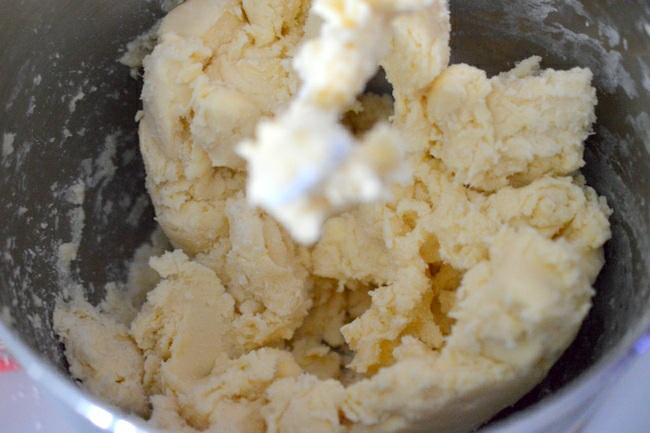 5. While the beater runs on low speed, pour ice cold water in slow stream. Beat for few more minutes until water is incorporated just right. Do not over beat.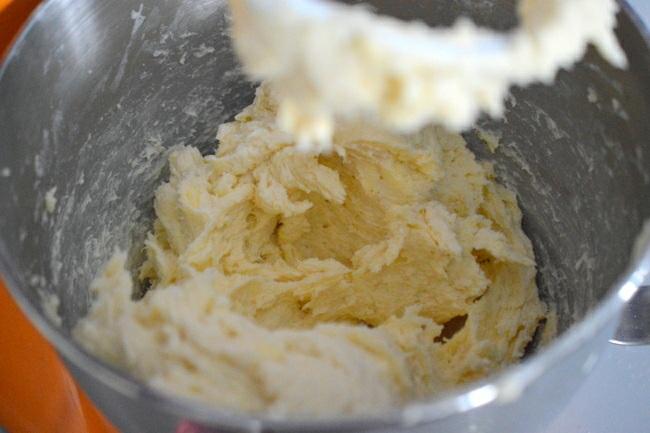 6. Line your work counter with silicon mat or a big sheet of plastic wrap. Scrap out the entire dough on the plastic wrap/ silicon mat which should be dusted with all-purpose flour. Flatten the dough. Sprinkle some more flour on top of the dough.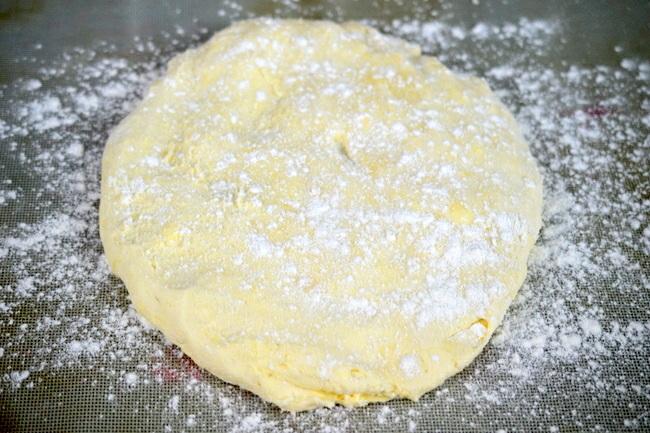 7. Roll out the dough into a rectangle, keeping the thickness of the sheet to 1/2 an inch. Dust some more flour on top of the sheet.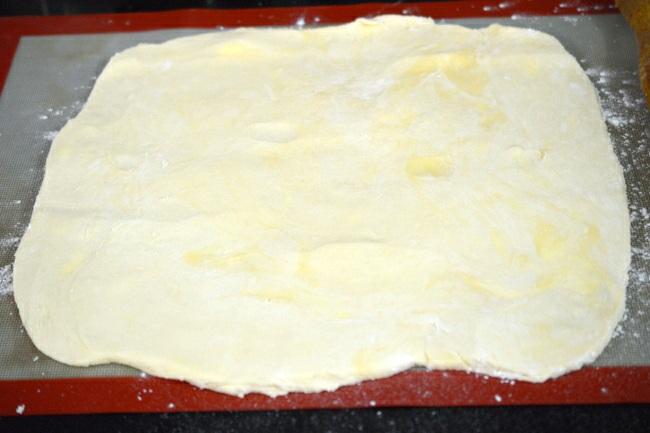 8. First you need to fold the dough in 3 folds, horizontally. Bring the right side of the dough towards more than half of the center. Dust some flour on the plastic sheet and on top of the dough.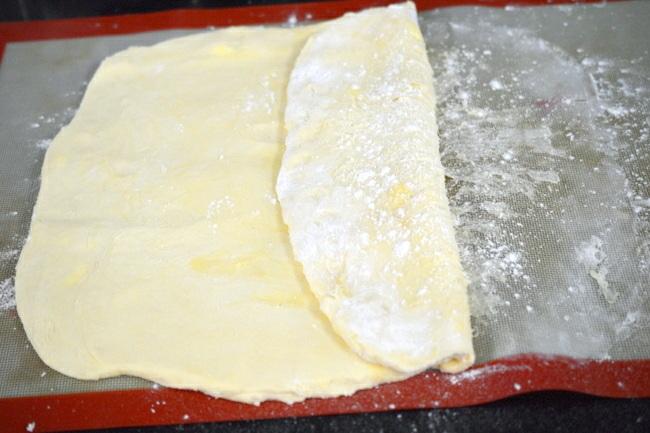 9. Now fold from the left side and bring the dough on top of the previous fold. Sprinkle flour on the dough and on the working sheet.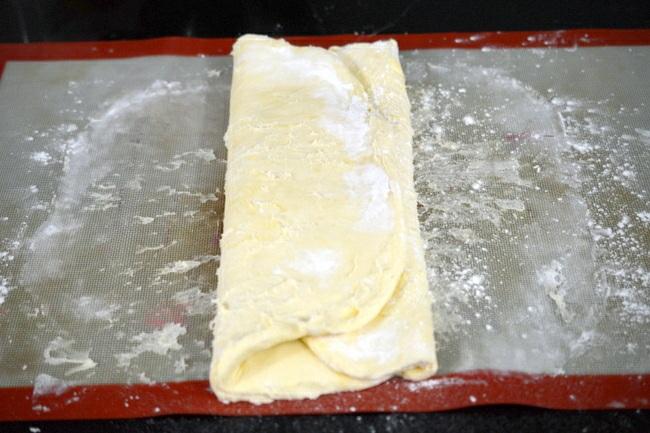 10. Now you will again make a vertical 3 fold. Fold the bottom part of dough to more than half of the top center. Sprinkle flour over dough and working sheet.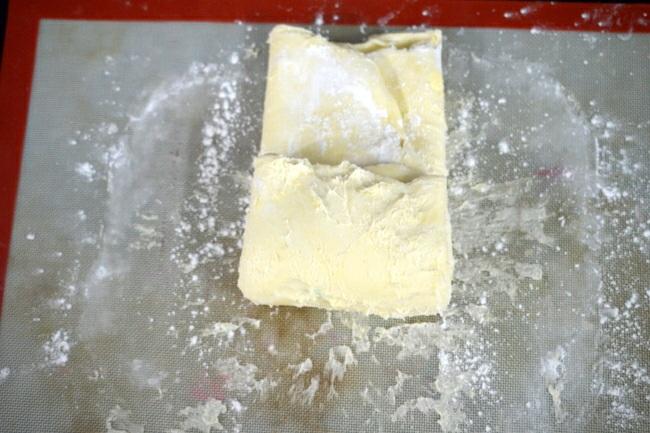 11. Fold the top of the dough and bring it on top of the previous fold. This is one complete round of rolling and folding. Sprinkle some more flour on the sheet and dough.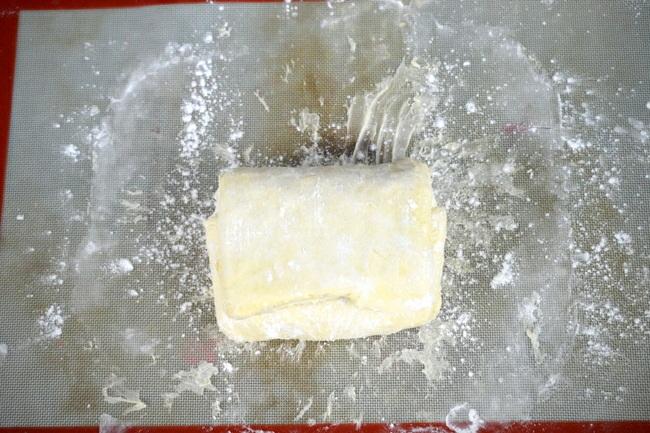 12. Roll the dough again to a rectangle sheet, gently. Don't put in lot of pressure while rolling. Now continue to fold the dough using the same method as illustrated above, from point number 8 to 12.
This will be your second set of folding.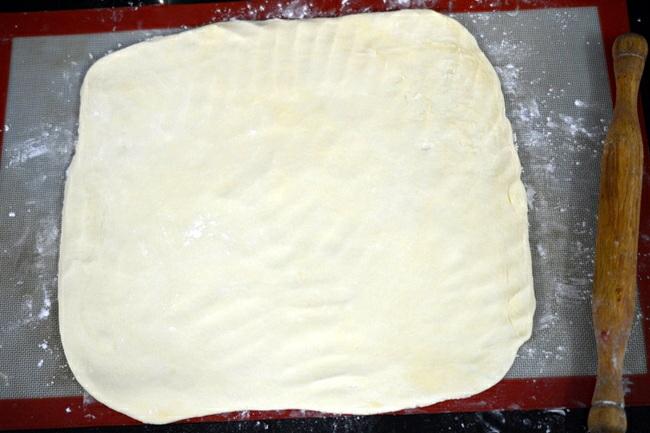 13. You will continue to roll and fold in total of 4 times. If in case your working environment is not very cold and if you find the butter in the dough become soft, you will refrigerate before completing all the 4 rounds. And start to roll again once the dough gets firm. (You need to cling wrap the dough before you refrigerate)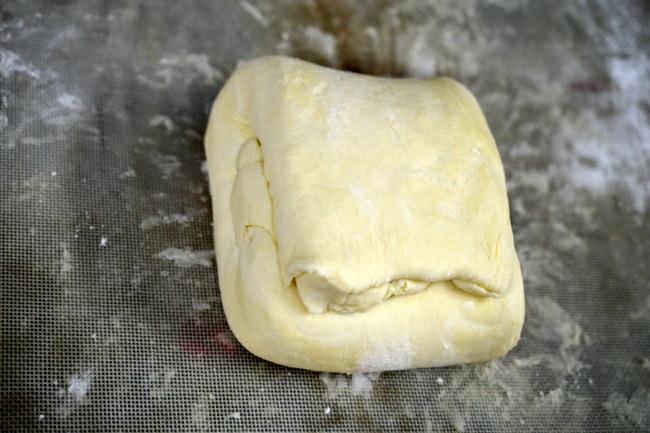 14. Cling wrap the dough after 4 sets of rolling and folding. Refrigerate for 1 to 2 hours until cold and firm.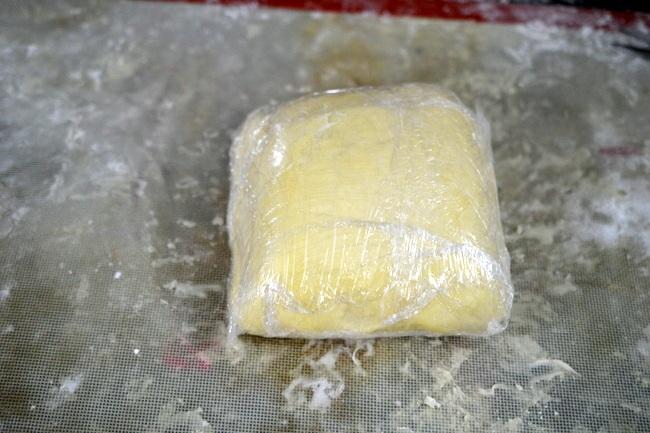 15. The dough needs 2 more times of rolling and folding. But while its chilling, you can prepare the filling.
Filling –
Heat up oil in a heavy bottomed pan. Add fennel seeds and let fry for few seconds until light brown.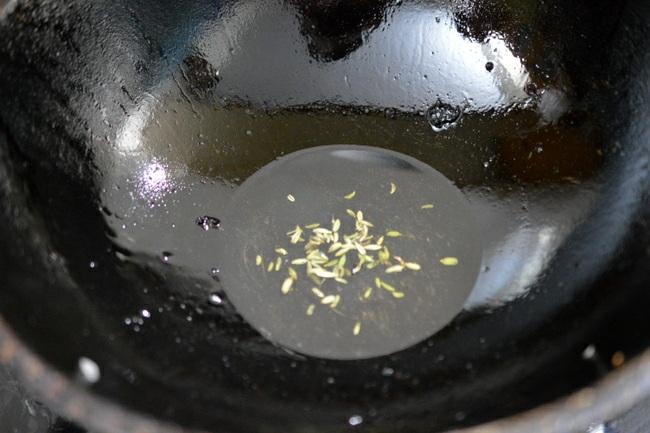 16. Add chopped garlic and ginger and fry for a minute on medium flame.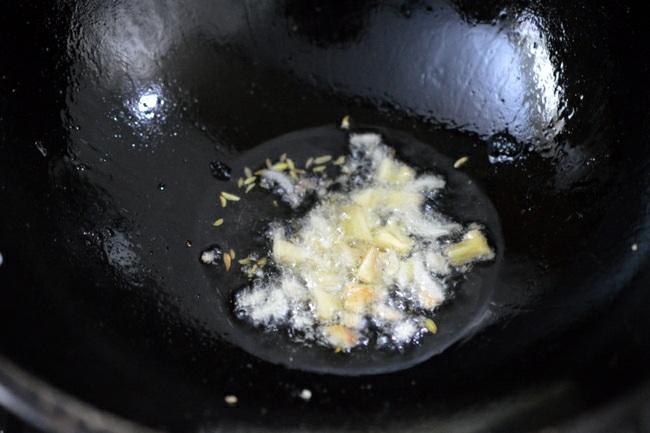 17. Add chopped green chillies and fry again for few seconds.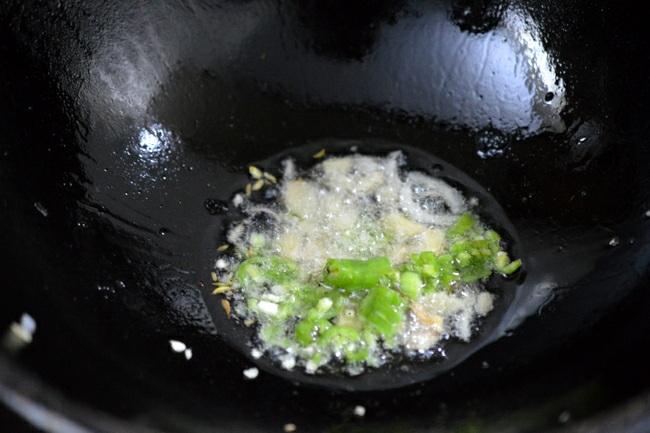 18. Add chopped onions and fry till translucent. It might take 2 minutes in medium flame.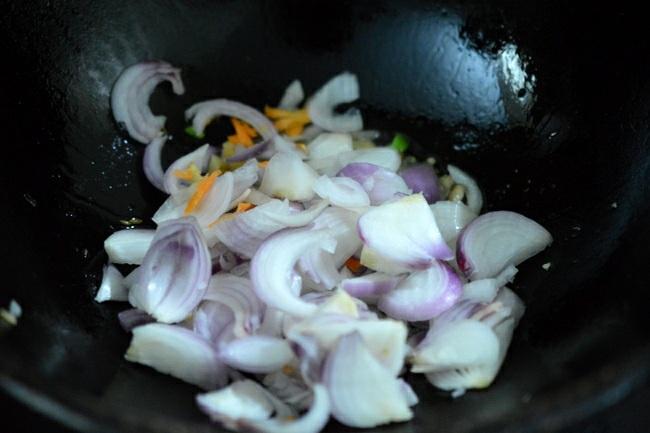 19. Add salt and turmeric powder and stir well.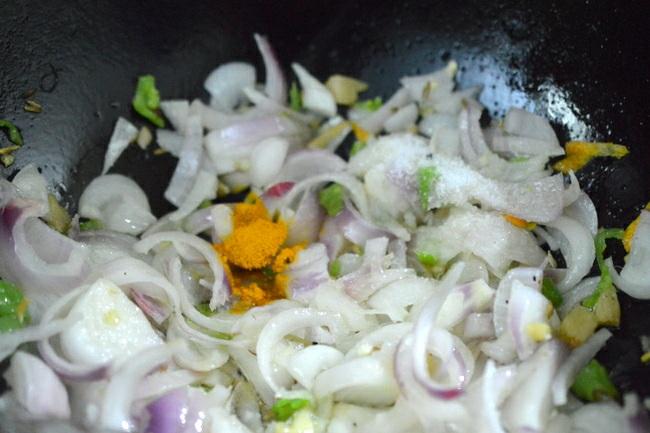 20. Add chilli powder, dania powder and chat masala powder and saute them well for a minute.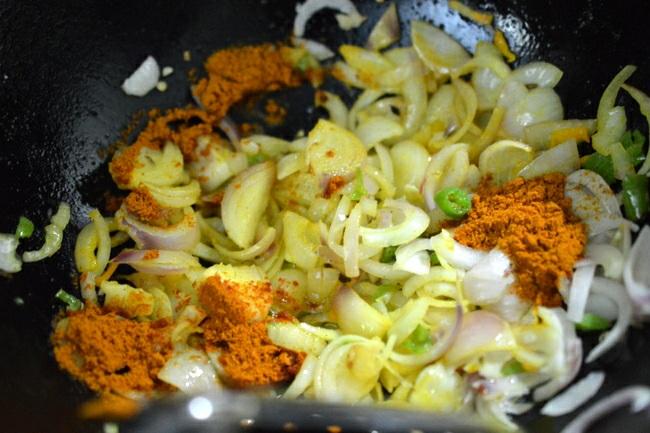 21. Add grated carrot and potato and saute until all the vegetables are cooked well. Do not add any water.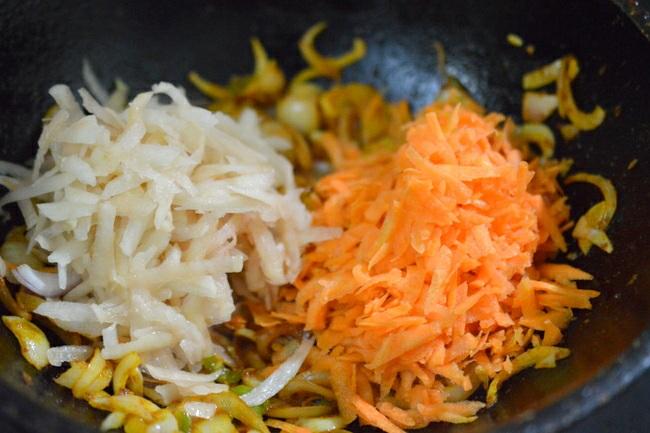 22. Add corriander leaves and let the filling cool. Set aside.
23. Remove the chilled and folded pastry dough from the refrigerator. Sprinkle flour over the dough and your working sheet. Roll it again to a rectangle of 1/2 inch thickness. Repeat from point number 8 to 12. This is your 5th set of rolling and folding.
You will repeat the process again, for the final time. This is the 6th time and you will fold it back completely.
This stage you can again cling wrap and freeze it for later use. If you freeze it now, when you again want to use it, you need to thaw it down till its flexible enough for you to roll and make shapes, but it should not be brought down to room temperature. It should be still cold.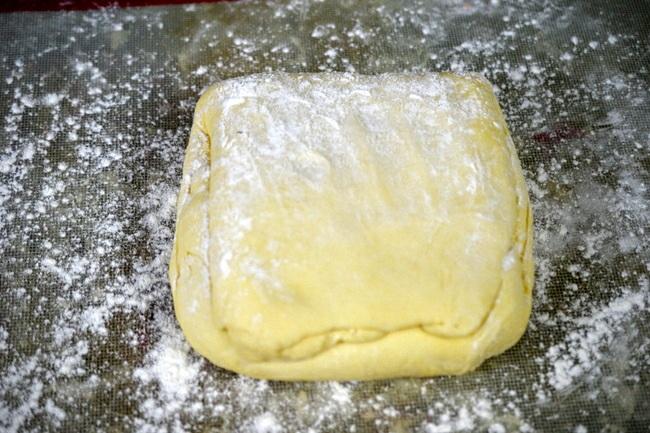 24. I continued to use it up for baking after the 6th folding. So I rolled it out again into 1/2 inch thickness rectangle sheet. Using a knife or a pizza cutter, cut it out to 16 squares. Start to pre-heating your oven at 200 degree C, at this stage.
25. Fill one half of each square with the filling that you have made. You can fold them horizontally or also diagonally.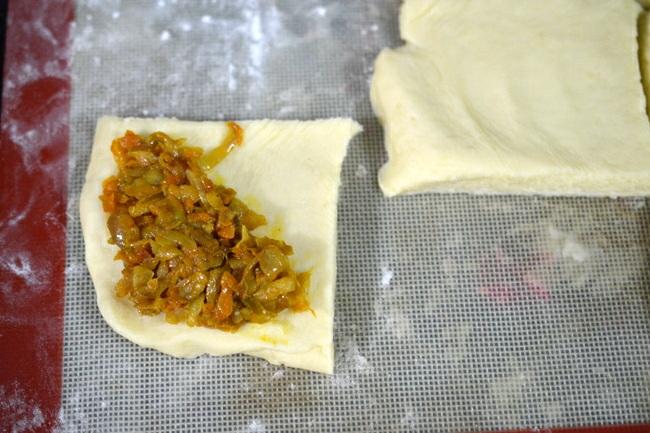 26. Place them over your baking tray lined with silicon mat or butter paper. Brush the top with egg wash.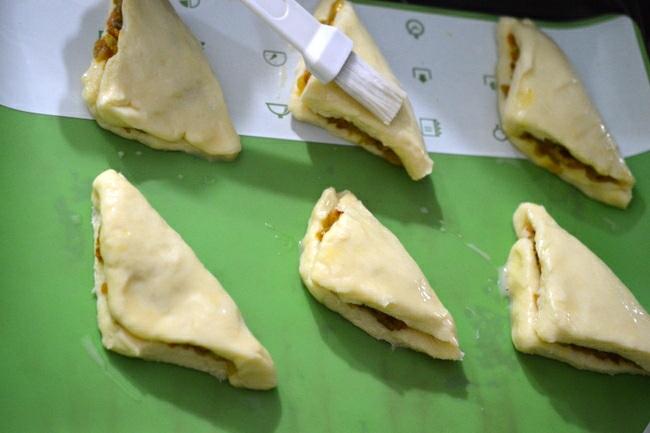 For egg puffs, place the filling in the center, and then place half of the hard boiled egg in the center and bring all 4 corners on top of the egg and seal all 4 sides firmly. Or they might open up during baking.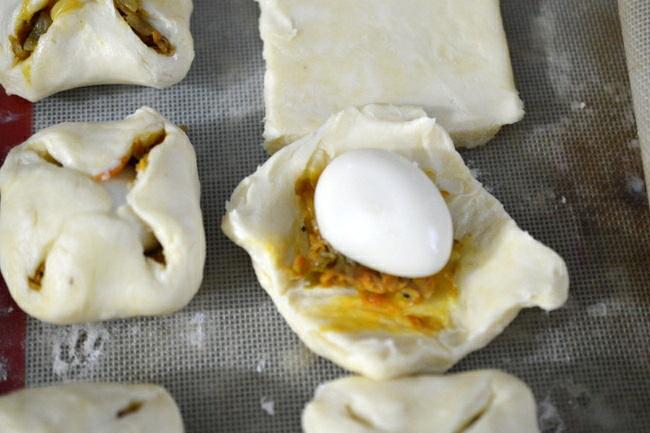 27. Bake in pre-heated oven for 20 to 25 minutes at 200 degree C, until the top of the puff is golden brown.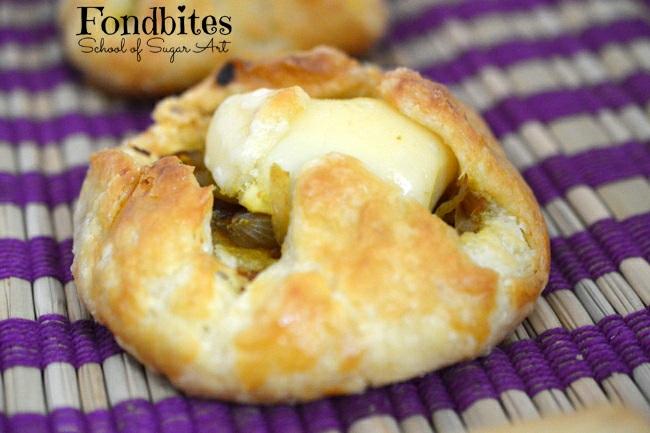 Once they get warm, they are ready to be served with any dip or a simple tomato sauce. As you may see the diagonally folded puffs were not even available for my pictures, which is basically an historic event in the life of bake along , well I had my home filled with guests and I managed to eat half of it, when it just melted in my mouth with a total butter experience, so soft and a genuine flaky texture.
Well, the reviews that I received were that, these puffs were far more easier to eat, where the flakiness remained but the sheets of the puffs never fell off the mouth or the hands unlike the store bought puffs which are most of the times embarrassing to eat in public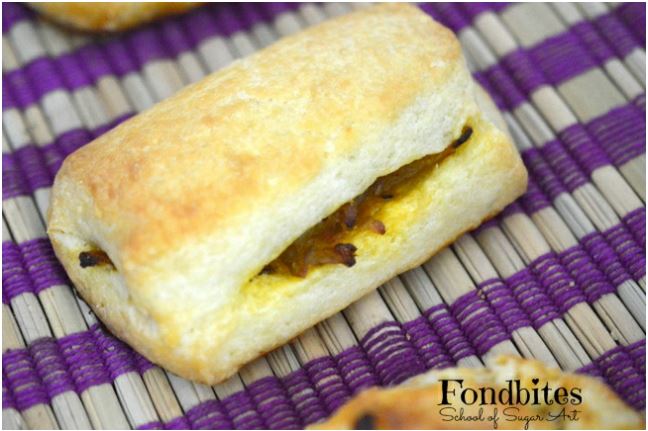 I was thrilled though, unless you have made puff pastry with all butter before, you might feel its too much of butter, well, that is how it is. In store bought ones you don't feel so much butter, because there isn't butter in it at all. So its a choice now, but apparently, nothing like making something that you thought you can never do it at home.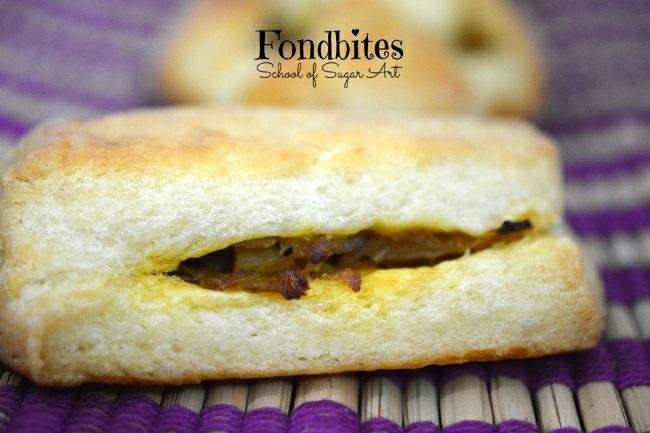 Until one day, I will take courage to make the puff pastry using sheeting method, I will keep drooling over this picture and feel so proud of having nailed it, so flaky, so soft, so buttery and so so melt in mouth.