Bake Along #83 – Classic Pancakes
March 3, 2020
2021-09-04 18:00
Bake Along #83 – Classic Pancakes
Bake Along #83 – Classic Pancakes
I am not a regular pan cake maker. But every year once the school reopens after summer, I get this shock. What snack to pack for kids. I come over it in a few months, but not in a nice way though, I settle down to the most monotonous cycle of packed lunch boxes that my kids manage to bring back successfully. My elder one is my daughter, born fuzzy eater, so I was convincing myself that the efforts put into any enriched food will not be used its fullest. You give her anything it comes back and I was less guilty of not putting those extra mind work into her snack boxes
My second is my son, and he gets hungry I need to rush and have things done. He is clear on what he wants. Give me that A, b, C2 and r4. It is so much in specific. And he does justice to what is being asked for. This year he has begun to take his lunch too. And the worst part of a day is when I have to decide what is to be cooked for that day. Can you imagine what happens to my tiny brain when it has to think what needs to be cooked the next day?? :/ Oh yes, until previous year I only think of it every morning.
It's been few weeks now. I think I am doing justice, the fuzzy eater daughter also seems to like what I am managing to send. I am getting creative. I am also affirming that I am a perfect mother who sends snacks to kids which they love to eat , no jokes though, I am very serious. Now to break the monotonous, wraps, to pizza rolls, flat roti frankie, varieties of sandwiches. I have also learnt to freeze boiled meat in zip locks portioned to be used each day of the week. How awesome is that idea ? So I get some chicken sandwich, kheema frankie and that is definitely something to relish. But before this formula expires, basically before it starts to get monotonous, I thought I will go hunt for something to break the cycle and when I discuss with my friends who are awesome cooks and moms, I get a low after the discussion. The amount of spontaneous creativity each mom has in sending lunch/snacks to kids.
I have no idea how many sail the same boat as me. But if you think, you go bonkers with the thought of kids lunch boxes you need to make new friends who are cooks where meal planning is a spontaneity I am lucky I have a few
So the entire lot above has got nothing to do with the pancakes. I decided to give it a shot today. Baker's kids are naturally poor cake eaters. Would you agree? They care less about my cakes, because most of the times, I bake for others, or they are waiting to be photo shot. So I care less too, if they would give me any review. But surprisingly today, as you may see, not all the lot of pancakes are made available to the final shoot here. They were gone much before and some really great verdict from the 2 munchkins and I was super proud. But yeah, I haven't told them, they were my rats and they will one day find it in the school when they open their snack box, probably while trying to find some kheema egg roll
Amazingly soft, fluffy, airy with the exact amount of sweetness even good enough to be eaten plain. I have drizzled some honey for added sweetness, kids might like it. You can as well drizzle caramel sauce, melted chocolate, home made thickened sugar syrup, condensed milk etc. You can as well serve it with a dollop of fresh whipped cream. Also the pan cake batter can be enhanced with chopped fresh fruits, chocolate chunks, choco chips, nuts and the choice is endless. I have made pancakes before, but this one was ultimate, I might not go back and look out for another recipe. This was definitely a bingo!!
Ingredients:
Recipe inspired from: Littlesunnykitchen
All-purpose flour – 1 1/2 cups
Baking powder – 1 tablespoon
Salt – 1/2 teaspoon
Sugar – 2 tablespoons
Egg – 1
Pure vanilla extract – 1 teaspoon
Milk – 1 1/4 cup
Butter – 75 gms
Honey – to serve, optional
Method:
1. Add all the dry ingredients together in a bowl, all-purpose flour, sugar, baking powder and salt. Mix well and set aside.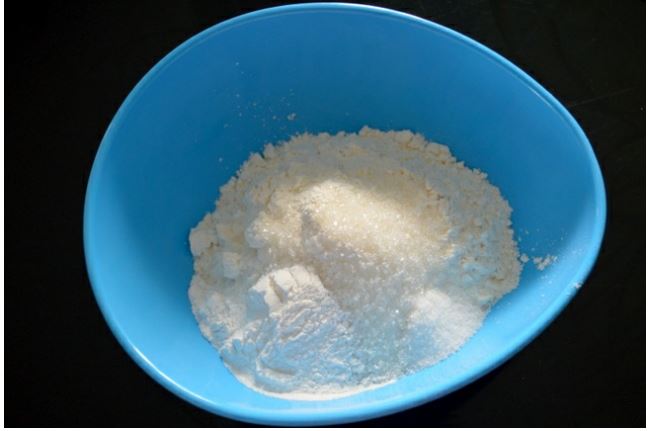 2. In another bowl, break the eggs using a fork. Add pure vanilla extract and beat until combined using the fork.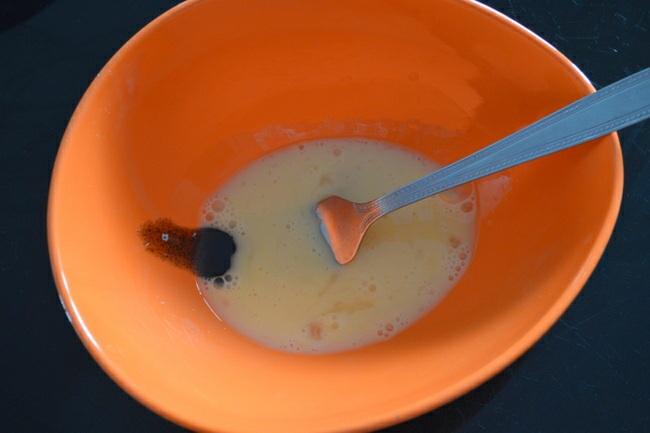 3. Add warm milk into the egg mixture and stir using fork until combined. Melt the butter and let cool down to warm. Add butter into the egg-milk mixture and mix well just until combined.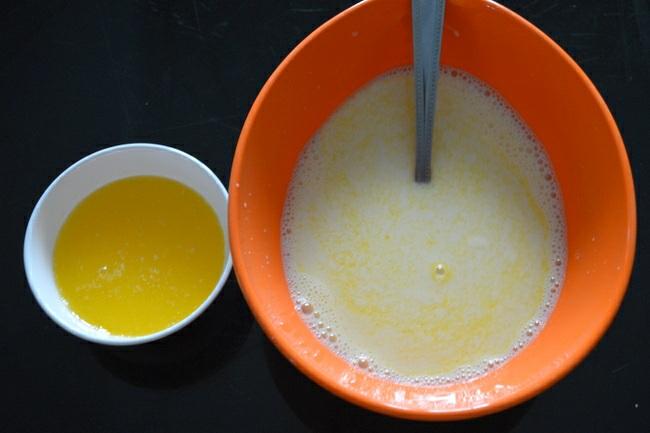 4. Make a well in the center of the dry ingredients and pour the entire wet ingredient into the well.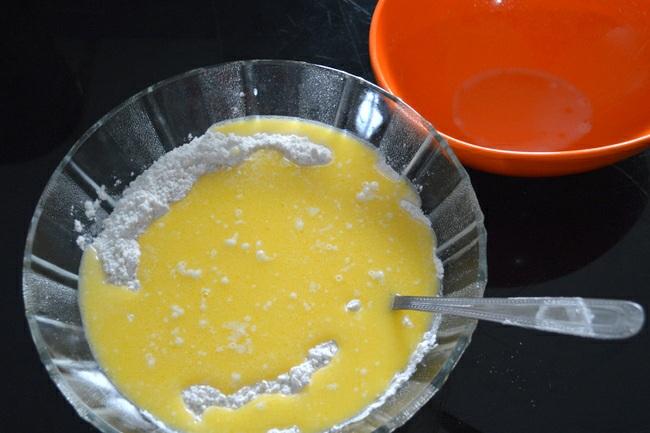 5. Use the fork to mix slowly and gently by folding motion. Do not over mix. Few folds and the batter will be ready with few lumps. Just stop there, do not attempt to make a smooth batter. Few lumps are definitely fine.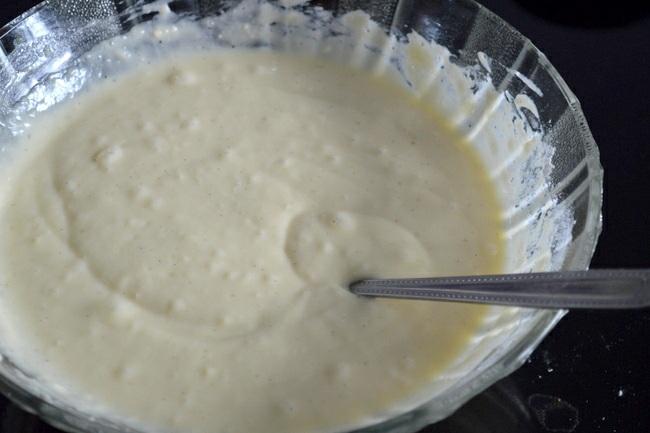 6. Heat up a griddle/tawa on medium heat. Rub with butter or spread over some ghee. Add about 1/4 cup of batter quantity in the center of the tawa. Use a flat spoon to spread it out slightly.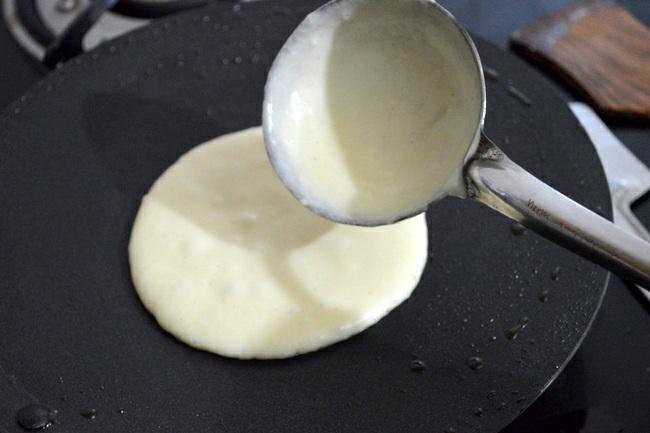 7. With flame on medium low, it will start bubbling on the top.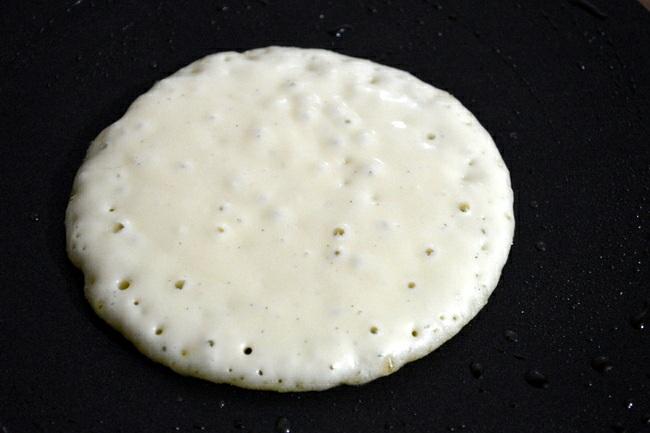 8. Spread around some butter/ghee.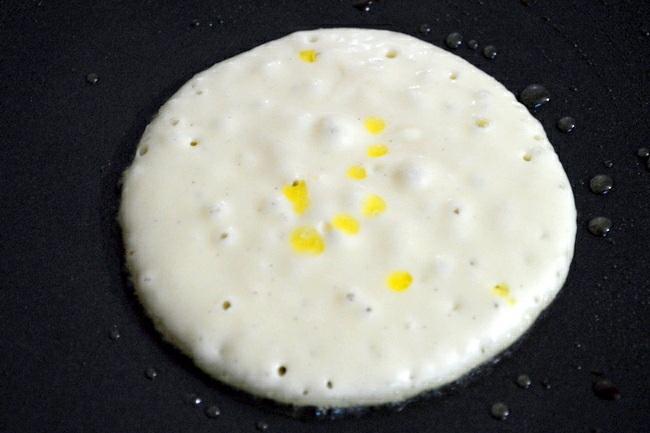 9. Using a flat ladle, gently flip over the pancake and let cook on the other side for few seconds on medium low speed. Once both sides are cooked well, use the ladle to transfer onto serving plate or into a box that retains heat.
Continue making pancakes to the rest of the batter. You can pile them up one on top of the other. Only tendency for those used to making dosas here, is after you flip over the pancakes, it tends to use the ladle to flatten up the pancake. This is most likely in our ernest efforts of making paper roast kind of dosas I believe. I was forcing myself not to do that. Once you flip it over, wait patiently without disturbing the pancake, once done, flip it back and it is ready to go onto the plate.
You can serve them with the serving options I mentioned above. Try to create more varieties using this as the master batter. Mashed potatoes, chunks of apples, pine apples. Make sure the person who would eat it likes that natural flavour what you are adding into the batter.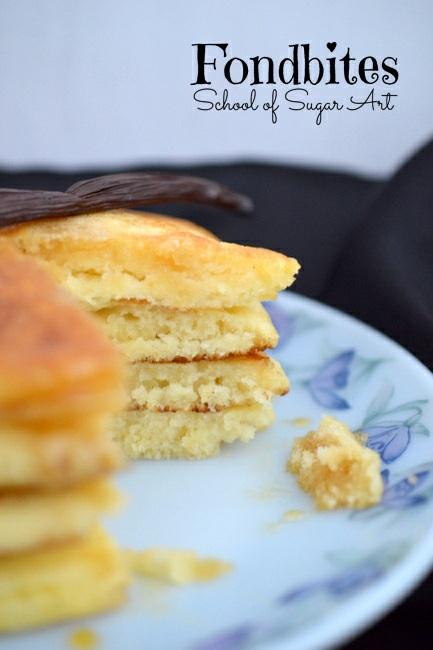 Hoping to see some empty snack boxes in the coming week . Now you should try your luck