Bake Along #69 – Baked Caramel Popcorn
March 3, 2020
2021-09-04 18:05
Bake Along #69 – Baked Caramel Popcorn
Bake Along #69 – Baked Caramel Popcorn
Ours is a movie buff family. We just can't handle outdoors, me and my kids atleast. So my husband's job is to keep us occupied during the weekends and going out for movies is the only choice out. I so love going to even the worst of worst movie. I get all excited because my only mission is to carry a couple of boxes of caramel popcorn and a cold coffee and keep munching and munching the deliciously caramel coated popped kernels. That is all about the love of caramel, forget the popcorn.
And the worst thing is, once the movie gets over, I go to the snack counter again and buy couple more boxes of caramel popcorn to bring home and munch for another couple of days at home . Crazy I know!!! But that is a caramel thing. Really!!
This version that I have made now is very very close to what I buy, crunchy, munchy and Oh so Caramelly !!
And the best thing about this recipe is, it is very very simple to make and those freaks like me out there, who can't live without these cutie popcorns, now you can have this on your plate in just less than an hour. Now gear up to munch on…!!
Ingredients:-
Popcorn kernels – 1 cup ( popped ones about 12 cups)
Butter – 1/2 cup
Brown sugar – 1 cup
Corn syrup – 1/3 cup
Salt – 1 teaspoon
Vanilla extract – 1 teaspoon
Baking soda – 1/4 teaspoon
Method:
1. Pre-heat your oven to 150 degree C. Line up your baking tray with silicon mat or butter paper. Grease with butter.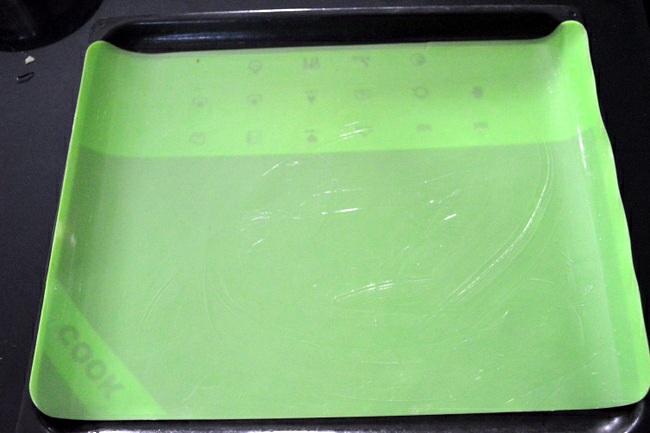 1. Add the popcorn kernels in a large bottomed pan and heat up on stove top on high flame. Close the pan with a lid and leave a small opening. If using a pressure pan, close with the lid and remove the vent. Wait for few minutes until the kernels, pop inside the pan. If you are doing this for the first time like me, you will have the slightest of panic attacks, just trust me, and wait patiently, things will get done in few minutes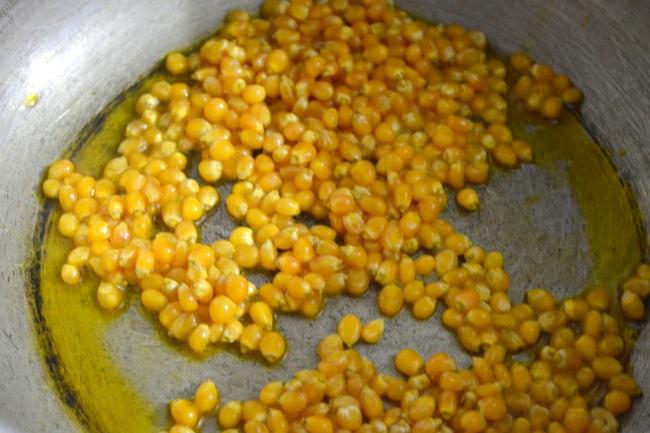 2. Stop the flame when the popping sound stops. Open the lid and Tada!! Magic. You have those lovely popcorns hot on your stove top. And yes, you are allowed to pick out a couple of popcorns to taste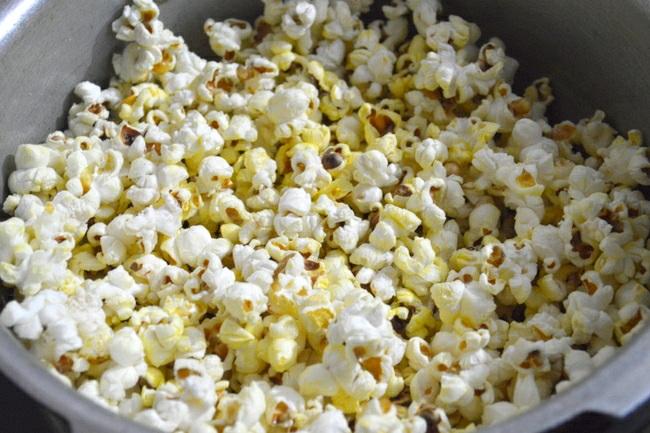 3. In a heavy bottomed saucepan, add butter, brown sugar and corn syrup and put it on high flame on stove top. Stir till the butter melts and everything comes together.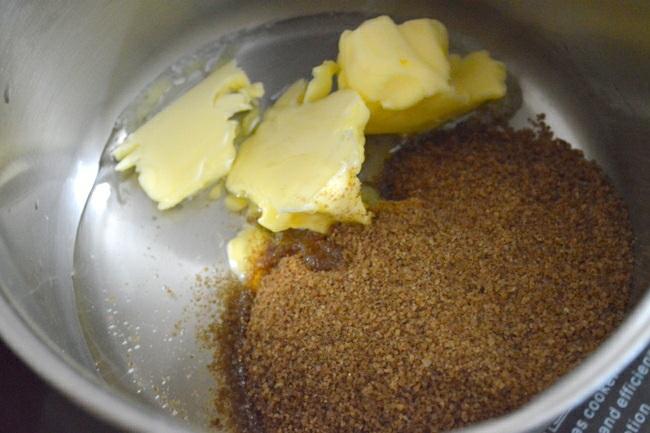 4. Bring down the flame to low and stop stirring. Let it be on the low flame undisturbed for 5 minutes on the clock.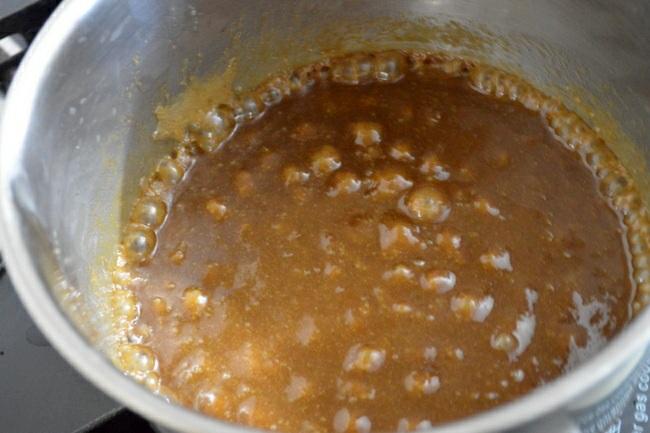 5. Switch off the flame and add baking soda. It will bubble up, so carefully stir now with a wooden spatula.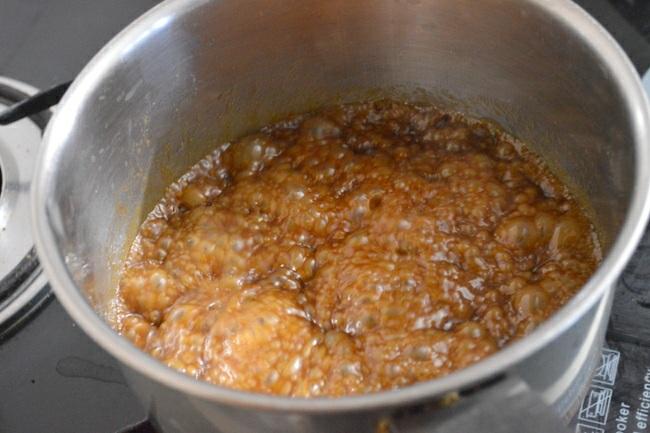 6. Pour the caramel syrup into the popcorn all around, making sure it will coat all of them.
7. Use a wooden spatula to stir up coating every single popcorn.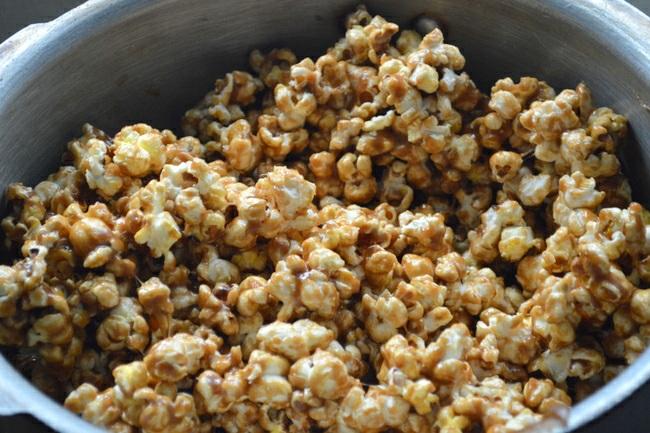 8. Now add the caramel coated popcorn in your prepared baking tray. Make sure they are spread out evenly. Bake in the pre-heated oven for 20 minutes at 150 degree C. Remove from oven after every 5 minutes and use a wooden spoon to toss the popcorn completely and continue baking.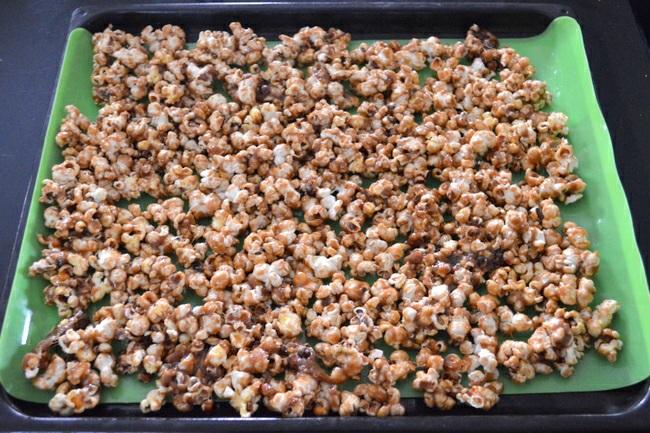 9. Remove from oven and let cool completely on wire rack. Now break them using your hands. Store them in airtight container. It stores good for a week at room temperature.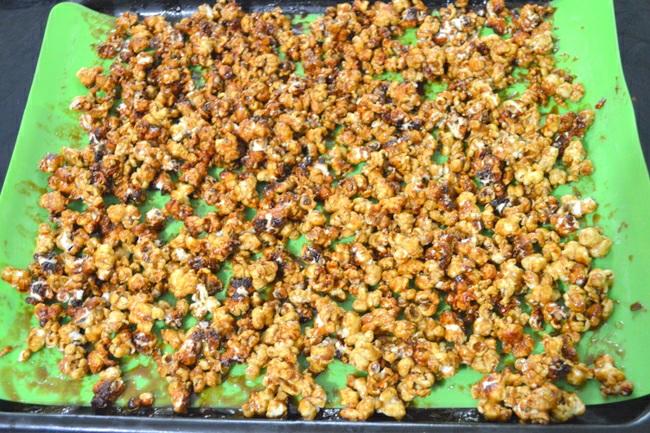 Start munching them one after the other to find out which of the popcorn is better than the rest of the others. Am enjoying these babies, now I don't have to really worry watching one movie a week just for these caramel coated crunchy popcorn.