Bake Along #17 – Whole Wheat Cashewnut Rolls
January 24, 2020
2021-08-09 16:34
Bake Along #17 – Whole Wheat Cashewnut Rolls
Bake Along #17 – Whole Wheat Cashewnut Rolls
We have quite a bunch of health freaks who are baking along wanting to try healthy bakes, less of gluten possibly no gluten at all. During times when I started learning how to bake, I never got hooked to such things, my only aim was to bake successfully. That way I was result oriented and most of them were all-purpose flour and once in a while I used whole wheat flour for cookies. Few attempts of using wheat flour into yeast baking, never let me live in peace :), they were not showing results in comparison with what all-purpose was going to give.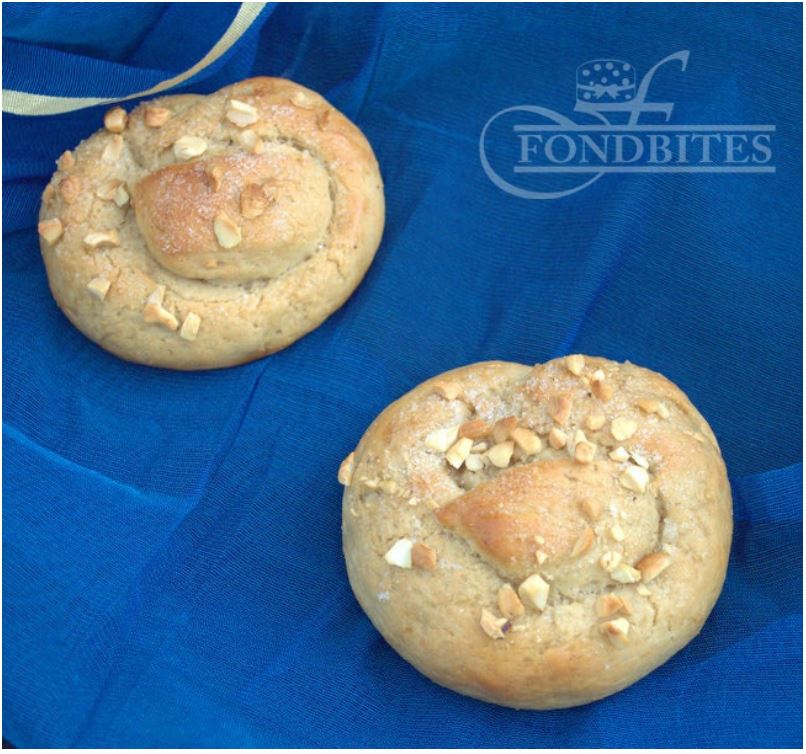 Now that my circle of friends is expanding I happen to meet quite a few of them, concentrate only on healthy bakes. They cannot afford to bake a simple recipe by sticking to the recipe rules. They just make it richer, play with it, try to get healthy stuffs in every bite, do justice to baking and what they feed their family. Eye opener to a baker like me, who just stick to rules and try and attempt only successful results.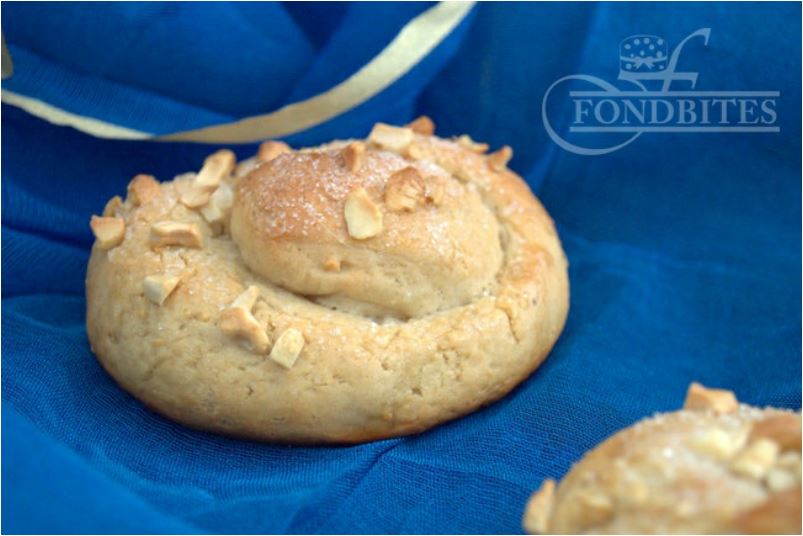 In an attempt to giving tribute to such lovely people I have come across in my journey, this is one such healthy stuff. But I was not brave enough to make it fully whole wheat. Its half and half. To add some justice, there is cashew nut meal added to flour mixture, so every bite is wholesome. That's about this weeks recipe. Whole Wheat Cashew Nut Rolls.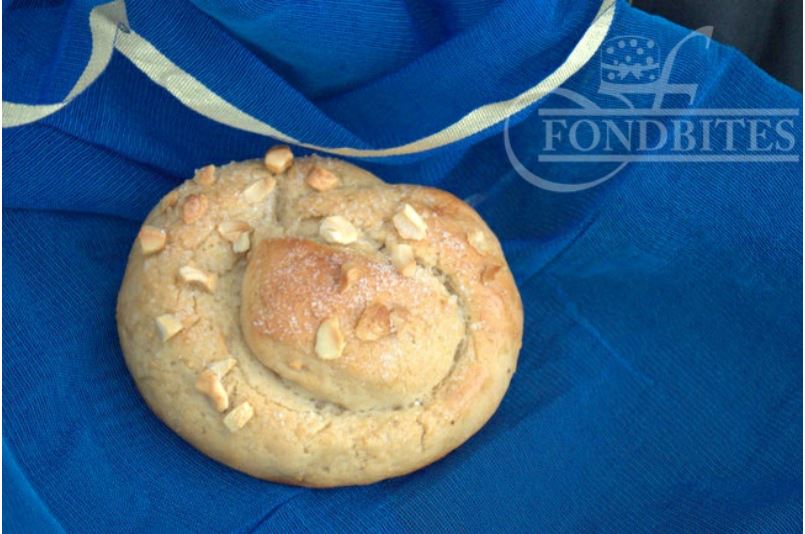 This recipe as such is mildly sweet, perfect texture and was good by itself. But you can try varieties of serving options, drizzling glaze, melted chocolate, nutella top, serve with jam, butter or even pastry cream. Those looking out for making it savory, cut down the sugar in the recipe and serve it with soups and different type of dips. I'm a picky eater, but I was able to finish one roll without any accompaniment though!
Into the recipe now!
Ingredients:
Whole Wheat Flour – 250 gms
All-purpose flflour – 250 gms
Active dry yeast – 15 gms
Salt – 1 teaspoon
Sugar – 4 tablespoons
Cashew but – 85 gms
Milk – 100 ml, lukewarm
Water – 250 ml, lukewarm
For topping – Milk and Oil to brush.
Method:
1. Pre-heat oven to 190 degree C. Divide the cashew nut leaving 2 tablespoons aside to chop them into small pieces and process the remaining nuts into a fine powder.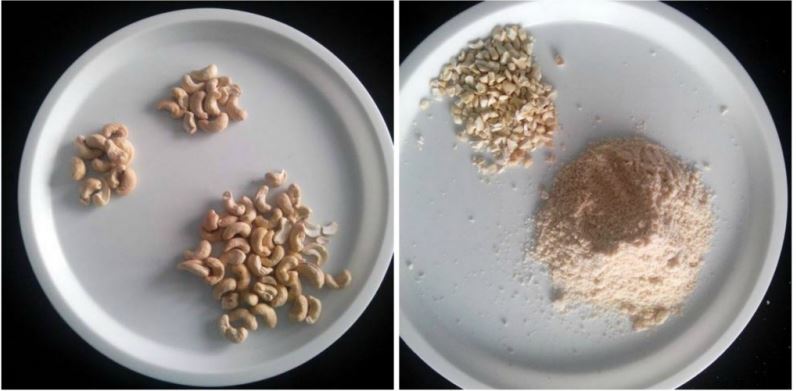 2. In a large bowl sift together both the flours. Add salt, sugar, yeast and powdered cashew nut. Whisk them together until mixed well. Mix milk and water in a saucepan and heat them up lightly and check if they are lukewarm. Make sure they are not very hot, and not really at room temperature too. You should be able to put your finger into and hold for 5 seconds and that 5th second is probably you might want to take your finger out. This is a way I try to figure out to check the temperature for playing with yeast. One of my good friend passed on this trick to me :P. Pour the liquid mixture into the center of the flour mixture.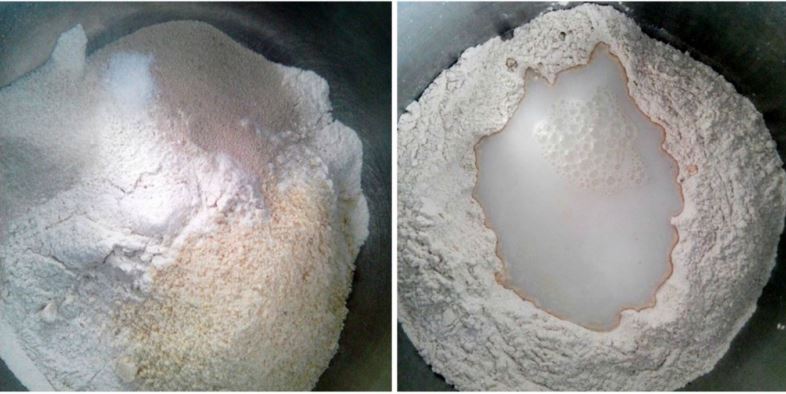 3. Knead well until everything combines together. It will be rough in the beginning. Now bring the dough to your counter top that's cleaned well, or use your silicon mat and knead continuously for 10 to 15 minutes until the dough is smooth and shiny. Stretch the dough as much possible during the process of kneading.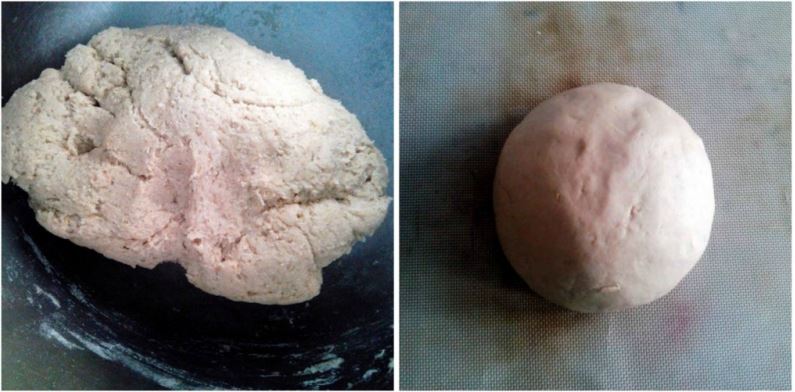 4. Oil another bowl and coat the dough on all sides with oil and leave it in the bowl covered with a damp cloth and set aside for 1 hour to prove and become double in volume.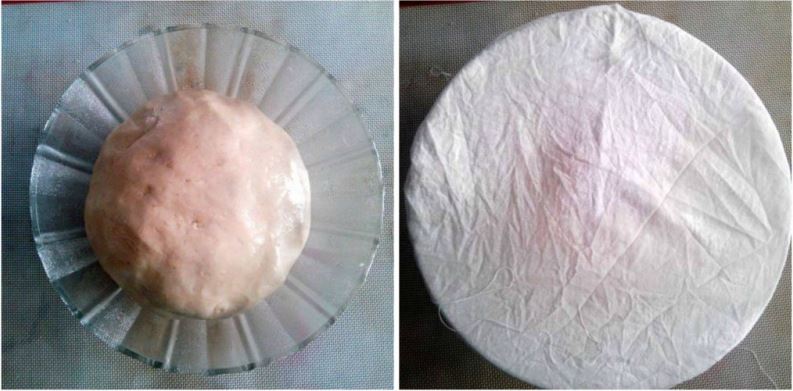 5. Once it has proved well, use your fingers to punch it down. That way it will release all the air that was locked inside the dough during the process of proving.
6. Flour your working counter and take the dough from the bowl onto your counter. Knead for about 5 minutes and then roll it into a log and portion it into 8 equal pieces. To each piece, you have to make knots and prepare your roll. To the first piece, make approx. 12 inch sausage to begin with the knot.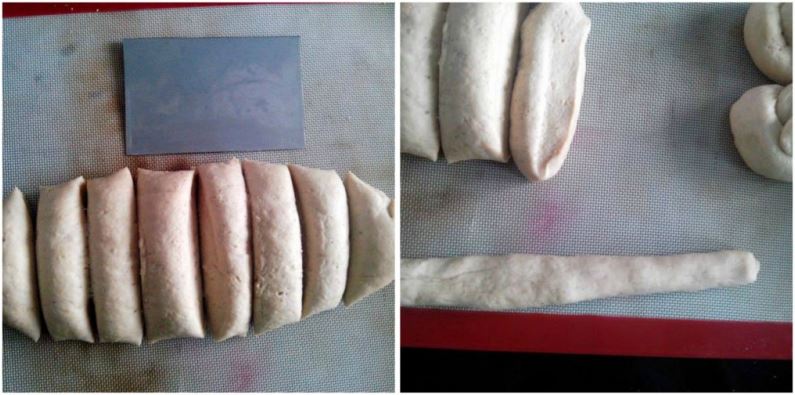 7. Now make a knot and seal them roughly as shown in the picture below.

8. Arrange all the rolls on your baking tray that has been oiled well, or lined with silicon mat. Cover with damp cloth again and let to double in size for about 30 minutes to 1 hour.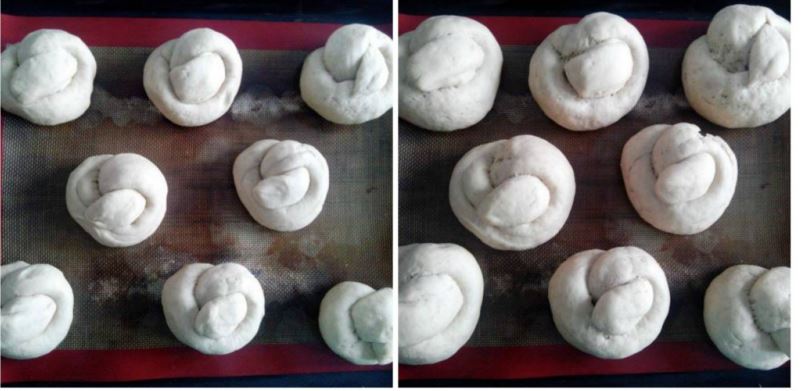 9. Brush the top with milk and sprinkle the chopped cashews and some granulated white sugar. Bake in pre-heated oven for 25 to 35 minutes until the top is golden. Remove from oven and carefully brush the top with oil without letting the cashews fall off. Pick the rolls and place them on the sides of the baking tray. This is done to enable heat pass through the bottom of the rolls that will help soften them once cool. Else transfer them directly to wire rack once oil has been brushed.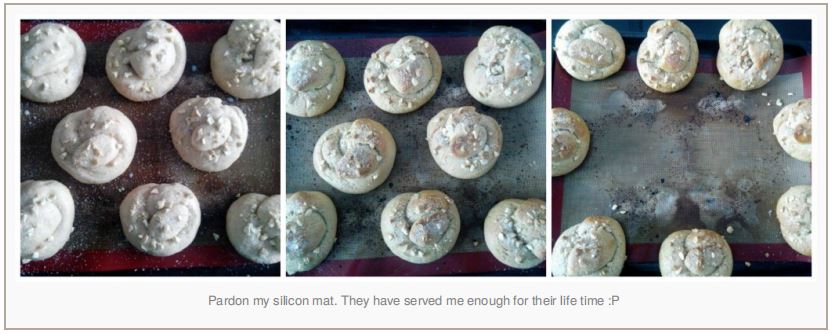 Once cool, transfer to air tight container. Keeps well at room temperature for 3 days, refrigerate for a week. Microwave for 20 seconds before serving. Try to go creative on accompaniments for serving. To make it a savory roll, cut down the sugar in the recipe and the topping and add cheese, and Italian herbs as topping. Also add herbs into the flour while kneading. You can come up with lot of different ideas.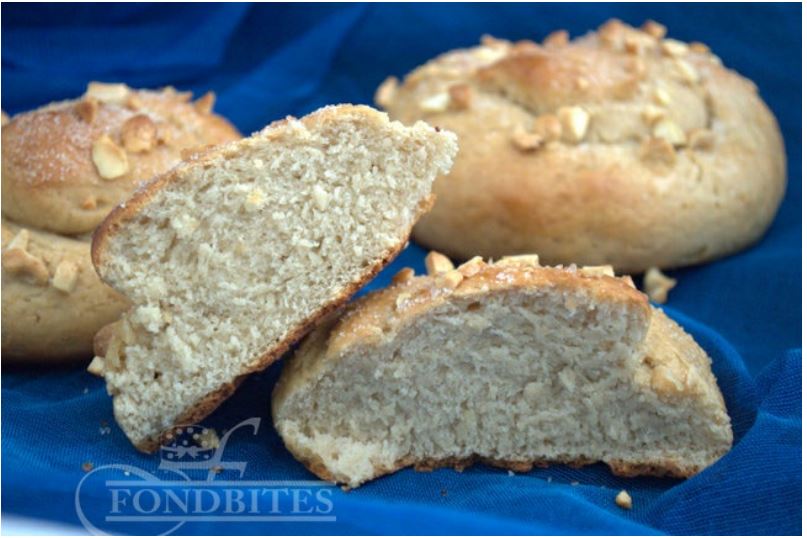 This has been baked for Fondbites, Bake Along,a group of enthusiastic bakers, bake one recipe every week along with me. To join the group, send a join request in the facebook group and I will send you a confirmation message, after you confirm that you will bake every recipe with me each week, I will add you to the group.
Members – Once after you finish baking, post the link of your finished picture below using the linky tool.