Bake Along #37 – Ragi Carrot Walnut Cake
February 27, 2020
2021-09-04 18:15
Bake Along #37 – Ragi Carrot Walnut Cake
Bake Along #37 – Ragi Carrot Walnut Cake
Baking with Ragi and in turn with other millets. How fascinating does that sound. And if goodness of ragi is jam packed with whole lot of other healthy ingredients, those we thought will never go together in one recipe? Sounds like a fairy tale. I had a terrific experience baking this cake, because you wont believe what all has gone into making of this cake.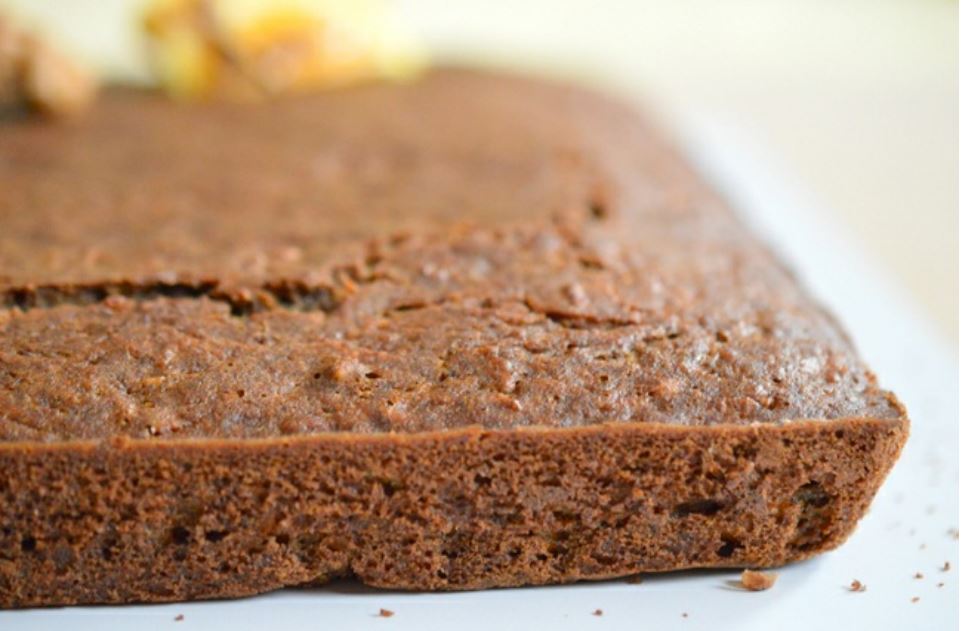 Even when I want to bake a cake with whole wheat I get sceptical about the texture. So when it was Ragi, I had lots of doubts. I recently happened to come across a blog dedicated solely for healthy cooking, Health Food Desivideshi. I was taken aback. This post is to introduce everyone to such an amazing blog and the fact that not just for this cake, you should take time to go through the whole blog and figure out how healthy can you make your day to day food.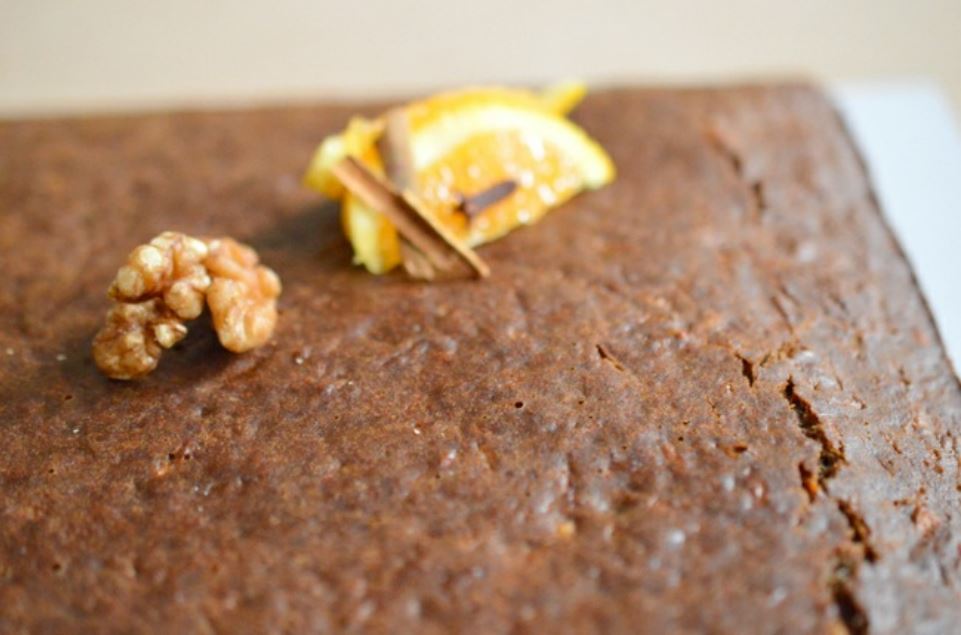 The list of all the surprises that gets into this awesome divine creation are, walnuts, orange zest ( I hear, oh you…will you stop adding that ?!. he he, I will try not to ), carrots, apples, palm jaggery. On top of this, it was ghee for fat and quite a lot of eggs. There is some science that has been worked out for a formula in the cake, to get it rise up high and its amazing to see the texture, be as soft as you can expect out of a cake made of maida.
And the aroma while baking, divine I ll call it. But divine is a term we use everytime we get hyper-excited when we bake something new. But this one is absolutely true because of palm jaggery and ghee, so you get what? An Indian flavour, absolutely brilliant creation and an amazing result.
Original recipe calls for sweet potato, but I didn't get it, though am an ardent fan of sweet potatoes. I replaced it with apple, and you can also replace it with pumpkin/pineapple. Its a very forgiving recipe that everything falls in place by itself and you can make your loved ones stay stunned for a moment and make them feel proud of you, for having baked something that is completely filled with healthy ingredients.
Ingredients:
Recipe source: Heathfood Desivideshi
Ragi flour / or any millet flour – 2 cups/280 gms
Jaggery/Palm Jaggery – 200 gms, grated
Grated carrots – 2 cups, tightly packed
Grated Apples – 2 cups, tightly packed
Walnuts – 1 cup, chopped
Baking powder – 1 1/2 teaspoon
Baking soda – 1 teaspoon
Salt – 1/2 teaspoon
Cinnamon powder – 1 teaspoon
Clove powder – 1 teaspoon
Nutmeg – 1 teaspoon, grated
Ginger powder – 1 teaspoon
Orange zest – 1 teaspoon
Ghee/Clarified Butter – 3/4 cup
Eggs – 6, ( Eggless version: 1 1/2 cups thick hung curd)
Method:
1. Line a 12 inch square cake pan or use two 8 inch pans, with butter paper and grease the paper with butter/ghee. Grate carrots and apples. Keep aside. Pre-heat oven to 180 degree C.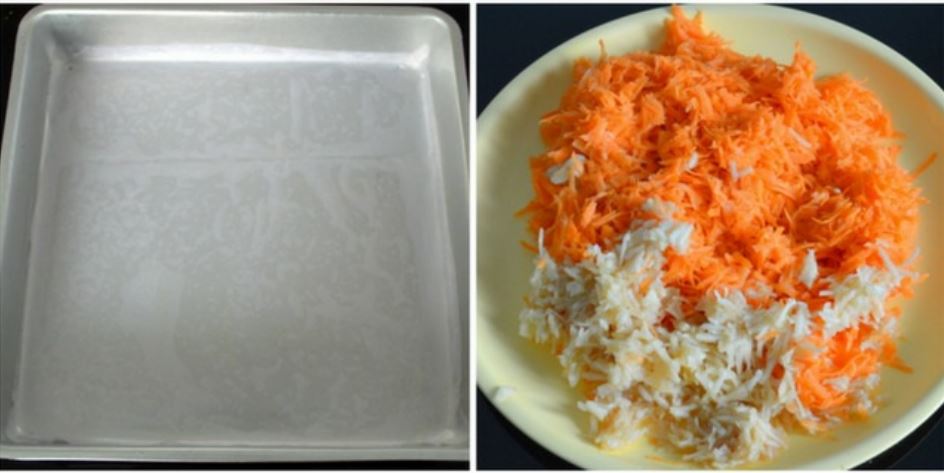 2. Sift together ragi flour, baking powder, baking soda, salt, cinnamon powder, clove powder, grated nutmeg, ginger powder and whisk well. (I powdered all the spices together and used). Grate orange zest and whisk it together.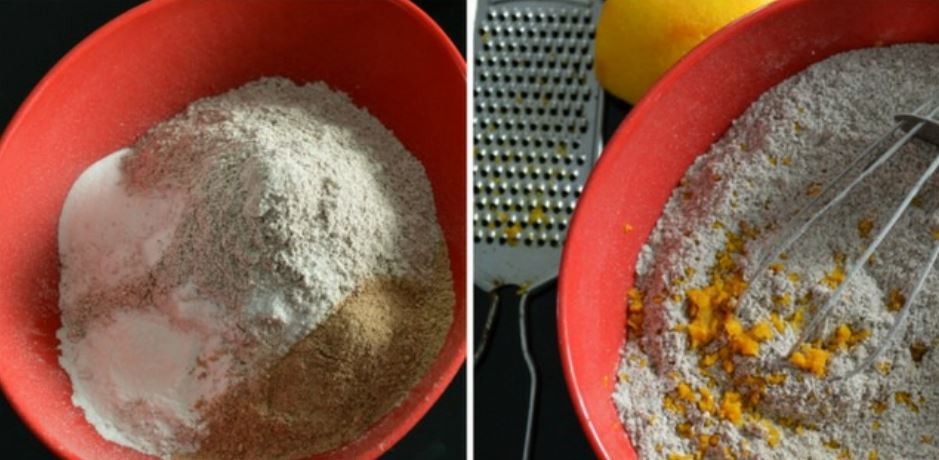 3. Roughly chop pieces of palm jaggery. They are pretty hard to break. Place them in zip lock and hammer it , yeah that's what I did. Add a tablespoon of water along with pieces of palm jaggery in a heavy bottomed sauce pan and bring on medium high flame. Let it boil and all pieces of jaggery melt. Switch off stove. Filter it to get rid of any impurities. Set aside.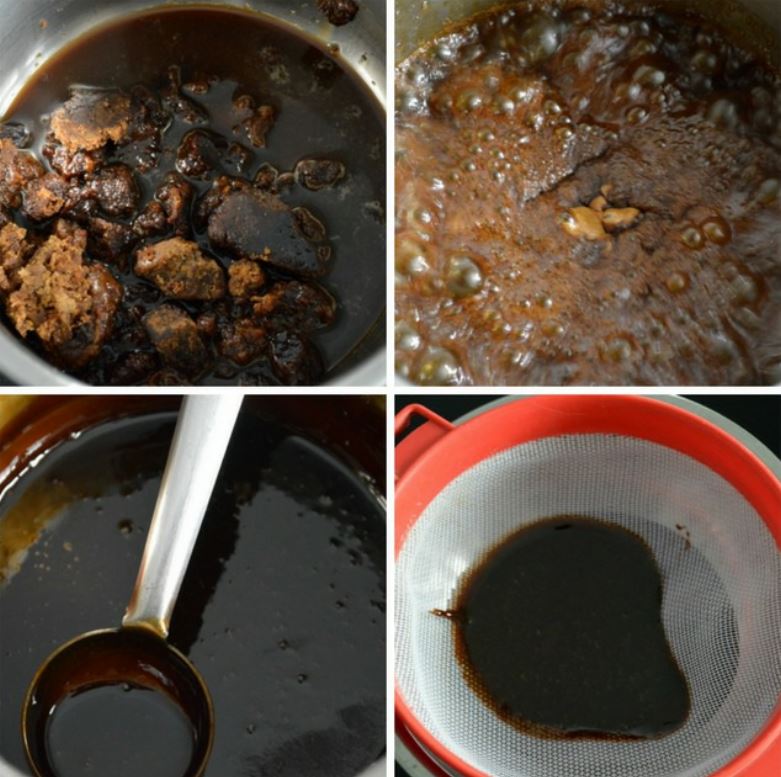 4. In the bowl of your beater, add all eggs and beat on medium high speed for about 5 minutes until the eggs froth and become pale yellow and a thick ribbon consistency. It becomes multi-fold in volume.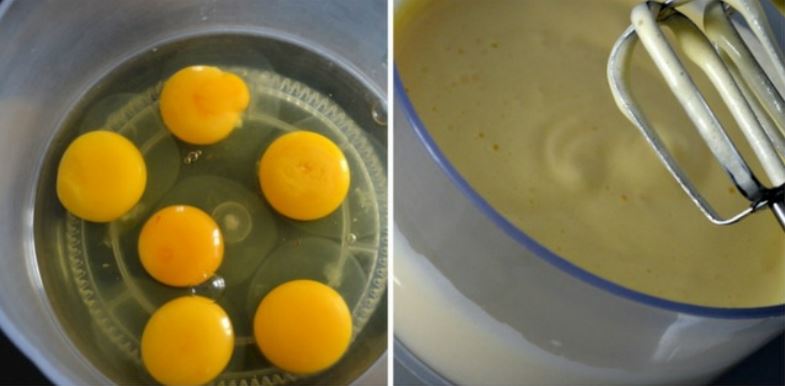 5. Check for consistency of melted palm jaggery. If it has thickened up, do heat it again until it becomes a liquid and add it slowly into the eggs mixture and beat on medium speed for couple of minutes until it has blended well.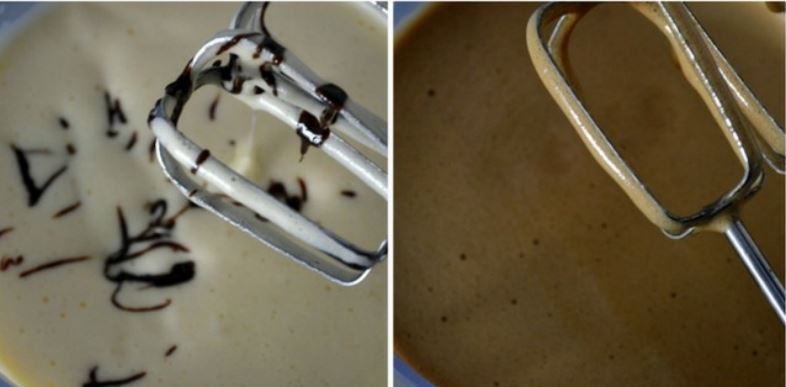 6. Now add ghee in a slow stream and keep beating on medium speed until it has blended well for about a minute. It will froth and reduce in volume a little. That is fine.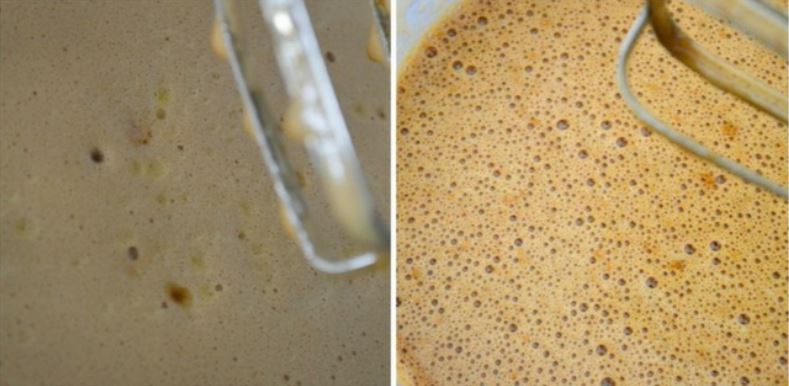 Add flour mixture in three parts and beat just until it has been incorporated. Do not over beat.
8. Now add carrots and apples and use your spatula to fold it in thoroughly. Add chopped walnuts and again use spatula to fold in completely.

9. Pour the batter in the prepared pan and tap it once to get rid of any air bubbles. Bake in pre-heated oven at 180 degree C for about 30 to 40 minutes until the top is well crusted and a tooth pick inserted into the center comes out clean. Cool on wire rack.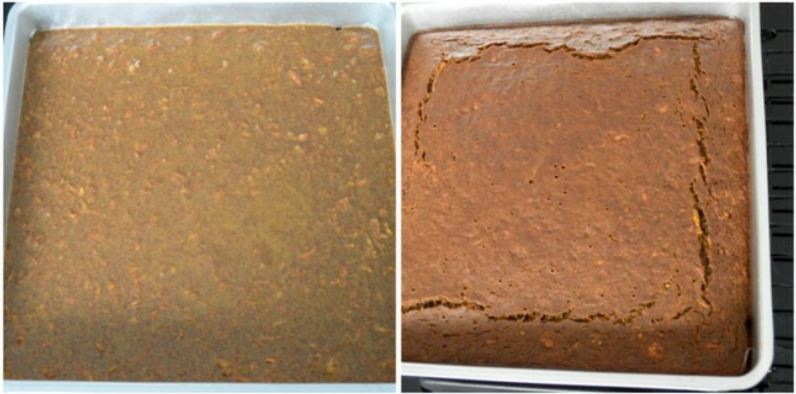 This cake is mildly sweet, though I increased the sweetener from the original recipe. For a sweet tooth like mine, I would prefer this cake with a glaze. A ganache/nutella spread all will definitely go well but will break the purpose. So a glaze with melted palm jaggery is what I feel will best fit this beautiful bake. So those who feel you want to have it with some extra sweetness, prepare your palm jaggery glaze in the exact same way you have melted it in the recipe with water and pour it on top of the cake once it has cooled down and let it set. It will set in less than half an hour and you are good to go.
Carrots and apples are no longer seen in terms of flavour in the final cake. They just are used to moistened this cake and any vegetable/fruit that has the tendency of moistening can be used in this cake and you can definitely go up or down with the measurements of the fruits/vegetables. Like for example keeping apples and carrots each 2 cups, you can grate another 2 cups of pineapple and put it in. And another 2 cups of sweet potato/pumkin. Yes it is that forgiving in terms of the moistening agents.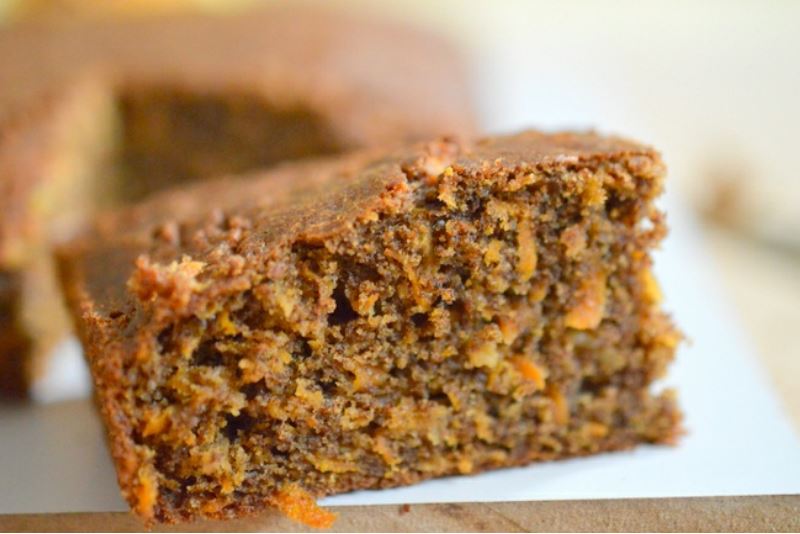 Store in airtight container in room temperature for upto 3 days. Refrigerate for about a week. You can serve this chill or heat it up a bit and serve it warm. Loads of awesomeness in a single bite. It would have been ages since we treated us with a whole lot of healthy stuff. This has been baked for Fondbites, Bake Along, a group of enthusiastic bakers, bake one recipe every week along with me. To join the group, send a join request in the facebook group and I will add you to the group.
This has been baked for Fondbites, Bake Along, a group of enthusiastic bakers, bake one recipe every week along with me. To join the group, send a join request in the facebook group and I will add you to the group.
Recipes of previous Bake Along can be viewed here
Members – Once after you finish baking, post the link of your
finished picture below using the linky tool.