Bake Along #36 – Chocolate Orange Mousse Cake
February 27, 2020
2021-09-04 18:16
Bake Along #36 – Chocolate Orange Mousse Cake
Bake Along #36 – Chocolate Orange Mousse Cake
This week is special because, I like to play this flavour game once in a while, to just kindle the awesome brains we have which needs some extra push and to bring in that extra hormones gearing up for the full swing to kick up and get going. That is some work really to finish this week and pull it off but then we have been doing just one component or two for past several weeks or am not sure, if we did so many components together to one baking week from the day we started. Yeah there are four components and there is so much learning. So who is the winner? I wont call her winner basically, so does it mean other entries are losers.. They cannot be. Atleast that I had few ingredients handy and few seasonal. Yeah I mean the chocolate and orange pairing, ok so I hear someone saying will you not let go of this combination.. Third time in bake along we are seeing the oranges. or more than that, if we did count on the variation lists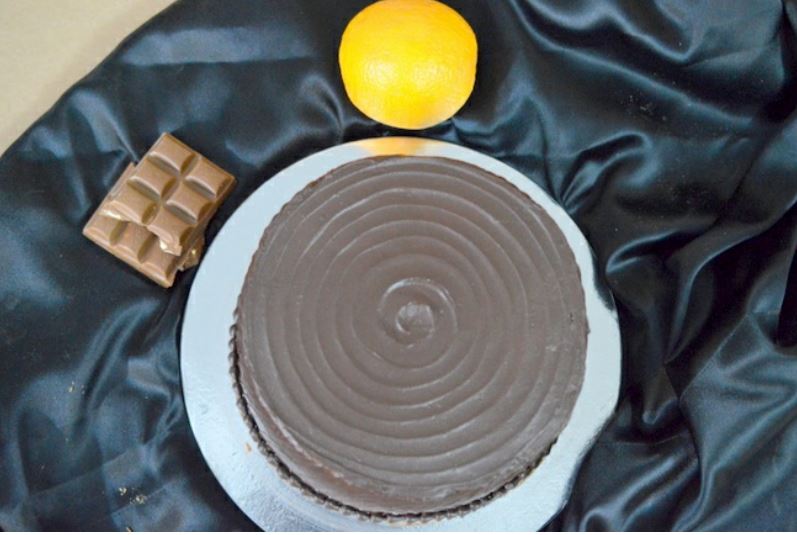 This week you gotta excuse me for the poor pics, probably also for the poor execution. This isn't a thing to pull off in 3 hours time, but ruthless baker I'm when it comes to completing a job, yeah I have done several orders from scratch to finish in two hours, shivering what happens to the filling when I did it while the cake was warm. Ok, so a secret of my lifestyle has been revealed here! But I have to admit, I tried to pull this off in 3 hours time, but in vain, before which the filling kinda melted and I couldn't show you the original beauty which this whole thing deserved much. Probably I should be punished in not giving even one slice of the divine concept. So will I tell you whose entry was this. I was so excited that I dont have to write much as I should be featuring the person whose entry I have chosen for the week, but literally I couldn't stop . That can be none other than Veena Aravind !! Yeah a doubtless contestant. I mean every entry by every baker, made it to my heart. This seemed a perfect execution for all the four components and you will know that at the end of making it. Not any more words from me, here is something about veena, which she patiently tells us about.
1. Tell us a bit of history about yourself ?
I am Veena Aravind. Mother of two sons and a juggler of multiple tasks. A BA (economics) graduate from Mysore ,married and settled in Chennai for 12 years and now in Coimbatore for the past 3 years. I always wanted to be a home maker and never opted to work since the day one ,though my husband encouraged me to study further and also work. I was so adamant and had several fights just to convince him that I wanted to stay at home and be a full time professional home maker. That's what I call myself. I have come through a very hard way.I had no confidence in blogging as it needs writing which I felt I am not very good at, though I could cook and bake very well. Though I wanted to do something ,I had no support at home. I had to manage kids and my work. I was asked not to bake and buy from bakery and take care of family. I had to fight for myself to be here. Baking is something which has given me everything that I wanted since a child.
2. How did you start baking?
Baking never happened to me overnight. I am not a self-taught baker . Many books,teachers have helped me to be here. I first attended a small baking class held in college when I was 16. That was when I was exposed to baking. I used to make batter and take to a nearby bakery and ask him to bake for me. I had assembled a teddy cake for the first time with a round for the head , a square for the body and few cut rectangles for hands and legs and gems made eyes n nose. After my marriage to a super supportive companion my serious baking started. I started with a small bajaj oven. My first buns were cork balls, few charred cakes,few cracked,few unbaked. I started blogging which gave me a great exposure and motivation. Aparna of 'My diverse kitchen' was my virtual guru. I used to spend the whole day reading her posts. I started buying lot of books , cake bible, baking from my home to yours etc. To improve my baking skills, I joined Artisans institute for baking where I met Lisa ma . A very nice teacher who trained me in everyway. It was my first hands on class, and I learnt many techniques and the art ,than the recipes . My husband always wanted me to get into this seriously as I was very passionate. He surprisingly enrolled me to ccds in Delhi for a diploma, where I met chef Nagpal who gave me the confidence that I could also do. I had topped the class in the exams. It was only then, I got confidence . I did my sugarpaste flowers from shahril nizamudin fom Malaysia another dedicated teacher I have come across. I have learnt few things from Rumana jaseel. I also did a 2 day commercial baking in Tamil nadu agriculture college just to understand the commercial way. 3. What is your business page and how long you have been into commercial baking?
3. What is your business page and how long you have been into commercial baking?
https://www.facebook.com/MagicOvenIndia
I started doing professionally after doing my course in ccds. I am doing this commercially for the past one and a half years.Though I have started a bit late, I am happy that I have done what I wanted to.
4. What inspires me to bake?
My children. I bake everything for them . I never buy store bought bakes for them as I know how it is made. I feel every mother should learn basic baking to bake for their kids. Baking as a profession has given me the gratification of being at home and working. It has given me the confidence that I never had. A little recognition that keeps me happy. I have made lot of friends though this field. In future I would like to share my knowledge through teaching what ever I know. That's my dream. Not just a commercial teacher but render proper knowledge . That's when , I started following subha as I liked the way she had organized classes and would do the same in future.
That was really inspiring to read about you Veena. Much needed for lot of upcoming bakers to understand why each of us need to learn baking. A minimum requirement of feeding our kids with what we know goes inside each of what they eat. We will atleast make sure we are not feeding them with cake gels, preservatives, additives, artificial flavours, synthetic ad-ons and this list is long too.
Thank you so much for giving us that spirit and out of many entries you had given, I loved to choose nothing but orange infused into chocolate and bet the natural blend can be the best gift one can give us. Eat a bite of this combo and you will know you don't have to get into any bakery to make you a party cake. Forget the looks, what you make for yourself and your family will ever be the best.
Here is the entry from Veena as it is, Filling 1) orange mousse , filling 2 ) chocolate mousse , frosting orange flavored chocolate truffle!!
As I said, the chocolate cake recipe, is otherwise called 'American Mud Cake'. A technical approach to Australian Mud Cakes. Mild changes to get a better structure. To me a chocolate cake has to be moist with deep flavours, rich, decadent and bursting chocolate in every cell of it. This one did justice. For the chocolate and orange mousse, I figured out an easy way to cut down on multiple jobs. And the final component is ganache and its easy flavoured with orange rind. Mousse surprised me on a very joyful note. No gelatin and it just ceased as much needed for a mousse. Original recipe wants eggs to be beaten raw, but our instinct even when its not real, our deep breaths which has never worked on our purposeful meditation works on finding out that 'eggy smell'. So why give chances. I just cooked them. So believe me, the eggs are cooked
While there are raging finishes about ganache, it would look overwhelming if I tried to figure out the sharp edges or the smooth finishes, and that is not our main purpose, so make it as rustic as possible. I tried to finish up with some spatula marks at a rhythm. As much as any kind of pattern with a rhythm looks like intentionally made and we can call it home style rustic finish so there is no pressure on the finishing.
Ingredients:
Cake inspired from: Cakepaperparty, Mousse: Taste.com.au
For cake:
Unsalted Butter – 200 gms
Dark Chocolate – 200 gms
Granulated white sugar – 200 gms
Unsweetened cocoa powder – 1/2 cup
Strong hot coffee – 1 1/4 cups
Pure vanilla – 1 tablespoon
Eggs – 3
All-purpose flour – 2 cups
Baking powder – 1 teaspoon
Baking Soda – 1 1/2 teaspoon
Salt – 1/2 teaspoon
For orange mousse:
Orange rind – 1 tablespoon
Orange juice – 1/3 cup
Cornflour – 1 tablespoon
Granulated white sugar – 1 tablespoon
White chocolate – 100 gms
For mousse:
Eggs – 3
Granulated white sugar – 1/4 cup plus 1 tablespoon for whipping cream
Whipping cream – 1 cup, dairy or non dairy
Pure vanilla extract – 1 teaspoon
For chocolate mousse:
Orange Dark Chocolate Ganache:
Dark chocolate – 300 gms
GDairy fresh cream – 150 gms
Orange rind – 1 teaspoon
Method:
1. Add chocolate and butter in a heavy bottomed sauce pan and bring on medium flame and keep stirring until chocolate and butter melts well. Remove from fire and add sugar and cocoa powder and mix well. Sugar wont be fully melted, and thats fine.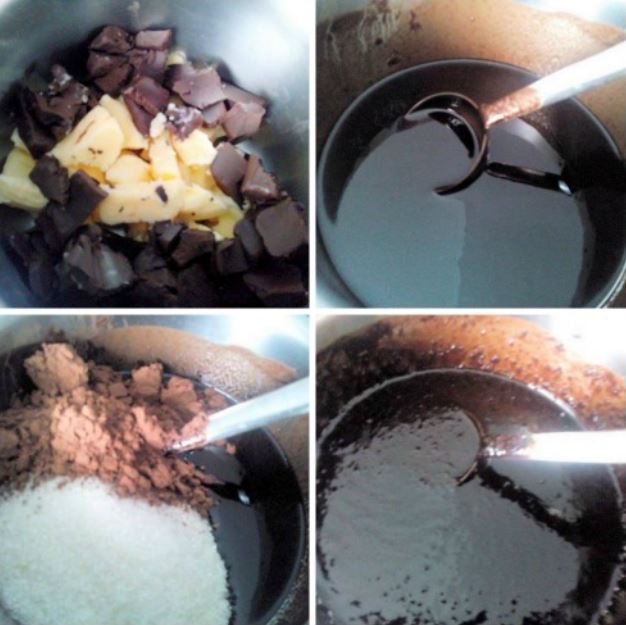 2. Make a strong brewed coffee, or to the measured hot boiling water add one tablespoon of instant coffee powder and mix well. Add it to the chocolate butter mixture and mix well. Beat all three eggs in a separate bowl. Add the eggs to the mixture and stir immediately to blend. Slow stirring might tend to cook the eggs and make it scramble.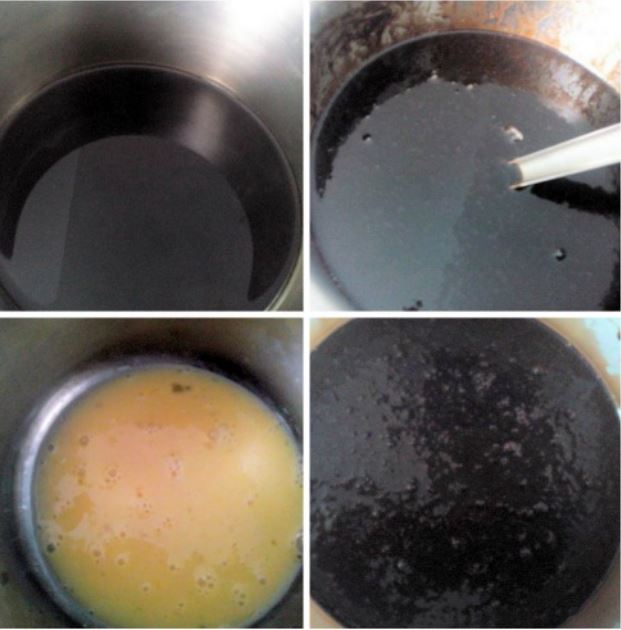 3. Sift together flour, baking powder, baking soda and salt. Beat using electric beater to combine the dry mixture. Add the liquid mixture slowly until everything has been incorporated. Beat on medium speed for 3 minutes. Butter and line up two 8 inch round baking trays with butter paper. Line the sides of the pan as well. Pour the batter equally into both the pans. Bake in pre-heated oven at 150 degrees for 50 minutes to 1 hour until the top is well crusted and a tooth pick inserted into the center of the cake comes out clean. Let cool on wire racks. Remove cakes from pan once cool and cling wrap and store in refrigerator to chill down for couple of hours or even over night.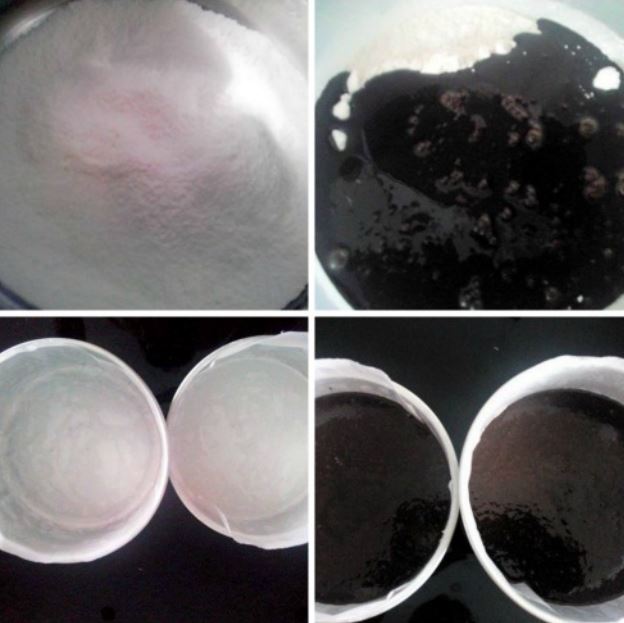 4. Orange Sauce – Add orange rind, juice, sugar and cornflour in a heavy bottomed saucepan and mix well to remove lumps. Bring on medium high flame and keep stirring until the mixture thickens a bit. Remove from fire and let cool down completely.

5. For Mousse – Add sugar and eggs in a heat proof bowl. Take a saucepan filled with one inch of water and heat it up on medium flame. Once water starts to boil, bring down flame to simmer and place the eggs and sugar bowl over the simmering water (and the bottom of the eggs bowl not touching the water in the saucepan) and use a whisk to keep whisking the eggs mixture. Wait until the mixture heats up to bearable temperature to your finger. Test it by touching the egg mixture with your index finger and immediately touch the same finger on your wrist of your other hand and if you feel the heat in your wrist you are good to go ( No I have not bluffed, its a cool shortcut to test the temperature of the mixture ). Pour the hot mixture into the bowl of your electric mixture, add vanilla extract and start beating immediately on medium high speed. Increase the speed and keep beating until the mixture thickens. Keep beating for 5 to 7 minutes until you see a foaming, pale yellow mixture that is multi-fold in volume.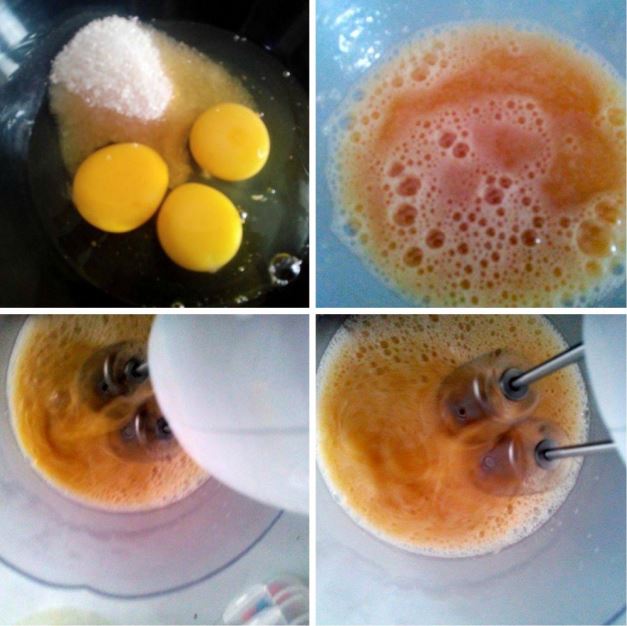 6. You call it ribbon consistency. Once the beater has been lifted you see the beater marks for a while which might be slowly disappearing. Split the beaten egg mixture into 2 bowls, for chocolate and orange mousse. Melt dark and white chocolates for each of them separately and let cool a bit.

7. Whipping cream: – Add whipping cream into your bowl of your electric beater ( I called me ruthless in the beginning, can you see the whipping cream is frozen? And I make it work. Ask me how ). Beat on medium high speed until the cream softens up and add a tablespoon of granulated white sugar and beat on medium high speed until you dont see the trace of sugar and increase the speed to high to beat until stiff peaks.

8. For Orange Mousse: – Using one half of the beaten eggs mixture, take 1/4 cup of the eggs mixture and add it to the cooled down orange sauce and mix well to lighten it. Now transfer the lightened orange sauce into the eggs mixture. Add the melted and cooled white chocolate and mix using folding motion. Do not mix it vigorously that might deflate the eggs volume. Now add half of the whipped cream and again fold them to combine. You will feel the mixture cease and combines well and it will take a proper shape. Do not over mix. Set this aside if going to assemble cake in few hours. Or transfer to an airtight container and refrigerate until use.

9. For Chocolate Mousse: – To the remaining half of the beaten eggs mixture, add the melted and cooled dark chocolate and remaining half of the whipped cream and fold again gently until all 3 comes together. Do not over mix.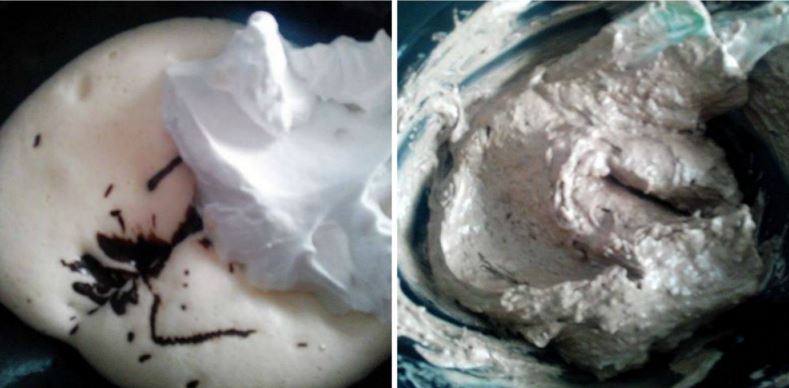 10. Orange dark chocolate ganache: – Chop chocolate in a microwave safe bowl. Add the orange rind. Microwave on high powder in 30 seconds interval until chocolate melts fully. Add the cream and keep mixing vigorously until the mixture combines well and no trace of lumps or cream. Set aside until use.
11. Assembly: – Remove cake from fridge ( Always work on chilled cakes, or you might end up calling yourself ruthless ). Torte both the cakes into 2 each. Place one layer of cake on cake board or serving plate. Add half of dark chocolate mousse and spread out well with a spatula or back of a spoon. Place another layer of cake. Add orange mousse and spread out over the cake. Now place another cake layer and add dark chocolate mousse, spread out. Place the final layer of cake. Make sure the sides of the cakes are well aligned and start spreading orange ganache to the sides of the cake. Once sides are done and covered completely, start spreading ganache on top of the cake. Smooth out as much possible. Key to getting smooth finish is to scrape the excess back into the bowl and working on clean spatula. Once you give up on the clean finish, just go ahead and make marks on cake using your spatula and now call it art.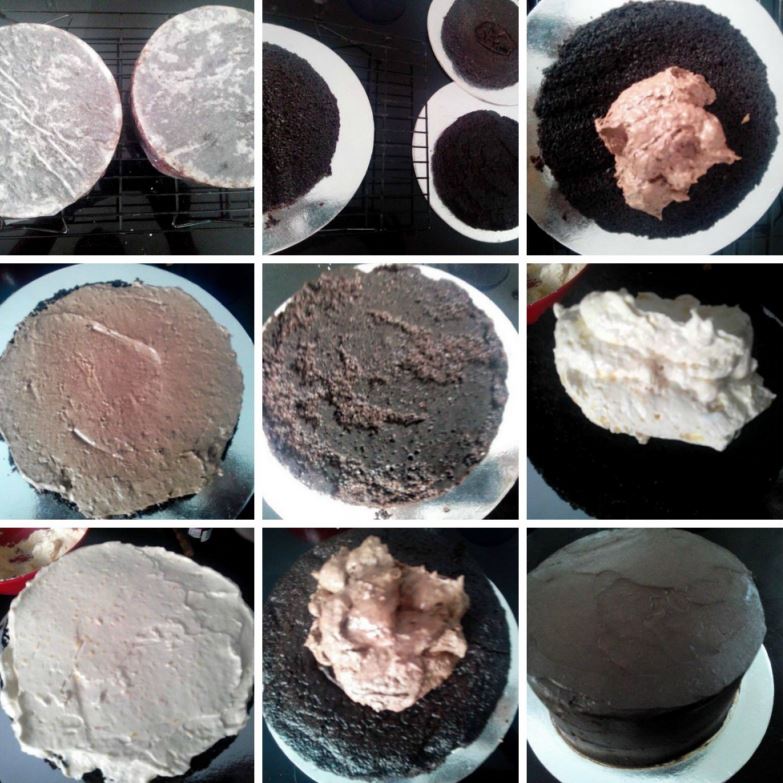 12. I used my spatula at an angle to the sides of the cake, to make lines like in a ruled paper. And then on top like a swirly pattern. I used a turn table and had my spatula on the outer edge and kept turning my turn table while I was gradually and slowly moving my spatula to the center of the cake while I was still turning the cake on the turn table.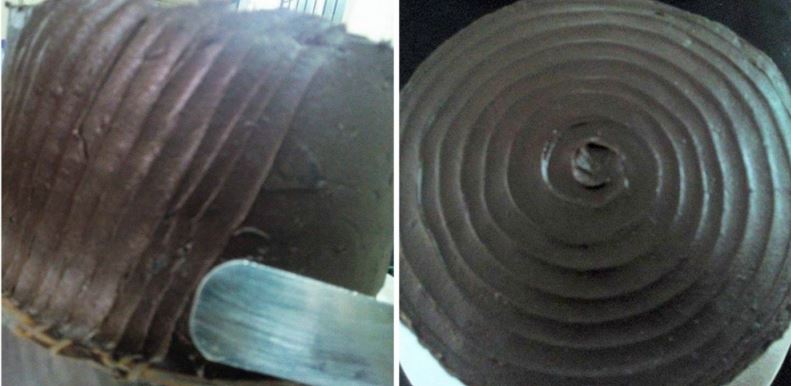 As much as we get fancy cakes from bakeries for our kids birthdays or any occasion for that matter, I just wanted to give you all some push, though you might feel the whole process a little extended that what we have been doing these days with a simple single step process and just munch it directly from the oven. Here is where a real hero comes into play. Just figure out and nail the whole thing. Scratch to finish and enjoy cutting this and serving. Nothing like it, I swear! This is not easy to handle in a day. A
tleast for those who are not used to commercial baking. So bake cakes a day ahead. Filling and frosting on the day of assembly. So you can also choose to make mousse and cake on day 1. Refrigerate them and make ganache the day of assembly and finish it off.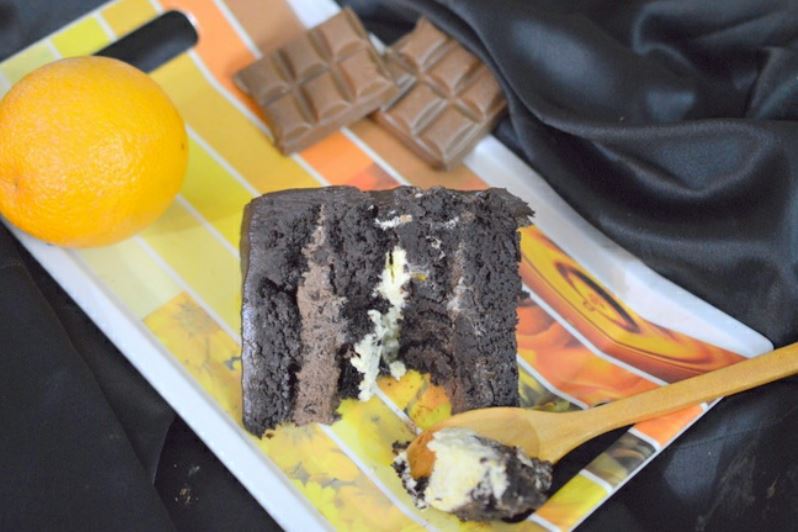 For eggless bakers: Use Sailusfood, Eggless Chocolate Cake for the cake. And for mousse, Veena was so generous and sweet to share her recipe she uses to teach her students. Thanks lovely veena, for this. That is some real sweet heart!!
Ingredients: – 50ml water, 50g sugar, 50gms liquid glucose, 10 g gelatine/agar agar, 350g whipped cream, 1tsp instant coffee
For dark chocolate mousse, melt 150 gms dark chocolate and cool. For orange mousse, follow the sauce making as in the steps above.
Method: Heat water and sugar. Add glucose .whisk Gelatine/agar agar to water – bloom-add it to warm sugar mixture. Cook it over double boiler until sauce consistency. If adding coffee add it to hot water. Don't overcook gelatine To half of the mixture add melted chocolate and half of whipped cream. For orange mousse to the remaining half of the mixture add orange sauce and half of whipping cream.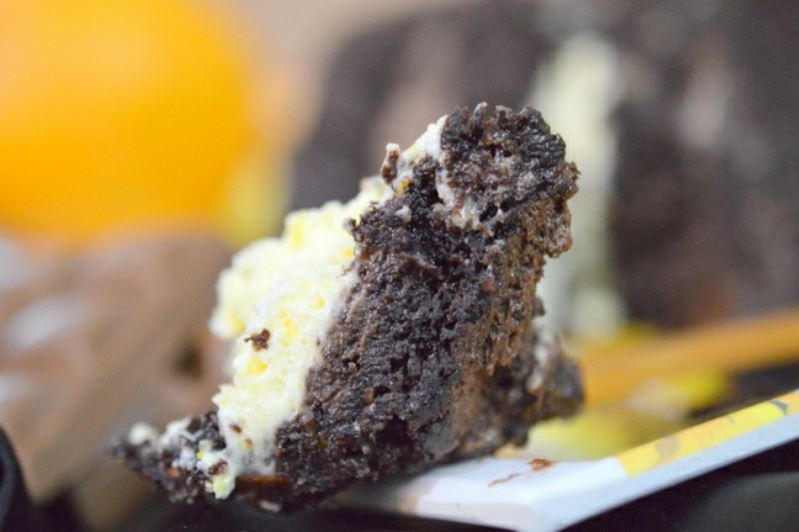 This has been baked for Fondbites, Bake Along, a group of enthusiastic bakers, bake one recipe every week along with me. To join the group, send a join request in the facebook group and I will add you to the group.
Recipes of previous Bake Along can be viewed here
Members – Once after you finish baking, post the link of your
finished picture below using the linky tool.