Basic Baking Online Workshop
About This Course
Basic Baking Online Workshop
Meeting Password : 048055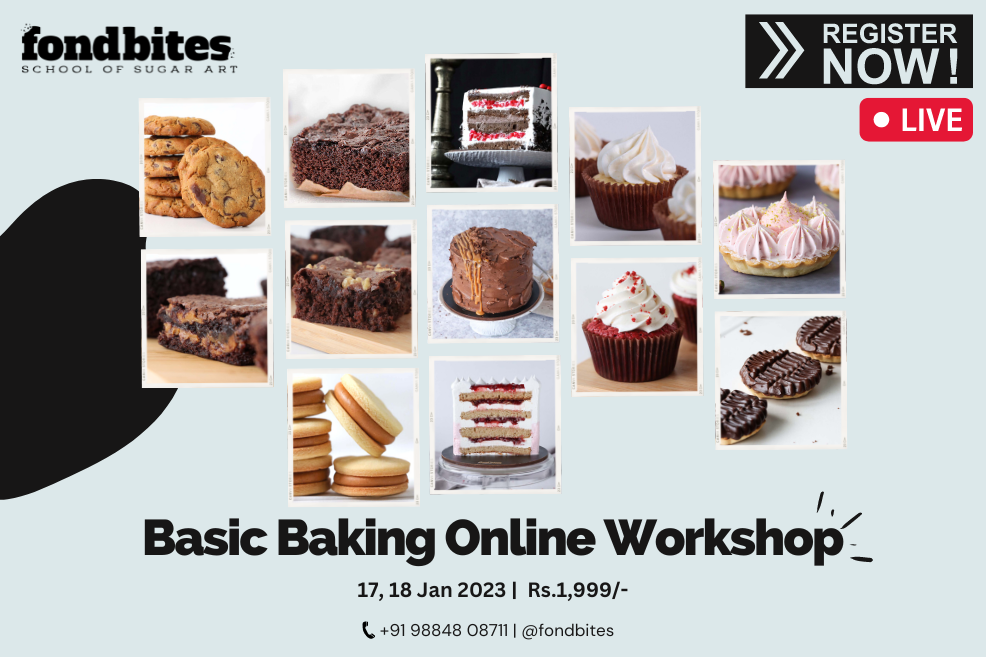 Basic Baking Online Workshop is an extensive online course spread over 2 days through online video lessons including both Egg and Eggless lessons. This will include everything about basic baking and some of the top notch recipes which are tried and tested in Fondbites kitchen. These recipes are being used by hundreds of Fondbites' students in their baking businesses successfully.
The course includes 2 interesting cookies, Butter cookies and chocolate chip cookies in turn making a lot of variations such as cut out cookies, nuts and orange sugar rolled cookies, Alfajores using Dulce de leche, plain and best ever chocolate chip cookies, filled and sandwiched with choco-hazelnut paste and peanut butter.
Brownies included in this course are 3 different kinds on both egg and eggless versions, in total there 6 different brownies. You will also learn the cracked top brownie in both egg and eggless. There is also filled and layered brownies with Dulce de leche and really rich almond brownies. This will give a complete understanding and knowledge about the best seller brownies in the market.
You will then be taught cupcakes. The most sought after sinfully best vanilla cupcakes with 4 different filling variations through coring along with different frosting. Red velvet cupcakes with Fondbites signature cream cheese frosting which you can add to your repertoire.
Tarts are french desserts which are simplified in this workshop. A chocolate caramel tart and pistachio strawberry tart. You will be taught how to make the tart fillings in a simple way and also layer with the right combination of elements to take your tarts to the next level.
As any baker should be equipped to make flavourful layered cakes, there are 3 different kinds of layered cakes which are made in Fondbites way. Strawberry vanilla buttercream cake, Chocolate caramel oil cake and a traditional German Blackforest cake. All of these will include both egg and eggless versions separately.
Take a look at the pictures along with the detailed descriptions of all that you will learn in this 2 days online workshop.
There will be additional business lessons such setting up an online home baking business, fssai, transportation, photography, packaging, pricing including the basics such as the science behind baking.
You will also get a whole load of additional recipes which is included in the list below.
For those who are unable to attend this workshop live, you don't have to worry, the recorded HD video lessons will be available to watch later with LIFETIME ACCESS.
For meeting id and passcode details, visit the same page after enrolling.
Course Introduction
How to Measure Indgredients

26:46
Total Ingredients Quantity Required (Approximate)
Butter Cookies (With Eggs)
Chocolate Chip Cookies (With Eggs)
Chocolate Chip Cookies (Eggless)
Mocha Brownies (With Eggs)
Almond Meal Walnut Brownie
Red Velvet Cupcake (With Eggs)
Red Velvet Cupcake (Eggless)
Vanilla Cupcake (With Eggs)
Vanilla Cupcake (Eggless)
Choco Caramel Tart (With Eggs)
Choco Caramel Tart (Eggless)
Pista Praline Strawberry Tart (With Eggs)
Pista Praline Strawberry Tart (Eggless)
Vanilla Layered Cake (With Eggs)
Vanilla Layered Cake (Eggless)
Choco Caramel Layered Cake (With Eggs)
Choco Caramel Layered Cake (Eggless)
Blackforest Layered Cake (With Eggs)
Blackforest Layered Cake (Eggless)
Your Instructors