Fondbites Online Cake Decorating Master Class
Piping Practices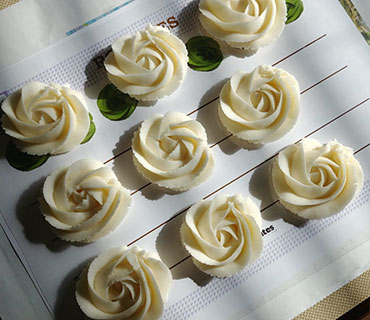 How to prepare a piping bag.
How to fill piping bag with frosting.
Basic piping practices using different nozzles.

Star piping
Raised stars
Plain shells
Ropes
Rosettes
Drop Flowers
Bead Border
Dots piping
Ruffles
Grass
Leaves
Basket weave
Whipped Cream Sharp Edges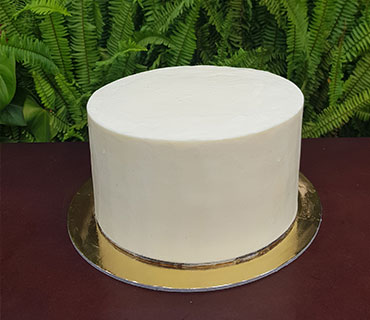 You will learn how to whip up fresh cream to its right consistency.
How to prepare a cake for frosting.
How to fill and frost a cake with whipping cream.
Achieve smooth sides and sharp edges..
Tips and tricks and trouble shooting on working with whipping cream.
Whipped Cream Ruffles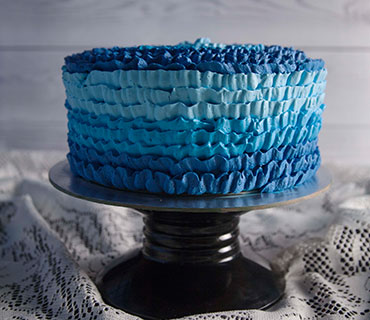 You will learn how to colour whipping cream and make ombre shades
You will learn and do ombre ruffles on a fresh cream cake
Scallop Petals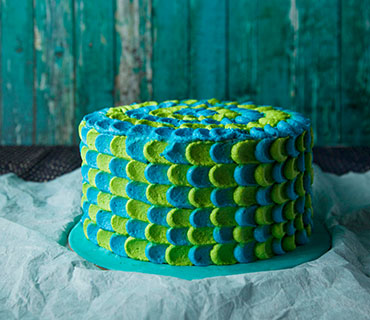 You will learn how to make a dual tone scallop petal cake using whipping cream
Edible Prints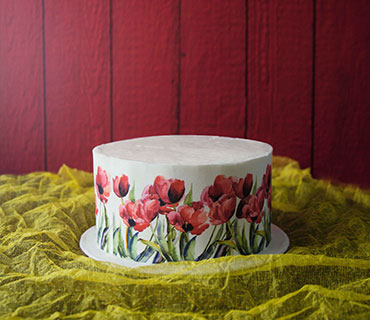 You will learn how to resize the images for your edible prints
How to use the edible print sheets.
How to apply the edible print sheets on your cake.
Finish making a cake covered with edible sugar icing sheet.
Round Ganache Sharp Edges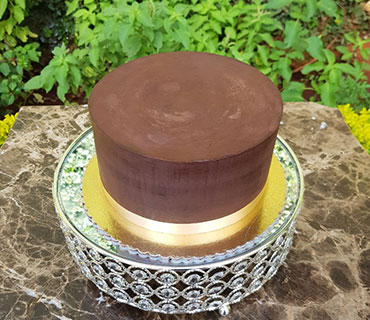 You will learn how to make different types of ganache.
Understand the right consistency and texture of ganache.
How to prepare a cake for ganache.
Latest, no fail method of covering a round cake with ganache with smooth sides and sharp edges.
Square Ganache Sharp Edges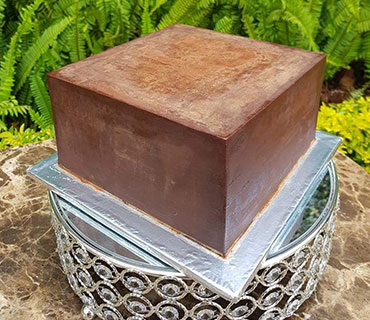 You will learn how to prepare the right way for ganaching a square cake.
Finish making a ganache square cake with crisp sides and sharp corners.
Ganache Double Barrel Cake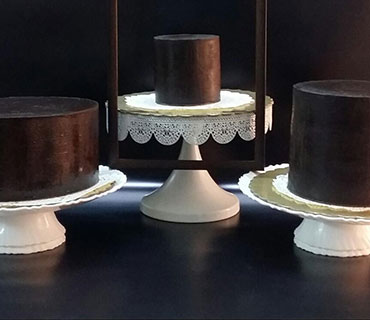 Learn how to handle a double barrel cake.
Ganache a double barrel cake with smooth sides and sharp edges.
Buttercream Sharp Edges
How to make perfect buttercream.
You will learn how to prepare a cake for buttercream frosting.
How to fill and frost a cake with buttercream.
How to achieve smooth sides and sharp edges on a buttercream cake.
Buttercream Palette Knife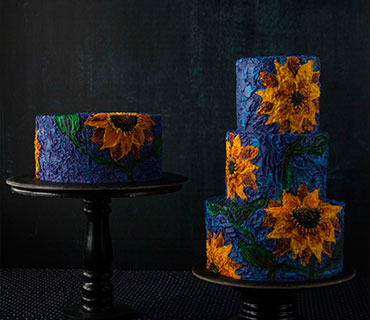 You will learn how to work with palette knife.
Transfer a design/sketch on to a cake.
Create different textures using palette knife.
Using other tools for creating textures.
Working with different color combinations
Combining colors and creating shades
Pointillism on Buttercream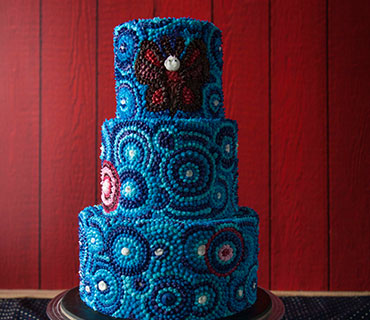 You will learn how to transfer design/sketch on a cake.
Work with multiple colors of buttercream using the pointillism technique.
Create a Pointillism cake using an image of your choice as a reference.
Buttercream Flowers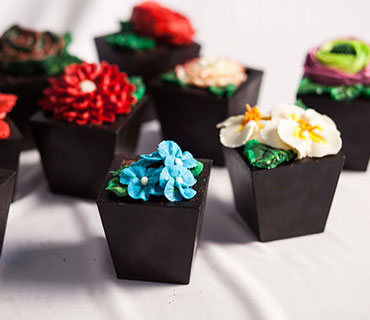 Learn different nozzles used for different flowers.
How to color buttercream to achieve the right shades.
Make 10 different kinds of buttercream flowers.

Frangipani
Hydrangea
Rose
Poinsettia
Dahlia
Lotus
Succulents
Carnation
Ranunculus
Berries
Buttercream Wedding Cake - 3 Tiers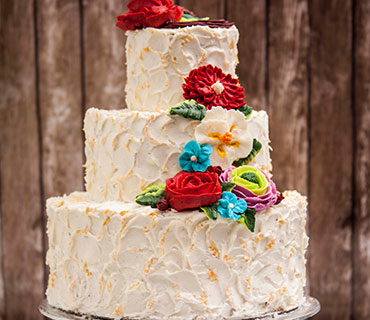 Design the sizes of the tiers.
Prepare the different tiers appropriately.
Use the right technique to stack the cakes.
Assemble the buttercream flowers over the cake.
Make a buttercream wreath.
Finish making a 3 tier buttercream cake with a touch of gold dust.
3D Fondant Themed Cake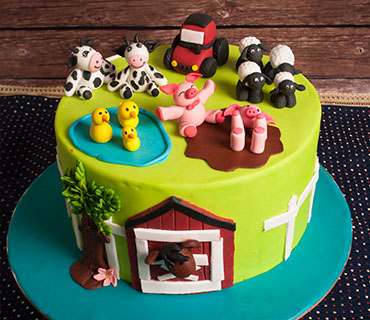 You will learn how to cover a round ganache cake with fondant and achieve sharp edges.
How to color fondant.
How to make modelling paste for working with figurines.
How to hand craft figures such as, sheep, pig, cow, duck, truck and a boy.
Additional elements like the fence, tree, pool etc to complete a party cake.
How to cover a cake board for the final presentation.
2D Square Fondant Cake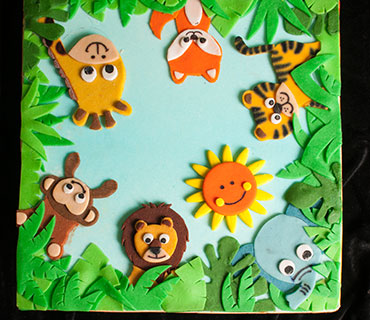 You will learn how to cover a square cake with fondant.
How to achieve sharp edges and crisp corners on fondant.
Make 2D cut outs using templates.
Air brushing a cake.
Painting on a cake.
Make a 2D fondant cake of your choice using custom-made templates.
Wafer Paper Flowers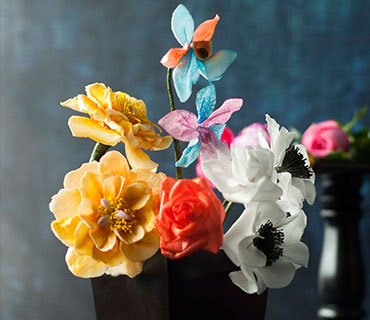 You will learn how to work with wafer papers.
Make 4 different kinds of wafer paper flowers.

Rose
Peony
Orchids
Anemone
Sugar/Gumpaste Flowers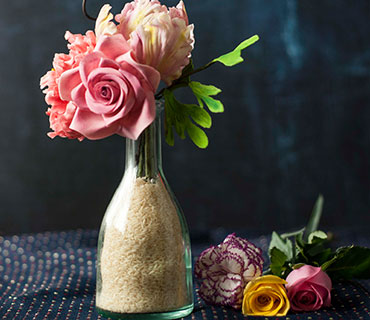 You will learn how to make your own gumpaste at home.
Make 4 different kinds of sugar flowers from scratch.

Rose
Peony
Tulip
Frangipani
Berries
Foliage
Double Barrel Fondant Cake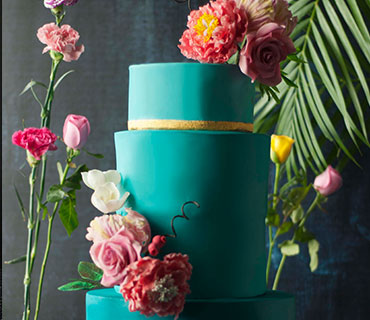 You will learn the paneling method to cover a double barrel cake.
Fondant Wedding Cake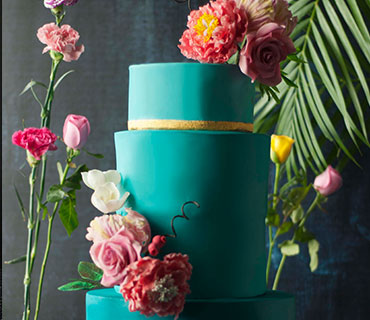 How to stack a 4 tier fondant cake.
No fail dowel and stacking methods.
Make floral spray and arrange the spray on the cake.
Finish making a 4 tier fondant wedding cake.
Additional Trending Techniques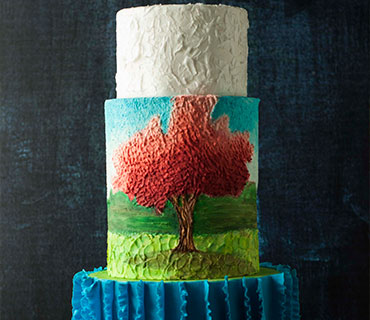 You will have video access to the below techniques
Wafer paper textures
Advanced Ruffles
Stencilling
Royal Icing Texture Painting
Structural 4 Legged Elephant Cake
You will learn how to sketch a structure for a 4 legged elephant cake.
Learn different ways of creating structures.
Work on cake and carve it to the perfect shape.
Ganache the sculpted cake and smooth out to perfection.
Drape the non-geometric cake with fondant with minimum seams.
Finish giving realistic detailing and make a complete structural 4 legged elephant cake.
Online Cake Decorating Masterclass is one of a kind where hand-holding during the entire course is made feasible on e-learning. The session is 6 months long and every aspect of cake decorating, starting from the basics to advanced levels are covered in the course. New lessons will be released on a weekly basis and a week will be given to finish each lesson. All your doubts/ queries will be handled at a personal level with individual attention.
The HD video lessons are for a lifetime access.
24/7 mentor support system in place.
Support given until 100% success on each technique and lesson.
Personal attention and individual progress tracking.
Personalized forte development assistance for each student at the end of the session.
Testimonials
Check out what our students got to say about their experience with our courses
Sessions so far is excellent. Mentors are truly committed and quick responsive to querries.They are encouraging as well as understanding. Subhashini is a great team leader, she knows where to rein in and where to relax, I like the way she manages the whole group, in control but never dominating, no drama and unnecessary flattery, less words more action lady !.Teaching methodology is apt, overall sessions are neatly organised and impressive.
Babitha Vimal UAE
Student
I feel this is the best decision I made. I have attended quite a few classes of other teachers. And they were good. But if there is anything above the best, then it is this online masterclass. Am a very slow learner with a low confidence level but this class never made me feel inferior or never felt left behind as am getting help whenever required. And the best part which I love is encouragement coming not only from the wonderful mentors but also my lovely fellow students.
Tamanna Chatterjee India/Hyderabad
Student
Excellent teaching capabilities of my mentor Subhashini Ramsingh is the best part of the session. Her tolerance level to answering unending questions with patience and passion is the USP of the session. All her recipes are top of the shelf and along with her special teaching techniques I am sure anyone can excel in baking techniques
Annapurna Addanki India/ Chennai
Student
Fondbites Online Cake Decorating Masterclass is a complete hands-on session where I am guided step by step for my best shot at cake decoration. It's amazing to be taught by subhashini maam whose calm and positive approach pushes students to do the best. I am amazed by my improvement towards WC frosted cake with sharp edges learnt through this session.
Arthy Shama Riyadh/Saudi Arabia
Student
One of my best decisions so far has been to join this course. Even though online, but the clarity with which each and every session is explained is amazing. To add to that, 24*7 support from all the mentors is so helpful.
Divya Gupta India/New Delhi
Student
It has been a wonderful experience, never thought an online class would be so great. Round the clock availability of Mentors is like a life support. Attention to details is mind-blowing and pushes us to perfection. It's a long time since I have come across such a vibrant learning experience. Thank you all for your love, care and professional support.
Reshmi Prakash India/Thiruvananthapuram
Student
I have attended so many classes before joining this. But this is undoubtedly the best class I have attended so far. Everything is so well explained. Still if there's any doubt that's instantly solved in the group by our mentors. Moreover we can go back to the videos again and again whenever necessary. The best part is Subhasini mam' s fool proof techniques which we get to learn. Each and every video is laden with so much information and immense learning. I am so greatful to Fondbites for starting this course.
Basabdatta baidya India/Pune
Student
I am very happy that I joined this online decorating course. Being a beginner in baking and decoration of cakes was very afraid of joining any online course but am glad to take decision of joining as getting to learn many new techniques everyday. The video lessons are very detail and clear. Subhashini mam and mentors are very helpful. 24/7 support from mentors is amazing.
Neelam Keswani India/Mumbai(Thane)
Student