FBA2.0 – #7 Karachi Biscuits
November 29, 2021
2021-12-21 22:36
FBA2.0 – #7 Karachi Biscuits
Karachi biscuits have a subtle flavour of custard powder, which is the predominant ingredient in this cookies. The addition of tutti fruiti makes these cookies unique that bursts with flavours combined with the chunky tutti fruiti and the nuts add to the crunch in the cookies.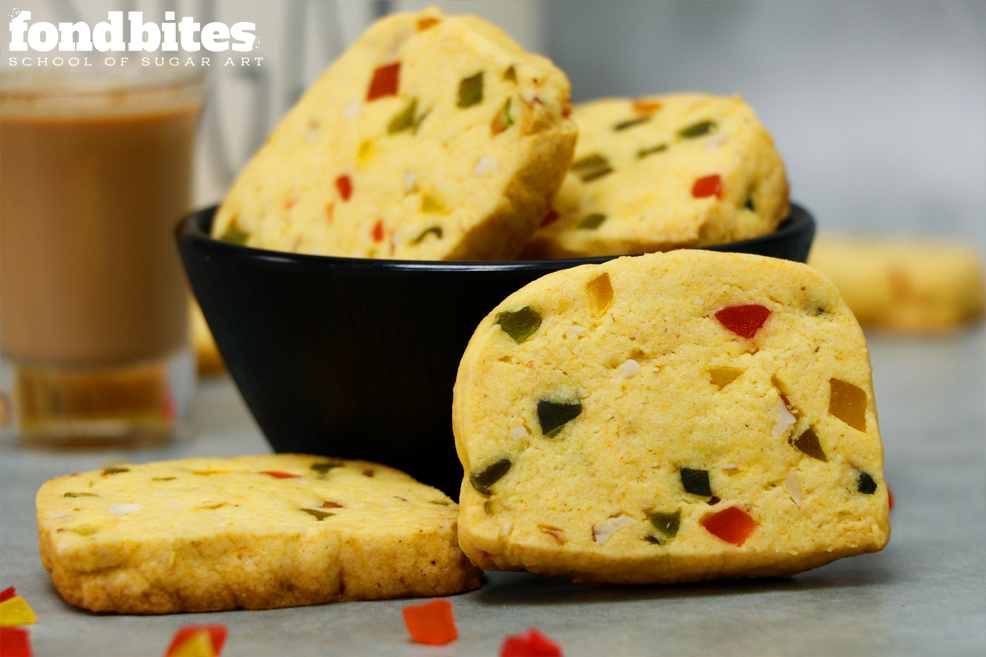 This recipe is made as part of Fondbites bakealong 2.0. This is the fourth recipe in the series. To participate in the Fondbites BakeAlong Baking Marathon, an initiative to encourage buding bakers to bake one recipe every week along with me. To join the Facebook group ( https://www.facebook.com/groups/FondbitesBakeAlong/ ) .  Also follow the Instagram page ( https://www.instagram.com/fondbites/ ) where you can tag fondbites in your stories as you bake along.
Prep time – 20 minutes
Baking time – 18 minutes
Ingredients –
Butter – 30 grams

Granulated sugar – 40 grams

Milk – 15 ml

Vanilla extract – ½ teaspoon

Flour – 60 grams

Custard powder – 10 grams

Salt ¼ tsp

Baking powder – ¼ tsp

Tutti frutti – 40 grams

Nuts – 10 grams
Method:
1.Preheat the oven to 180 degrees celsius. Line up a baking tray with parchment paper or a silicone mat.
2. Sift together flour, custard powder, salt, and baking powder. Set aside
3. Add the butter and sugar to a bowl of your electric beater and beat on medium-high speed for about 5 minutes until the mixture turns pale, light, and fluffy.
4. Add the milk and vanilla extract and beat until the milk is well incorporated.
5. Now add the sifted dry ingredients and fold well using a silicone spatula until fully incorporated.
6. Add the tutti frutti and nuts and fold until combined well.
7. Roll the cookie dough into the shape of a log which is about 2 inches wide.
8. Cover the cookie dough in cling wrap and freeze it for 1 hour.
9. Remove the dough from the freezer and gently remove the cling wrap.
10. Cut the log into slices of 5 centimeters thick each. Lay them on the prepared baking tray with about 2 inches gap in between.
11. Bake in the preheated oven at 180 degrees celsius for about 15 to 18 minutes or until the bottom of the cookies turns golden brown. (The baking time will vary depending on the thickness of the slices you cut, so check the bottom edge of the cookie, it should turn golden brown.
12. Cool on a wire rack. The biscuits are ready to be served/eaten.