FBA2.0 – #6 White Chocolate Orange Brownies
November 17, 2021
2021-11-17 17:48
FBA2.0 – #6 White Chocolate Orange Brownies
These Orange brownies are really delicious, with amazingly pleasant Orange flavor infused from the zest of the fresh Orange. The white chocolate brownies, I usually believe they are the unsung heroes in the world of brownies. They are absolutely delicious and it becomes easier to flavor the brownie the way I have flavored it using the Orange zest, you could do it with any fruit of your choice.
You can also add fresh fruits into the brownies batter for additional texture and the flavor from that .You can play around with different kinds of nuts or dried fruits, depending on your palette. The choice of how you want your brownie to be this recipe is a keeper and my favorite Orange flavor is combined here.
To enjoy these delicious brownies, which will melt in your mouth, go ahead and try this recipe out and do let me know if you liked it and share your experience.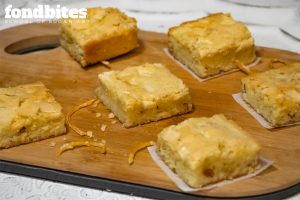 This recipe is made as part of Fondbites bakealong 2.0. This is the fourth recipe in the series. To participate in the Fondbites BakeAlong Baking Marathon, an initiative to encourage buding bakers to bake one recipe every week along with me. To join the Facebook group ( https://www.facebook.com/groups/FondbitesBakeAlong/ ) .  Also follow the Instagram page ( https://www.instagram.com/fondbites/ ) where you can tag fondbites in your stories as you bake along.
Prep time – 20 minutes
Baking time – 25 minutes
Ingredients –
 All-purpose flour – 1/3 cup (50 gms)

Almond meal – 1/4 cup (30 gms)

Salt – 1/4 tsp

Unsalted butter – 1/4 cup (50 gms)

White chocolate – 60 gms

Granulated white sugar – 1/2 cup (110 gms)

Orange zest – 1 tablespoon

Eggs – 2

Vanilla extract – 1/2 tsp

White Chocolate – 60 gms (Chopped into small chunks)
Method:
1.Pre-heat oven to 180°C. Line a 7″ Square Cake ring/pan with aluminum foil and coat with a thin layer of butter. Set aside.
2. Sift together all-purpose flour, almond meal, and salt. Set aside.
3. Double boil butter and white chocolate together until smooth, set aside. Do not overheat.
4. Rub the orange zest and granulated white sugar together until aromatic.
5. Beat the eggs and orange sugar together until light, foamy, and get to a ribbon consistency.
6. Add in the vanilla and beat until combined.
7. Gently pour the butter and white chocolate mixture and beat just until combined.
8. Add the flour mixture and gently fold using a spatula. Do not overfold.
9. Pour the batter into the prepared tin. Add the white chocolate chunks on top of the batter.
10. Bake in the preheated oven at 180°C for 22 to 25 minutes or until the top of the brownies are golden brown and a toothpick inserted into the center of the brownie comes out with wet crumbs or clean. Do not overbake.
11. Cool on a wire rack for 10 minutes. Gently pull out the aluminum foil lining and de-mold the brownies.
12. Cut them into squares. They are ready to serve.