FBA2.0 – #5 Ghost Doughnuts
November 1, 2021
2021-11-02 21:10
FBA2.0 – #5 Ghost Doughnuts
Ghost Doughnuts are delicious, super soft doughnuts which can be shaped in the form of a Ghost to make your Halloween a standout. They just melt in your mouth, extremely soft. This recipe is unique to share with your friends and family.
Learn how to make these crowd pleaser, as it will always be a sellout in any party or dessert table.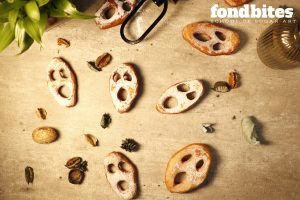 This recipe is made as part of Fondbites bakealong 2.0. This is the fourth recipe in the series. To participate in the Fondbites BakeAlong Baking Marathon, an initiative to encourage buding bakers to bake one recipe every week along with me. To join the Facebook group ( https://www.facebook.com/groups/FondbitesBakeAlong/ ) .  Also follow the Instagram page ( https://www.instagram.com/fondbites/ ) where you can tag fondbites in your stories as you bake along.
Prep time – 2 hours
Frying time – 20 minutes
Ingredients –
Instant yeast – 1 gram or 1/4 teaspoon

Castor sugar – 5 grams or 1 teaspoon (Sugar 1)

Warm water – 10 ml

Milk – 65 grams

Unsalted butter – 15 grams

All purpose flour – 115 grams

Eggs – 20 grams

Castor sugar – 20 grams (Sugar 2)

Salt – 1.5 grams or 1/4 teaspoon
For frying –
For coating –
Chocolate glaze –
Dark chocolate – 100 grams

Dairy cream – 100 grams
Method:
1. Add instant yeast and 5 grams of sugar (Sugar 1) into lukewarm water. Mix well and set it aside for 5 minutes until the yeast gets activated. It will froth up which is the sign that the yeast is getting activated.
2. Heat the milk until it begins to boil. Take it out of flame and add the butter cubes and mix until the butter is melted completely.
3.  Add the all purpose flour in the bowl of your stand mixer. Add in the egg, castor sugar (Sugar 2), salt, milk-butter mixture and the activated yeast.
4. Using a dough hook, beat for about 10 to 15 minutes until the dough separates itself from the sides of the bowl.
5. Do a window pane test to a small portion of the dough and see if the dough stretches well without breaking.
6. Transfer the dough into an oiled bowl and cover it with a damp towel. Set it aside in a warm place for all 30 minutes to 1 hour until the dough doubles in volume. This is the first proving.
7.  Knock the dough to release the air and transfer the dough on your working counter.
8. Flour under the dough and use a rolling pin, roll the dough to 5 mm thickness.
9. Use a circle cutter of diameter 7.5 centimetres to cut out circles from the dough. Use a small sized nozzle and cut out 2 holes for the eyes of the ghost. 
10. Use a bigger sized nozzle and cut out for the mouth and make the hole bigger by gently shaking the nozzle as you cut.
11. Pick up the ghost doughnuts gently and place it over a silicon mat or butter paper. Pull it gently on either side to elongate and give it a further more realistic ghost effect.
12. Allow all the doughnuts to prove for 30 minutes. This is the second proving. It will double in size.
13. Heat oil in a heavy bottom wok or kadai. Wait until the temperature of the oil reaches 180°C
14. Gently fry the doughnuts one by one making sure the oil's temperature is not very high.
15. Do not keep turning the doughnuts often. Fry on each side for about 30 seconds or until it turns golden brown on each side. Flip each side only once.
16. Transfer the doughnuts to a bowl of castor sugar for making sugar coated doughnuts.
17. For glazed doughnuts – Melt the chocolate and cream together. Allow to cool until it reaches room temperature. Glaze one side of the doughnut and rest until the glaze sets well.