FBA2.0 – #3 Date Walnut Loaf
October 21, 2021
2021-10-21 14:03
FBA2.0 – #3 Date Walnut Loaf
Dates and Walnut loaf is a family cake that you can bake it quickly and take it along with you during a travel or serve with coffee or tea during your evening snacks for your entire family. This is a very simple cake, but it's loaded with nuts and dried fruits. In this recipe I have used dates and walnuts. You can replace the dates with any kind of reasons and the walnuts with any nuts of your choice. The dates are soaked with hot tea. However, while using raisins, you can use boiling water in the same ratio and soak it for ten minutes before using that in your cake. The lemon rind used gives a very refreshing, stress flavor to the cake. You can however can replace lemon with orange to have a variation to this cake. Try yours and do let me know how you liked it.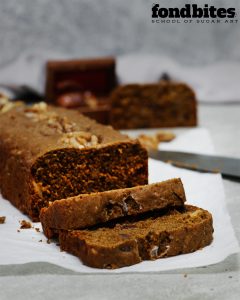 This recipe is made as part of Fondbites bakealong 2.0. This is the third recipe in the series. To participate in the Fondbites BakeAlong Baking Marathon, an initiative to encourage buding bakers to bake one recipe every week along with me. To join the Facebook group ( https://www.facebook.com/groups/FondbitesBakeAlong/ ) .  Also follow the Instagram page ( https://www.instagram.com/fondbites/ ) where you can tag fondbites in your stories as you bake along.
Ingredients –
Hot tea – 1/2 cup

Lemon rind – 1 tablespoon

Baking soda – 1/2 teaspoon

Pitted dates – 1/2 cup, chopped

Unsalted butter – 3 tablespoons

Light brown sugar – 1/3 cup, powdered

Egg – 1

All-purpose flour – 1 cup

Baking powder – 1 teaspoon

Salt – 1/4 teaspoon

Walnuts – 1/4 cup, chopped

Whole walnuts – 6 no.s
Method:
1. Pre-heat oven to 180° Celcius.
2. Butter a loaf pan of size 7″ by 4″. Line with butter paper on the bottom and sides.
3. Add lemon rind, baking soda, and dates in a bowl, pour the hot tea, and allow to soak for 10 minutes.
4. Sift all-purpose flour, baking powder, and salt together. Set aside.
5. Add butter and sugar to the bowl of your electric beater. Beat for about 5 minutes at medium-high speed until the butter becomes pale, light, and fluffy.
6. Add the egg and beat on medium speed for 1 minute until the egg gets incorporated well.
7. Add the flour mixture and beat just until incorporated. Do not overbeat.
8. Add the chopped walnuts and fold them with the spatula.
9. Transfer the batter into the prepared loaf pan. Level the top.
10. Add the whole walnuts on the top and press it gently.
11. Bake in the preheated oven for about 25 – 30 minutes until a toothpick inserted into the center of the cake comes out clean.
12. Cool on a wire rack for 15 minutes. Remove from the loaf pan and cut into slices to serve.