FBA2.0 – #2 Shortbread Thumbprint Cookies
October 12, 2021
2021-10-15 13:43
FBA2.0 – #2 Shortbread Thumbprint Cookies
FBA2.0 – #2 Shortbread Thumbprint Cookies
Thumbprint Shortbread cookies are melt in mouth with a tinge of the flavor from the jam that is used in the cookie. In the video I have also shown two more variations where you can bake the shortbread cookies without any other additions like the jam and the thumbprint cookies. The butter flavor is the most important one in the thumbprint in the shortbread cookies and also using the right vanilla is very important. Make sure to choose the real vanilla extract in this recipe, you could avoid the vanilla itself if using artificial ones so you can enjoy the true flavor of the butter in the melt in the mouth shortbread cookies.
The last variation is the one in which the shortbread cookies are duped in melted chocolate, which will be an added attraction if you are serving the cookies to kids. Do watch the video to understand the complete process.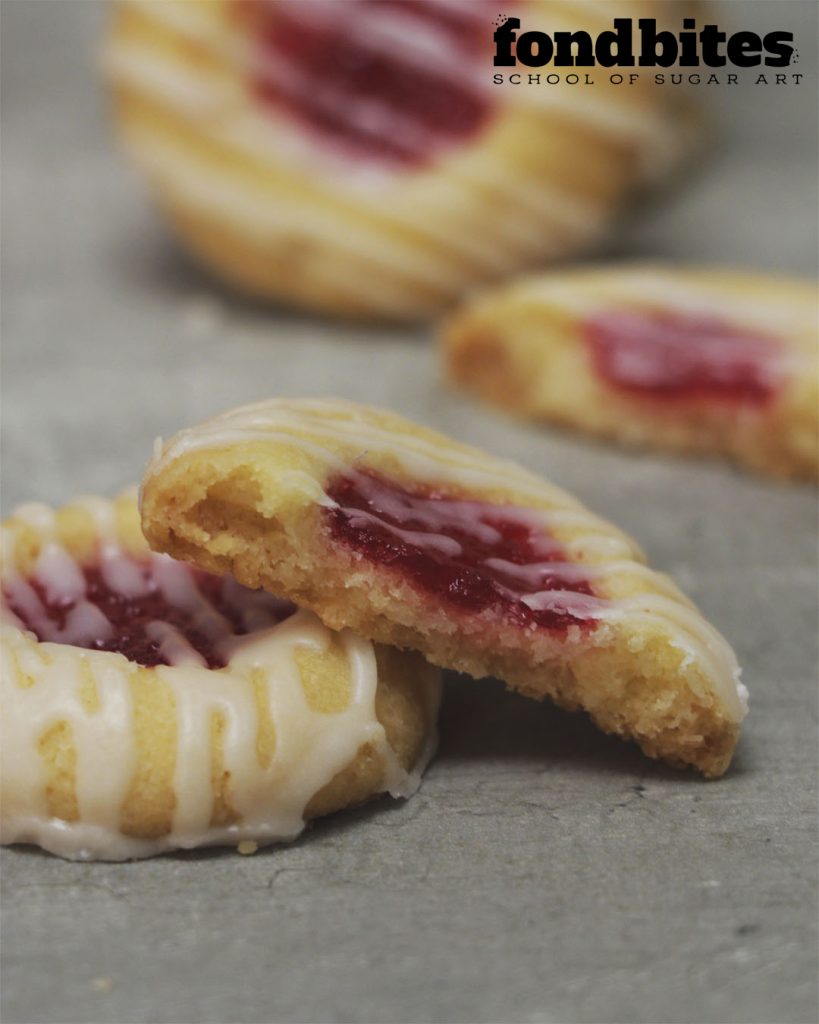 This recipe is made as part of Fondbites bakealong 2.0. This is the second recipe in the series. To participate in the Fondbites BakeAlong Baking Marathon, an initiative to encourage buding bakers to bake one recipe every week along with me. To join the Facebook group ( https://www.facebook.com/groups/FondbitesBakeAlong/ ) .  Also follow the Instagram page ( https://www.instagram.com/fondbites/ ) where you can tag fondbites in your stories as you bake along.
Prep time – 15 minutes
Baking time – 12 minutes
Total time – 27 minutes
Ingredients –
Unsalted Butter – 65 GM's

Icing sugar –  30 gms, sifted

Vanilla extract – 1/4 TSP

All-purpose flour – 90 GM's

Salt – 1/4 TSP

Jam (any flavor) – 1/3 cup
Method:
1. Pre-heat your oven 180°C. Line a baking tray with parchment paper or a silicone mat. Set aside.
2. Sift together all-purpose flour and salt. Set aside.
3. Soften up the jam with a spoon and fill it in a piping bag. Set aside.
4. Add butter to the bowl of your electric beater. Beat until light.
5. Add icing sugar into the bowl and beat on medium speed until it becomes creamy, pale, and fluffy.
6. Add the vanilla extract and beat until combined.
7. Add the flour and fold with a silicone spatula. Then beat on medium speed until just combined. Do not overbeat.
8. Transfer the dough to your working counter. Make balls of about 1″ diameter and place them on the prepared baking tray spacing each ball about 3″ apart.
9. Use your thumb and gently make an imprint on top of each cookie dough ball. Ensure to seal the cracks if any.
10. Pipe the jam in the thumbprint impression of each cookie.
11. Bake the cookies in the oven at 180° C for about 10 to 12 minutes until the bottom of the cookie turns golden brown.
12. Cool on a wire rack for 10 minutes before serving