About This Course


Fondant Wedding Cake Online Course
Fondant Wedding Cake Online Course
Meeting Password : 320717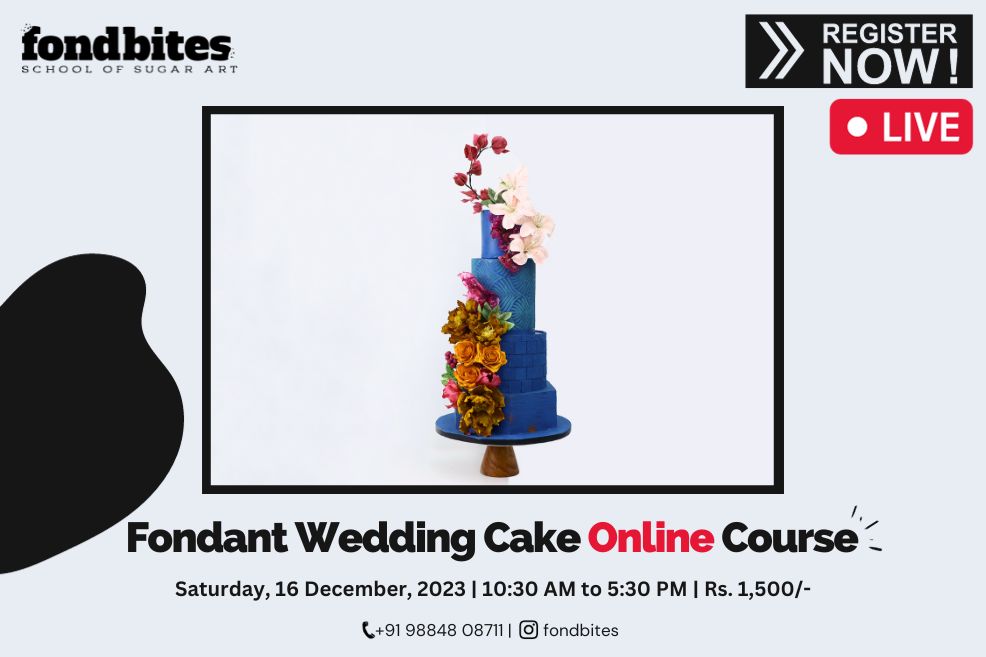 Embark on a journey to master the art of creating stunning wedding cakes with our Fondant Wedding Cake Online Course. Wedding cakes hold a special place in every cake artist's repertoire, and this course is designed to elevate your skills to new heights. Learn to craft a magnificent 4-tier wedding cake adorned with various techniques and embellished with exquisite sugar and wafer paper flowers.
What You'll Master:
Perfect Ganaching: Learn the art of ganaching a round cake with sharp edges, creating the ideal canvas for your wedding cake masterpiece.

Double Barrel Elegance: Explore the intricacies of ganaching a double barrel cake, mastering the technique for a flawless finish.

Draping with Precision: Drape a cake with Fondant and achieve sharp edges, adding a touch of sophistication to your wedding cake design.

Fondant Lace Tiles: Unleash your creativity with Fondant lace tiles, enhancing the visual appeal of your wedding cake.

Royal Icing Stencil: Master the delicate art of royal icing stenciling, adding intricate patterns to elevate your cake's aesthetic.

Rough Stone Texture: Create a rustic charm with a rough stone texture, providing a unique and trendy element to your wedding cake.

Marble Effect on Fondant: Explore the elegance of marble with a Fondant marble effect, giving your cake a modern and luxurious twist.

Gumpaste Flowers: Craft beautiful gumpaste flowers, including the classic rose and the elegant peony, adding a touch of nature's beauty to your creation.

Wafer Paper Wonders: Dive into the art of wafer paper flowers, creating stunning lily and Bougainville blooms to adorn your wedding cake.

Hexagon Dummy Draping: Learn to drape a hexagon dummy with Fondant, expanding your cake design possibilities.

Stacking Mastery: Acquire the skills to confidently stack a 4-tier Fondant cake, which includes a double barrel, ensuring stability and visual appeal.

Finishing Touches and Tips: Add the finishing touches to your masterpiece with valuable tips and tricks, ensuring perfection in every detail.
Why Choose Our Online Course:
Designed for You: Tailored specifically for bakers who find whipped cream stacking intimidating, this course simplifies the process with step-by-step guidance.

Interactive Learning: Engage with fellow participants in live sessions, Q&A forums, and discussions to enhance your understanding and skills.

Lifetime Access: Enjoy unlimited access to the course content, allowing you to revisit and refine your techniques at your own pace.

Support: Enjoy 2 weeks of WhatsApp support after the class, where you can try these techniques at home and master your wedding cake with guidance from our experts.
Seize this golden opportunity to become a master of Fondant wedding cakes. Enroll now in the Fondant Wedding Cake Online Course and embark on a journey to create wedding cakes that are not just desserts but timeless pieces of art for those special moments.
For meeting id and passcode details, visit the same page after enrolling.
This live session will be recorded and will be made available to all the students to watch later with LIFETIME access.
Material Includes
Course Date :

16 December 2023

Timings :

10:30 AM to 5:30 PM

Mode :

Online
Your Instructors