About This Course


Desserts in a Box Online Course
Desserts in a Box Online Course
Meeting Password : 853588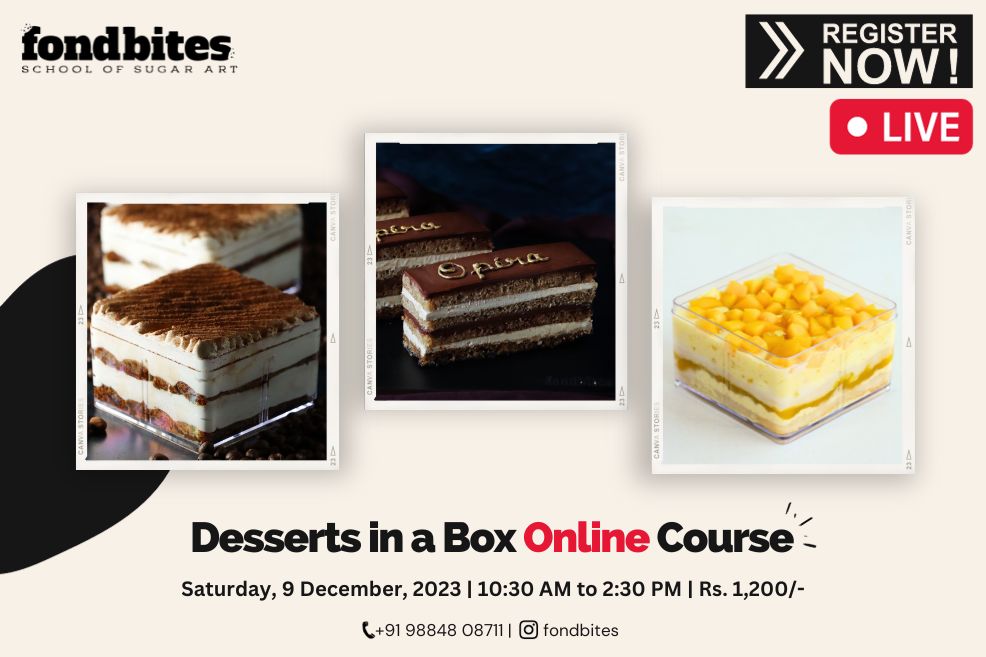 Indulge your sweet tooth and elevate your dessert crafting skills with our Desserts in a Box Online Course. Unleash your creativity as you learn to assemble three delectable desserts and artfully layer them in a see-through dessert box. Get ready to master the intricate creations of Opera, Tiramisu, and Mango Coconut, Cake adding a touch of sweet sophistication to your culinary repertoire.
What You'll Master:
Opera Perfection: Dive into the world of Opera, mastering each layer to create a symphony of flavors that captivate the senses.

Tiramisu Mastery: Unlock the secrets of the classic Tiramisu, balancing the rich notes of coffee-soaked ladyfingers with the velvety goodness of mascarpone cream.

Mango Coconut Cake Bliss: Explore the exotic fusion of Mango Coconut, creating a tropical delight that adds a refreshing twist to your dessert box.

Layering Expertise: Discover the art of layering as you assemble and present each dessert in a see-through box, creating a visual masterpiece.
Why Choose Our Online Course:
Learn from the comfort of your home with our user-friendly online platform.
Elevate your baking skills with personalized guidance from our expert instructor.
Receive a comprehensive booklet with both egg and eggless recipes to broaden your baking horizons.
Exclusive access to our online community for discussions and support.
Enjoy 2 weeks of WhatsApp support after the class, where you can try these recipes at home and perfect your desserts with guidance from our experts.
Don't Miss Out!
Seize this opportunity to master the art of savory baking and introduce a new dimension to your culinary offerings. Enroll in the Online Savory Baking Mastery course now and start creating delectable savory delights that will set you apart in the world of culinary excellence.
For meeting id and passcode details, visit the same page after enrolling.
This live session will be recorded and will be made available to all the students to watch later with LIFETIME acces.
Have a look at each of the course items.
Material Includes
Course Date :

9 Dec 2023

Timings :

10:30 AM to 2:30 PM

Mode :

Online
Your Instructors