About This Course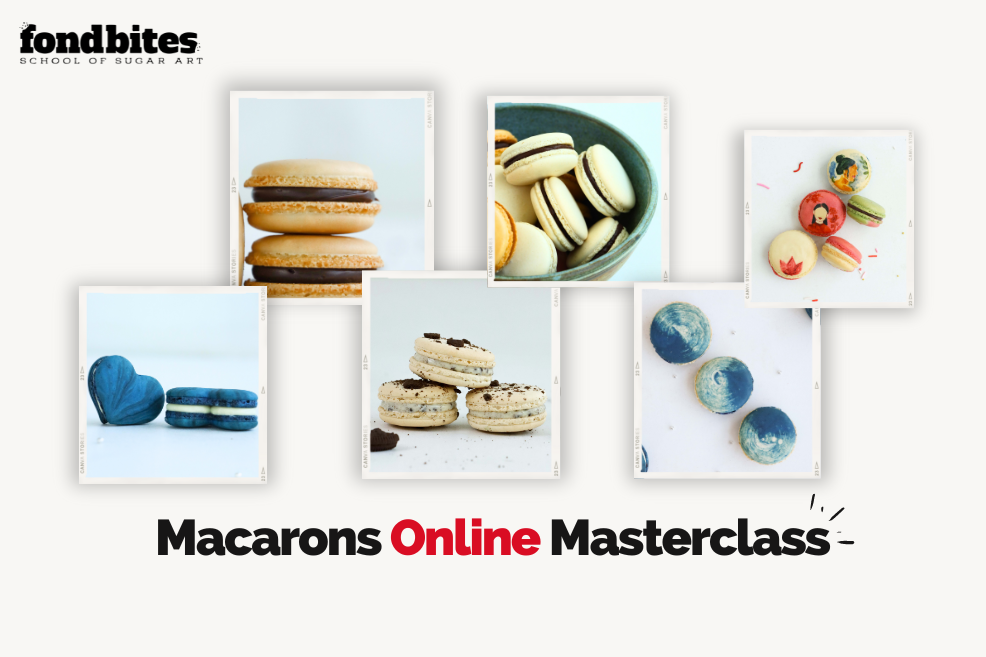 Calling all baking enthusiasts and macaron lovers! Get ready for an amazing one-day online Macaron Master Class, where you'll explore the delicious world of macarons in three delightful variations: classic French, traditional Italian, and a mouthwatering eggless option. Hosted by the renowned Subhashini Ramsingh & chef team, this virtual class is all about enhancing your baking skills and treating your taste buds from the comfort of your home.
Throughout this engaging online workshop, you'll learn how to create not just one, but three different styles of macarons, all through easy-to-follow virtual demonstrations. Our team of skilled chefs from Fondbites will guide you through each step, ensuring that you can grasp and enjoy the uniqueness of each type, right on your screen.
We'll start by showing you how to make the famous French macarons. These ones have delicate shells and yummy fillings. Our experts will guide you through making the perfect meringue, shaping the shells, and filling them just right for a burst of flavors, all while you follow along from your own kitchen.
Then, we'll move on to the Italian macarons. These are known for their chewy texture and rich fillings. Our chefs will share the secrets of making the special Italian meringue, mixing in almond flour, and getting that ideal chewiness that makes these macarons unforgettable, and you'll be able to see every step up close on your device.
But that's not all – we're also going to teach you how to make eggless macarons, perfect for those with dietary preferences or restrictions. You'll discover how to make these macarons without eggs, keeping the amazing flavor, texture, and look that make macarons so special, all while following our clear instructions online.
As your macarons take shape, our chefs will demonstrate how to create a variety of delicious fillings through the virtual platform. From creamy ganaches to fruity delights, you'll learn how to pair fillings perfectly with each type of macaron, making your creations even more delightful, and you'll have a front-row seat to the process.
This Macarons Master Class is designed for all levels of experience, so whether you're just starting or you're a baking pro, you'll fit right into the online learning environment. Plus, here's something exciting: the online session will be recorded, giving you access to it for a lifetime, so you can revisit the class whenever you'd like. We'll also provide you with all the recipes for the different types of macarons, so you can keep practicing and impressing your friends and family with your virtual baking skills.
Don't miss out on this fantastic opportunity to master the art of macarons in three delicious styles – classic French, traditional Italian, and tempting eggless – all from the comfort of your home. The recipes of the macarons and all the fillings will be provided.
Filling details : 
Painting on Macarons – The Macaron Master Class will also include a special focus on the art of painting on macarons. Participants will have the opportunity to explore a variety of techniques that will help them achieve flawless and visually stunning painted finishes.
Different type of macarons
Brief up of Italian & Eggless Macarons

33:30
Different types of fillings
Your Instructors