Bake Along #8 – No Knead Soft Cinnamon Rolls (Eggless) – Pioneer Woman's Recipe
January 23, 2020
2021-08-09 16:39
Bake Along #8 – No Knead Soft Cinnamon Rolls (Eggless) – Pioneer Woman's Recipe
Bake Along #8 – No Knead Soft Cinnamon Rolls (Eggless) – Pioneer Woman's Recipe
Yeast is a beast that most of us would want to beat it. I really had yeastophobia few months back and it was a tough fight to understand the chemistry but I should also agree I still have not mastered it 100%. There is a long way to go in the journey of yeast and I have just begun.
To bake along with my group and to begin with not so complicated yeast recipe, I had to choose this easy no knead cinnamon rolls. Pioneer Woman's recipe is still being so popular for the way she has done to add yeast and make it less effort of not any kneading, still the most fluffliest of all buns with addition of baking powder and soda in yeast baking.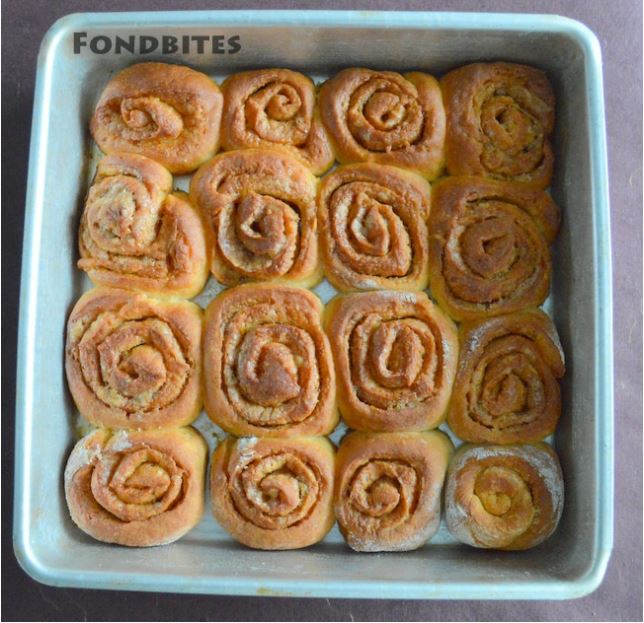 To brief up the process milk, oil and sugar are warmed up and then cooled down to lukewarm. Yeast and flour are added to the lukewarm liquid mixture and mixed well. This is a very sticky mixture, but its not kneaded now, but let to prove for about an hour or an hour and a half. Another quarter cup of flour is adding after the first prooving along with baking powder and soda and kneaded just until incorporated. At this stage again the dough is sticky. But we are ready to work with it. To avoid hazzles of working with a sticky dough, we need to refrigerate the dough giving it space to double again. Refrigeration can be between few hours to overnight. Once dough is firm enough, it is rolled into a rectangular sheet of 2 cms thickness. Filling for traditional cinnamon roll is cinnamon powder, sugar and butter. The rectangular dough is brushed with the filling, rolled out and cut into number of slices depending on the length of the roll. I got about 16 rolls. Those who are not a fan of cinnamon could fill it with butter plus grated garlic and chopped corriander leaves, for a savory variation. You can also make other fillings of your choice like a chocolate ganache, nutella, choco chips, jam and the creative list goes on. Savories can also be any depending on what you like the roll to be eaten with. But again I insist, cinnamon rolls are addictive.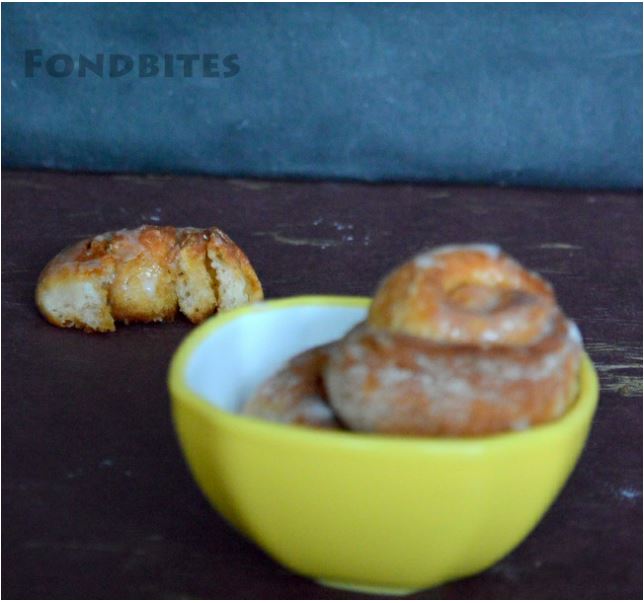 I have quartered the recipe, as pioneer woman's recipe gives you a lot of rolls.
Ingredients:
Milk – 1 cup
Sugar – 1/4 cup
Vegetable oil or any oil used for cooking – 1/4 cup
Active Dry Yeast – 1 1/4 teaspoons
All Purpose Flour – 2 cups (plus 1/4 cup – to be used at a later stage)
Baking powder – 1/4 teaspoon
Baking soda – 1/4 teaspoon
Salt – 3/4 teaspoon
Filling:
Cinnamon powder – 1 teaspoon
Soft Brown sugar or granulated white sugar – 3 tablespoons
Unsalted butter – 2 tablespoons, melted and cooled
Method
1.Butter an 8 or 9 inch square pan/ two 8 inch round pans with butter. In a saucepan mix together milk, oil and sugar. Bring to boil and take it off heat. Let cool down to luke warm. You have to make sure the milk mixture is lukewarm. If the milk is very hot, or at room temperature yeast might not start reacting. So ensure the milk is lukewarm. Add yeast and 2 cups of flour and mix well with a wooden spoon until everything is mixed well. It will be a sticky dough. Cover with a towel or cling wrap and place it in a moderately warm place and let it rest to double in size for about an hour or an hour and a half.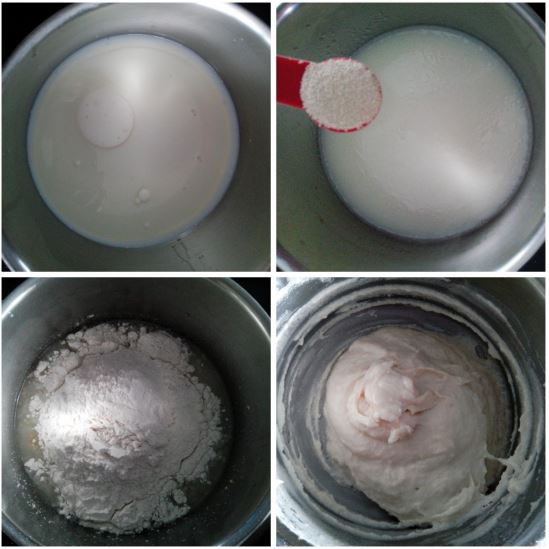 2. Sift together the 1/4 cup flour, baking powder and baking soda. Once the dough has doubled in volume, punch it down with your fist. Add the flour mixture and knead well until the flour has been incoporated. You can now refrigerate the dough until it firms up a bit, for an hour or so. Or you can also refrigerate overnight. Once dough is firm, flour your work surface and make a nice ball out of the dough, flatten it to a rectangle roughly and start rolling. Make a rectangle of thickness not less than 2 cms. Brush the top with the melted butter.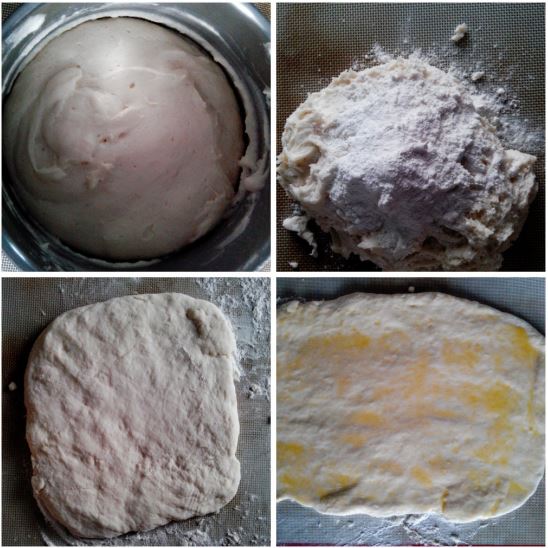 3. Mix together sugar and cinnamon powder. Spread it all over the top of the buttered dough. Start rolling from the long side carefully and finish rolling the whole dough.

4. Use a knife to cut the large roll into 16 smaller rolls. Place them carefully in the buttered pan with the cut edges facing top/bottom. Let it rise for about 30 minutes until it proves for the second time. During the last 10 minutes of this proving, pre-heat oven to 175 degree C. Then bake in oven for about 25 minutes until the top is golden brown. Remove from oven and cool on wire rack.

For Glaze:
Icing sugar – 1/2 cup
Milk – 3 teaspoons
Vanilla extract – 1/4 teaspoon
Optional flavours: cocoa powder/instant coffee powder/zest of orange/lemon/honey/golden syrup/ – 1 tablespoons.You can add any of the mentioned optional flavours.
Mix all of the ingredients mentioned on the glaze and pour it over the cinnamon rolls while they are still in the pan.Give the glaze some time to set and they are ready to be gulped.