Bake Along #43 – Motichoor Kesar Gulab Cheesecake
February 27, 2020
2021-09-04 18:14
Bake Along #43 – Motichoor Kesar Gulab Cheesecake
Bake Along #43 – Motichoor Kesar Gulab Cheesecake
This seems very dreamy and so fascinating. Isn't it ?!? Motichoor as the base, Kesar Cheesecake with Gulab glaze. How Indian can this get ? It feels so fresh to me.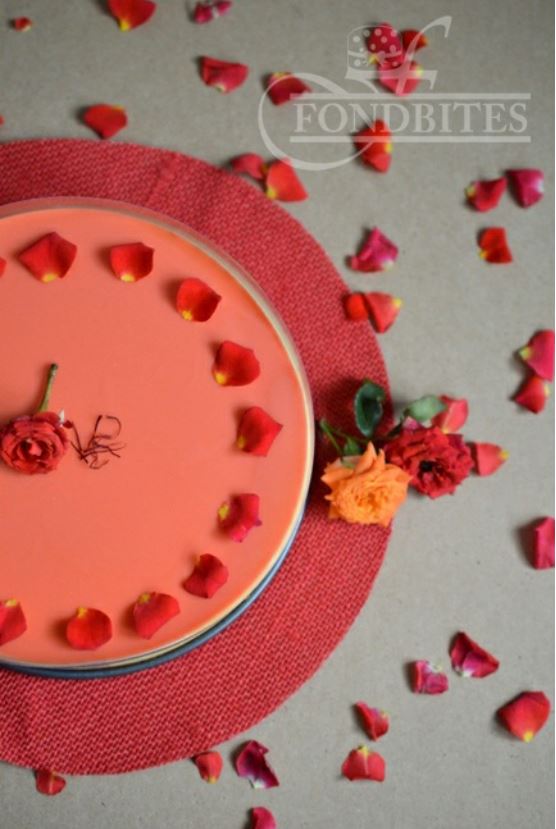 And so to brief up, we were having some fun time discussing how to incorporate Indian flavours into the western desserts and the bubbling enthusiasts of Bake Along, have actively participated and I just had to pick up one with an instinct of being able to make it. There were quite a number of responses which were mind blowing, but today we have Faiza Hakim from Bakelicious whose entry was just conceptualized for this week. Thanks to every one who came up with amazing entries and kudos to Faiza.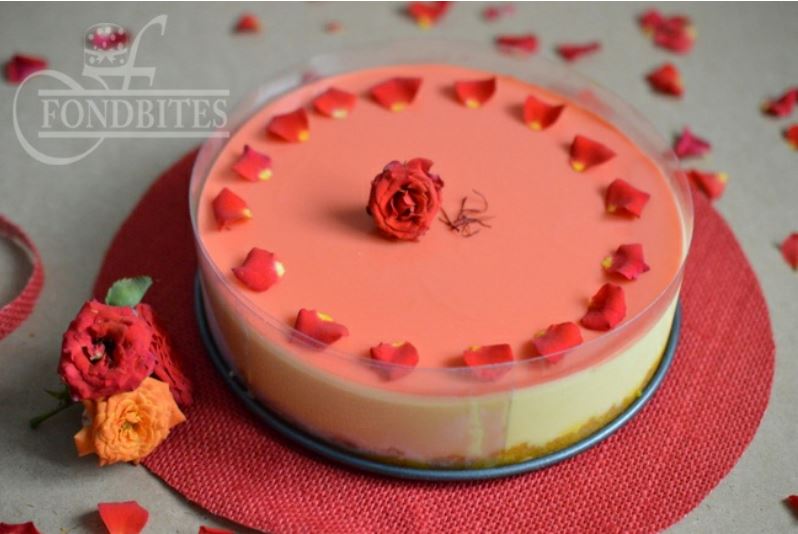 Faiza tells us about herself and her baking journey
"All good things about food was my first love. Sneak peak inside my mum's kitchen was habitual (she is an awesome cook ). I didn't get a chance to venture in her kitchen due to academics except baking part as mom didn't knew but knew basics as I used to watch Khana Khazana with mom and I had to do write ups for her recipes (lol)and till date it's with me. Those were my precious moments. I finished my fashion technology degree and as typical Indian family girl got married to a lovely foodie Gharana(who till date loves to eat in restaurant ).
Here comes a pivotal role of my life. I couldn't take outside food everyday. Finally decided to pull up my sleeves and step into my kitchen. Only thing I knew by heart is to make pizza . The very next day I called up my mom and asked her to courier the diary recipes(wish had internet during those days ). There started my journey into the world of cooking, baking, grilling and loads of appreciation and love. No looking back since then. Enjoying every single moment of it. A worried mum for my kids dabba, motivated me to do innovative stuffs. Word spread though their friends and teacher. So I started bake sales in schools and colleges.
Never did I attend any baking workshops. Every time I have a recipe in my hand, the trial starts the same day. I write down the outcome of the recipe the same day. After many repeated requests from friends and kids, last year I started with my new venture, practical baking sessions and orders. Bakelicious Baking Studio. It was a small dream come true. Thanks to my hubby for being there for me always and giving a nod for my dream. Recently got into cake decorating highly motivated by Hbg which has become my Passion. Just enjoying every moment of life as it comes. Four highly motivated things, baking as a passion has thought me. 4 P's Patience ,practical, perseverance,programmed !!! "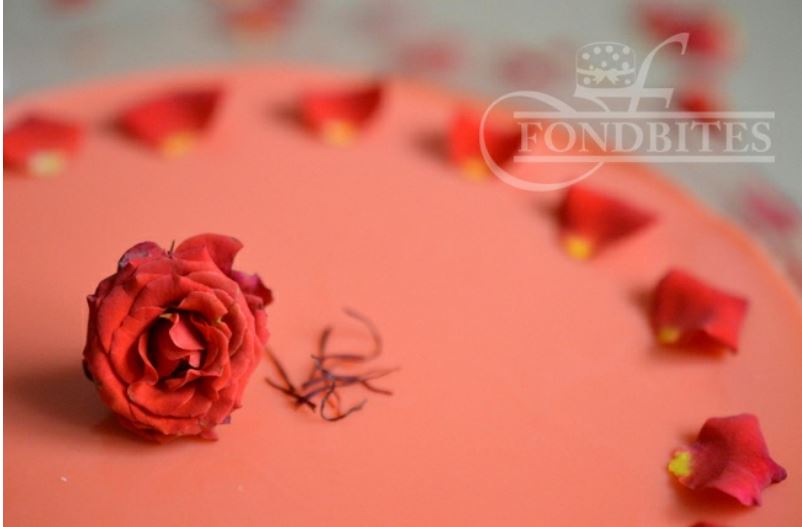 The flavour was a nice blend while motichoor was a perfect base. As my preference of having smooth desserts, I just filtered the saffron from the milk after soaking it for the flavour and it just worked great for me. And I also added some thick coconut milk into the cheese cake which made it really rich. It was apt sweetness for any dessert that needs asking for another extra slice and no extra added sugar, just the condensed milk is doing the trick.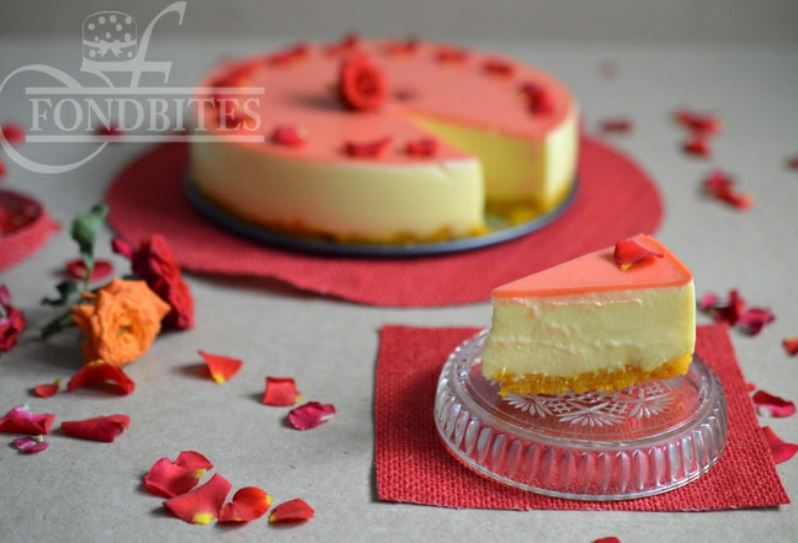 I had an idea of making gulab glaze using fresh rose petals. But the roses I had were not the perfect ones used for edible purposes or they never had any aroma of what a rose should have. So they just got ready to decorate the garden, where I decided to pick up some Gulkhand when I took saffron from the store. That was the right choice actually, it made the job much simpler and gave that perfect flavour. And I again decided to drain off the petals from the gulkhand.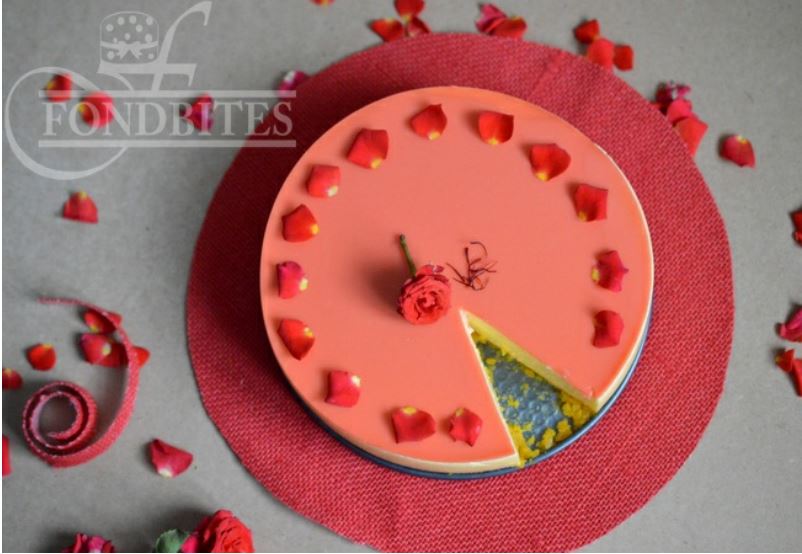 Saffron layer of cheese cake is just the natural colour of saffron, but just to enhance the contrast of the glaze I decided to add few drops of pink food colouring. And damn I used the same mesh in which I filtered the saffron to filter the gulkhand petals too and that's the accidental peach shade and oh my!! I'm so in love with this shade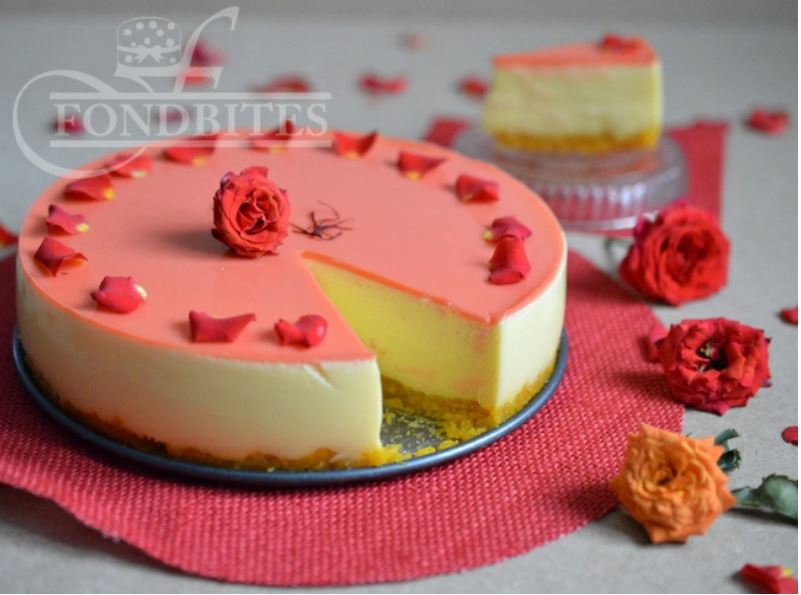 I just had to drag the story so long because I had so many nice pictures to show you all and we come to the end, I mean actually the beginning so here we go!
Ingredients:
For the base:
Motichoor Laddu – 5 laddus / balls
For Cheesecake:
Cream cheese – 180 gms
Condensed milk – 200 ml
Dairy fresh cream – 200 ml
Thick coconut milk – 1/2 cup
Warm milk – 1/4 cup
Saffron strands – a big pinch, ( depends on how strong you like the flavour)
Gelatin – 2 tablespoons / Veg gelatin powder – 4 tablespoons / China grass strands – 15 gms
Water – 1/2 cup
For Glaze:
Gelatin – 1 tablespoon/ Veg gelatin powder – 2 tablespoons / China grass strands – 8 gms
Water – 1/2 cup
Gulkhand – 20 gms
Dairy fresh cream – 20 gms
Pink food colouring – 3 drops, Optional
Method:
1. If you have a spring form pan, you can use it. Even if not, you can use the mousse strips or just get hold of acetate sheets from stationary shops to set up the cheese cake. I have lined the spring form pan's base with a cut out round shaped piece of acetate sheet. To the sides, I have used the ready made mousse strips. If you do not have one, you can cut the acetate sheets and you can attach them with tapes for the desired length. Measure exactly for the diameter of the base and stick the strip and place them secured into the pan. You can see the strip is not actually touching the sides of the pan and that is perfectly alright.
If you don't have this kind of pan, you can use a plate/cake board as the base and line the same with the acetate sheet and use the acetate strips around for the sides. Only additional thing you might have to do is to tape the strip to the base on all four sides to secure them in place without moving while filling them with the motichoor.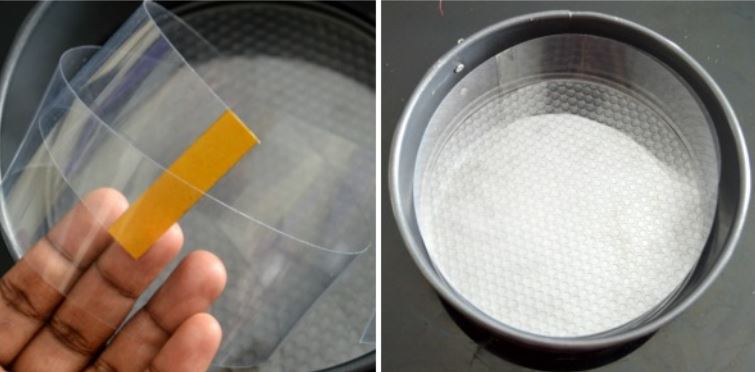 2. To the warm milk, add saffron strands and let it soak for 15 to 30 minutes.
3. Add cream cheese in a bowl and pour condensed milk, fresh cream, coconut milk into it and beat them all together until smooth. This might take just about few seconds.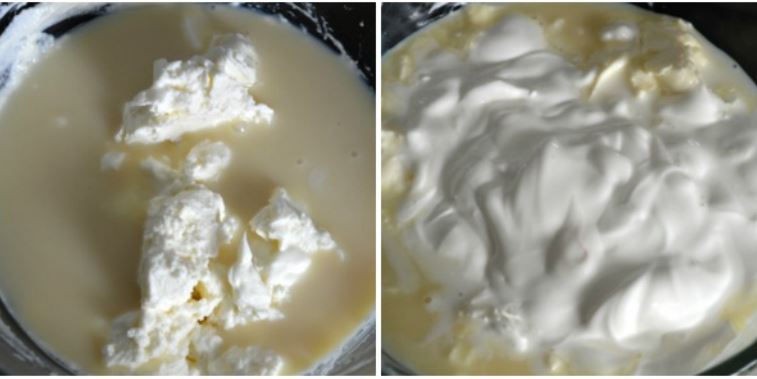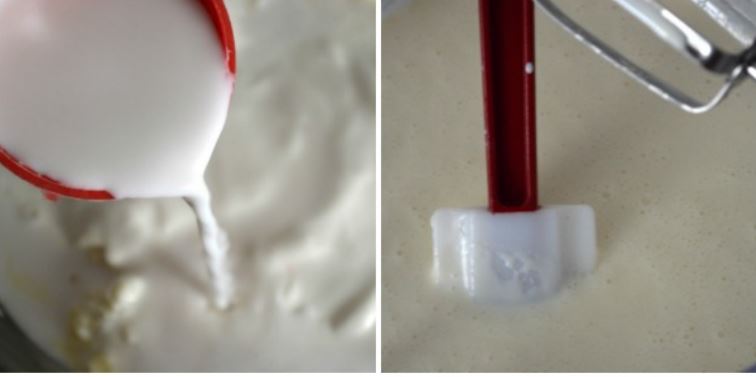 4. In a bowl add water and gelatin and mix well. Let it bloom for 5 minutes and then microwave for one minute until the gelatin mixture is completely clear.

5. Filter the saffron soaking milk and add it into the cream cheese mixture. To that, add the gelatin mixture and mix well gently with your spatula until everything mixes well.

6. To the prepared pan, add the motichoor. Break them and firmly press them to the base making sure the sides are sealed well. Level them as much possible.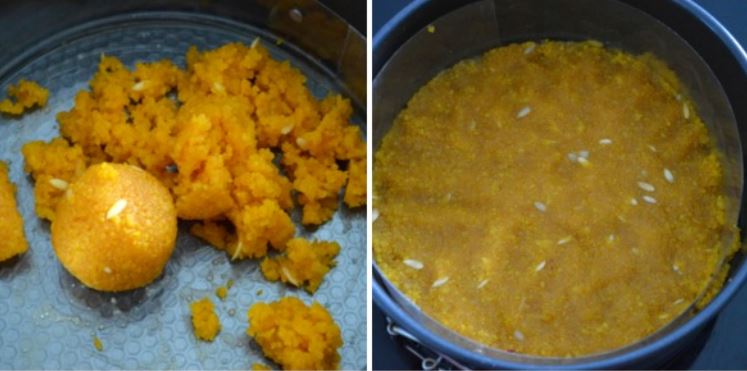 7. Pour the cream cheese mixture until it reaches to a level on top of which you have space to cover with the glaze. If you have left over cream cheese mixture, you could use them to set up in shot classes or bowls. Now place the pan with the cheese cake mixture into the freezer for 30 minutes until firm or wobbly to touch and not sticky.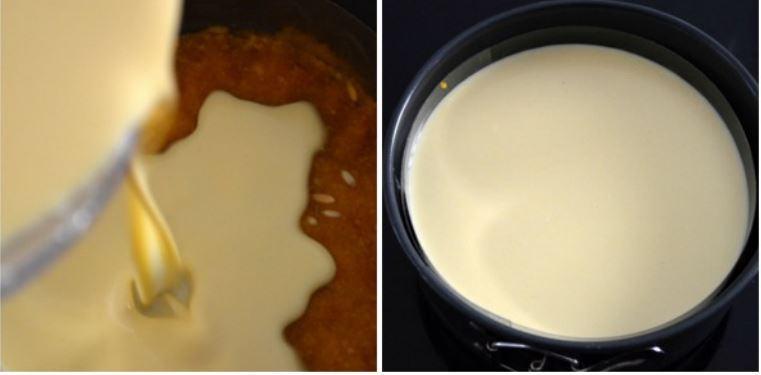 8. Here comes the crucial part of making the cake velvety. Keep your lined muffin pans ready to be filled with the batter and also check for your oven if its almost pre-heated. Because once after this step you might have to immediately fill your muffin pans and pop them into the oven. The batter starts to cook once after the addition of baking soda and the vinegar. Enough gyan, coming to the point.
In a bowl add the baking soda. Pour the vinegar and stir immediately as you see it frizz.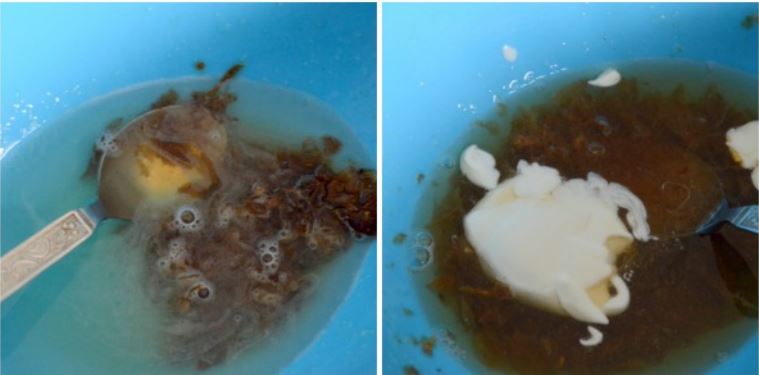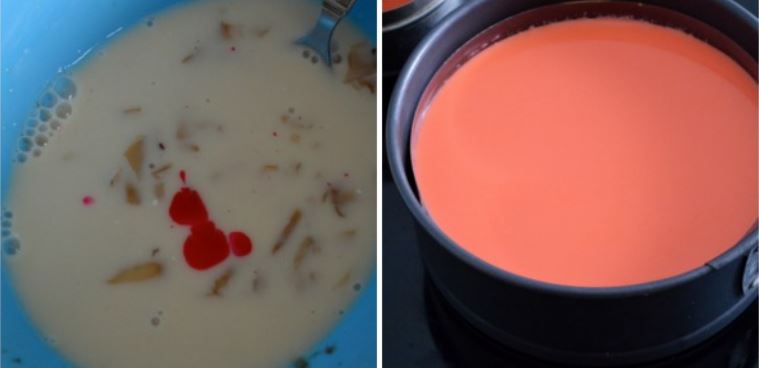 Once its firm enough, you need to remove from the freezer and place it in the refrigerator. They are already ready to be cut into slices and served. That could be mean, we deserve one big slice, now and here!!
To have clean cuts, just heat up your knife on stove top before every cut and carefully use a metal spatula or your knife that is large enough to go under every wedge and transfer them neatly to the serving plates.
Decorate them with rose petals/saffron strands.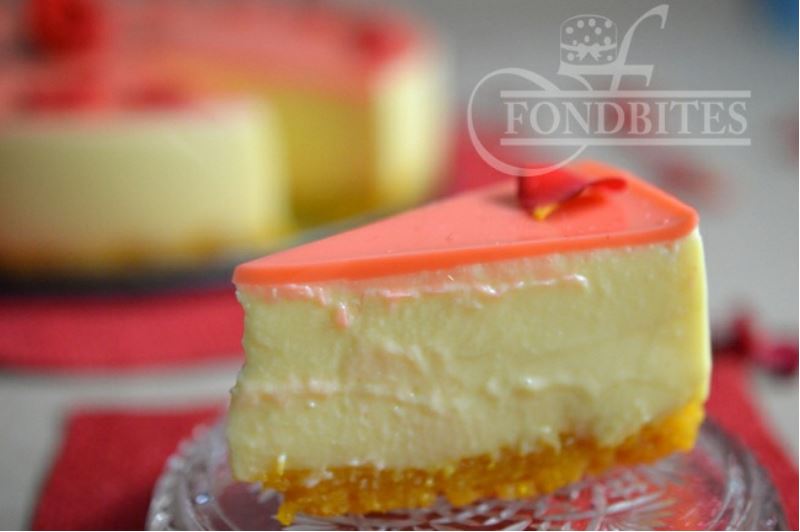 This has been baked for Fondbites, Bake Along, a group of enthusiastic bakers, bake one recipe every week along with me. To join the group, send a join request in the facebook group and I will add you to the group.
Recipes of previous Bake Along can be viewed here
Members – Once after you finish baking, post the link of your
finished picture below using the linky tool.