Bake Along #42 – Red Velvet Cupcakes
February 27, 2020
2021-09-04 18:14
Bake Along #42 – Red Velvet Cupcakes
Bake Along #42 – Red Velvet Cupcakes
Red Velvet Cupcakes are a rage, irrespective of the age. The flavour is neither vanilla-ish nor chocolaty! That is the secret behind these pretty beauties. A tinge of cocoa powder along with buttermilk, vinegar and baking soda brings in the chemistry for the whole flavour and that texture which goes by the name, Velvety!!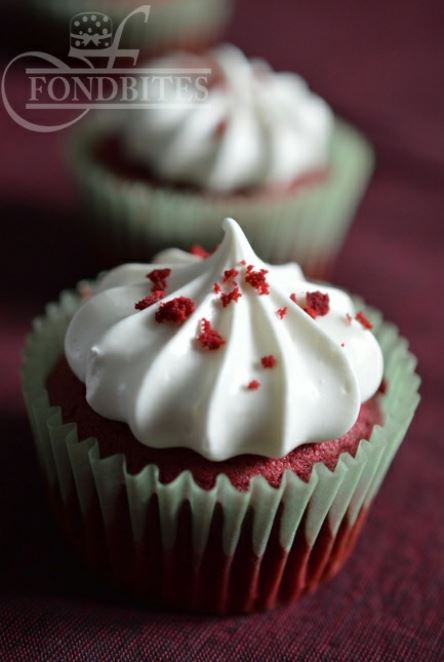 And you really need to see why it is velvety and why they are in rage. I know a few who are not fond of red velvet cakes. But to me they are the best when you make it just right with the right texture, a good cocoa powder and a proper vanilla flavouring. This being said, they should always be teamed up with cream cheese frosting. They might not be great if eaten plain, or it will be a blunder if you matched them with a buttercream or even just a plain fresh cream. You need to make up your mind to bake red velvet cakes only when you have the stock of cream cheese at home.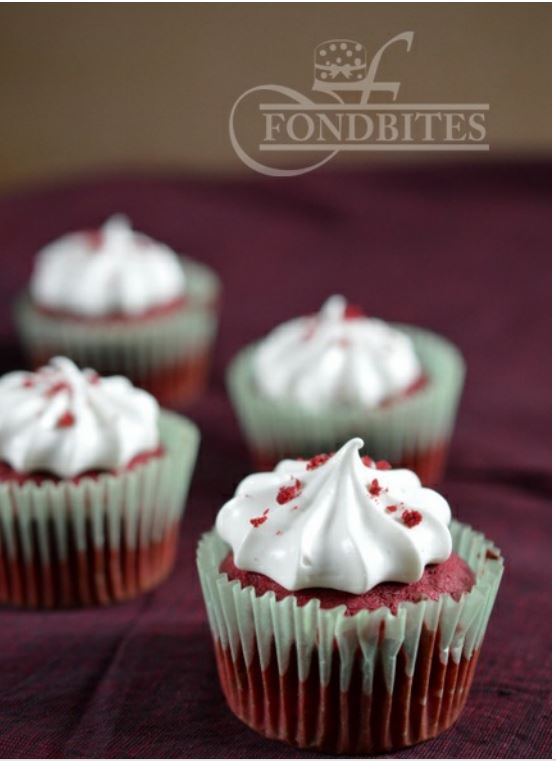 The first thing you will experiment is the texture of the cake and the smoothness of the frosting. That should definitely be something you have never experienced in any cake before, if you are trying red velvet cupcakes for the first time. And the next thing will be the beauty of blending a mildly sour and sweet cream cheese frosting, made a pair in heaven with the mildly chocolaty cupcakes. Have you still not trusted me yet ?!?
Ingredients:
Recipe inspired from: Joyofbaking
Unsalted butter – 70 gms
Icing sugar – 3/4 cups
Egg – 1
Pure vanilla extract – 1 teaspoon
All-purpose flour – 1 cup
Corn flour – 1/4 cup
Cocoa powder – 1 tablespoon
Baking powder – 1/2 teaspoon
Salt – 1/4 teaspoon
Thick curd – 1/2 cup ( to make buttermilk)
Red food colouring – 1 tablespoon
Baking soda – 1/2 teaspoon
Vinegar – 1/2 teaspoon
Cream Cheese Frosting:
Cream cheese – 120 gms
Icing sugar – 1/4 cup
Pure vanilla extract – 1 teaspoon
Heavy whipping cream – 1/3 cup ( Dairy or non-Dairy with 30% or more of fat content)
Method:
1. Pre-heat oven to 180 degree C. Line up 12 muffin cups with cupcake liners. Sift together all-purpose flour, corn flour, cocoa powder, baking powder and salt. Set aside.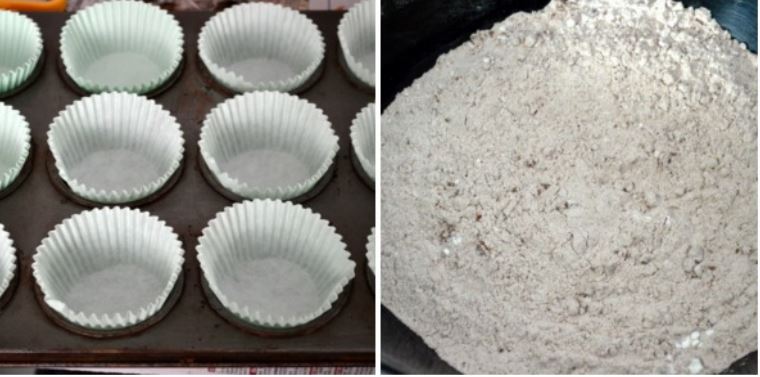 2. Add butter in your bowl of electric beater. Beat until it is soft, pale and fluffy. This might take about a couple of minutes.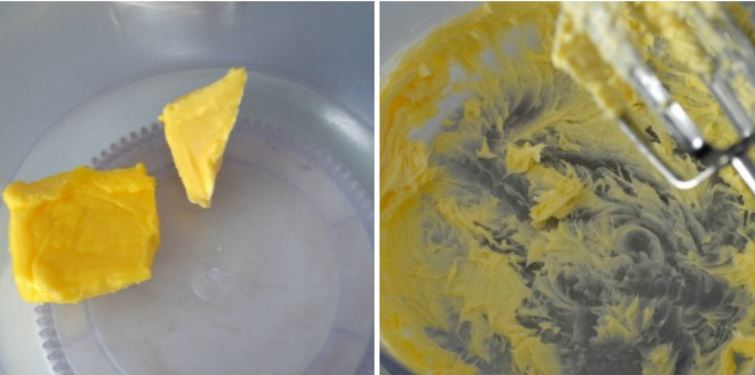 3. Add icing sugar and beat for about 5 minutes on high speed until the mixture becomes creamy, pale and fluffy.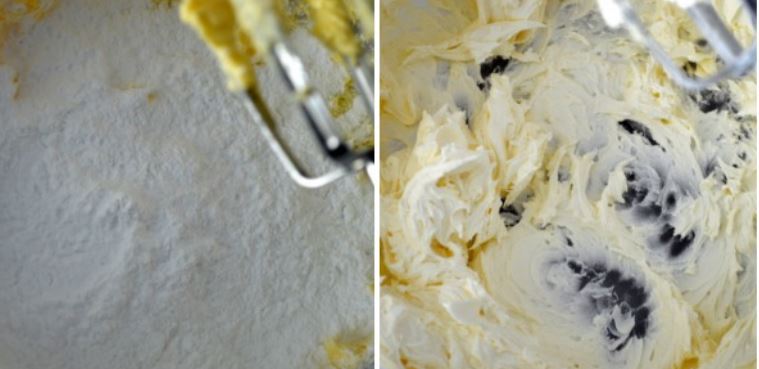 4. Now add the egg and beat for about 1 minute on medium high speed until the mixture becomes soft and creamy. Now add pure vanilla extract and beat until well combined.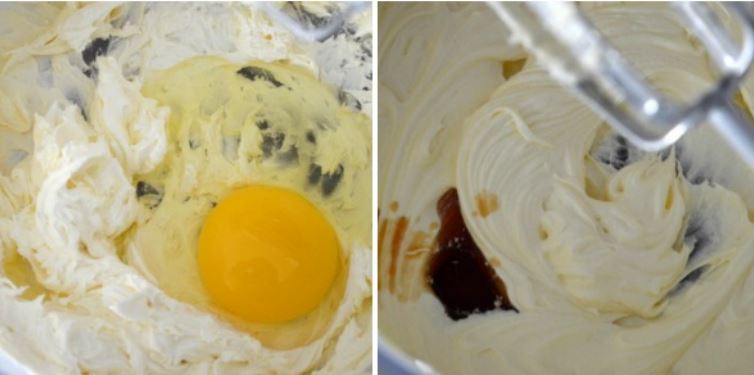 5. I like my buttermilk made from thick curds. Process the curd in your small jar mixie/food processor for about 10 seconds without adding anything to it, not even water. You will have a thick but liquid form of curd. This works a better buttermilk than any others in baking. To the buttermilk add red food colouring and mix well.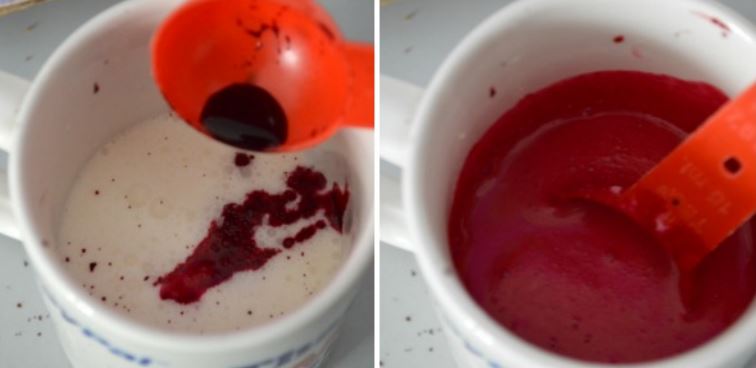 6. Add half of the sifted flour mixture to the butter mixture and beat just until incorporated on low speed. Then add half of the buttermilk mixture and beat just until incorporated. Do not over beat.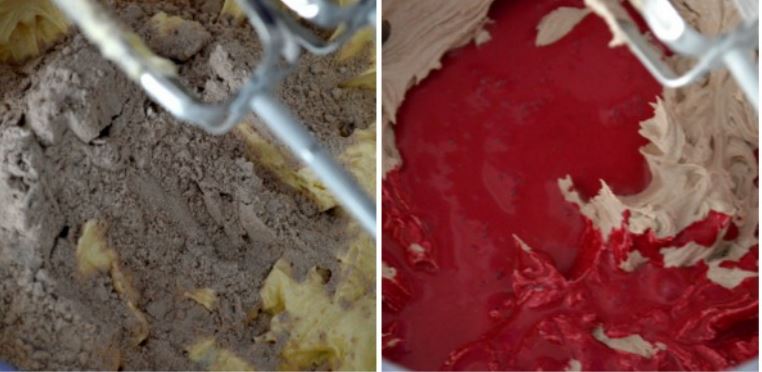 7. Add the remaining half of the flour mixture and beat just until incorporated and now add the final portion of the buttermilk mixture and beat just until combined. Do not over beat.

8. Here comes the crucial part of making the cake velvety. Keep your lined muffin pans ready to be filled with the batter and also check for your oven if its almost pre-heated. Because once after this step you might have to immediately fill your muffin pans and pop them into the oven. The batter starts to cook once after the addition of baking soda and the vinegar. Enough gyan, coming to the point.
In a bowl add the baking soda. Pour the vinegar and stir immediately as you see it frizz.

9. Now pour the vinegar mixture in the batter while it is frizzing and fold in using your spatula to combine everything together.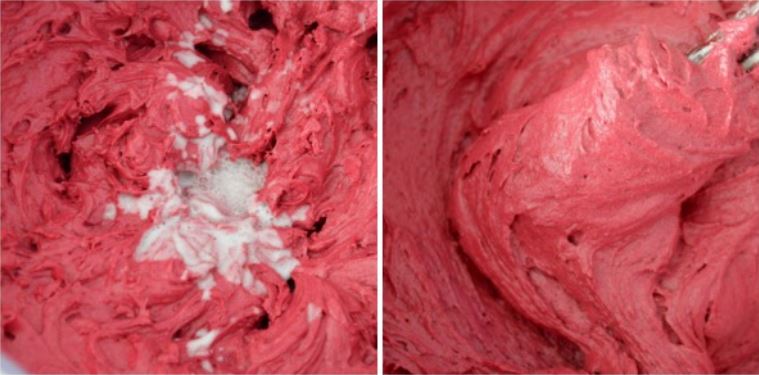 10. Ok, are you acting quick from step 8 ? That's good, we are ready to go. Now scoop/spoon them into the prepared muffin tins. They are just right for about a dozen cupcakes. Bake them in pre-heated oven for about 15 minutes. Insert a tooth pick into the center of one of the cupcakes to check if it comes out clean. cool on wire racks completely.
Don't jump into splitting apart one cuppie to test if its velvety. You might repent about it later when you are done frosting with one less than a dozen cupcakes , be patient!
Cream cheese frosting

If you don't have access to cream cheese in your near by stores, do not panic. Here is an easy way to make cream cheese at home. You won't believe if you can make such yumm cream cheese at home!
1. Add cream cheese, icing sugar and pure vanilla extract in the bowl of your electric beater. Beat on medium speed until it combines well for about 2 minutes.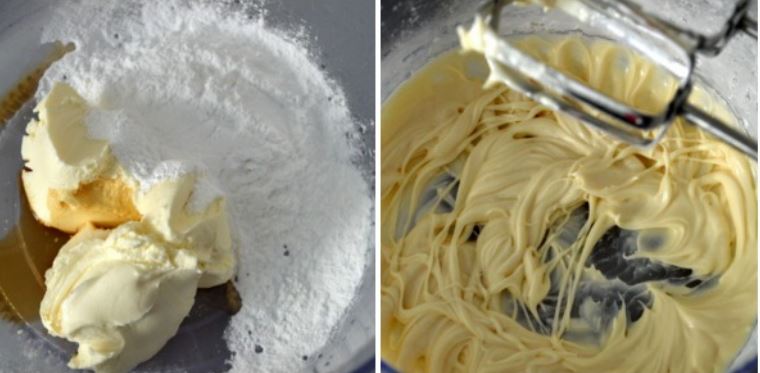 2. Now add the heavy whipping cream. ( That I call it height of laziness or you can also call it height of forgetfulness, but it works for me. Adding frozen, non-dairy whipping cream ). Beat well on high speed for about 3 to 5 minutes until the mixture leaves beater marks and is medium to stiff peaks.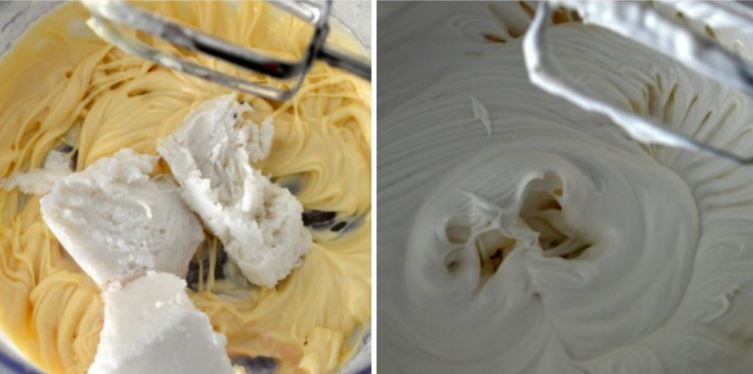 3. Fit in a big star nozzle or any nozzle you would like to decorate your cupcakes with. Fill in with the frosting just 1/3rds full. Hold your bag at right angles to the cupcakes and squeeze out frosting with enough pressure. Once you see frosting pop out and form a huge star, stop squeezing and then lift the piping bag away, at right angles. I always like this simple huge star on my cupcakes. Repeat the same with the rest of the cupcakes.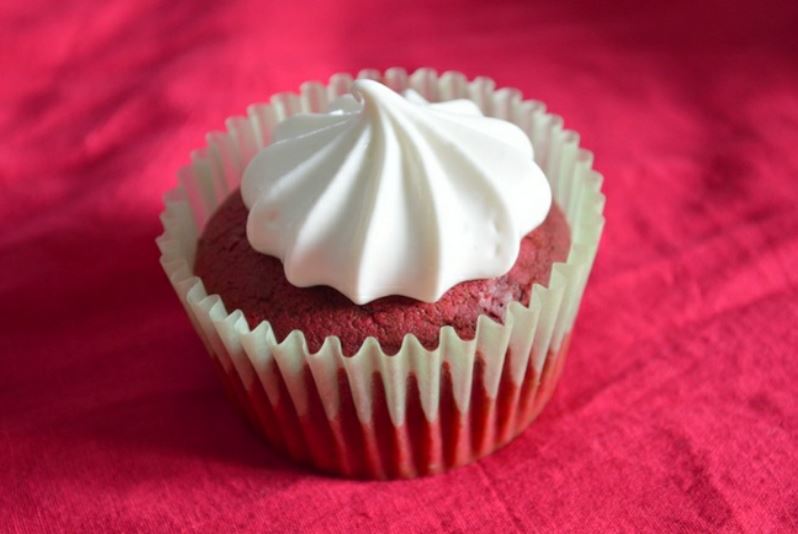 Yes!! We did it. You are now ready to gobble the first piece and do every test case possible. And yes now is the time to even lick the frosting to see what that sour and sweet flavour was!! I bet you will make another batch soooon!! They are good in room temperature for just one day. You can keep them refrigerated and thaw them out in room temperature before serving them.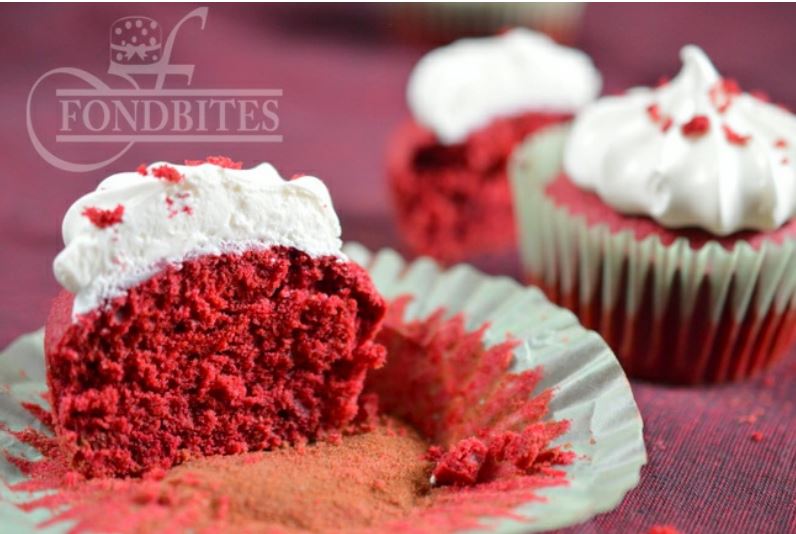 Did you think I would not show you all what the velvety was !!?
This has been baked for Fondbites, Bake Along, a group of enthusiastic bakers, bake one recipe every week along with me. To join the group, send a join request in the facebook group and I will add you to the group.
Recipes of previous Bake Along can be viewed here
Members – Once after you finish baking, post the link of your
finished picture below using the linky tool.