Bake Along #29 – Homemade Cheese Crackers
February 20, 2020
2021-09-04 18:17
Bake Along #29 – Homemade Cheese Crackers
Bake Along #29 – Homemade Cheese Crackers
Kids back to school and its time again for moms to brain storm for every single part of the day. Starting from what you can feed them in the morning before packing them off to school, to what can you send them in their snacks/lunch boxes, should we send them healthy stuffs and do we really have the courage to check the box back from school with everything intact :D, nothing gone in, or should we really go with what kids like and just ensure their tummy is a little full. Again once they are back to home, what's the best you can feed them because they have been starving the whole day. Should we give them some health drink or should we pack them with solid food. Do they have the energy to sit back and get some home work done. Beyond all this, drag them over to every extra- curricular classes possible. Get back home, think of feasible possible dinner, finish with it and its not over yet, before getting to sleep start thinking what do we do the following day and wait till its TGIF True this chain is enormously long.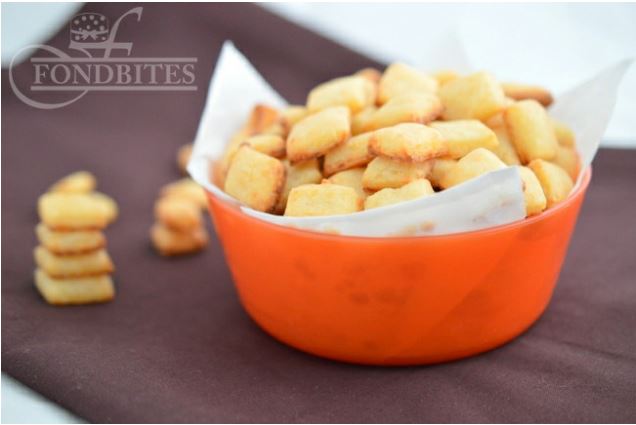 Homemade cheese crackers might come into rescue to one of the phases in your usual day. It will for sure put to rest a cranky kid for couple hours. Cheesy, yes loads of cheese and it is literally close to the store bought crackers. The fun part is you can alter the flavour the way you want. You can get some pepper powder and make it wild, italian spices too is a great idea. Get in some sugar too, oh yeah you can make it sweet version also. Again zest of orange/lemon to make it citrusy. Chocolate chips one on top of each cracker, bet its going to attract the kids. M&M s to top, another worthy idea. Least some grated chocolate on top. Dusting some icing sugar. I can never stop with these things and I leave it upto you of what you can do to make it more close to your families taste buds.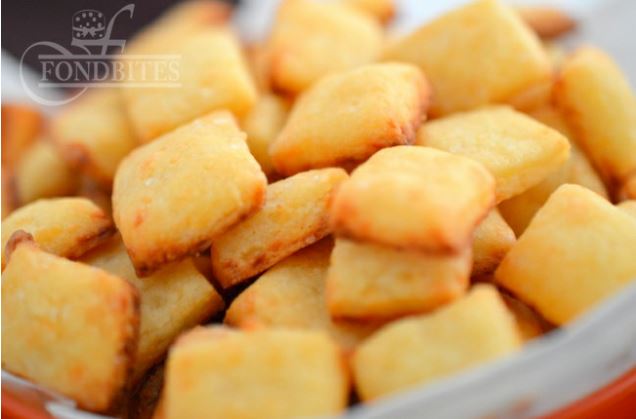 I stuck to the plain original version, but just added some sugar and my instinct was right. The sugar added that extra little thing what I really wanted in these crackers. I know you still have not trusted me, if its really possible to make these crackers at home. Even I had that thought until I took a bite of one, and this is just right. A handful will make a lovely evening with hot cuppa tea!. Bliss
Ingredients:
Recipe source: Recipe inspired from: 365daysofbakingandmore
Cheddar cheese – 175 gms, cold
Butter – 50 gms, cold
All-purpose flour – 3/4 cups, more for dusting
Salt – 1/4 teaspoon
Sugar – 1 tablespoon
Milk – 1 tablespoon
Method:
1. Pre-heat oven to 180 degree C. Line up baking tray with butter paper or silicon baking mat. In a large bowl grate the cheese and butter. Add flour, salt, sugar and milk.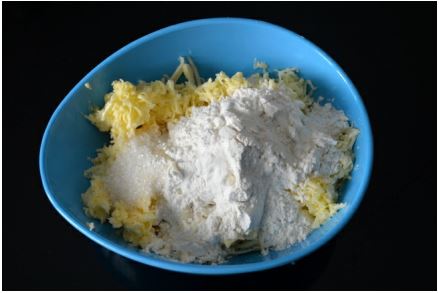 2. Use your finger tips to crumble all the ingredients first. Do not try to knead in the beginning. Once it becomes like bread crumbs you can combine them together giving it some kneading. You don't have to knead it very hard.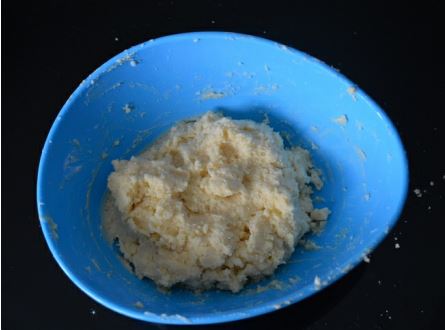 3. On your work counter, dust some flour and lightly press the dough to flatten it and again dust some flour on top of the dough.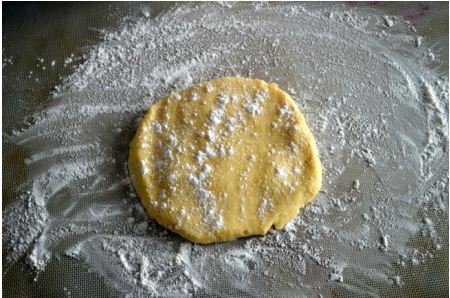 4. Use your rolling pin to roll it out to 1/4 inch thickness. Now use your rolling pin to cut them into 3/4th of an inch sized squares. Here you can really go creative and cut them using small cookie cutters. But the bigger they get, the less crispy they will be. So use the smallest possible cookie cutters. So just stick to making small squares or diamonds.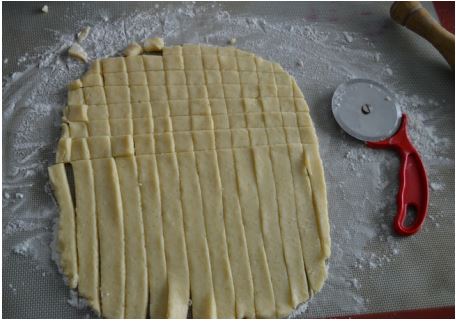 5. Use an offset spatula or a flat knife to transfer each square onto your prepared baking tray. They don't have any leavening agent, so they wont rise or increase much in size. So you can place them pretty close and make sure they just don't touch each other. Use back of a brush or a tooth pick to make a small indent in the center of square. I really wasn't sure why this was made, but the original recipe had it and it looked so cute and I followed it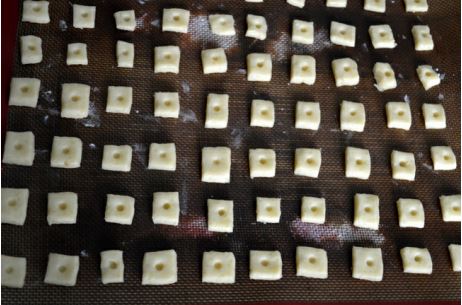 6. Bake in pre-heated oven at 180 degree C for 12 to 14 minutes until the crackers are golden brown. The less brown they are, the less crunchy they will be. It is ideal to keep same sized crackers in a batch, so all of them are evenly baked. My version in the picture here baked for 2 minutes lesser to check how crunchy they will be. I would suggest let them brown a bit if you want it crunchy.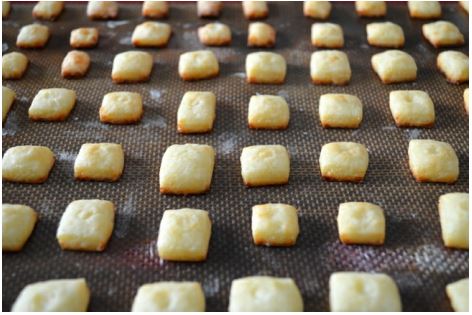 They are soft when hot and will get crispier once they cool down. Once completely cold, check out couple of times by munching them, if you really made those cheese crackers and once you have passed your own test, store them in airtight containers and refrigerate it.
As with few suggestions I have given above you can make it to the flavour your want. You can knead the spices with the dough, or dust them on top before they are baked, or you could also dust spices once they are out of oven, still hot. For sweeter versions, dust icing sugar on top when the crackers are hot from oven. You can also mix icing sugar and cocoa powder and dust them on top for a chocolaty version. Grated chocolate, chocolate chips, grated nuts, broken nuts or whole, raisins and such choices are good to place on top of the cracker before they are being baked. Gems are good to be placed after half of the baking time, so they don't crack up. This certainly is a mission accomplished!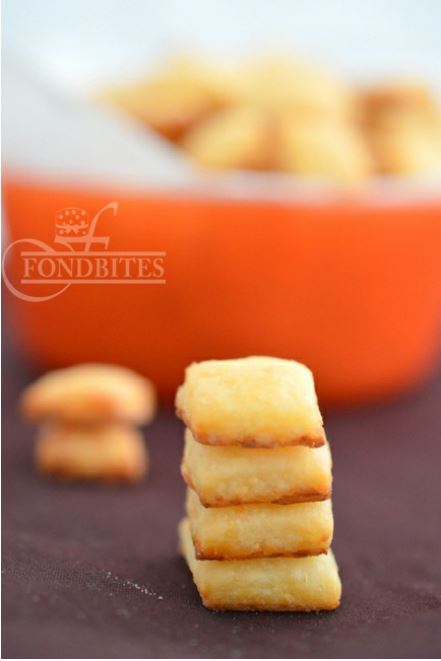 This has been baked for Fondbites, Bake Along, a group of enthusiastic bakers, bake one recipe every week along with me. To join the group, send a join request in the facebook group and I will add you to the group.
Recipes of previous Bake Along can be viewed here
Members – Once after you finish baking, post the link of your finished picture below using the linky tool.