Bake Along #138 – Cheesy Spice Bombs
March 4, 2020
2021-09-04 18:21
Bake Along #138 – Cheesy Spice Bombs
Bake Along #138 – Cheesy Spice Bombs
I have been eying on these cheesy spice bombs for a while now and I was literally craving with just the thought of making them. These are versatile as you can flavor them with different spices. The texture of the bun by itself is very spongy and light, making it irresistible.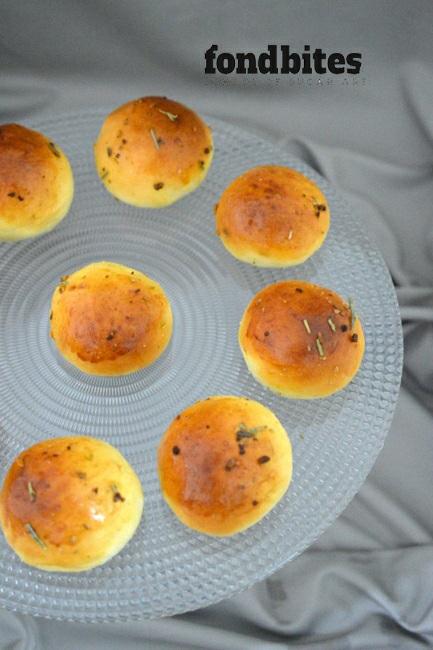 The dough is flattened into a small circle and cubes of cheese are kept inside. I also added chilly flakes along with the cheese cubes. You can as well add any sauce of your choice here, giving it more flavor.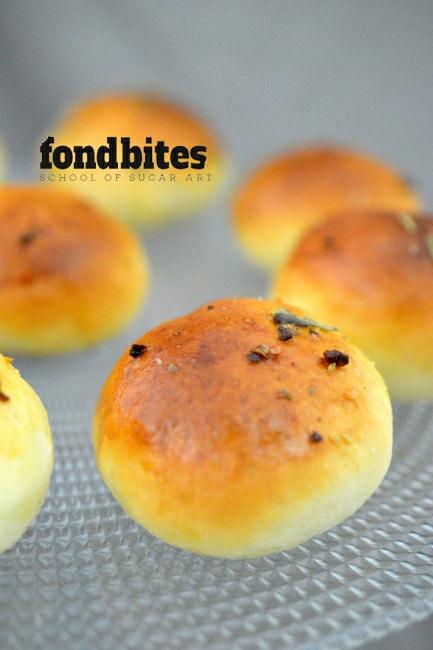 I also made some spiced oil and brushed on top. To not let it get fried while baking, the oil is brushed during the last 5 minutes of baking. You can also mix the spices with the dough. That will deepen the flavor of the spices.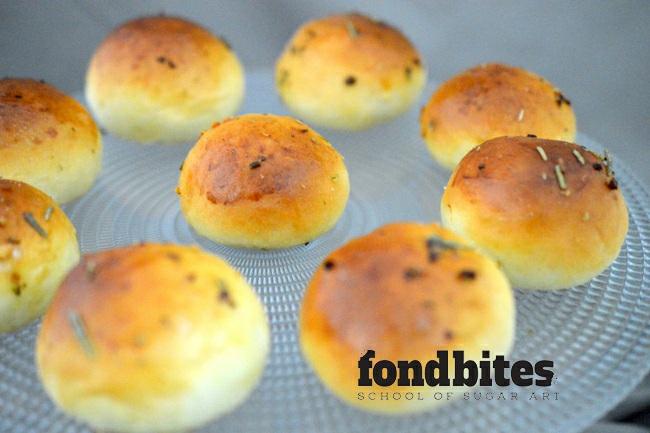 The tiniest bomb which will be added to your regular menu going forward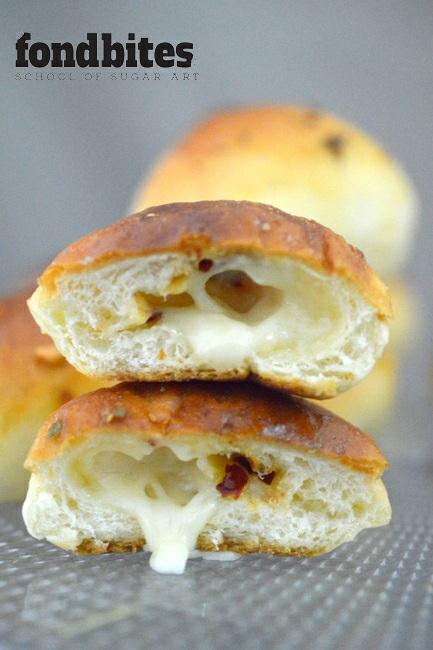 All-purpose flour – 1 1/2 cups
Instant dry yeast – 2 1/2 teaspoons
Sugar – 1 tablespoon
Salt – 1/2 teaspoon
Egg – 2 tablespoon, beaten
Water – 1/3 cup
Milk – 1/4 cup
Butter – 1 tablespoon
Mozzarella cheese – 100 gms, cut into small cubes
5/17Chilly flakes – 2 tablespoons
Olive oil – 1/4 cup
Mixed Italian spices – 2 teaspoons
Eggless substitute – Add 1 tablespoon of milk powder along with the flour. Increase milk by 1 tablespoon.
Method:
1. Pre-heat oven to 200 degree C. Line up a baking tray with butter paper or silicon mat. Brush some oil on top of it. Add olive oil and the mixed spices in a bowl with a pinch of salt and set it aside.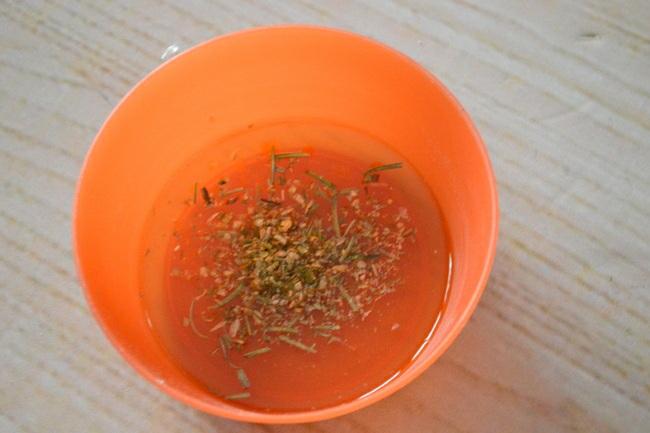 2. Add all-purpose flour, yeast, sugar and salt into the bowl of your electric beater, using dough hook beat for 1 minute until the ingredients are combined well. If going to knead it by hand, add the said ingredients in a bowl and mix well using hands.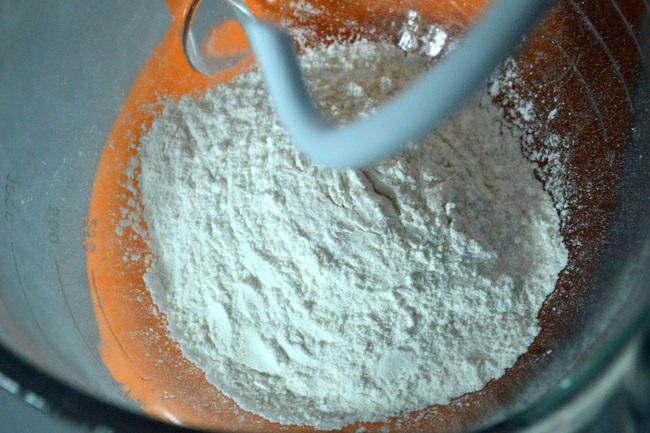 3. Heat the water and milk together and bring it to lukewarm. You can test the heat by putting one of your fingers into the liquid and count till 5 and that is the maximum heat you should be able to tolerate. Any lesser will not activate the yeast. More heat will kill the yeast. Pour the milk into the flour mixture and continue to beat on medium high speed. If using hands, knead well until well combined.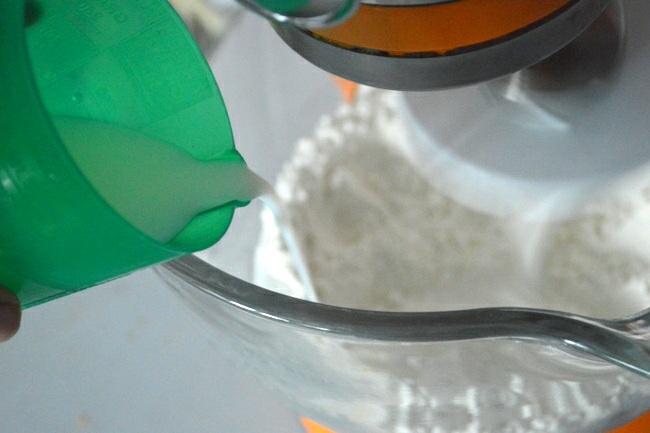 4. Add the beaten egg and continue beating on high speed. Knead well, if using hands.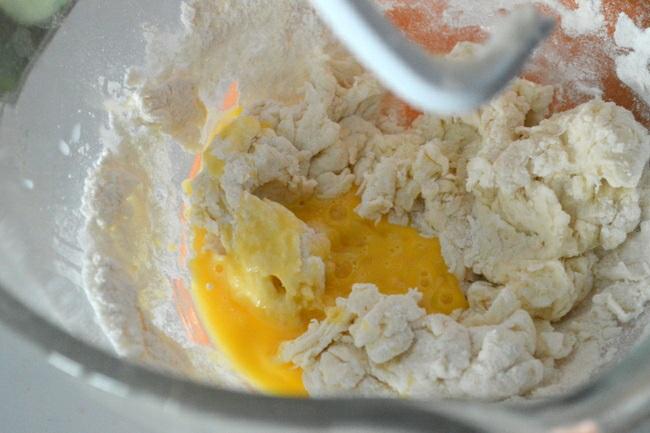 5. If the dough is sticky, add a little flour at a time and beat/knead until the dough does not stick to the bowl/counter.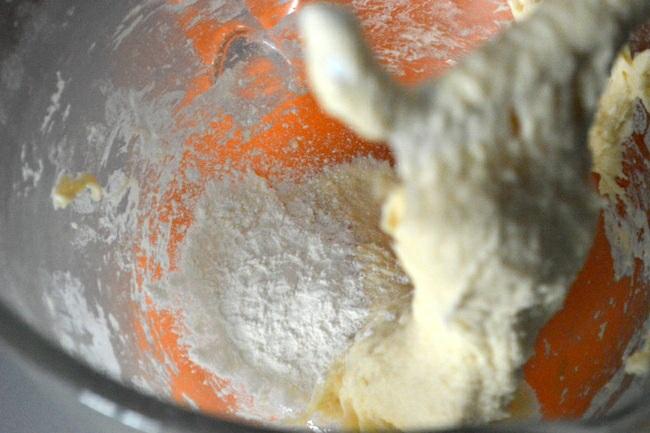 6. Add butter and continue beating on high speed for about 5 to 7 minutes in the electric beater and 15 minutes if kneading by hand.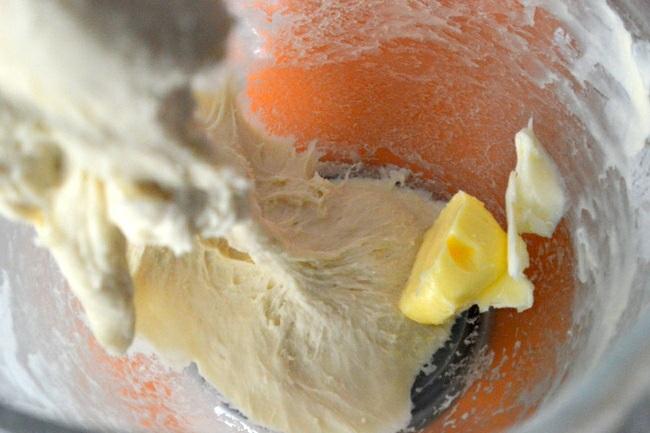 7. The dough will look shiny and smooth, that is when you will know the gluten is formed.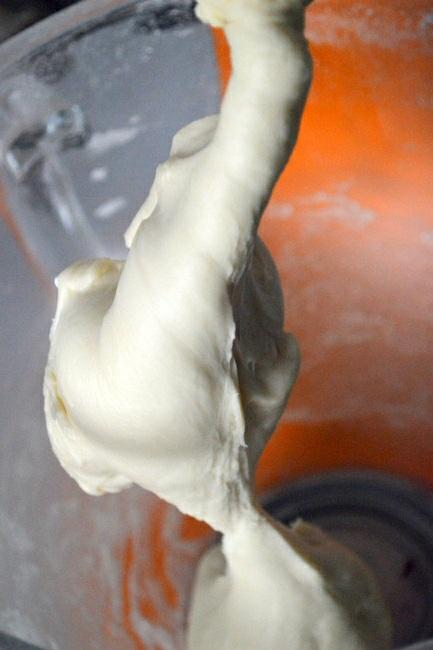 8. Bring the dough together as a ball. Oil a bowl and coat the dough all over with oil in the bowl. Use a damp cloth and keep the bowl covered in a warm place for about 45 minutes to 1 hour. This will be the first proving.
9. The dough will be doubled in volume after first proving.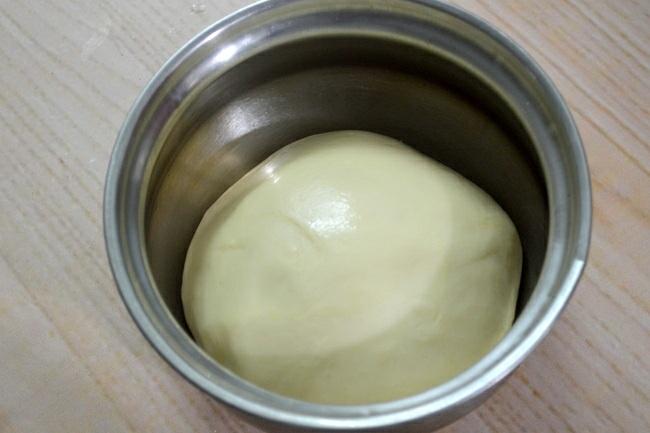 10. Punch the dough and release the air. Knead it lightly.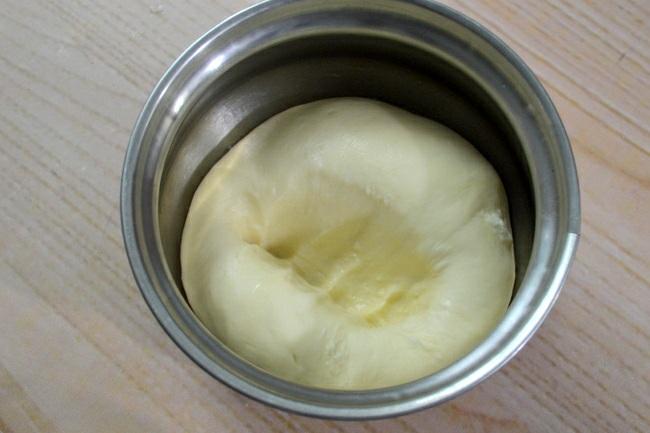 11. Take a lemon sized ball of the dough, flatten it gently using your fingers. Place a cube of the cheese on top of the flattened dough.
12. Add a pinch of chilly flakes. Adjust quantity as per taste.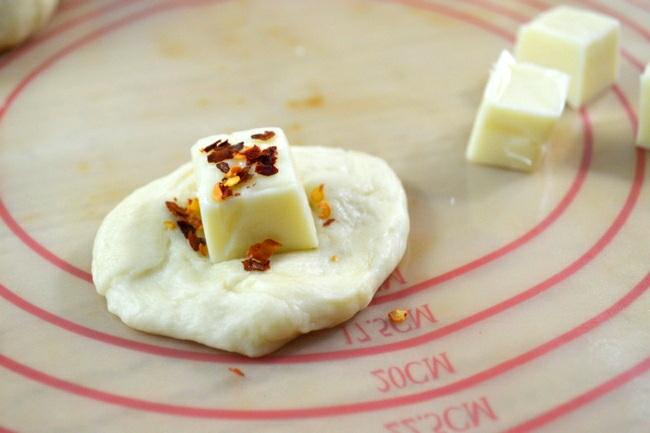 13. Bring all the sides of the dough to the top and pinch it well to secure it firmly. Turn it upside down and roll it gently to even out the shape.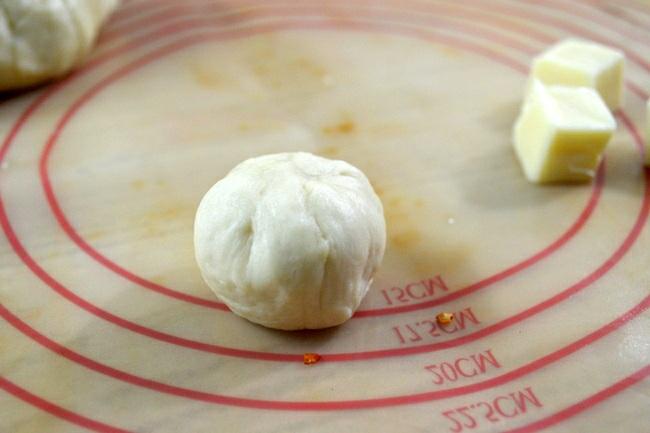 14. Place the finished ball in the prepared baking tray. Repeat the steps to the rest of the dough. Place all the balls with about 2 to 3 inches of space apart. Cover it with a damp cloth and leave it to rest in a warm place for 15 minutes. This is second proving. Do not let for long.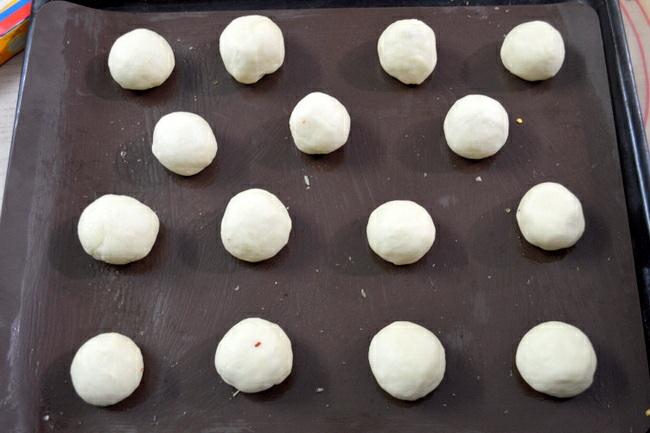 15. It would have increased in size. By leaving it longer the top will shrink a bit, which you would want to avoid.
16. Brush with some egg/milk wash on top and bake in the pre-heated oven for 15 minutes. Take it out after 10 minutes of baking, brush the spiced oil all over the top and then continue baking for the last 5 minutes.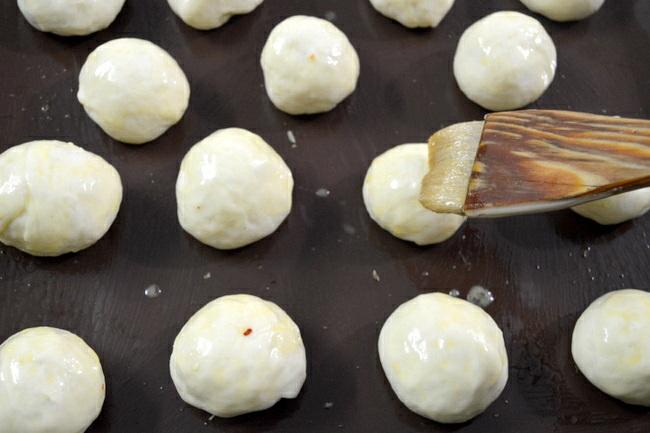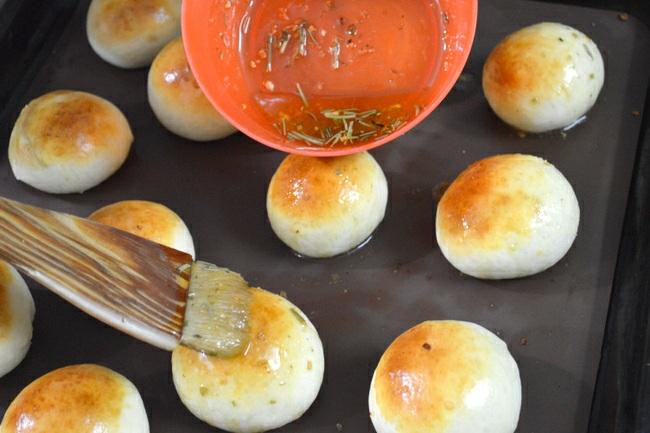 17. Let cool on wire rack until warm and soft.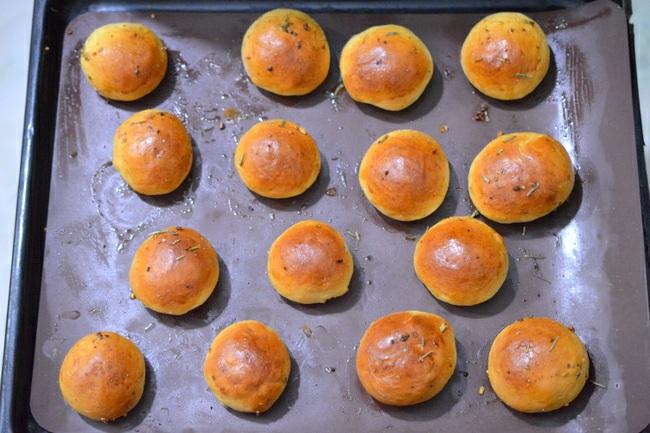 These bombs are ready to be served while warm. They are great after they are cooled completely as well. Serve with any dips of choice.